4th Sharjah Masters 2021 R4-6: Tabatabaei takes sole lead 5.0/6
M Amin Tababtabaei (IRI) has taken sole lead 5.0/6 by winning against the UAE no.1 Salem Saleh in the sixth round of 4th Sharjah Masters 2021. Five players are trailing by a half point at 4.5/6 each. They are - Pavel Eljanov, Arkadij Naiditsch, Rinat Jumabayev, Narayanan S L and Mikheil Mchedlishvili. All six of them have remained unbeaten so far. Arjun Erigaisi is close behind at 4.0/6. Adhiban made fifth consecutive draw to move to 3.5/6. He will face countryman Raunak Sadhwani who is also at 3.5/6 in the seventh round. Round 7 starts today at 4:30 p.m. IST. Photo: Anastasiya Karlovich/Sharjah Chess Club
Narayanan in the title fray
After starting the event with a hat-trick of wins, Narayanan has made a hat-trick of draws. He is performing at 2794 with an undefeated score 4.5/6. He still has a very good chance of winning the event.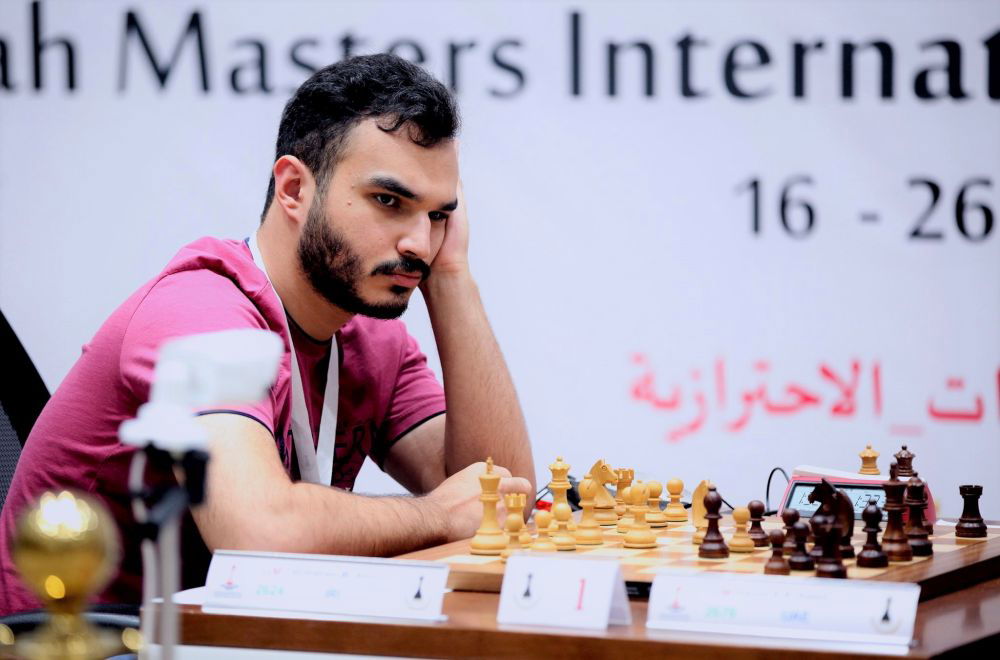 Round 4: Narayanan - Tabatabaei: 0.5-0.5
Narayanan and Tabatabaei (IRI) had an incredible draw in the fourth round.
Black is forced to play 38...Qf5 to keep the f4-knight protected. Now comes the interesting part - 39.Nxc3 Rxc3 40.Qh1 is suggested to be equal by the computer, same with 39...bxc3 40.Rc2 f6 41.Nd7 despite White being ahead by a rook. Black's compensation is, weakened White's king, misplaced queen and the b or c-passed pawn depending on which piece captures on c3. Capturing the c8-rook after 39.Nd6 Qf6 40.Nxc8 is met with 40...Rh3 41.Qg3 Rxg3+ 42.fxg3. Although White has two rooks and a knight for a queen, it is still not easy to play and with the clock ticking down to the last few seconds, it also makes things quite difficult. Narayanan made the correct practical decision to repeat moves and make a draw.
Round 5: Arjun - Eljanov: 0.5-0.5
GM Arjun Erigaisi made a solid draw with GM Pavel Eljanov (UKR).
Round 6: Adhiban - Arjun: 0.5-0.5
Adhiban made his fifth consecutive draw of the event, this time against Arjun Erigaisi.
Nisipeanu - Abhijeet: 0.5-0.5
Abhijeet Gupta made a nice save against GM Liviu-Dieter Nisipeanu.
Facing with a difficult choice of determining the best way to give up the e6-pawn, Black decided to go 32...e5 33.dxe5 fxe5 34.Nf3 Nd7
Here 36.Nxg5 could have made things difficult for Black. However, the game continued 36.Ra6 Nxc5 37.Ra8+ Ke7 38.Nxe5 Kf6 and Black managed to get back in the game and eventually make a draw.
Highlights
Here are a few interesting finishes from Round 4-6:
Replay the Live stream
Replay Round 4-6 games
Round 6 results
Round 7 pairings
Links
---