Tabatabaei clinches 4th Sharjah Masters 2021
M Amin Tababtabaei (IRI) drew his last round game against Nodirbek Yakubboev (UZB) to win 4th Sharjah Masters 2021. Apart from Tabatabaei, Pavel Eljanov (UKR), Salem Saleh (UAE) and Parham Maghsoodloo (IRI) also scored 6.5/9. They were placed second to fourth according to the tie-breaks. Narayanan S L 6.0/9 was the best finisher among Indians at seventh place, followed by Abhijeet Gupta at ninth 6.0/9, Adhiban tenth 5.5/9, Arjun Erigaisi twelfth 5.5/9 and Raunak Sadhwani 16th 5.5/9. Narayanan moved to 2646.6, Abhijeet 2627.7, Arjun 2630.8 and Raunak 2608.8 in the live ratings list. Photo: Anastasiya Karlovich/Sharjah Chess Club
Narayanan finishes at seventh
A draw in the final round would have allowed Narayanan to win the tournament as he had the best tie-breaks compared to all top four finishers. A loss in the last round against Parham Maghsoodloo cost him six places, and he was placed seventh. Narayanan missed US$ 10000 first prize, he won US$ 3500.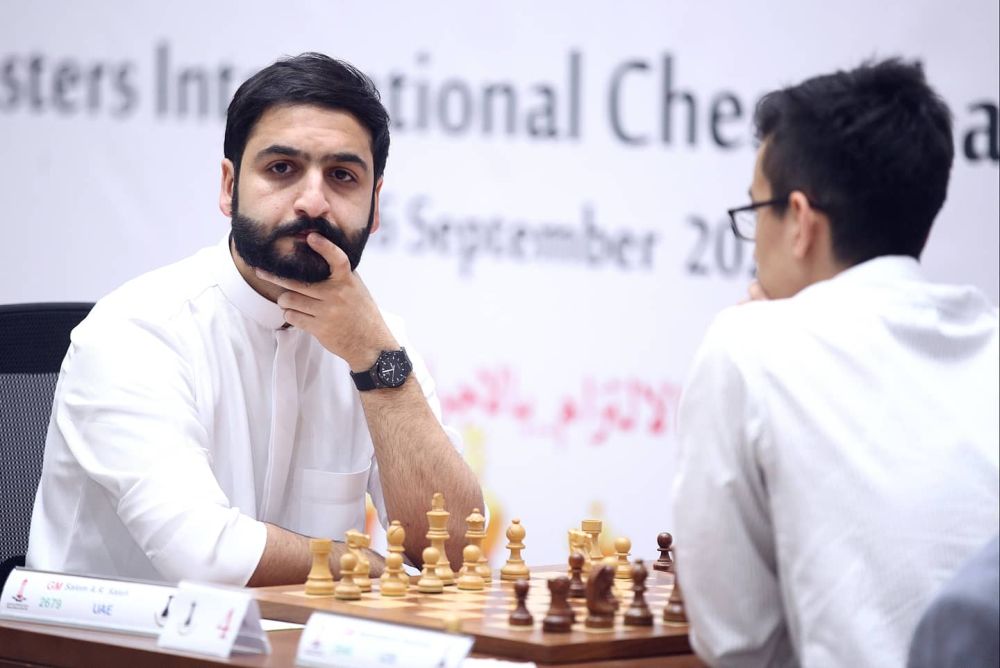 Round 7: Jumabayev - Narayanan: 0-1
Rinat Jumabayev (KAZ) provoked Narayanan to launch an attack which turned things in the Indian's favor.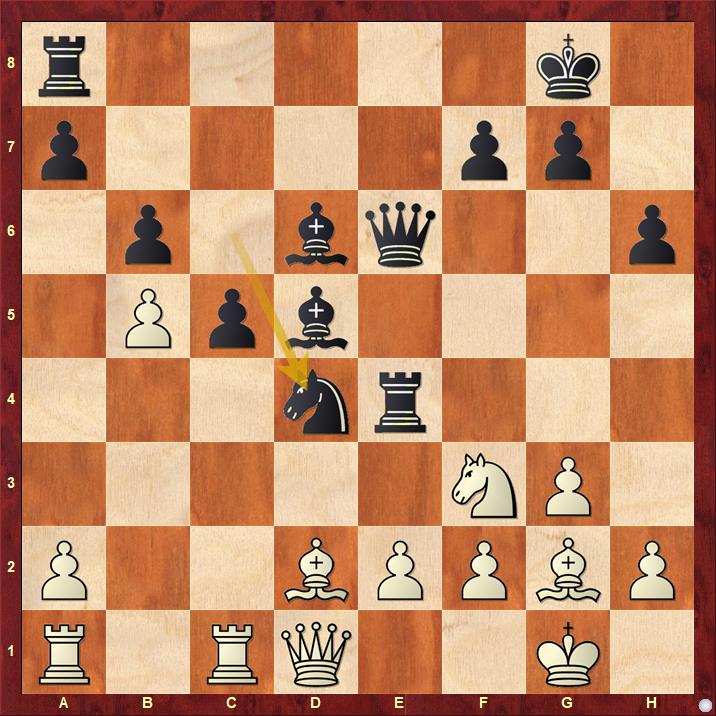 18.b5 made Black centralize his knight 18...Nd4. White made another mistake of trading the knight, 19.Nxd4 Rxd4 and now the pin on the d-file is deadly. The game continued 20.e3 Bxg2 21.exd4 Bd5. Black sacrificed an exchange to gain full control over the light squares which eventually caused White's loss. Narayanan once again got back in the lead 5.5/7.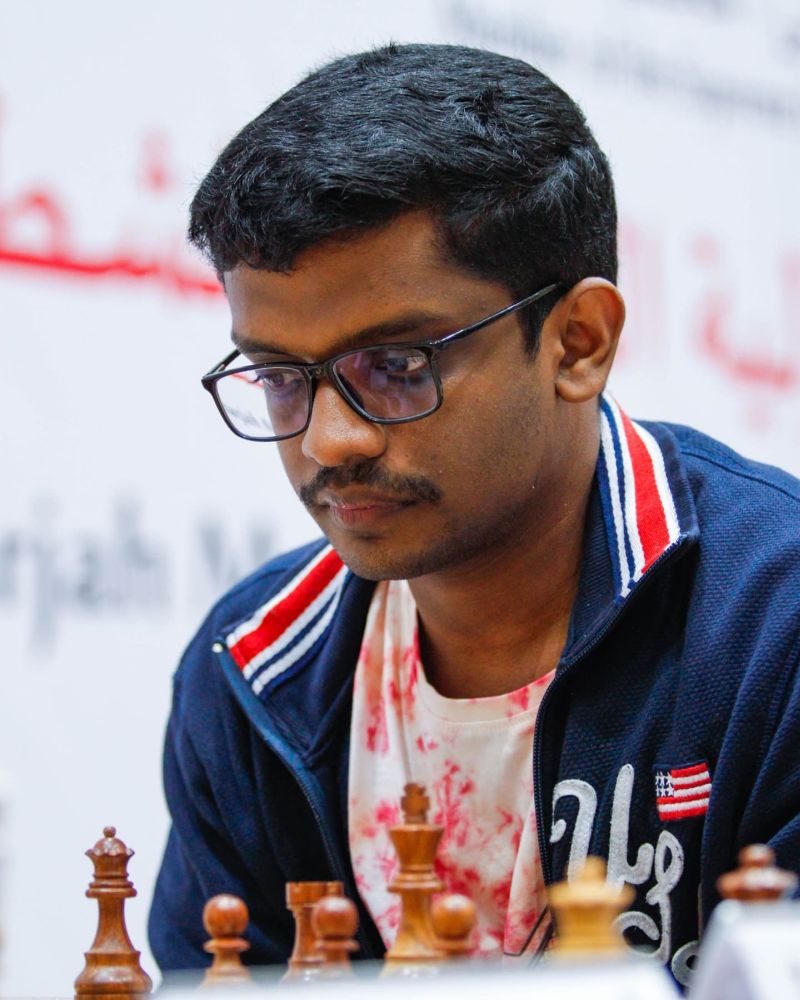 Raunak - Adhiban: 0.5-0.5
Raunak Sadhwani drew with B Adhiban. This was Adhiban's sixth consecutive draw of the event.
Abhijeet - Aram Hakobyan: 1-0
GM Aram Hakobyan (ARM) launched an ambitious attack on Abhijeet's kingside by sacrificing a pawn.
18.Nxe4 dxe4 19.Bxe4 Qh2+ 20.Kf1 Bd7 21.a4 and Black's attack is stopped. Soon Black lost a couple of pawns more and White's masterful play with his king and the well coordinated pieces eventually earned him Black's bishop which prompted resignation. Abhijeet moved to 4.5/7.
Round 8: Narayanan - Eljanov: 0.5-0.5
Narayanan made a solid draw with GM Pavel Eljanov (UKR). Tabatabaei joined them in a three-way lead 6.0/8, heading into the final round.
Adhiban - Bellahcene: 1-0
Adhiban ended his draw streak by defeating Algeria no.1 GM Bilel Bellahcene.
Moussard - Raunak: 0-1
GM Jules Moussard (FRA) captured a wrong pawn and allowed Raunak Sadhwani to get back into the game.
27.Nxg4 was uncalled-for. Black was looking for an opening and White taking the g4-pawn just made that happen. 27...Qe6 28.Nh2 Rxg3 29.Rf6 Rxd3 30.Rxe6 Rxd1 and White started losing all weak pawns and Raunak had no trouble converting his advantage into a win.
Can - Arjun: 0-1
Arjun Erigaisi scored a nice win against GM Emre Can (TUR) by showcasing his positional play.
Round 9: Maghsoodloo - Narayanan: 1-0
Narayanan got outplayed by GM Parham Maghsoodloo (IRI) right out of the opening. This win allowed Maghsoodloo to break into 2700 in the live ratings list.
Naiditsch - Abhijeet: 0-1
Azerbaijan no.4 GM Arkadij Naiditsch went wrong in the opening and he had to give up a piece for two pawns.
The pin on a6-f1 diagonal is deadly, Black is threatening to play 13...dxe4. White decided to take the pawn 13.exd5 e4 14.Nxe4 Ncxe4 15.c4 Nc5 16.dxc6 Re8 and Black has a decisive advantage. Things became a little for Black in the endgame, however Abhijeet managed to find a way to win the game.
Raunak - Paravyan: 0.5-0.5
Raunak Sadhwani had a hard-fought draw against GM David Paravyan (RUS).
Highlights
Here are a few interesting finishes from Round 7-9: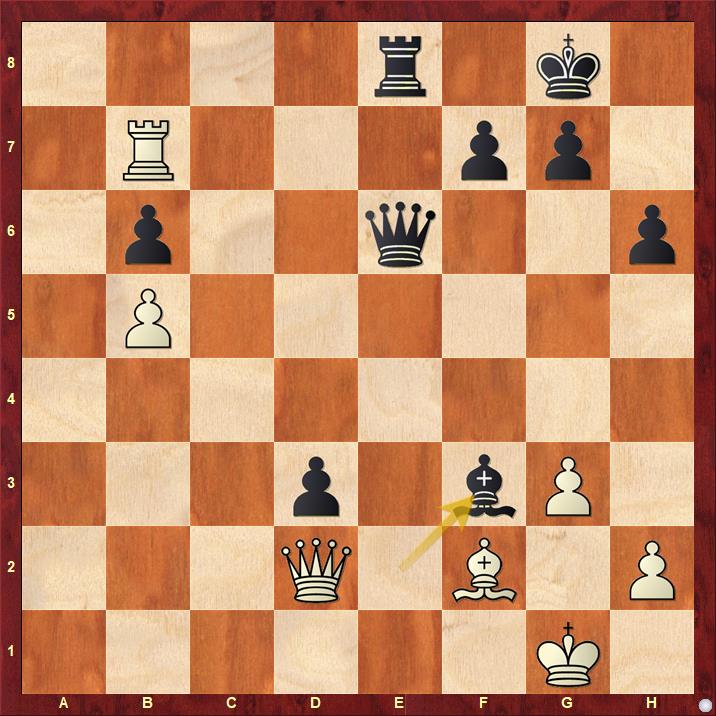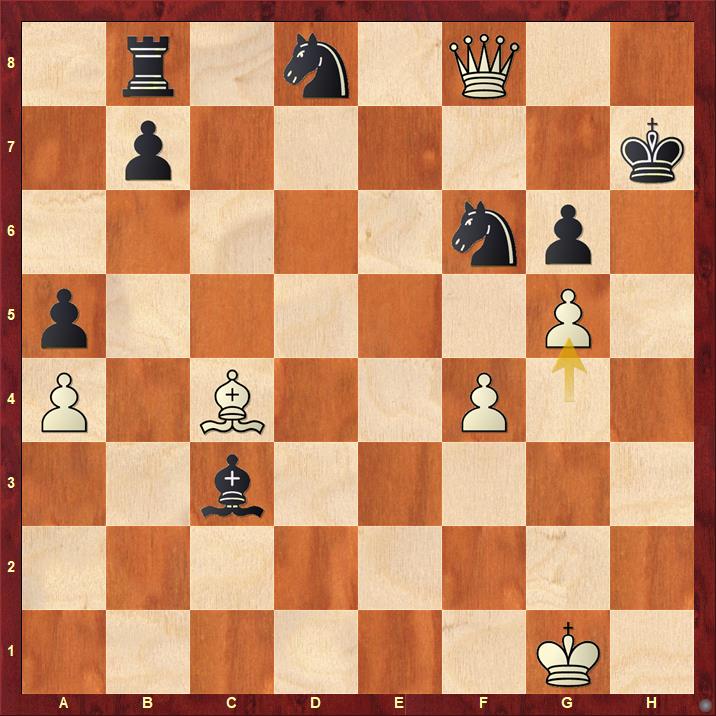 Replay the Live stream
Replay Round 7-9 games
Round 9 results
Final standings
| | | | | | | | | | | |
| --- | --- | --- | --- | --- | --- | --- | --- | --- | --- | --- |
| Rk. | SNo | | | Name | FED | Rtg | Pts. | TB1 | TB2 | TB3 |
| 1 | 18 | | GM | Tabatabaei M. Amin | IRI | 2624 | 6,5 | 0,0 | 42,5 | 36,0 |
| 2 | 3 | | GM | Eljanov Pavel | UKR | 2680 | 6,5 | 0,0 | 42,0 | 36,0 |
| 3 | 4 | | GM | Salem A.R. Saleh | UAE | 2679 | 6,5 | 0,0 | 40,5 | 34,5 |
| 4 | 2 | | GM | Maghsoodloo Parham | IRI | 2695 | 6,5 | 0,0 | 38,0 | 32,0 |
| 5 | 33 | | GM | Mchedlishvili Mikheil | GEO | 2571 | 6,0 | 0,0 | 45,5 | 39,0 |
| 6 | 9 | | GM | Jumabayev Rinat | KAZ | 2651 | 6,0 | 0,0 | 44,0 | 38,0 |
| 7 | 12 | | GM | Narayanan.S.L | IND | 2632 | 6,0 | 0,0 | 43,5 | 37,0 |
| 8 | 26 | | GM | Yakubboev Nodirbek | UZB | 2604 | 6,0 | 0,0 | 40,0 | 33,5 |
| 9 | 23 | | GM | Gupta Abhijeet | IND | 2612 | 6,0 | 0,0 | 38,0 | 32,5 |
| 10 | 5 | | GM | Adhiban B. | IND | 2672 | 5,5 | 0,0 | 39,0 | 33,5 |
| 11 | 28 | | GM | Delgado Ramirez Neuris | PAR | 2588 | 5,5 | 0,0 | 39,0 | 32,5 |
| 12 | 17 | | GM | Erigaisi Arjun | IND | 2626 | 5,5 | 0,0 | 38,5 | 32,5 |
| 13 | 10 | | GM | Abdusattorov Nodirbek | UZB | 2648 | 5,5 | 0,0 | 38,5 | 32,5 |
| 14 | 25 | | GM | Niemann Hans Moke | USA | 2609 | 5,5 | 0,0 | 37,5 | 32,0 |
| 15 | 7 | | GM | Paravyan David | RUS | 2660 | 5,5 | 0,0 | 37,0 | 31,5 |
| 16 | 27 | | GM | Sadhwani Raunak | IND | 2603 | 5,5 | 0,0 | 36,5 | 31,0 |
| 17 | 34 | | GM | Sindarov Javokhir | UZB | 2571 | 5,5 | 0,0 | 34,5 | 29,0 |
| 18 | 6 | | GM | Naiditsch Arkadij | AZE | 2663 | 5,0 | 0,0 | 43,5 | 37,5 |
| 19 | 13 | | GM | Moussard Jules | FRA | 2631 | 5,0 | 0,0 | 40,0 | 33,5 |
| 20 | 19 | | GM | Yilmaz Mustafa | TUR | 2624 | 5,0 | 0,0 | 39,0 | 33,0 |
Links
---