6th Sharjah Masters 2023 R1: A good start for the Indians
The top seeds have made a solid start at 6th Sharjah Masters 2023. The Masters event witnesses the participation of 78 GMs from 29 countries across the world. Players are rated 2519 and above, eight 2700+ players are taking part. The reigning Women's World Champion, Wenjun Ju is playing a rated tournament for the first time outside of China since March 2020. D Gukesh, Arjun Erigaisi, R Praggnanandhaa and Nihal Sarin made a winning start. Leon Luke Mendonca held Sanan Sjugirov to a draw from an extremely difficult and at one point, totally lost position. Volodar Murzin denied a winning start to Vidit Gujrathi. Round 2 starts today at 3 p.m. local time, 4:30 p.m. IST. Photo: Aditya Sur Roy
Leon makes a great save against Sanan
16 Indian players are taking part out of the total 78 players in the Masters section which is a staggering 20.51% . Total prize fund is US$ 60000, the top three prizes US$ 10000, $8000 and $7000. This tournament will be a good opportunity for players to test themselves before the World Cup which is almost two and a half months away. For those who haven't secured a spot, yet this will be a good proving ground to showcase why they should be there.
Leon - Sanan: 0.5-0.5
GM Leon Luke Mendonca (2603) was facing GM Sanan Sjugirov (2712) for the first time in a rated game. Sanan made an exchange sacrifice which gave hima positional advantage.
Black consolidated his center 22...e4 23.Rea1 allowed the opportunity for Black to sacrifice an exchange 23...Rxc5 24.dxc5 White's weakened pawn structure, combined with Black having a firm control of the center and d-file shifted things in his favor. The position became increasingly difficult to play for White.
One of the best chances Black had in the game was after 42.gxh4. 42...Rd7 would have been devastating for White. 42...Bxh2 allowed White to save the game 43.Ke1 Be5 44.Qe2 and Black's chances fizzled out.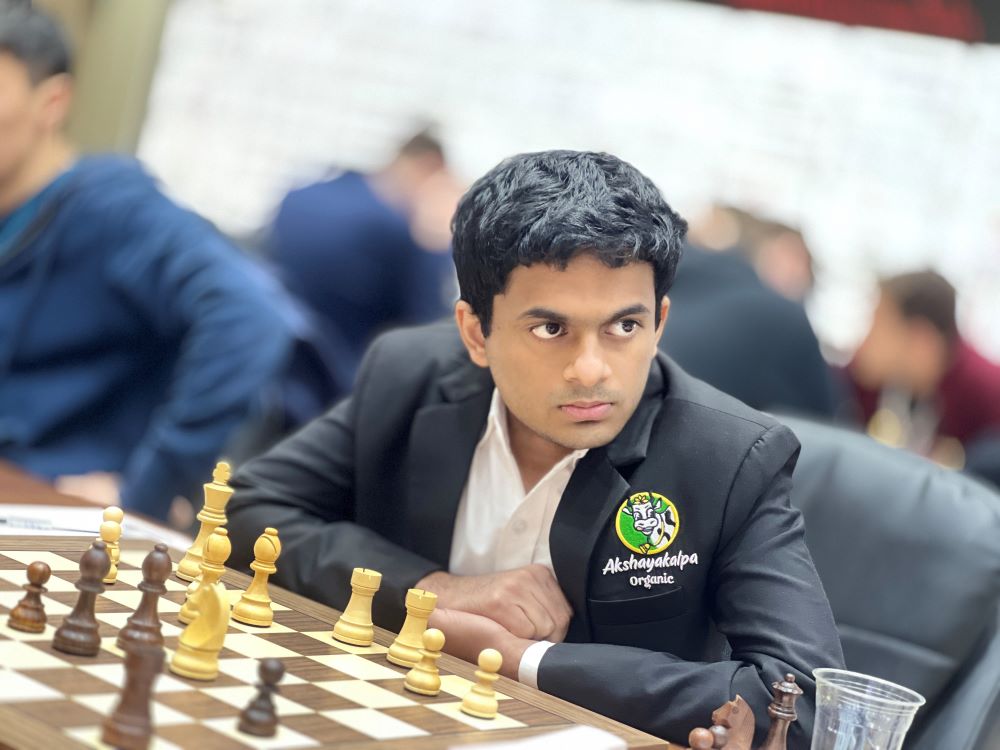 Wenjun - Karthikeyan: 1-0
17th Women's World Chess Champion - Ju Wenjun (2550) is playing her first rated tournament outside of China in over three years (1158 days exactly) at this event. She landed herself in a difficult position against Karthikeyan Murali (2627).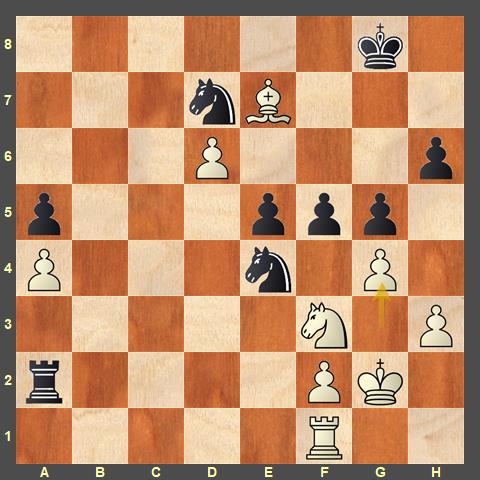 42...fxg4 43.hxg4 Rxa4 should have been good enough to push for a win. However, Black went for 42...f4 43.h4 gxh4 44.Nxh4 Rxa4 45.Nf5 the almost inactive knight is now generating some counter-play. 45...f3+ 46.Kh3 Ra2 47.Bh4 Kf7 48.Nxh6+ White created a passed pawn on the g-file which played a crucial role in White's victory. 49.Nf5 a4 50.Rc1 Nec5 51.Ne7+ Kf7?? and Black is lost now. 52.g5 a3 53.g6+ Kg7 54.Rg1 Ne6 55.Nf5+ Kh8 56.g7+ and Black resigned.
Replay the Live stream
Replay Round 1 games
Round 1 results
| | | | | | | | | | | | | | |
| --- | --- | --- | --- | --- | --- | --- | --- | --- | --- | --- | --- | --- | --- |
| Bo. | No. | | | Name | Rtg | Pts. | Result | Pts. | | Name | Rtg | | No. |
| 1 | 40 | | GM | Yoo, Christopher Woojin | 2607 | 0 | 0 - 1 | 0 | GM | Maghsoodloo, Parham | 2734 | | 1 |
| 2 | 2 | | GM | Gukesh, D | 2732 | 0 | 1 - 0 | 0 | GM | Vescovi, Giovanni | 2606 | | 41 |
| 3 | 42 | | GM | Murzin, Volodar | 2604 | 0 | ½ - ½ | 0 | GM | Vidit, Santosh Gujrathi | 2731 | | 3 |
| 4 | 4 | | GM | Yu, Yangyi | 2729 | 0 | 1 - 0 | 0 | GM | Mastrovasilis, Dimitrios | 2603 | | 43 |
| 5 | 44 | | GM | Mendonca, Leon Luke | 2603 | 0 | ½ - ½ | 0 | GM | Sjugirov, Sanan | 2712 | | 5 |
| 6 | 6 | | GM | Niemann, Hans Moke | 2708 | 0 | 1 - 0 | 0 | GM | Harsha, Bharathakoti | 2602 | | 45 |
| 7 | 46 | | GM | Kadric, Denis | 2601 | 0 | 1 - 0 | 0 | GM | Robson, Ray | 2704 | | 7 |
| 8 | 8 | | GM | Erigaisi, Arjun | 2701 | 0 | 1 - 0 | 0 | GM | Piorun, Kacper | 2601 | | 47 |
| 9 | 48 | | GM | Sanal, Vahap | 2600 | 0 | 0 - 1 | 0 | GM | Praggnanandhaa, R | 2688 | | 9 |
| 10 | 10 | | GM | Predke, Alexandr | 2685 | 0 | ½ - ½ | 0 | GM | Peralta, Fernando | 2596 | | 49 |
| 11 | 50 | | GM | Ivic, Velimir | 2595 | 0 | 0 - 1 | 0 | GM | Sevian, Samuel | 2684 | | 11 |
| 12 | 12 | | GM | Esipenko, Andrey | 2679 | 0 | 1 - 0 | 0 | GM | Dragnev, Valentin | 2593 | | 51 |
| 13 | 52 | | GM | Bernadskiy, Vitaliy | 2592 | 0 | 0 - 1 | 0 | GM | Salem, A.R. Saleh | 2677 | | 13 |
| 14 | 14 | | GM | Tabatabaei, M. Amin | 2677 | 0 | 1 - 0 | 0 | GM | Yuffa, Daniil | 2592 | | 53 |
| 15 | 54 | | GM | Socko, Bartosz | 2591 | 0 | ½ - ½ | 0 | GM | Martirosyan, Haik M. | 2675 | | 15 |
Standings after Round 1
| | | | | | | | | | | |
| --- | --- | --- | --- | --- | --- | --- | --- | --- | --- | --- |
| Rk. | SNo | | | Name | FED | Rtg | Pts. | TB1 | TB2 | TB3 |
| 1 | 1 | | GM | Maghsoodloo, Parham | IRI | 2734 | 1 | 0 | 1 | 0 |
| | 2 | | GM | Gukesh, D | IND | 2732 | 1 | 0 | 1 | 0 |
| | 4 | | GM | Yu, Yangyi | CHN | 2729 | 1 | 0 | 1 | 0 |
| | 6 | | GM | Niemann, Hans Moke | USA | 2708 | 1 | 0 | 1 | 0 |
| | 8 | | GM | Erigaisi, Arjun | IND | 2701 | 1 | 0 | 1 | 0 |
| | 9 | | GM | Praggnanandhaa, R | IND | 2688 | 1 | 0 | 1 | 0 |
| | 11 | | GM | Sevian, Samuel | USA | 2684 | 1 | 0 | 1 | 0 |
| | 12 | | GM | Esipenko, Andrey | FID | 2679 | 1 | 0 | 1 | 0 |
| | 13 | | GM | Salem, A.R. Saleh | UAE | 2677 | 1 | 0 | 1 | 0 |
| | 14 | | GM | Tabatabaei, M. Amin | IRI | 2677 | 1 | 0 | 1 | 0 |
| | 16 | | GM | Nihal, Sarin | IND | 2673 | 1 | 0 | 1 | 0 |
| | 18 | | GM | Korobov, Anton | UKR | 2664 | 1 | 0 | 1 | 0 |
| | 20 | | GM | Cheparinov, Ivan | BUL | 2660 | 1 | 0 | 1 | 0 |
| | 21 | | GM | Narayanan.S.L, | IND | 2660 | 1 | 0 | 1 | 0 |
| | 22 | | GM | Nguyen, Thai Dai Van | CZE | 2645 | 1 | 0 | 1 | 0 |
Round 2 pairings
| | | | | | | | | | | | | | |
| --- | --- | --- | --- | --- | --- | --- | --- | --- | --- | --- | --- | --- | --- |
| Bo. | No. | | | Name | Rtg | Pts. | Result | Pts. | | Name | Rtg | | No. |
| 1 | 1 | | GM | Maghsoodloo, Parham | 2734 | 1 | | 1 | GM | Korobov, Anton | 2664 | | 18 |
| 2 | 20 | | GM | Cheparinov, Ivan | 2660 | 1 | | 1 | GM | Gukesh, D | 2732 | | 2 |
| 3 | 21 | | GM | Narayanan.S.L, | 2660 | 1 | | 1 | GM | Yu, Yangyi | 2729 | | 4 |
| 4 | 22 | | GM | Nguyen, Thai Dai Van | 2645 | 1 | | 1 | GM | Niemann, Hans Moke | 2708 | | 6 |
| 5 | 23 | | GM | Yilmaz, Mustafa | 2641 | 1 | | 1 | GM | Erigaisi, Arjun | 2701 | | 8 |
| 6 | 9 | | GM | Praggnanandhaa, R | 2688 | 1 | | 1 | GM | Sadhwani, Raunak | 2627 | | 32 |
| 7 | 11 | | GM | Sevian, Samuel | 2684 | 1 | | 1 | GM | Kovalev, Vladislav | 2612 | | 38 |
| 8 | 25 | | GM | Aravindh, Chithambaram Vr. | 2633 | 1 | | 1 | GM | Esipenko, Andrey | 2679 | | 12 |
| 9 | 13 | | GM | Salem, A.R. Saleh | 2677 | 1 | | 1 | GM | Kadric, Denis | 2601 | | 46 |
| 10 | 27 | | GM | Sargsyan, Shant | 2630 | 1 | | 1 | GM | Tabatabaei, M. Amin | 2677 | | 14 |
| 11 | 69 | | GM | Mchedlishvili, Mikheil | 2553 | 1 | | 1 | GM | Nihal, Sarin | 2673 | | 16 |
| 12 | 3 | | GM | Vidit, Santosh Gujrathi | 2731 | ½ | | 1 | GM | Ju, Wenjun | 2550 | | 70 |
| 13 | 5 | | GM | Sjugirov, Sanan | 2712 | ½ | | ½ | GM | Murzin, Volodar | 2604 | | 42 |
| 14 | 63 | | GM | Can, Emre | 2575 | ½ | | ½ | GM | Predke, Alexandr | 2685 | | 10 |
| 15 | 15 | | GM | Martirosyan, Haik M. | 2675 | ½ | | ½ | GM | Mendonca, Leon Luke | 2603 | | 44 |
Links
---