6th Sharjah Masters 2023 R3: Nihal superb against Suleymanli
The top board encounter between R Praggnanandhaa and Wenjun Ju (CHN) ended in a draw. Both players tested their opponent and neither one made any mistake. A draw was agreed after 40th move in an equal queen and rook endgame. S L Narayanan seemed to have a slight edge over D Gukesh. However, it was not enough to gain anything substantial. Nihal Sarin scored a fantastic win against Aydin Suleymanli (AZE). He joined Praggnanandhaa, Wenjun and M Amin Tabatabaei (IRI) in a four-way lead 2.5/3. Praggnanandhaa will be up against Nihal, while the reigning Women's World Champion, Wenjun will face Tabatabaei in Round 4 which starts today at 3 p.m. local time, 4:30 p.m. IST. Photo: Aditya Sur Roy
Harsha scores a 16-move miniature
Apart from Nihal Sarin, Aryan Chopra and Harsha Bharathakoti were the only two Indians to score a victory each in Round 3. Aryan defeated GM Peter Acs (HUN) and Harsha got the better of GM Lucas van Foreest (NED) in just 16 moves. GM Aditya Mittal had a well contested draw against the 44th Chess Olympiad Gold medalist, GM Javokhir Sindarov (UZB).
Nihal - Suleymanli
The 44th Chess Olympiad individual Gold and team Bronze medalist, GM Nihal Sarin (2673) seized his opportunity against GM Aydin Suleymanli (AZE, 2560). 33.Rxa6 helped White create an outside passed pawn. 33...Qxe6? sealed Black's fate as 34.Bc6 forced the exchange of bishops which also meant less resistance in pushing the a-pawn and also for the aid of the black king. 34...Bxc6 35.Rxc6 Qd7 36.Qb2+ Kg8 37.Qb7 Qe6 38.Rxc7 Bxf2+ 39.Kxf2 and it's over.
Lucas - Harsha
Find out why 16.Bxd5?? is a blunder and what White should have done instead.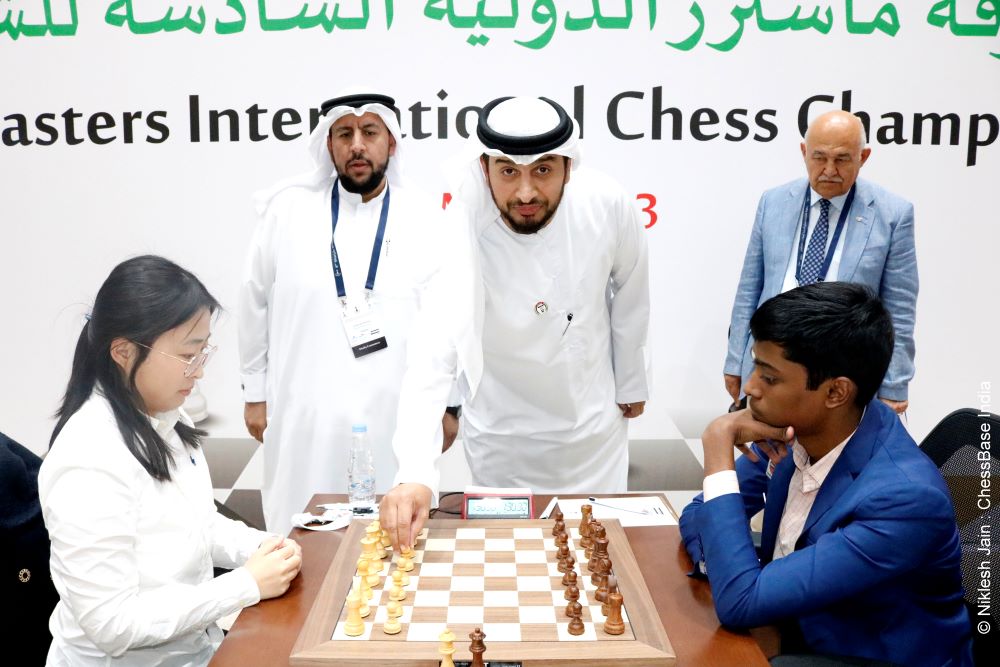 Replay the Live stream
Replay Round 3 games
Round 3 results
| | | | | | | | | | | | | | |
| --- | --- | --- | --- | --- | --- | --- | --- | --- | --- | --- | --- | --- | --- |
| Bo. | No. | | | Name | Rtg | Pts. | Result | Pts. | | Name | Rtg | | No. |
| 1 | 70 | | GM | Ju, Wenjun | 2550 | 2 | ½ - ½ | 2 | GM | Praggnanandhaa, R | 2688 | | 9 |
| 2 | 38 | | GM | Kovalev, Vladislav | 2612 | 1½ | ½ - ½ | 1½ | GM | Maghsoodloo, Parham | 2734 | | 1 |
| 3 | 2 | | GM | Gukesh, D | 2732 | 1½ | ½ - ½ | 1½ | GM | Narayanan.S.L, | 2660 | | 21 |
| 4 | 4 | | GM | Yu, Yangyi | 2729 | 1½ | ½ - ½ | 1½ | GM | Cheparinov, Ivan | 2660 | | 20 |
| 5 | 6 | | GM | Niemann, Hans Moke | 2708 | 1½ | ½ - ½ | 1½ | GM | Yilmaz, Mustafa | 2641 | | 23 |
| 6 | 8 | | GM | Erigaisi, Arjun | 2701 | 1½ | ½ - ½ | 1½ | GM | Nguyen, Thai Dai Van | 2645 | | 22 |
| 7 | 10 | | GM | Predke, Alexandr | 2685 | 1½ | ½ - ½ | 1½ | GM | Aravindh, Chithambaram Vr. | 2633 | | 25 |
| 8 | 46 | | GM | Kadric, Denis | 2601 | 1½ | ½ - ½ | 1½ | GM | Sevian, Samuel | 2684 | | 11 |
| 9 | 12 | | GM | Esipenko, Andrey | 2679 | 1½ | ½ - ½ | 1½ | GM | Sargsyan, Shant | 2630 | | 27 |
| 10 | 56 | | GM | Jumabayev, Rinat | 2590 | 1½ | ½ - ½ | 1½ | GM | Salem, A.R. Saleh | 2677 | | 13 |
| 11 | 14 | | GM | Tabatabaei, M. Amin | 2677 | 1½ | 1 - 0 | 1½ | GM | Sethuraman, S.P. | 2626 | | 33 |
| 12 | 16 | | GM | Nihal, Sarin | 2673 | 1½ | 1 - 0 | 1½ | GM | Suleymanli, Aydin | 2560 | | 67 |
| 13 | 18 | | GM | Korobov, Anton | 2664 | 1½ | ½ - ½ | 1½ | GM | Mchedlishvili, Mikheil | 2553 | | 69 |
| 14 | 74 | | GM | Galperin, Platon | 2528 | 1½ | 0 - 1 | 1 | GM | Sjugirov, Sanan | 2712 | | 5 |
| 15 | 50 | | GM | Ivic, Velimir | 2595 | 1 | 0 - 1 | 1 | GM | Martirosyan, Haik M. | 2675 | | 15 |
Standings after Round 3
| | | | | | | | | | | |
| --- | --- | --- | --- | --- | --- | --- | --- | --- | --- | --- |
| Rk. | SNo | | | Name | FED | Rtg | Pts. | TB1 | TB2 | TB3 |
| 1 | 9 | | GM | Praggnanandhaa, R | IND | 2688 | 2,5 | 0 | 2 | 5 |
| 2 | 14 | | GM | Tabatabaei, M. Amin | IRI | 2677 | 2,5 | 0 | 2 | 5 |
| | 16 | | GM | Nihal, Sarin | IND | 2673 | 2,5 | 0 | 2 | 5 |
| 4 | 70 | | GM | Ju, Wenjun | CHN | 2550 | 2,5 | 0 | 2 | 4 |
| 5 | 40 | | GM | Yoo, Christopher Woojin | USA | 2607 | 2 | 0 | 2 | 3,5 |
| 6 | 69 | | GM | Mchedlishvili, Mikheil | GEO | 2553 | 2 | 0 | 1 | 6 |
| 7 | 1 | | GM | Maghsoodloo, Parham | IRI | 2734 | 2 | 0 | 1 | 6 |
| 8 | 27 | | GM | Sargsyan, Shant | ARM | 2630 | 2 | 0 | 1 | 5,5 |
| 9 | 6 | | GM | Niemann, Hans Moke | USA | 2708 | 2 | 0 | 1 | 5,5 |
| | 20 | | GM | Cheparinov, Ivan | BUL | 2660 | 2 | 0 | 1 | 5,5 |
| | 23 | | GM | Yilmaz, Mustafa | TUR | 2641 | 2 | 0 | 1 | 5,5 |
| | 25 | | GM | Aravindh, Chithambaram Vr. | IND | 2633 | 2 | 0 | 1 | 5,5 |
| 13 | 2 | | GM | Gukesh, D | IND | 2732 | 2 | 0 | 1 | 5 |
| | 8 | | GM | Erigaisi, Arjun | IND | 2701 | 2 | 0 | 1 | 5 |
| | 11 | | GM | Sevian, Samuel | USA | 2684 | 2 | 0 | 1 | 5 |
Round 4 pairings
| | | | | | | | | | | | | | |
| --- | --- | --- | --- | --- | --- | --- | --- | --- | --- | --- | --- | --- | --- |
| Bo. | No. | | | Name | Rtg | Pts. | Result | Pts. | | Name | Rtg | | No. |
| 1 | 9 | | GM | Praggnanandhaa, R | 2688 | 2½ | | 2½ | GM | Nihal, Sarin | 2673 | | 16 |
| 2 | 70 | | GM | Ju, Wenjun | 2550 | 2½ | | 2½ | GM | Tabatabaei, M. Amin | 2677 | | 14 |
| 3 | 1 | | GM | Maghsoodloo, Parham | 2734 | 2 | | 2 | GM | Nguyen, Thai Dai Van | 2645 | | 22 |
| 4 | 23 | | GM | Yilmaz, Mustafa | 2641 | 2 | | 2 | GM | Gukesh, D | 2732 | | 2 |
| 5 | 25 | | GM | Aravindh, Chithambaram Vr. | 2633 | 2 | | 2 | GM | Yu, Yangyi | 2729 | | 4 |
| 6 | 5 | | GM | Sjugirov, Sanan | 2712 | 2 | | 2 | GM | Abasov, Nijat | 2634 | | 24 |
| 7 | 27 | | GM | Sargsyan, Shant | 2630 | 2 | | 2 | GM | Niemann, Hans Moke | 2708 | | 6 |
| 8 | 35 | | GM | Aryan, Chopra | 2617 | 2 | | 2 | GM | Erigaisi, Arjun | 2701 | | 8 |
| 9 | 39 | | GM | Vakhidov, Jakhongir | 2607 | 2 | | 2 | GM | Predke, Alexandr | 2685 | | 10 |
| 10 | 11 | | GM | Sevian, Samuel | 2684 | 2 | | 2 | GM | Yakubboev, Nodirbek | 2630 | | 28 |
| 11 | 58 | | GM | Vokhidov, Shamsiddin | 2586 | 2 | | 2 | GM | Esipenko, Andrey | 2679 | | 12 |
| 12 | 13 | | GM | Salem, A.R. Saleh | 2677 | 2 | | 2 | GM | Kovalev, Vladislav | 2612 | | 38 |
| 13 | 15 | | GM | Martirosyan, Haik M. | 2675 | 2 | | 2 | GM | Yoo, Christopher Woojin | 2607 | | 40 |
| 14 | 17 | | GM | Oparin, Grigoriy | 2667 | 2 | | 2 | GM | Murzin, Volodar | 2604 | | 42 |
| 15 | 78 | | GM | Asis Gargatagli, Hipolito | 2519 | 2 | | 2 | GM | Korobov, Anton | 2664 | | 18 |
Links
---