IM KS Raghunandan leads Dubai Open with 4.0/4 and a performance of 3166 Elo!
IM Raghunandan KS is on fire at the Dubai Open 2019. He has scored 4.0/4 and en route to that score he has beaten three GMs, with a performance of 3166! Much more impressive than his result are his games. All his three victories against Ahmed Adly (2620), Vahap Sanal (2513) and Alan Pichot (2566) have been tremendously complicated, but Raghunandan managed to navigate the complexities to perfection. We have analyzed all three of his battles in this article. Out of the 164 players at the Dubai Open, 80 of them are Indians. We bring you a half way report with pictures from the venue by Niklesh Jain.
Until 2017 Karnataka chess was without a GM. Seeing the chess boom in the state it was quite surprising that they had been unable to produce a grandmaster of their own. Things began to change slowly when Thejkumar broke that barrier in September 2017 and became Karnataka's first and India's 50th GM. Around a year later we had the state's second GM Stany GA. But what about the young talents? Were there any youngsters below the age of 18 who were close to the GM title?
Raghunandan achieved his IM title in 2016 and the Karnataka state recognized his talent, awarding him Rs.35 lakh for his excellent performances in the past. But the boy slowed down and in the next couple of years didn't really show any big movement in terms of ratings and norms. But it seems as if in all of this time while the results were not coming, Raghunandan was improving as a chess player. And at the Dubai Open 2019, he is showing what he is truly capable of.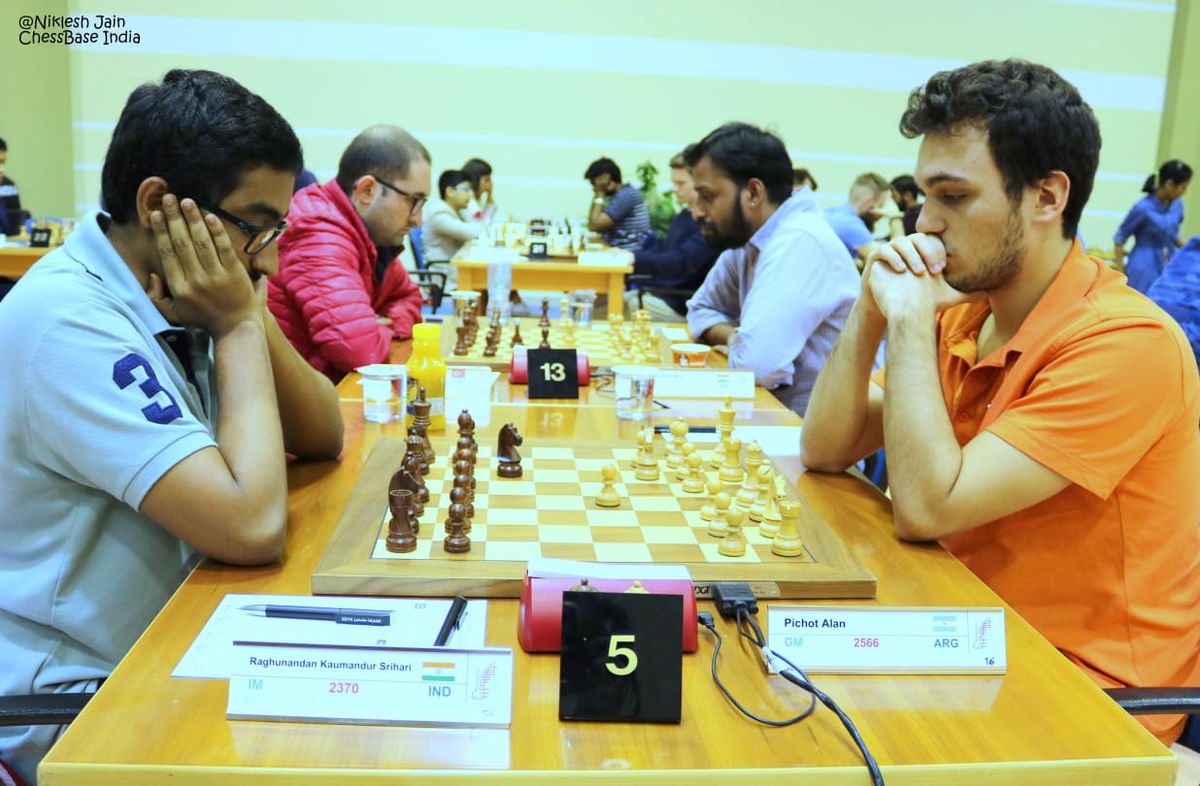 Round 2 win against Ahmed Adly (2620)
Round 3 win against Vahap Sanal (2513)
Round 4 win against Alan Pichot (2566)
Out of 164 players participating at the Dubai Open 2019, 80 are Indians! Sethuraman is the best Indian GM, followed by Aravindh Chithambaram, Debashis Das, Deepan Chakkravarthy and others.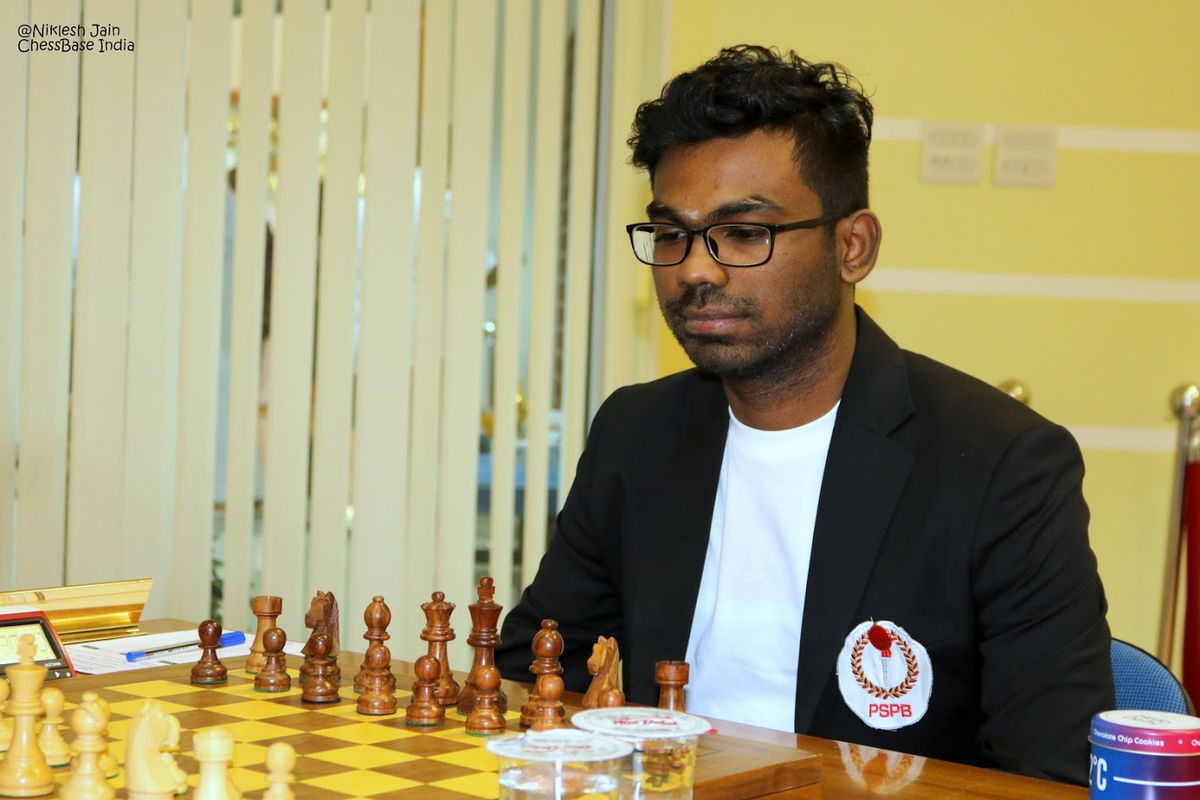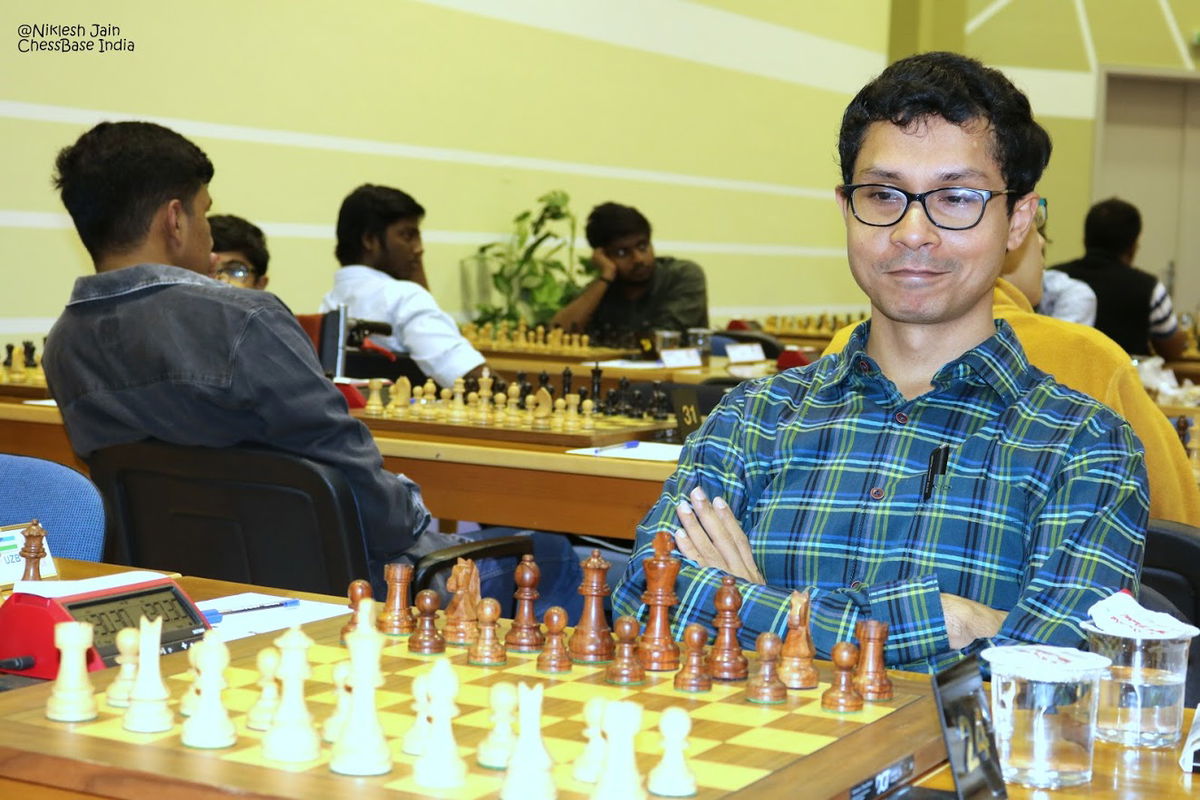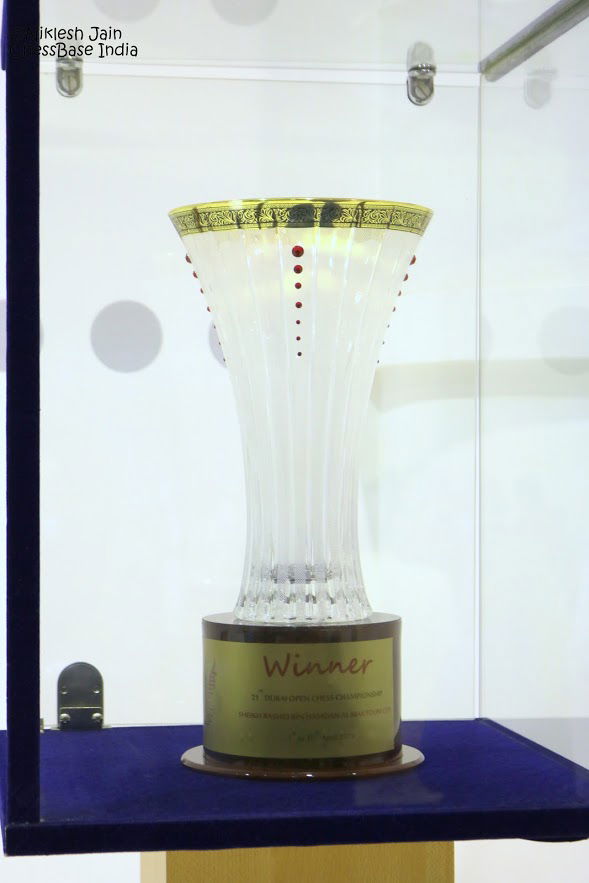 Rankings after round 4
| | | | | | | | | | | | | | |
| --- | --- | --- | --- | --- | --- | --- | --- | --- | --- | --- | --- | --- | --- |
| Rk. | SNo | | | Name | FED | Rtg | Pts. | TB1 | TB2 | TB3 | TB4 | K | rtg+/- |
| 1 | 56 | | IM | Raghunandan Kaumandur Srihari | IND | 2370 | 4,0 | 0,0 | 8,5 | 5,5 | 4 | 10 | 23,3 |
| 2 | 14 | | GM | Indjic Aleksandar | SRB | 2592 | 4,0 | 0,0 | 8,0 | 5,0 | 4 | 10 | 9,8 |
| 3 | 2 | | GM | Matlakov Maxim | RUS | 2692 | 3,5 | 0,0 | 9,5 | 6,0 | 3 | 10 | 3,3 |
| 4 | 15 | | GM | Abdusattorov Nodirbek | UZB | 2578 | 3,5 | 0,0 | 9,0 | 5,5 | 3 | 10 | 5,1 |
| | 17 | | GM | Santos Ruiz Miguel | ESP | 2555 | 3,5 | 0,0 | 9,0 | 5,5 | 3 | 10 | 8,7 |
| 6 | 3 | | GM | Kuzubov Yuriy | UKR | 2653 | 3,5 | 0,0 | 8,5 | 5,0 | 3 | 10 | 3,8 |
| | 22 | | IM | Yeoh Li Tian | MAS | 2522 | 3,5 | 0,0 | 8,5 | 5,0 | 3 | 10 | 8,9 |
| | 32 | | IM | Vokhidov Shamsiddin | UZB | 2494 | 3,5 | 0,0 | 8,5 | 5,0 | 3 | 10 | 11,0 |
| 9 | 1 | | GM | Le Quang Liem | VIE | 2711 | 3,5 | 0,0 | 7,5 | 5,0 | 3 | 10 | 1,5 |
| | 18 | | GM | Bellahcene Bilel | ALG | 2538 | 3,5 | 0,0 | 7,5 | 5,0 | 3 | 10 | 4,2 |
| 11 | 8 | | GM | Sethuraman S.P. | IND | 2624 | 3,5 | 0,0 | 7,5 | 4,5 | 3 | 10 | 3,3 |
| 12 | 4 | | GM | Mareco Sandro | ARG | 2651 | 3,5 | 0,0 | 6,5 | 4,0 | 3 | 10 | 1,6 |
| 13 | 20 | | GM | Deepan Chakkravarthy J. | IND | 2534 | 3,5 | 0,0 | 6,0 | 3,5 | 3 | 10 | 5,3 |
| 14 | 34 | | IM | Sadhwani Raunak | IND | 2475 | 3,0 | 0,0 | 8,5 | 5,0 | 2 | 10 | 7,2 |
| 15 | 24 | | GM | Kuybokarov Temur | AUS | 2519 | 3,0 | 0,0 | 8,5 | 4,5 | 3 | 10 | 1,5 |
| 16 | 29 | | IM | Visakh N R | IND | 2509 | 3,0 | 0,0 | 8,0 | 4,5 | 3 | 10 | 2,2 |
| 17 | 16 | | GM | Pichot Alan | ARG | 2566 | 3,0 | 0,0 | 8,0 | 4,0 | 3 | 10 | -1,3 |
| | 27 | | GM | Sanal Vahap | TUR | 2513 | 3,0 | 0,0 | 8,0 | 4,0 | 3 | 10 | -1,4 |
| 19 | 5 | | GM | Iturrizaga Bonelli Eduardo | VEN | 2633 | 3,0 | 0,0 | 7,5 | 4,5 | 2 | 10 | -1,7 |
| | 19 | | GM | Debashis Das | IND | 2538 | 3,0 | 0,0 | 7,5 | 4,5 | 2 | 10 | -1,4 |
Overview of Indian performances
SNo
Name
Rtg
FED
1
2
3
4
5
6
7
8
9
Pts.
Rk.
K
rtg+/-
8
GM
Sethuraman S.P.
2624
IND
1
1
½
1
3,5
11
10
3,30
12
GM
Aravindh Chithambaram Vr.
2602
IND
1
½
½
1
3,0
35
10
-3,90
19
GM
Debashis Das
2538
IND
½
1
1
½
3,0
20
10
-1,40
20
GM
Deepan Chakkravarthy J.
2534
IND
½
1
1
1
3,5
13
10
5,30
23
GM
Chanda Sandipan
2521
IND
1
1
½
½
3,0
21
10
1,50
25
GM
Venkatesh M.R.
2517
IND
1
½
1
½
3,0
32
10
0,90
26
GM
Vishnu Prasanna. V
2515
IND
1
½
1
0
2,5
41
10
-2,50
28
IM
Iniyan P
2512
IND
1
0
1
1
3,0
30
10
-4,30
29
IM
Visakh N R
2509
IND
1
1
0
1
3,0
16
10
2,20
30
GM
Harsha Bharathakoti
2497
IND
1
1
½
0
2,5
46
10
1,90
34
IM
Sadhwani Raunak
2475
IND
1
1
½
½
3,0
14
10
7,20
36
IM
Vignesh N R
2457
IND
1
½
½
½
2,5
45
10
-6,50
37
CM
Aditya Mittal
2457
IND
1
1
0
1
3,0
26
10
1,60
39
WIM
Divya Deshmukh
2432
IND
1
1
0
½
2,5
49
10
-3,70
40
IM
Shyaamnikhil P
2429
IND
½
1
0
1
2,5
58
10
-3,00
41
GM
Laxman R.R.
2428
IND
1
1
0
1
3,0
23
10
1,00
43
CM
Mendonca Leon Luke
2427
IND
1
1
0
1
3,0
34
10
-0,50
45
IM
Akash G
2414
IND
1
0
1
1
3,0
28
10
2,10
46
GM
Sundararajan Kidambi
2413
IND
1
0
1
0
2,0
77
10
-7,30
47
FM
Manush Shah
2405
IND
1
0
½
½
2,0
83
10
-7,20
49
IM
Nitin S.
2400
IND
1
½
0
1
2,5
51
10
2,40
50
IM
Raja Rithvik R
2391
IND
1
0
1
½
2,5
52
10
-2,30
53
Saurabh Anand
2385
IND
1
0
1
½
2,5
50
20
4,20
54
IM
Dhulipalla Bala Chandra Prasad
2384
IND
1
0
1
0
2,0
72
20
-3,60
56
IM
Raghunandan Kaumandur Srihari
2370
IND
1
1
1
1
4,0
1
10
23,30
57
IM
Rathnakaran K.
2351
IND
0
1
0
1
2,0
92
10
-16,40
58
IM
Sidhant Mohapatra
2348
IND
1
½
½
0
2,0
62
10
4,30
62
FM
Nitish Belurkar
2327
IND
1
0
1
0
2,0
64
20
-1,60
63
FM
Shailesh Dravid
2316
IND
1
½
0
1
2,5
53
20
5,60
64
WIM
Priyanka Nutakki
2313
IND
1
0
1
0
2,0
68
20
-2,80
65
CM
Bharath Subramaniyam H
2301
IND
1
1
0
½
2,5
43
20
16,80
69
IM
Ravi Thandalam Shanmugam
2276
IND
1
0
1
0
2,0
86
10
-2,60
71
CM
Mullick Raahil
2275
IND
1
0
1
½
2,5
59
40
8,40
72
Kunal M.
2273
IND
1
½
½
0
2,0
63
20
8,60
73
FM
Srihari L R
2263
IND
1
0
½
1
2,5
61
20
-9,00
75
Pranav V
2258
IND
½
1
½
1
3,0
33
20
16,20
78
Raahul V S
2252
IND
1
0
1
0
2,0
80
20
-6,20
79
IM
Praveen Kumar C
2225
IND
1
0
0
1
2,0
99
10
-8,60
80
FM
Jeet Jain
2219
IND
1
½
0
½
2,0
71
20
9,80
81
Panda Sambit
2218
IND
1
0
1
½
2,5
60
40
6,80
83
Gandhi Anish
2202
IND
0
1
1
½
2,5
56
20
7,40
84
FM
Aaryan Varshney
2199
IND
0
½
½
1
2,0
88
20
-12,60
87
CM
Prraneeth Vuppala
2177
IND
0
0
0
0
0
0
0
0
0
0,0
156
40
0,00
95
Thrish Karthik
2096
IND
0
1
0
1
2,0
84
40
6,80
96
Shiva Pavan Teja Sharma U
2093
IND
0
1
0
½
1,5
102
20
-8,40
99
WCM
Mrudul Dehankar
2078
IND
0
1
0
1
2,0
82
40
-1,60
101
Kumar Gaurav
2074
IND
½
0
½
1
2,0
89
20
2,00
108
Shanya Mishra
2026
IND
0
½
1
0
1,5
111
40
-22,80
110
Sri Sai Baswanth P
2018
IND
0
1
0
1
2,0
76
20
1,80
112
Mohammed Dilshad
2006
IND
0
1
1
0
2,0
69
20
16,00
113
Niklesh Kumar Jain
1995
IND
0
1
0
1
2,0
96
20
-1,00
114
Krithigga K
1994
IND
0
½
½
½
1,5
118
40
-51,60
115
WCM
Isha Sharma
1989
IND
0
1
½
½
2,0
73
20
15,00
116
Parthasarathy R
1989
IND
0
1
0
1
2,0
94
20
0,20
118
Anilkumar O.T.
1975
IND
1
0
0
1
2,0
93
20
-2,20
119
Mota Pankit
1974
IND
0
½
½
0
1,0
129
20
-20,20
125
WFM
Sanskriti Goyal
1929
IND
0
½
½
1
2,0
85
40
54,80
126
Rakshith Srinivasan
1923
IND
0
1
½
0
1,5
103
40
43,20
127
Souradip Deb
1899
IND
0
½
1
0
1,5
107
20
20,60
128
Rohit S
1868
IND
0
0
0
1
1,0
126
40
-29,60
129
WFM
Meghna C H
1863
IND
0
1
0
½
1,5
115
20
20,00
130
WFM
Potluri Supreetha
1855
IND
0
½
½
0
1,0
131
40
15,20
131
Jinan Jomon
1848
IND
½
0
1
0
1,5
106
40
41,60
135
AIM
Komal Srivatsav Sajja
1778
IND
0
0
1
1
2,0
98
40
25,60
136
AIM
Kaushik G Iyer
1771
IND
0
0
0
½
0,5
149
40
-50,40
140
AIM
Sidharth Balaji Sridharan
1732
IND
0
0
0
1
1,0
145
40
-30,40
142
Aasha C R
1691
IND
0
0
0
0
0,0
162
20
-10,40
143
Devnani Kush
1650
IND
0
0
½
1
1,5
116
40
47,20
144
Nanditha V
1650
IND
0
0
1
0
1,0
139
40
27,20
145
Aagam Aditya E
1649
IND
0
0
0
0
0
0,0
152
40
-14,40
147
Madduri Satya Tejeswar
1632
IND
0
½
0
0
0,5
148
40
7,20
148
Antony Jesumarian Leslie
1621
IND
0
0
1
½
1,5
114
40
42,00
149
Ravindra Dange
1598
IND
1
0
0
0
1,0
121
20
13,60
150
Singh Gurmeher
1589
IND
1
0
0
0
1,0
119
40
-9,60
153
Garvit Kumar Kalra
1564
IND
0
½
½
0
1,0
133
40
27,20
154
Rebecca Jesumarian
1561
IND
0
½
0
0
0,5
150
40
7,20
157
AIM
Kumaravel Adhav
1531
IND
½
0
½
1
2,0
95
40
67,20
158
AIM
Durgesh K
1521
IND
0
0
1
0
1,0
137
20
11,40
160
AIM
Vishal Choudary B
1519
IND
0
0
1
0
1,0
141
40
21,20
161
Harshavardhini M.S.
1514
IND
0
1
0
0
1,0
130
40
27,20
---