IM Raghunandan shows how to handle the pressure of winning the final round to make a GM norm
GM norms are extremely difficult to achieve. You need a performance of 2600 in an event to get this distinction. IM KS Raghunandan scored his maiden GM norm at the Dubai Open 2019. This result in itself is creditable, but what make Raghunandan's achievement even more noteworthy, is the fight back he showed after losing two games. After a 4.5/5 start, he lost two of his games. It could have been very easy to just give up at this point. But Raghunandan fought back. He drew his eighth round game. In the final round he was in a must-win situation against the strong Indian GM Sandipan Chanda. These last round must-win situations are extremely stressful, but Raghunandan rose to the occasion like a champion and achieved his maiden GM norm! Here's the article that tells you about how Raghu achieved his norm along with the boy's annotations of his final round victory.
Raghunandan's 4.0/4 start at the Dubai Open caught the attention of the world as the youngster beat three strong GMs, Adly Ahmed (2620), Vahap Sanal (2513) and Alan Pichot (2566) in three back to back rounds. We dedicated an entire article to this feat and analyzed all three of Raghunandan's victories in some depth.
Oliver Dimakiling, IM from Philippines, was Raghunandan's opponent in the eighth round. Raghunandan played a great game of chess and got an excellent attacking position. As Raghu mentions in his annotations, "In this game one of my biggest weaknesses showed up - rechecking the same variations again and again." Have a look at his analysis given below.
A draw in the eighth round meant that Raghunandan was in a must win scenario now. If he won his final round he would get the GM norm, if he drew or lost, it would have gone out of his grasp.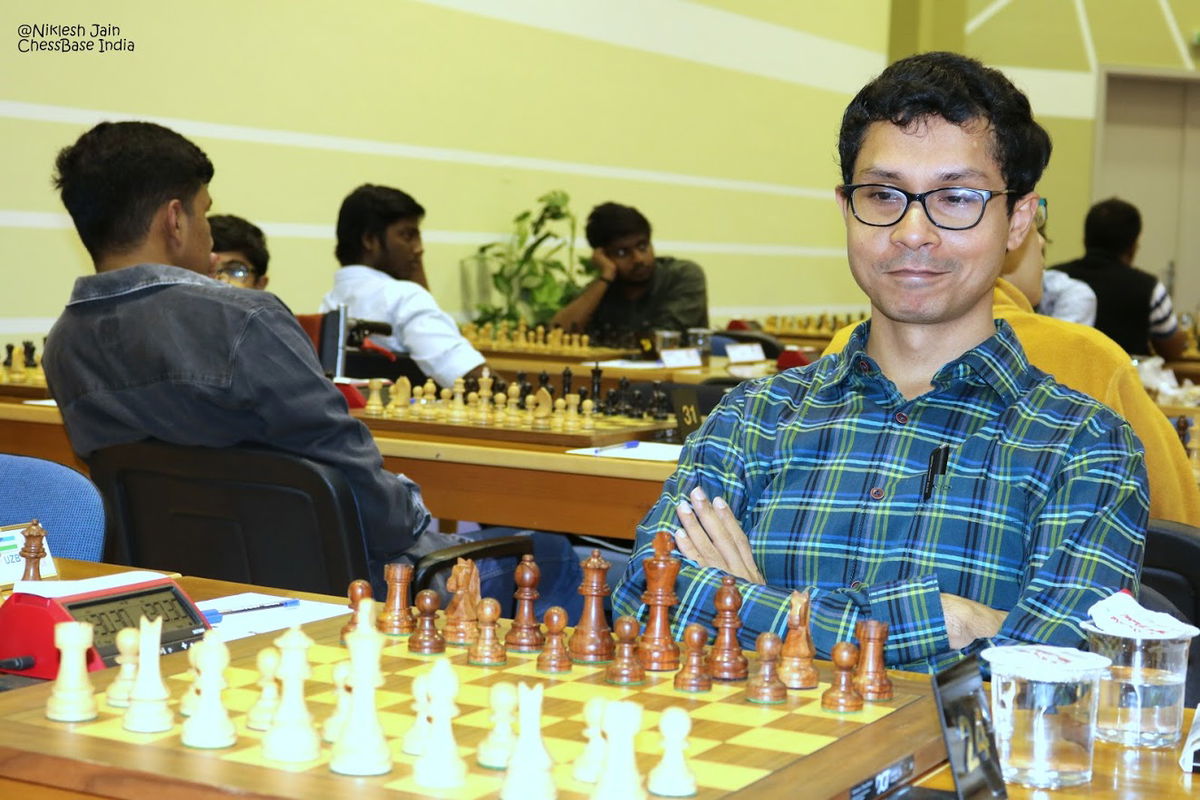 Let's go over this game in detail and try to see how Raghunandan tried to navigate his way in this high pressure game.
Raghunandan vs Sandipan Chanda
h4! would have been extremely strong. It clears the back rank mate ideas and at the time plans to hassle the knight on g6. If Black plays ...h5 here then White follows it up with g4! and gets a big advantage. Raghu: "I was sure that after this move I would be better, but firstly I was very attracted by Rc4 and could not save the position for Black and secondly after spending about half an hour calculating it (Rc4) I did not want to play something else."
We reach a critical moment in the game. What should Black play here? The best move for Black is ...g6! or ...g5! Both the moves have the same idea - to create luft for the king on g7. Why is this important? Well, let's say Black plays...g6. White now goes Nb5. The idea is to play Na7 and Rc8. Black cannot take on d7 because the e7 knight would be hanging. So the right move after Nb5 is to play ...Kf8! Now the d7 pawn is hanging and so White has to play Bxc5 bxc5 and now Na7. The threat is Rc8 and it seems like Black is busted. However, now we see the real use of the move g6! Black plays Kg7! and now Rc8 makes no sense because the d7 pawn is hanging! Raghu: "we could not imagine this (...g6!!) would be the move even while discussing it after the game."
Have a look at the game with Raghunandan's analysis:
What a win, what a game and what a confidence booster for the 17-year-old Raghunandan. As on 1st of May 2019, he has an Elo of 2424 and one GM norm. We wish him the best in achieving the remaining two norms soon!
---