Salem Saleh wins Sheikh Hamdan bin Rashid Cup Blitz, Nihal third
UAE no.1 Salem Saleh scored 8.5/11 to win Sheikh Hamdan bin Rashid Cup Blitz. Despite losing consecutive games in fifth and sixth round, the sharp tactician made a fantastic comeback by winning the next three games to get back at the top. In the end, he finished a half point ahead of the competition. Both Bassem Amin (EGY) and Nihal Sarin scored 8.0/11. They were placed second and third according to tie-breaks. Salem won US$ 2000, Bassem US$ 1800 and Nihal US$ 1600. Nihal's biggest victory of the event was to win against the eventual champion of the event, Salem Saleh in the fifth round. Zhansaya Abdumalik (KAZ) won the Best woman prize. Photo: Amruta Mokal
Fedoseev clinches Rapid, Nihal fifth
Top Russian and third seed of the tournament, Vladimir Fedoseev won the Rapid event 7.0/9. He finished a full point ahead of the field. Three players finished at 6.0/9 - Denis Kadric (BIH), Hans Niemann (USA) and Rinat Jumabayev (KAZ). They were placed second to fourth according to tie-breaks. Nihal Sarin edged Bartosz Socko (POL) in tie-breaks to claim the fifth position. The top five prizes were US$ - 6000, 5000, 4000, 3000 and 2000 each respectively. Zhansaya Abdumalik won the Best Woman prize in Rapid too.
Round 5: Nihal - Salem: 1-0
Nihal's biggest win in the Blitz event was against the eventual winner Salem Saleh (UAE) in Round 5.
Black made an early mistake 10...Rfc8 as it cost him not only a valuable pawn but the position also started crumbling. After 11.dxc5 Qxc5 12.Qxb7 Ne4 13.Nb3 Qb6 14.Ba6 Qd8 15.Qb5 caused Black to lose an exchange and eventually the game.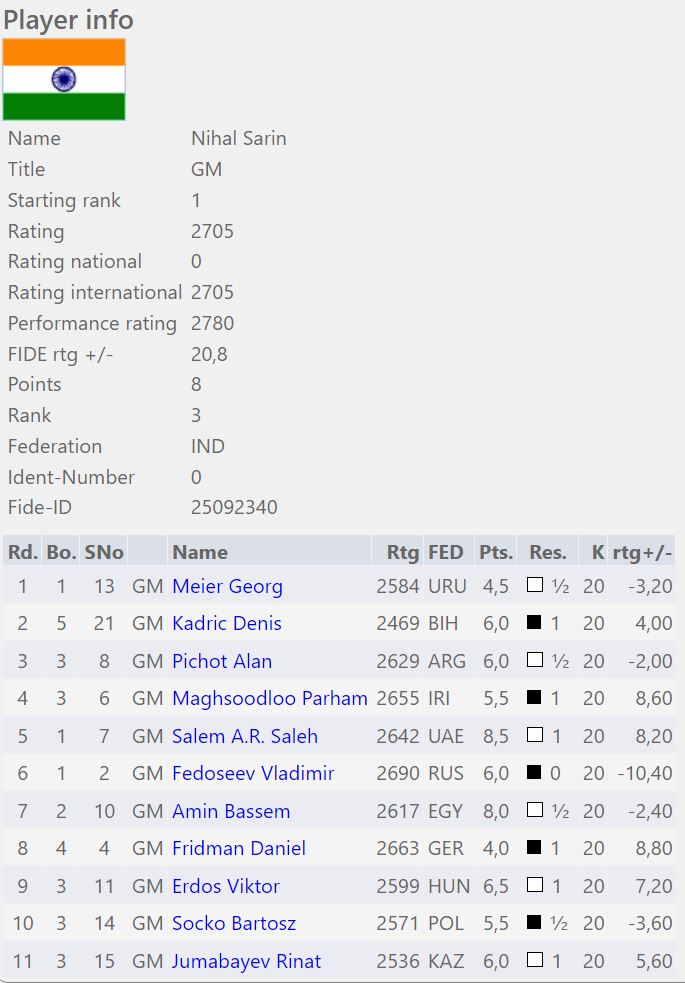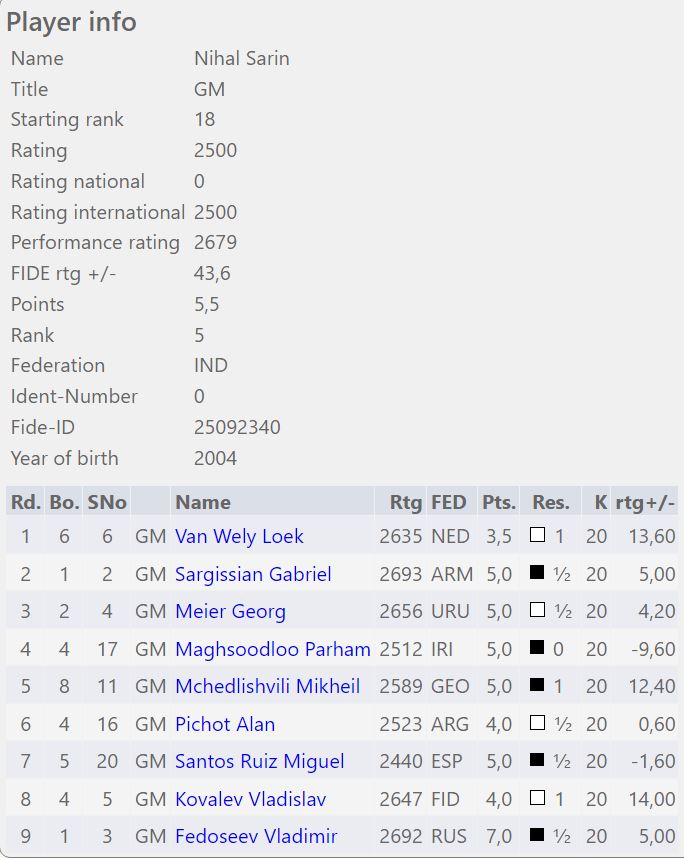 Video Gallery
Replay all games of Nihal from the Blitz event:
Replay Blitz Round 1-11 games
Replay Rapid Round 4-9 games
The tournament took place at Expo 2020 Dubai, Dubai Exhibition Center, Dubai in the UAE from 6th to 8th December 2021. Every day, three rounds of Rapid games were played. Time control for Rapid was 15 minutes + 10 seconds increment per move starting from move 1. The Blitz event happened on 9th December 2021 at the same venue. Time control for Blitz was 3 minutes + 2 seconds increment per move starting from move no.1.
Blitz Final standings
| | | | | | | | | | | | | | | | |
| --- | --- | --- | --- | --- | --- | --- | --- | --- | --- | --- | --- | --- | --- | --- | --- |
| Rk. | SNo | | | Name | sex | FED | Rtg | Pts. | TB1 | TB2 | TB3 | TB4 | TB5 | K | rtg+/- |
| 1 | 7 | | GM | Salem A.R. Saleh | | UAE | 2642 | 8,5 | 0,0 | 63,5 | 68,0 | 2 | 8 | 20 | 44,2 |
| 2 | 10 | | GM | Amin Bassem | | EGY | 2617 | 8,0 | 0,5 | 63,5 | 69,0 | 3 | 6 | 20 | 40,4 |
| 3 | 1 | | GM | Nihal Sarin | | IND | 2705 | 8,0 | 0,5 | 62,5 | 66,5 | 3 | 6 | 20 | 20,8 |
| 4 | 20 | | GM | Bellahcene Bilel | | ALG | 2493 | 7,0 | 0,0 | 59,5 | 63,5 | 3 | 5 | 20 | 66,2 |
| 5 | 11 | | GM | Erdos Viktor | | HUN | 2599 | 6,5 | 0,0 | 59,0 | 62,0 | 2 | 6 | 20 | 5,0 |
| 6 | 2 | | GM | Fedoseev Vladimir | | RUS | 2690 | 6,0 | 0,0 | 67,5 | 73,0 | 2 | 6 | 20 | -16,2 |
| 7 | 21 | | GM | Kadric Denis | | BIH | 2469 | 6,0 | 0,0 | 64,0 | 67,5 | 2 | 5 | 20 | 56,8 |
| 8 | 8 | | GM | Pichot Alan | | ARG | 2629 | 6,0 | 0,0 | 63,5 | 67,5 | 2 | 3 | 20 | -0,4 |
| 9 | 15 | | GM | Jumabayev Rinat | | KAZ | 2536 | 6,0 | 0,0 | 63,0 | 65,0 | 2 | 5 | 20 | 30,2 |
| 10 | 3 | | GM | Niemann Hans Moke | | USA | 2680 | 6,0 | 0,0 | 59,0 | 63,0 | 1 | 6 | 20 | -20,0 |
| 11 | 14 | | GM | Socko Bartosz | | POL | 2571 | 5,5 | 0,0 | 59,5 | 62,5 | 3 | 5 | 20 | -3,0 |
| 12 | 6 | | GM | Maghsoodloo Parham | | IRI | 2655 | 5,5 | 0,0 | 58,5 | 60,5 | 1 | 5 | 20 | -28,0 |
| 13 | 22 | | GM | Abdumalik Zhansaya | w | KAZ | 2380 | 5,5 | 0,0 | 57,0 | 59,0 | 0 | 5 | 20 | 50,8 |
| 14 | 9 | | GM | Mchedlishvili Mikheil | | GEO | 2618 | 5,5 | 0,0 | 56,5 | 58,5 | 3 | 5 | 20 | -34,8 |
| 15 | 5 | | GM | Sargissian Gabriel | | ARM | 2661 | 5,5 | 0,0 | 56,0 | 59,0 | 2 | 4 | 20 | -36,2 |
| 16 | 16 | | GM | Iordachescu Viorel | | MDA | 2534 | 5,5 | 0,0 | 52,5 | 54,5 | 1 | 4 | 20 | -4,2 |
| 17 | 19 | | GM | Ivanisevic Ivan | | SRB | 2499 | 5,0 | 0,0 | 52,5 | 54,5 | 2 | 4 | 20 | -4,0 |
| 18 | 17 | | GM | Kovalev Vladislav | | FID | 2527 | 4,5 | 1,0 | 56,5 | 58,5 | 2 | 3 | 20 | -13,2 |
| 19 | 13 | | GM | Meier Georg | | URU | 2584 | 4,5 | 1,0 | 51,0 | 53,0 | 1 | 4 | 20 | -38,6 |
| 20 | 12 | | GM | Van Wely Loek | | NED | 2593 | 4,5 | 1,0 | 48,5 | 50,5 | 2 | 4 | 20 | -47,6 |
| 21 | 4 | | GM | Fridman Daniel | | GER | 2663 | 4,0 | 0,0 | 57,5 | 60,5 | 1 | 3 | 20 | -56,4 |
| 22 | 18 | | GM | Santos Ruiz Miguel | | ESP | 2527 | 3,5 | 0,0 | 49,0 | 51,0 | 1 | 3 | 20 | -41,4 |
| 23 | 23 | | IM | Sukandar Irine Kharisma | w | INA | 2265 | 3,0 | 0,0 | 50,0 | 52,0 | 2 | 3 | 20 | 21,0 |
| 24 | 24 | | IM | Saeed Ishaq | | UAE | 2195 | 2,0 | 0,0 | 50,0 | 53,0 | 0 | 2 | 20 | 8,6 |
Rapid Final standings
| | | | | | | | | | | | |
| --- | --- | --- | --- | --- | --- | --- | --- | --- | --- | --- | --- |
| Rk. | SNo | | Name | FED | Rtg | Pts. | TB1 | TB2 | TB3 | K | rtg+/- |
| 1 | 3 | GM | Fedoseev Vladimir | RUS | 2692 | 7,0 | 0,0 | 41,0 | 45,0 | 20 | 15,6 |
| 2 | 15 | GM | Kadric Denis | BIH | 2542 | 6,0 | 0,0 | 41,5 | 42,5 | 20 | 38,0 |
| 3 | 23 | GM | Niemann Hans Moke | USA | 2327 | 6,0 | 0,0 | 41,0 | 45,0 | 20 | 86,4 |
| 4 | 12 | GM | Jumabayev Rinat | KAZ | 2562 | 6,0 | 0,0 | 39,0 | 40,0 | 20 | 25,8 |
| 5 | 18 | GM | Nihal Sarin | IND | 2500 | 5,5 | 0,0 | 40,0 | 43,5 | 20 | 43,6 |
| 6 | 13 | GM | Socko Bartosz | POL | 2562 | 5,5 | 0,0 | 39,5 | 43,5 | 20 | 29,8 |
| 7 | 17 | GM | Maghsoodloo Parham | IRI | 2512 | 5,0 | 0,0 | 43,5 | 47,5 | 20 | 23,6 |
| 8 | 20 | GM | Santos Ruiz Miguel | ESP | 2440 | 5,0 | 0,0 | 41,5 | 45,5 | 20 | 46,4 |
| 9 | 11 | GM | Mchedlishvili Mikheil | GEO | 2589 | 5,0 | 0,0 | 40,5 | 44,0 | 20 | -4,0 |
| 10 | 2 | GM | Sargissian Gabriel | ARM | 2693 | 5,0 | 0,0 | 39,5 | 40,5 | 20 | -25,0 |
| 11 | 4 | GM | Meier Georg | URU | 2656 | 5,0 | 0,0 | 38,5 | 42,0 | 20 | -12,6 |
| 12 | 7 | GM | Iordachescu Viorel | MDA | 2623 | 5,0 | 0,0 | 37,0 | 38,5 | 20 | -12,4 |
| 13 | 9 | GM | Erdos Viktor | HUN | 2601 | 4,5 | 0,0 | 41,5 | 43,0 | 20 | -20,6 |
| 14 | 14 | GM | Fridman Daniel | GER | 2542 | 4,5 | 0,0 | 31,0 | 32,0 | 20 | -6,4 |
| 15 | 5 | GM | Kovalev Vladislav | FID | 2647 | 4,0 | 0,0 | 45,5 | 50,0 | 20 | -35,4 |
| 16 | 1 | GM | Salem A.R. Saleh | UAE | 2729 | 4,0 | 0,0 | 39,5 | 41,0 | 20 | -47,8 |
| 17 | 16 | GM | Pichot Alan | ARG | 2523 | 4,0 | 0,0 | 38,5 | 41,5 | 20 | -2,0 |
| 18 | 10 | GM | Ivanisevic Ivan | SRB | 2593 | 4,0 | 0,0 | 36,5 | 37,5 | 20 | -28,0 |
| 19 | 19 | GM | Abdumalik Zhansaya | KAZ | 2449 | 4,0 | 0,0 | 35,0 | 36,5 | 20 | 18,2 |
| 20 | 8 | GM | Amin Bassem | EGY | 2614 | 4,0 | 0,0 | 32,0 | 33,0 | 20 | -40,8 |
| 21 | 6 | GM | Van Wely Loek | NED | 2635 | 3,5 | 0,0 | 36,0 | 37,0 | 20 | -48,6 |
| 22 | 22 | IM | Sukandar Irine Kharisma | INA | 2381 | 3,0 | 0,0 | 30,5 | 31,5 | 20 | 2,8 |
| 23 | 21 | GM | Bellahcene Bilel | ALG | 2397 | 1,5 | 0,0 | 33,0 | 34,0 | 20 | -28,4 |
| 24 | 24 | IM | Saeed Ishaq | UAE | 2309 | 1,0 | 0,0 | 36,0 | 37,5 | 20 | -18,2 |
Links
---