Harikrishna's endgame sorcery explained
by Sagar Shah - 07/05/2019
It seems like reaching an equal endgame against Harikrishna is a recipe for disaster! The India no.2 has been playing some phenomenal endgames since the Shenzhen Masters. Hari continued his form at the Tepe Sigeman & Co. and is now on 3.0/4 after his rounds three and four victory against Nils Grandelius and Nihal Sarin. How does Harikrishna do it? How is he able to beat such strong opponents from relatively equal endgame positions? IM Sagar Shah has been following Hari's games quite closely and in this article he tries to reveal the key elements of Harikrishna's successful endgame play. We also have a very beautiful endgame lesson from a game played in 1984 between Kovacevic and Ribli. Don't miss this instructive article.
Harikrishna beats Grandelius and Nihal to lead Tepe Sigeman & Co. with Gawain Jones
We have been observing this from Shenzhen - Harikrishna gets in to equalish endgames and then beats his opponents. How does he do that? Well, let's see how.
Grandelius vs Harikrishna, Round 3
It is quite easy to continue with a routine move like Rd8 or Ra8. But what Harikrishna does in such positions is puts all his energy and finds resources which do not change the assessment of the position, but forces the opponent to make certain uncomfortable decisions. He keeps doing this for several moves and somehow he is able to do this much better than his opponents. At some point Hari's adversaries start to lose their stamina and Harikrishna is all over them! So what did he plays against Grandelius in the above position?
...b4! an excellent move, which forces White to make a decision. Either he can take the pawn on b4 or let Black push forward with b3. And yes, the black pawn coming to b3 is not fatal, but it is uncomfortable to give your opponent a lot of space and so Grandelius decided to take cxb4. Now Hari replied with Rc8 attacking the bishop. The rook is also threatening to come to c4 and hence, White goes Bd3, but after Rd8, you are not just threatening the bishop, but after it moves, Rd4 is going to give you back the pawn.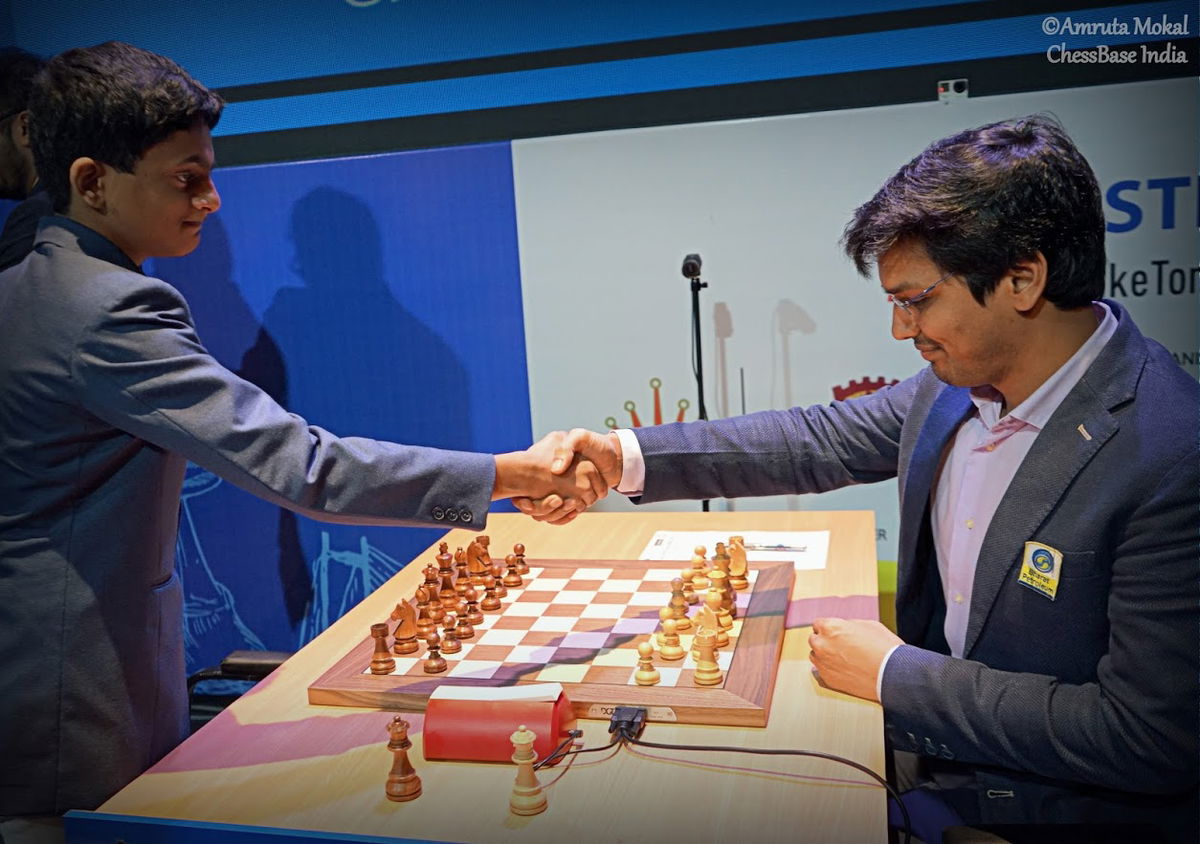 Nihal had the black pieces against Harikrishna in round four and he played the opening and the middlegame quite well. We reach an endgame that was once again quite equalish.
Harikrishna vs Nihal Sarin, Round 4
The knight moved to c6 and Nihal was expecting the move Be3 back. However, Hari surprised him with Bxc6! The position is not winning per se. However, the a-pawn coupled with kingside black pawns being on dark squares, puts Black under some pressure to find the right defensive ideas. From a position that was quite equal in nature and Nihal could play just about any way he would like, the youngster was pushed into a position where he had to be accurate. Quite an unpleasant turn of events.
A small lesson is chess history
After Hari's victory, we found a tweet from !TUUR who says that Hari's endgame was similar to Kovacevic - Ribli, 1984. I checked this endgame and it was just so instructive. Let's see why:
Kovacevic vs Ribli, 1984
Can you guess what Ribli played here? He simply gave up his bishop pair with Bxf3! How can such a move be any good?
Now imagine the pawn on e5. After fxe5 fxe5 White will have a decision to make. He can either take on e5 and after Bxe5 play his king to d2, but then Black get in d4 when he is able to create to passers on the queenside. If after ...e5 fxe5 fxe5 White doesn't take on e5 then Black will take on d4. Now taking with the pawn is impossible as the b4 pawn falls. But if you take with the king, then Black just goes Be7-f6 and it is all over! This is exactly what happened in the game and Ribli won the game!
Moral of the story: Not all opposite coloured bishop endgames with equal material are drawn.
A much underestimated power of the pair of bishops: the easily available yet unexpected liquidation😀 : #TePeSigeman @Harichess struck with 39.Bxc6! after 38…Nc6? from @NihalSarin just like in 1984 Ribli stunned & beat Kovacevic with the amazing 26…Bxf3! @GMjtis @ChessbaseIndia pic.twitter.com/IJIHLwq9wB

— !TUUR (@TUUR1) May 6, 2019
We would like to thank !TUUR for bringing this wonderful game to our notice!
---
Related news
:
Harikrishna wins French Top 16 for Asnières le Grand Échiquier

@ 13/06/2023 by Shahid Ahmed (en)
पीटर स्वीडलर नें जीता तेपे सिगमन 2023 का खिताब

@ 13/05/2023 by Niklesh Jain (hi)
Peter Svidler wins 28th Tepe Sigeman & Co 2023, Gukesh shares second place

@ 11/05/2023 by Shahid Ahmed (en)
Tepe Sigeman & Co 2023 R6: A Close Race

@ 10/05/2023 by Shahid Ahmed (en)
Tepe Sigeman & Co 2023 R5: Abhimanyu holds Gukesh to a draw, still in lead with Svidler

@ 09/05/2023 by Shahid Ahmed (en)
तेपे सिगमन R5 : अभिमन्यु नें गुकेश को ड्रॉ पर रोका

@ 09/05/2023 by Niklesh Jain (hi)
तेपे सिगमन :R4 : गुकेश को हराकर अर्जुन की वापसी

@ 08/05/2023 by Niklesh Jain (hi)
Tepe Sigeman & Co 2023 R4: Arjun Erigaisi bounces back

@ 08/05/2023 by Shahid Ahmed (en)
Tepe Sigeman & Co 2023 R3: Svidler and Mishra join Gukesh in the lead

@ 07/05/2023 by Shahid Ahmed (en)
तेपे सिगमन 2023 : R3 : गुकेश ने निल्स से खेला ड्रॉ ,अर्जुन की दूसरी हार

@ 07/05/2023 by Niklesh Jain (hi)
Tepe Sigeman & Co 2023 R2: Gukesh crushes Keymer, now World no.15

@ 06/05/2023 by Shahid Ahmed (en)
तेपे सिगमन 2023 : गुकेश की दूसरी जीत , 2741 रेटिंग पर पहुंचे

@ 06/05/2023 by Niklesh Jain (hi)
Tepe Sigeman & Co 2023 R1: Arjun Erigaisi and Gukesh make a winning start

@ 05/05/2023 by Shahid Ahmed (en)
तेपे सिगमन 2023 : गुकेश - अर्जुन का जीत से आरंभ

@ 05/05/2023 by Niklesh Jain (hi)
Gukesh and Arjun Erigaisi set to face Gelfand, Svidler and world's best at 28th TePe Sigeman & Co 2023

@ 04/05/2023 by Shahid Ahmed (en)
तेपे सिगमन 2023 : गुकेश और अर्जुन पर रहेंगी नजरे

@ 03/05/2023 by Niklesh Jain (hi)
Harikrishnan clinches 34th KCF Rapid Rating Open 2023

@ 11/03/2023 by Shahid Ahmed (en)
Harikrishnan dominates Velammal Republic Day Celebration Rapid Rating Open 2023

@ 06/02/2023 by Shahid Ahmed (en)
Vitaly Sivuk wins 7th Johor Open 2022, Harikrishnan third

@ 12/01/2023 by Shahid Ahmed (en)
GM Harikrishna's Q&A with ChessBase India viewers

@ 21/06/2022 by Himank Ghosh (en)
Harikrishnan wins 9 Sportz All India Rapid Rating Chess Tournament 2022

@ 13/06/2022 by Shahid Ahmed (en)
तेपे सिगमन 2022 : अर्जुन एरिगासी बने उपविजेता

@ 11/05/2022 by Niklesh Jain (hi)
Hans Niemann wins 27th Tepe Sigeman & Co Chess Tournament 2022, Arjun Erigaisi second

@ 10/05/2022 by Shahid Ahmed (en)
Hans Niemann on the verge of winning 27th Tepe Sigeman & Co 2022

@ 09/05/2022 by Shahid Ahmed (en)
Tepe Sigeman & Co 2022 R5: Arjun Erigaisi misses against Jorden van Foreest

@ 08/05/2022 by Shahid Ahmed (en)
Tepe Sigeman & Co 2022 R4: Hans Niemann extends his sole lead, Arjun Erigaisi draws

@ 07/05/2022 by Shahid Ahmed (en)
Tepe Sigeman & Co 2022 R3: Hans Niemann halts Arjun Erigaisi

@ 06/05/2022 by Shahid Ahmed (en)
तेपे सिगमन:R3:नीमन हंस नें रोका अर्जुन का विजयरथ

@ 06/05/2022 by Niklesh Jain (hi)
तेपे सिगमन 2022 : R2 :अर्जुन की लगातार दूसरी जीत

@ 05/05/2022 by Niklesh Jain (hi)
Tepe Sigeman & Co 2022 R2: Arjun Erigaisi outplays Salem, now World no.51

@ 05/05/2022 by Shahid Ahmed (en)
तेपे सिगमन 2022 : अर्जुन की धमाकेदार शुरुआत

@ 04/05/2022 by Niklesh Jain (hi)
Tepe Sigeman & Co 2022 R1: Arjun Erigaisi beats Shirov, now World no.58

@ 04/05/2022 by Shahid Ahmed (en)
Arjun Erigaisi to debut at 27th TePe Sigeman & Co Tournament 2022

@ 03/05/2022 by Shahid Ahmed (en)
Harikrishnan A Ra and Muthaiah Al win National Club Chess Championships 2021 in Maldives

@ 26/01/2022 by Shahid Ahmed (en)
IM Harikrishnan A Ra wins Sivakasi Chess Club Rapid Rating Open

@ 14/12/2021 by R Anantharam (en)
TePe Sigeman & Co 2021 R7: Nihal finishes with a draw against Short

@ 30/09/2021 by Shahid Ahmed (en)
Jorden van Foreest clinches TePe Sigeman & Co 2021 with a round to go

@ 29/09/2021 by Shahid Ahmed (en)
TePe Sigeman & Co 2021 R5: Jorden extends his lead

@ 28/09/2021 by Shahid Ahmed (en)
TePe Sigeman & Co 2021 R4: Nihal beats Gawain Jones

@ 27/09/2021 by Shahid Ahmed (en)
TePe Sigeman & Co 2021 R3: Jorden outplays Short

@ 26/09/2021 by Shahid Ahmed (en)
TePe Sigeman & Co 2021 R2: Nihal makes a draw with Jorden

@ 25/09/2021 by Shahid Ahmed (en)
TePe Sigeman & Co 2021 R1: Short spells endgame magic

@ 24/09/2021 by Shahid Ahmed (en)
Harikrishna will debut at Saint Louis Rapid and Blitz Online today

@ 15/09/2020 by Shahid Ahmed (en)
Mamedyarov wins World Stars Sharjah Online, Harikrishna finishes second

@ 14/06/2020 by Shahid Ahmed (en)
Harikrishna makes a strong start at World Stars Sharjah Online International

@ 13/06/2020 by Shahid Ahmed (en)
Harikrishna features in World Stars Sharjah Online International Championship 2020

@ 06/06/2020 by Shahid Ahmed (en)
India has a new no.2 - Vidit Gujrathi

@ 02/02/2020 by Sagar Shah (en)
IM Harikrishnan wins Ramco 2nd FIDE Rated Open 2019

@ 16/12/2019 by R Anantharam (en)
Stranded in the Italian

@ 08/11/2019 by Sagar Shah (en)
हरिकृष्णा टॉप 10 की ओर ! 2757.5 पहुंची लाइव रेटिंग !!

@ 04/09/2019 by Niklesh Jain (hi)
Harikrishna's brilliant play at Polish Extra League takes him to Elo 2754 and world no.16

@ 03/09/2019 by Sagar Shah (en)
Harikrishna enters top 20 in world rankings with a win over Wei Yi

@ 20/08/2019 by Sagar Shah (en)
Harikrishnan and Anuj finish in top 10 at Sitges Open 2019

@ 09/08/2019 by Niklesh Jain (en)
Yu Yangyi vs Harikrishna teaches you secrets of queen vs pawn endgame

@ 22/05/2019 by Sagar Shah (en)
Harikrishna finishes second at Tepe Sigeman & Co. 2019, Nihal reaches 2600.4

@ 10/05/2019 by Sagar Shah (en)
तेपे सिगमन - हरिकृष्णा बने उपविजेता ! निहाल नें रचा इतिहास !

@ 10/05/2019 by Nitesh srivastava (hi)
निहाल का कमाल, जूनियर विश्व चैम्पियन को दी मात

@ 08/05/2019 by नितेश श्रीवास्तव (hi)
तेपे सिगमन शतरंज - हरिकृष्णा जीत के साथ बढ़त पर

@ 05/05/2019 by Niklesh Jain (hi)
Nihal Sarin crosses 2600 on the live rating list at Tepe Sigeman & Co.

@ 05/05/2019 by Sagar Shah (en)
Shenzhen 2019 Round 5: Harikrishna's hattrick - Rapport, Ding Liren and now Yu Yangyi!

@ 22/04/2019 by Sagar Shah (en)
Prague 2019 R01-03: Vidit beats Gelfand, Hari's beauty against Duda

@ 09/03/2019 by Sagar Shah (en)
Harikrishna is the only Indian in the FIDE Grand Prix series 2019

@ 21/02/2019 by Sagar Shah (en)
World Rapid Championship: Anand closes in on the tournament leaders going into the final day

@ 28/12/2018 by Aditya Pai (en)
World Rapid Championship: Tough day for Carlsen

@ 27/12/2018 by Aditya Pai (en)
Batumi Chess Olympiad: India's chances of a podium finish diminish after a catastrophic ninth round

@ 04/10/2018 by Aditya Pai (en)
Batumi Chess Olympiad: Sasikiran helps India edge out Czech Republic, women suffer their first loss

@ 03/10/2018 by Aditya Pai (en)
Live Games and Updates of Team india from Batumi Olympiad 2018

@ 24/09/2018 by ChessBase India (en)
From Pratipadu to Belgrade: The journey of Harikrishna Pentala

@ 30/10/2017 by Sagar Shah (en)