TePe Sigeman & Co 2021 R1: Short spells endgame magic
TePe Sigeman & Co Tournament 2021 started with all decisive games in the first round. The legendary Nigel Short started the event with a very nice victory against France no.3 Etienne Bacrot. Short might not have played a tournament in almost a year, yet his years of experience was on full display as he played beautifully in a queen vs double bishops endgame. Nihal started his event with a loss against Sweden no.1 Nils Grandelius, after the wunderkind made a mistake in the endgame. Vincent Keymer trapped his own king against Jorden van Foreest, Gawain Jones got the better of Jonas Buhl Bjerre in an interesting finish. Round 2 starts today at 5:30 p.m. IST. Photo: Lars OA Hedlund/Tepe Sigeman & Co Tournament
Four decisive games
Earlier in the month, former world champion Anatoly Karpov withdrew from the tournament. Tepe Sigeman & Co. 2021 Tournament found the eighth player in the next few days in the form Jonas Buhl Bjerre. The first round had four decisive games, which shows the fighting nature of all eight players in the lineup. The tournament is played at Elite Plaza Hotel in Malmö, Sweden.
Short - Bacrot: 1-0
Nigel Short and Etienne Bacrot had a great endgame which needed a computer like precision for the Frenchman to save the game. A delay in castling caused White's pieces to be completely cramped.
26...Nc5 is threatening to take the b3-pawn. Unfortunately for White, there is no way to defend it. 27.g4 is played and Black took the pawn, 27...Nxb3. White cannot recapture 28.Qxb3 as Qd3 takes advantage of the existing pin on the back rank and creates a new one on e2-rook, Thus, b1-bishop cannot be defended and Black retrieves the sacrificed piece. Bacrot obviously saw all these and played 28.Kg2.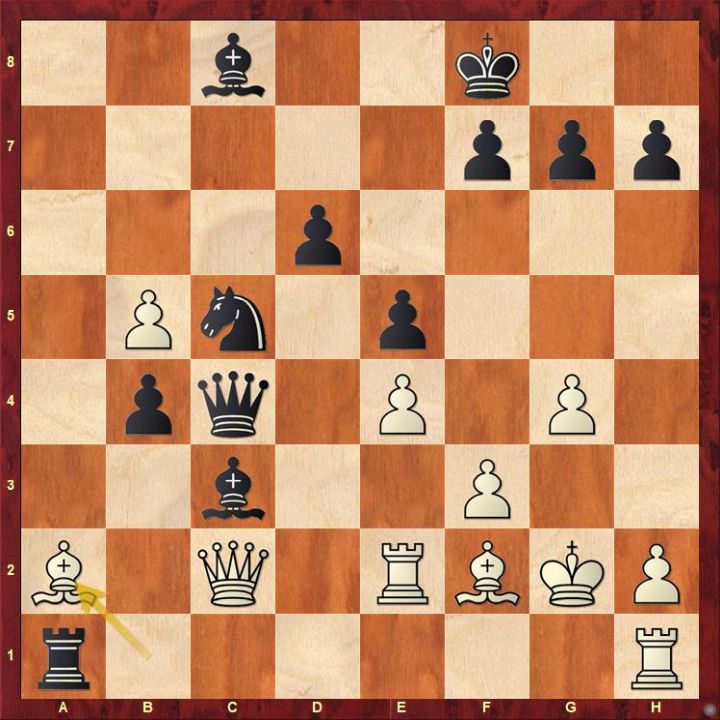 32...Rxa2 maintains equilibrium 33.Qxa2 b3 34.Qa8 Qxe2 35.Qxc8+ Ke7 36.Qc7+ Ke6 and both players are forced to repeat moves. Black went for 32...Qxb5 allowing White to get back in the game 33.Rxa1 Bxa1 34.Bc4 Qb6 35.Bxc5 Qxc5 36.Qa2 Bd4 37.Qa8 and now White is completely winning.
The real twist in the tale starts as the game liquidates into a queen vs two bishops and few pawns endgame starts after 41.Qd5+ Ke7 42.Rxd7+ Bxd7
According to the computer, 46...c4 or Kc6 keeps things in balance. 46...b2 is what disturbed the harmony for Black. The game continued 47.Qb7 and still Black could have played 47...c4, however he opted for 47...Bf7 which allowed White to get back in the game 48.f4. Black never pushed the c5-pawn, eventually lost it and the game too.
Short tweeted after winning the game
Grandelius - Nihal: 1-0
Nihal steered through the storm for the better part of the game and almost managed to save it against Nils Grandelius.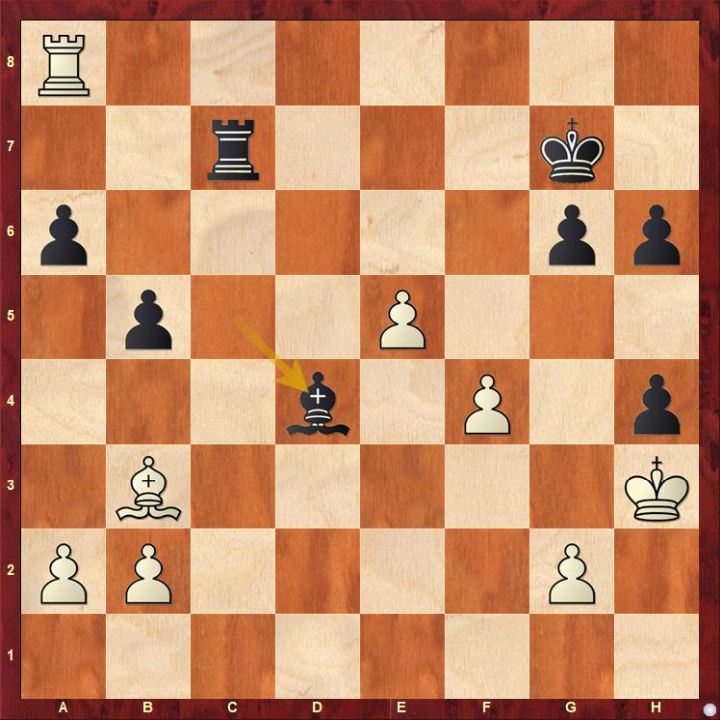 Black needed to play 36...Rd7 to keep the chances for a draw as 37.Rxa6 runs into 37...Rd3+ 38.Kh2 Bf2 and Black is doing fine. 36...Bd4 dropped the a6-pawn without any compensation 37.Rxa6 g5 created some new light square weakness on the kingside 38.f5 Bxe5 39.Rg6+ Kh7 40.Kg4 and it's all over for Black.
Jorden - Keymer: 1-0
Vincent Keymer went wrong in the endgame, which cost him dearly against Jorden van Foreest.
Black blundered 40...e5 which trapped his own king. Find out what Black should have played instead to save the game.
Jonas - Jones: 0-1
Jonas Buhl Bjerre had an interesting game against Gawain Jones. It could have gone in either player's way. It eventually had a sharp position.
White lost the game after 44.Qf5+ Qxf5 45.gxf5 e2 and it's all over. However, there was an incredible way to save the game. Find out how.
Replay Round 1 games
Time Control
100 minutes for 40 moves + 50 minutes for 20 moves + 15 minutes for the rest of the game with an increment of 30 seconds per move, starting from move 1. The Sofia rule will be applied (no draw offers before Black's 30th move).
Round 1 results
Nigel Short – Etienne Bacrot: 1-0
Nils Grandelius – Nihal Sarin: 1-0
Jorden van Foreest – Vincent Keymer: 1-0
Jonas Buhl Bjerre – Gawain Jones: 0-1
Round 2 pairings
Nigel Short – Nils Grandelius
Vincent Keymer – Jonas Buhl Bjerre
Nihal Sarin – Jorden van Foreest
Etienne Bacrot – Gawain Jones
Schedule
23rd - 28th September - 2 p.m. CET (5:30 p.m. IST)
29th September - 12 p.m. CET (3:30 p.m. IST)
Links
---