TePe Sigeman & Co 2021 R5: Jorden extends his lead
Jorden van Foreest increased his lead as he defeated Etienne Bacrot in the fifth round of TePe Sigeman & Co Tournament 2021. Bacrot's passive maneuvering of his piece cost him the game. Jonas Buhl Bjerre suffered his third loss of the event, this time against Sweden no.1, Nils Grandelius. Nigel Short missed a great opportunity to beat compatriot Gawain Jones for the first time since 2012. He tweeted feeling like he lost the game. Nihal Sarin lost against Vincent Keymer despite having a better position for the majority of the game. Round 6 starts today at 5:30 p.m. IST. Photo: Lars OA Hedlund/Tepe Sigeman & Co Tournament
Nihal misses a win against Keymer
Nihal Sarin had the upper hand for the better part of the game against Vincent Keymer. Even in the endgame, he was completely winning but not taking enough pawns at the right time, cost him the game.
Jorden - Bacrot: 1-0
Etienne Bacrot made an incorrect maneuver which gave Jorden van Foreest, a firm control of the position.
29...Nc8 did not help Black. Instead, 29...Rh8 would have been a better continuation. It only enabled White to make a break on the queenside 30.a4 Na7 31.axb5 axb5 32.Ra1 Nc6 33.Nxb5 and White got a decisive advantage. Black eventually managed to equalize until he took a wrong exchange and once Jorden got a decisive advantage and this time he converted it into a win.
Jonas - Grandelius: 0-1
Jonas Buhl Bjerre (DEN) picked up an incorrect pawn which gave his opponent Sweden no.1 Nils Grandelius an initiative.
21.Qxe5 allowed Black some important tempi 21...Ng6 22.Qg3 Nf4 23.Kh1 Nd3. Now Black has a decent advantage. Eventually White ended up losing a lot of pawns which caused him to lose the game.
Jones - Short: 0.5-0.5
Nigel Short was completely winning for the better part of the game against his compatriot Gawain Jones.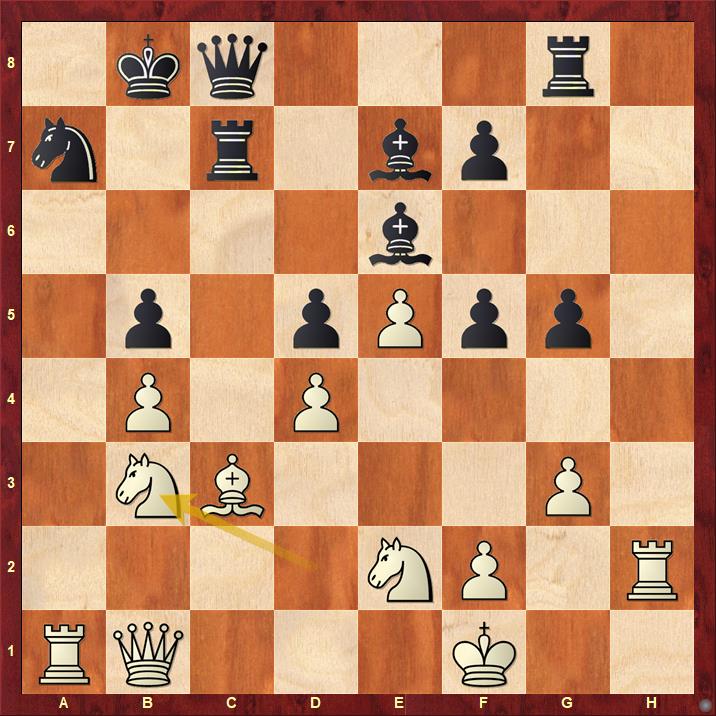 26.Nb3 allowed Black to gain to minor pieces for a rook, which happened in the game 26...Rxc3 27.Nxc3 Qxc3. White had to play 26.f4 so that 26...Rxc3 is met with 27.Rxa7 Kxa7 28.Qa1+ and avoid material loss or giving the advantage to Black.
Short tweeted on missing a win
Keymer - Nihal: 1-0
Nihal Sarin had a better position for the most of the game against Vincent Keymer.
Black made an incorrect break, 46...g5. Instead, 46...Qb4 followed by f5 would have been better. Shortly Black sacrificed an exchange and once again got a better position, this time he got a decisive advantage.
Black made the mistake of playing 54...Rxe2+. Instead, Black needed to take the c4-pawn first, and then he could push for a win. 55.Rxf5+ was not as big a threat as it may seem because 55...Nxf5 and now both 56.Qxe4 and Rxe4 leads to Black's win.
Replay Round 5 games
Time Control
100 minutes for 40 moves + 50 minutes for 20 moves + 15 minutes for the rest of the game with an increment of 30 seconds per move, starting from move 1. The Sofia rule will be applied (no draw offers before Black's 30th move).
Round 5 results
Jorden van Foreest – Etienne Bacrot: 1-0
Jonas Buhl Bjerre – Nils Grandelius: 0-1
Gawain Jones – Nigel Short: 0.5-0.5
Vincent Keymer – Nihal Sarin: 1-0
Round 6 pairings
Nigel Short – Vincent Keymer
Nils Grandelius – Gawain Jones
Jorden van Foreest – Jonas Buhl Bjerre
Etienne Bacrot – Nihal Sarin
Crosstable
| | | Rating | 1 | 2 | 3 | 4 | 5 | 6 | 7 | 8 | Points |
| --- | --- | --- | --- | --- | --- | --- | --- | --- | --- | --- | --- |
| 1. | N Short | 2626 | * | ½ | 0 | 1 | | ½ | | 1 | 3 |
| 2. | N Grandelius | 2666 | ½ | * | ½ | 1 | | | 1 | 0 | 3 |
| 3. | J Van Foreest | 2691 | 1 | ½ | * | | | 1 | ½ | 1 | 4 |
| 4. | Jonas B Bjerre | 2550 | 0 | 0 | | * | 0 | ½ | ½ | | 1 |
| 5. | G Jones | 2684 | ½ | | | 1 | * | ½ | 0 | ½ | 2½ |
| 6. | V Keymer | 2607 | | | 0 | ½ | ½ | * | 1 | ½ | 2½ |
| 7. | N Sarin | 2652 | | 0 | ½ | ½ | 1 | 0 | * | | 2 |
| 8. | E Bacrot | 2658 | 0 | 1 | 0 | | ½ | ½ | | * | 2 |
Schedule
23rd - 28th September - 2 p.m. CET (5:30 p.m. IST)
29th September - 12 p.m. CET (3:30 p.m. IST)
Links
---