TePe Sigeman & Co 2021 R7: Nihal finishes with a draw against Short
Nihal Sarin scored 3.0/7 to finish at shared sixth place in TePe Sigeman & Co Tournament 2021. It goes without saying that Nihal was not in his best form in this event. He managed to make a draw with the legendary Nigel Short in the final round. Gawain Jones became the only player to beat the tournament champion, Jorden van Foreest, still the Netherlands no.2 managed to finish a full point ahead of the field. Short, Jones and Keymer shared the second place 4.0/7. Nils Grandelius finished at sole fifth place 3.5/7, Nihal and Bacrot shared sixth position and Jonas Buhl Bjerre had a tough tournament 1.5/7. Photo: Lars OA Hedlund/Tepe Sigeman & Co Tournament
Gawain Jones beats Jorden van Foreest
Gawain Jones ended Jorden van Foreest's undefeated streak and became the only player to beat the champion in this event.
Gawain - Jorden: 1-0
Gawain Jones (ENG) ended Jorden van Foreest's (NED) unbeaten run. It was only in the endgame when the winner of the tournament went wrong.
Black played 49...g6 and went on to lose the game. Find out why it is incorrect and what Black should have done instead.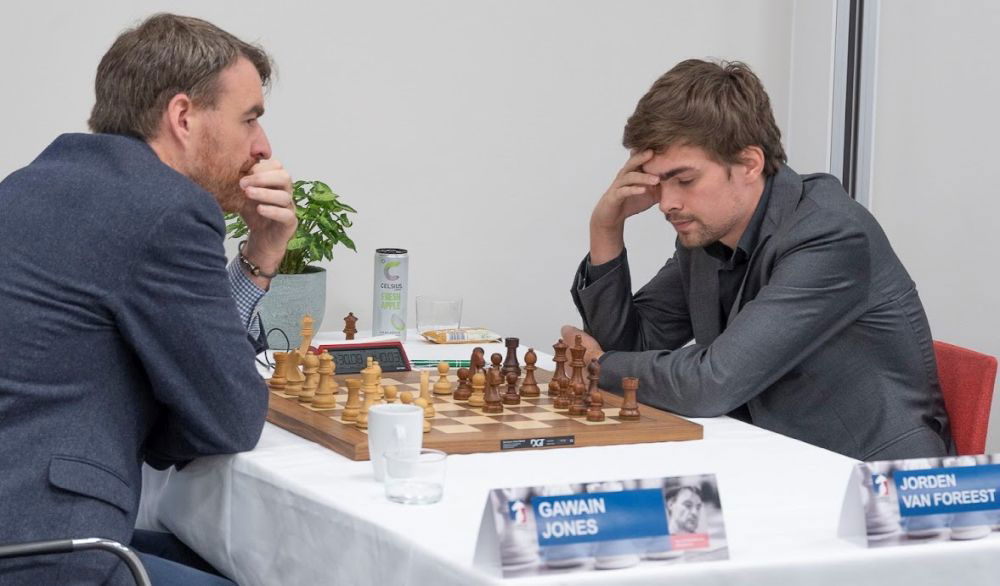 Keymer - Grandelius: 1-0
Vincent Keymer (GER) got a fantastic position in the middlegame against Nils Grandelius (SWE).
The knight at d6 is a thorn in Black's territory. To get rid of it, Black played 23...Bxc4 24.Nxc4 Rae8 and White replaced the knight with a pawn 25.d6. Eventually the pawn wedge played a crucial role in White getting the victory.
Nihal - Short: 0.5-0.5
Nihal Sarin had a relatively quiet draw with Nigel Short.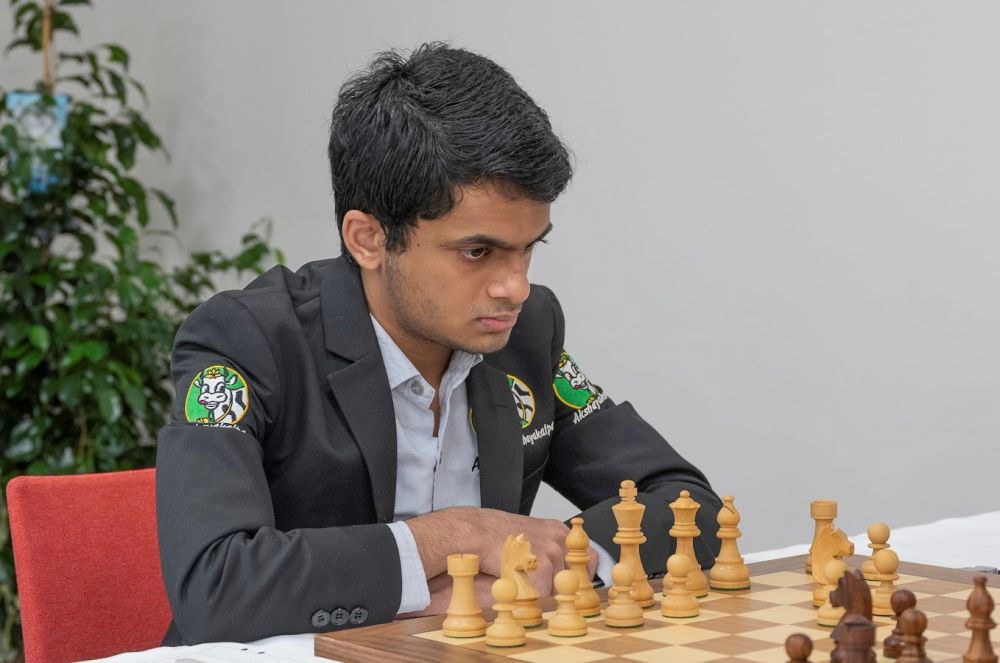 Nigel Short tweeted on his final round game against Nihal.
Replay Round 7 games
Time Control
100 minutes for 40 moves + 50 minutes for 20 moves + 15 minutes for the rest of the game with an increment of 30 seconds per move, starting from move 1. The Sofia rule will be applied (no draw offers before Black's 30th move).
Round 7 results
Jonas Buhl Bjerre – Etienne Bacrot: 0.5-0.5
Gawain Jones – Jorden van Foreest: 1-0
Vincent Keymer – Nils Grandelius: 1-0
Nihal Sarin – Nigel Short: 0.5-0.5
Crosstable
| | | Rating | 1 | 2 | 3 | 4 | 5 | 6 | 7 | 8 | Po. | Pl. |
| --- | --- | --- | --- | --- | --- | --- | --- | --- | --- | --- | --- | --- |
| 1. | N Short | 2626 | * | ½ | 0 | 1 | ½ | ½ | ½ | 1 | 4 | 2-4 |
| 2. | N Grandelius | 2666 | ½ | * | ½ | 1 | ½ | 0 | 1 | 0 | 3½ | 5 |
| 3. | J van Foreest | 2691 | 1 | ½ | * | 1 | 0 | 1 | ½ | 1 | 5 | 1 |
| 4. | J B Bjerre | 2550 | 0 | 0 | 0 | * | 0 | ½ | ½ | ½ | 1½ | 8 |
| 5. | G Jones | 2684 | ½ | ½ | 1 | 1 | * | ½ | 0 | ½ | 4 | 2-4 |
| 6. | V Keymer | 2607 | ½ | 1 | 0 | ½ | ½ | * | 1 | ½ | 4 | 2-4 |
| 7. | N Sarin | 2652 | ½ | 0 | ½ | ½ | 1 | 0 | * | ½ | 3 | 6-7 |
| 8. | E Bacrot | 2658 | 0 | 1 | 0 | ½ | ½ | ½ | ½ | * | 3 | 6-7 |
Schedule
23rd - 28th September - 2 p.m. CET (5:30 p.m. IST)
29th September - 12 p.m. CET (3:30 p.m. IST)
Links
---