TePe Sigeman & Co 2021 R4: Nihal beats Gawain Jones
Nihal Sarin scored his first victory of the event as he defeated Gawain Jones in the fourth round of TePe Sigeman & Co Tournament 2021. The 17-year-old did not get rattled when Gawain Jones sacrificed a pawn to launch an attack on his opponent's kingside. The Indian managed to thwart all attempts and eventually score a victory. This was also his first win over Jones in a Classical game. Nigel Short defeated Jonas Buhl Bjerre to move to 2.5/4, a half point behind the leader Jorden van Foreest 3.0/4. Bacrot, Grandelius, Jones and Nihal are at 2.0/4 each respectively. Round 5 starts today at 5:30 p.m. IST. Photo: Lars OA Hedlund/Tepe Sigeman & Co Tournament
Jorden maintains his sole lead
Jorden van Foreest (NED) is still in the sole lead 3.0/4. He drew his game against Nils Grandelius (SWE).
Short - Jonas: 1-0
Jonas Buhl Bjerre (DEN) went wrong in the endgame against Nigel Short (ENG).
Black played 26...Rd8 which allowed White to create an escape square for the king 27.h3 and the back-rank weakness is gone. Instead, 26...b3 was needed for Black to stay in the game. The game liquidated into a winning rook endgame for White in another four moves.
Short tweeted on his victory
Nihal - Jones: 1-0
Gawain Jones (ENG) decided to sacrifice a pawn to gain an initiative on the kingside.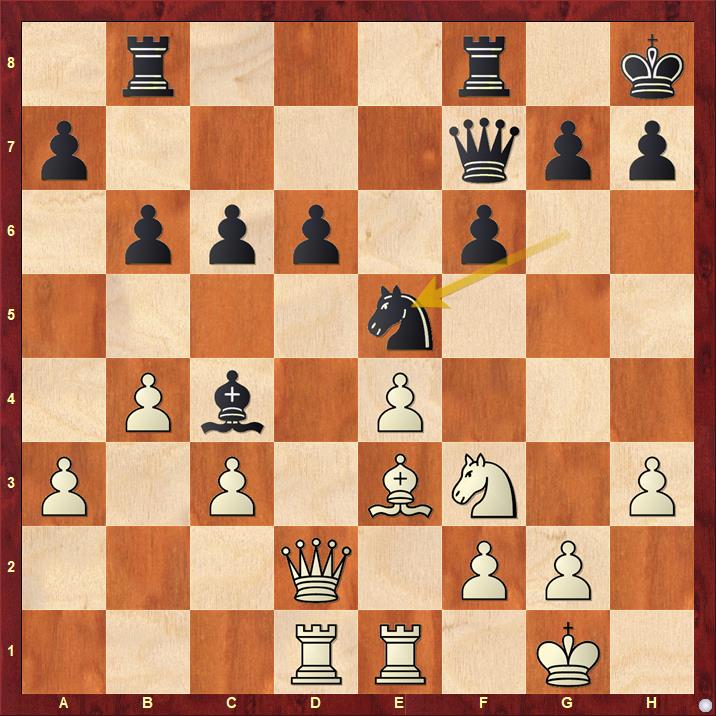 22...dxe5 would have been fine for Black. 22...Nxe5 23.Qxd6 Nxf3+ 24.gxf3 Qh5 and now 25.Qg3 comes to the aid of the king and no harm can be done to it. Nihal converted his advantage with ease to score his first victory of the event.
Replay Round 4 games
Time Control
100 minutes for 40 moves + 50 minutes for 20 moves + 15 minutes for the rest of the game with an increment of 30 seconds per move, starting from move 1. The Sofia rule will be applied (no draw offers before Black's 30th move).
Round 4 results
Nigel Short – Jonas Buhl Bjerre: 1-0
Nils Grandelius – Jorden van Foreest: 0.5-0.5
Nihal Sarin – Gawain Jones: 1-0
Etienne Bacrot – Vincent Keymer: 0.5-0.5
Round 5 pairings
Jorden van Foreest – Etienne Bacrot
Jonas Buhl Bjerre – Nils Grandelius
Gawain Jones – Nigel Short
Vincent Keymer – Nihal Sarin
Crosstable
| | | Rating | 1 | 2 | 3 | 4 | 5 | 6 | 7 | 8 | Points |
| --- | --- | --- | --- | --- | --- | --- | --- | --- | --- | --- | --- |
| 1. | N Short | 2626 | * | ½ | 0 | 1 | | | | 1 | 2½ |
| 2. | N Grandelius | 2666 | ½ | * | ½ | | | | 1 | 0 | 2 |
| 3. | J Van Foreest | 2691 | 1 | ½ | * | | | 1 | ½ | | 3 |
| 4. | Jonas B Bjerre | 2550 | 0 | | | * | 0 | ½ | ½ | | 1 |
| 5. | G Jones | 2684 | | | | 1 | * | ½ | 0 | ½ | 2 |
| 6. | V Keymer | 2607 | | | 0 | ½ | ½ | * | | ½ | 1½ |
| 7. | N Sarin | 2652 | | 0 | ½ | ½ | 1 | | * | | 2 |
| 8. | E Bacrot | 2658 | 0 | 1 | | | ½ | ½ | | * | 2 |
Schedule
23rd - 28th September - 2 p.m. CET (5:30 p.m. IST)
29th September - 12 p.m. CET (3:30 p.m. IST)
Links
---