TePe Sigeman & Co 2021 R3: Jorden outplays Short
83rd Tata Steel Chess 2021 winner and Netherlands no.2, Jorden van Foreest outprepared and outplayed Nigel Short in the third round of TePe Sigeman & Co Tournament 2021. The Dutch emerged as the sole leader with a score of 2.5/3. Etienne Bacrot is the only other winner of the round as he defeated Nils Grandelius who had a tactical oversight. Nihal Sarin drew with Jonas Buhl Bjerre and Gawain Jones made a draw with Vincent Keymer. Nihal will face Jones in the next round and Jorden will be up against Grandelius. Round 4 starts today at 5:30 p.m. IST. Photo: Lars OA Hedlund/Tepe Sigeman & Co Tournament
Jorden takes sole lead 2.5/3
The third round of the tournament had two decisive games.
Grandelius - Bacrot: 0-1
Nils Grandelius (SWE) had a momentary lapse in concentration and made a simple tactical error which cost him the game against Etienne Bacrot (FRA).
26.a4 allows Black to pin the c7-bishop 26...Rc8. White cannot get away by taking the knight now as 27.Bxa5 meets 27...Qb1+ and White loses the exchange. 27.Qb5 Qxb5 28.axb5 Bd6 29.b6 Bxe5 30.Ra2 Bxc7 31.bxc7 Nc4. Black is ahead by a knight and White has no compensation for it. It prompted White to resign.
Jorden - Short: 1-0
Jorden van Foreest completely outprepared and outplayed Nigel Short.
The position is helpless for Black. Even though White is still yet to develop the bishop and h1 rook, both black bishops although developed, are not contributing much to the position. Great preparation and precise play is what gave White the decisive advantage from the get go, and Black could not get out of the gate.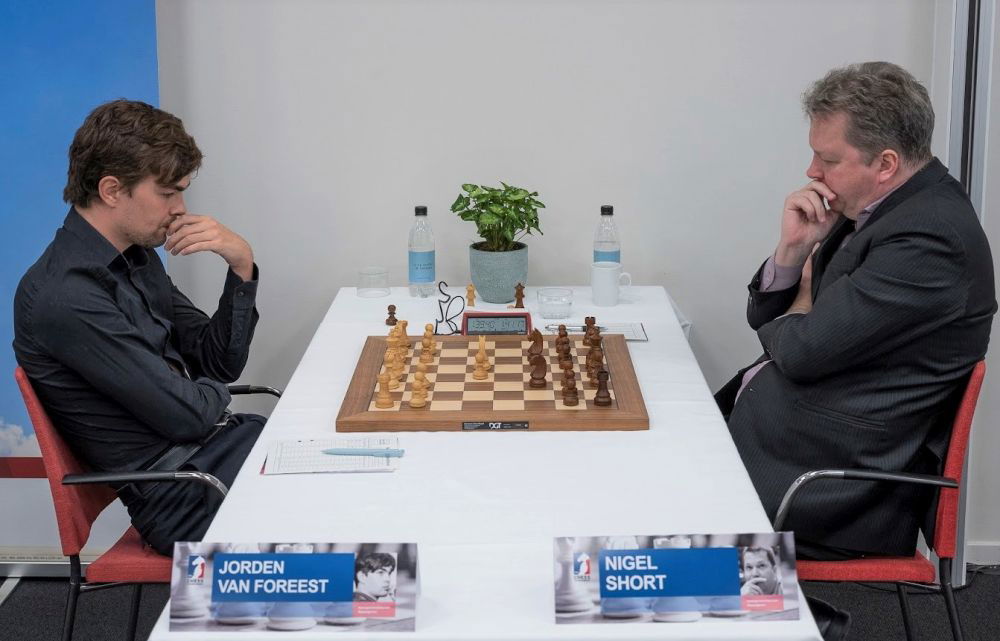 Short tweeted about his game
Replay Round 3 games
Time Control
100 minutes for 40 moves + 50 minutes for 20 moves + 15 minutes for the rest of the game with an increment of 30 seconds per move, starting from move 1. The Sofia rule will be applied (no draw offers before Black's 30th move).
Round 3 results
Nils Grandelius – Etienne Bacrot: 0-1
Jorden van Foreest – Nigel Short: 1-0
Jonas Buhl Bjerre – Nihal Sarin: 0.5-0.5
Gawain Jones – Vincent Keymer: 0.5-0.5
Round 4 pairings
Nigel Short – Jonas Buhl Bjerre
Nils Grandelius – Jorden van Foreest
Nihal Sarin – Gawain Jones
Etienne Bacrot – Vincent Keymer
Crosstable
| | | Rating | 1 | 2 | 3 | 4 | 5 | 6 | 7 | 8 | Points |
| --- | --- | --- | --- | --- | --- | --- | --- | --- | --- | --- | --- |
| 1. | N Short | 2626 | * | ½ | 0 | | | | | 1 | 1½ |
| 2. | N Grandelius | 2666 | ½ | * | | | | | 1 | 0 | 1½ |
| 3. | J Van Foreest | 2691 | 1 | | * | | | 1 | ½ | | 2½ |
| 4. | Jonas B Bjerre | 2550 | | | | * | 0 | ½ | ½ | | 1 |
| 5. | G Jones | 2684 | | | | 1 | * | ½ | | ½ | 2 |
| 6. | V Keymer | 2607 | | | 0 | ½ | ½ | * | | | 1 |
| 7. | N Sarin | 2652 | | 0 | ½ | ½ | | | * | | 1 |
| 8. | E Bacrot | 2658 | 0 | 1 | | | ½ | | | * | 1½ |
Schedule
23rd - 28th September - 2 p.m. CET (5:30 p.m. IST)
29th September - 12 p.m. CET (3:30 p.m. IST)
Links
---