Shenzhen 2019 Round 5: Harikrishna's hattrick - Rapport, Ding Liren and now Yu Yangyi!
Beating Rapport was not easy, but Hari managed it. Defeating Ding Liren was even tougher but Harikrishna achieved that as well. But what he did in round 5 was just extra special. Why? Because he had the black pieces! Against a world class player like Yu Yangyi (2751), when you reach an equalish position like Hari did in the game, you would more often than not agree to a draw. But Harikrishna is in phenomenal form. Just like Magnus Carlsen, Hari is also grinding down his opponents in a royal manner. That's exactly what he did to his Chinese opponent. The game against Yu Yangyi had some special moments which we analyze in this report. With this third win in a row the Indian GM is now the sole leader as we move into the rest day.
The fifth round of Shenzhen Masters had two decisive results. Harikrishna getting the better of Yu Yangyi and Ding Liren beating Dmitry Jakovenko. Until now Harikrishna has had four decisive games and the tournament has witnessed only five! This just goes to show what a fighting mood Harikrishna is in. Let's have a look at how he managed to grind down a strong opponent like Yu Yangyi. Please note: We usually have White pieces on the bottom, but today because Hari was black we decided to get the black pieces on the bottom.
Yu Yangyi vs Harikrishna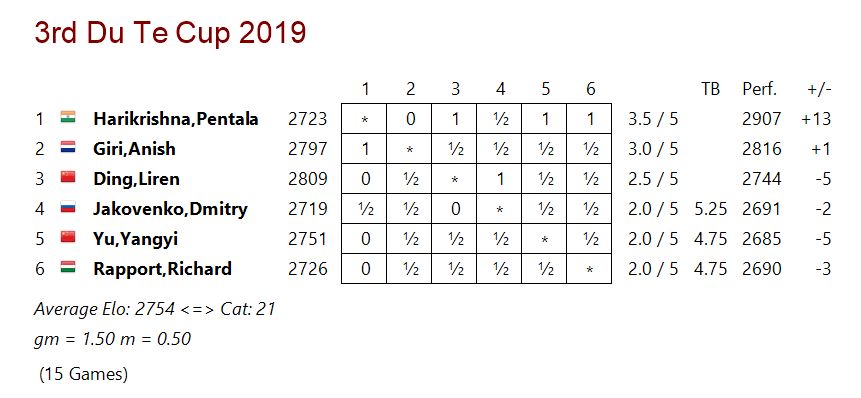 ---