Shenzhen 2019 Round 3: Harikrishna beats Rapport at Shenzhen Masters 2019 and reclaims his India no. 2 spot
"Excited to play my first super tournament of the year. Hope to play some good games!" That's how Harikrishna felt making his way to Shenzhen in China for the Shenzhen Masters 2019. It's a six player round robin event with the top two seeds begin Ding Liren and Anish Giri. Harikrishna is clearly in fighting mood. After three rounds he is on 1.5/3, and all three of his games could have been decisive. In round 1 he was clearly worse against Jakovenko but salvaged a draw. Against Anish Giri, Hari was outplayed and the Indian GM lost his second round. But after the defeat Hari bounced back by playing a clinical game to beat Richard Rapport. With this win Hari reclaimed his position as India no. 2 in the live ratings.
When elite chess stars are given a chance to prepare against a five-player field, there is no doubt they will study their opponents' play in depth. Not doing so would simply be naïve. Maybe that is why most supertournaments prefer to gather a larger field and some — perhaps following the example given by Wijk aan Zee — prefer to call up players of different strength, looking for more unbalanced struggles. The Shenzhen Masters, on the other hand, has kept its original approach despite the first two editions ending up with 46 out of 60 games drawn. Ding Liren won the first edition after scoring a convincing 'plus 3', while Maxime Vachier-Lagrave won in 2018 after getting better tie-break scores than Giri and Ding, who also finished on 'plus 1'.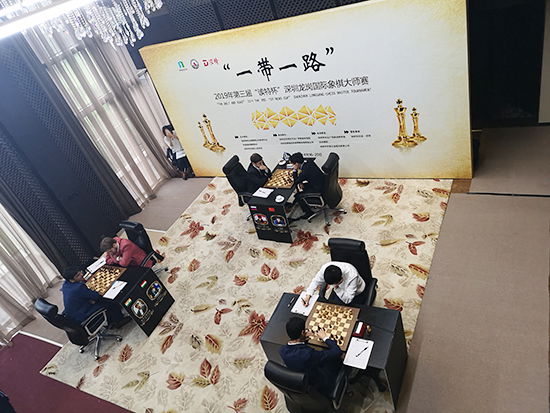 On my way to Shenzhen chess masters..excited to play my 1st super tournament of the year. Hope to play good games.

— Harikrishna (@HariChess) April 15, 2019
This time the six players who are fighting it out at the Shenzhen Masters 2019 are Ding Liren (top seed), Anish Giri, Yu Yangyi, Richard Rapport and Dmitry Jakovenko. After three rounds, this is how the standings look:
Round 1:
In round 1 Harikrishna was up against Dmitry Jakovenko with the black pieces.
Jakovenko vs Harikrishna
It seemed as if Harikrishna was uncomfortable with his position. The move b5
Round 2:
If you are alert, you will surely spot - Rxd7! Rxd7 and Nxf6+ with a clean extra pawn, which Anish converted without any trouble.
Round 3
The sign of a true champion is how he bounces back after a defeat. After two games with the black pieces, Hari was happy to finally get white. He was up against the creative Hungarian GM Richard Rapport. Hari knew that all he had to do was play normal chess and keep the game controlled. His opponent would surely go for complications or do something crazy. And he was not wrong. Richard couldn't handle the simple play by Hari and the Indian GM scored a fine victory.
Harikrishna vs Rapport
The fight for India no.2
On 14th of April, Vidit Gujrathi surpassed Hari on the live rating list to become India no.2
With both Vidit and Hari playing today, it promises to be an exciting fight for who will establish a clear lead as India no. 2!
Watch round 4 of the Shenzhen Masters 2019 at 11.30 a.m
Watch Vidit's game at the Czech League
---