Harikrishna features in World Stars Sharjah Online International Championship 2020
Pentala Harikrishna will be seen in action along with five other elite GMs in World Stars Sharjah Online International Championship on Friday 12th and Saturday 13th June 2020, organized by Sharjah Sports Council and Internet Chess Club. It will be the strongest tournament ever in Arab world having the total prize fund of US$ 10000 with the champion's prize being $3000. That's not all Sharjah Masters is hosting a contest on instagram starting from today where you can two invitations to the next Sharjah Masters tournament including entry fee and full board hotel accommodation and there are also two $250 prizes. Harikrishna will be LIVE on the same instagram page today at 8:30 p.m. IST where you can ask him a question or send your best wishes. Photo: Lennart Ootes / Grand Chess Tour
Hari will be the second highest rated player in the strongest event in Arab world
India no.3 and World no. 26 GM Pentala Harikrishna will be seen in action along with five other elite GMs in World Stars which will take place in Internet Chess Club on 12th and 13th June 2020 organized by Sharjah Sports Council and Internet Chess Club. The strongest tournament ever in Arab world will have a total Prize fund is US$ 10000 where the winner will walk away with $3000.
Tournament Regulations
Pairings
It will be a double round robin event. Added 1.5 hours to the UAE time to get the schedule in IST. The first game on both Friday and Saturday will start at 10:30 p.m. IST and the final game on each day will take place at 1:30 a.m. IST on the following day.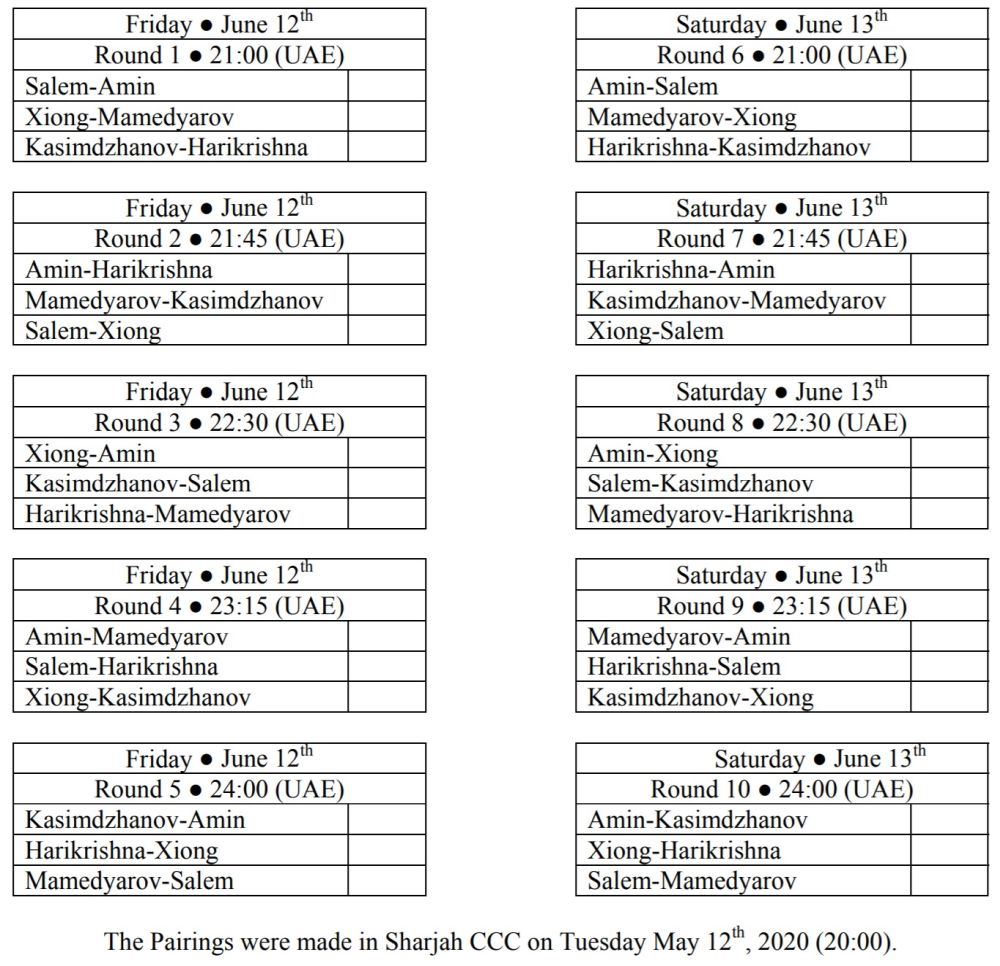 Prizes
Total Prize fund is US$ 10000 where the first prize will be US$ 3000.
Participants
The tournament has a very good mixture of strength and youth as former World Champion Rustam Kasimdzhanov, current world no.1 Shakhriyar Mamedyarov will be seen in action along with talented USA no.5 Jeffery Xiong, Egypt and Africa no.1 Dr. Amin Bassem, UAE no.1 Salem Saleh and our very own Pentala Harikrishna who has won countless Masters tournament and a former Commonwealth, Asian and World Junior champion. Harikrishna is also the second highest participant in the tournament.
Source: Press Release
What is Harikrishna upto lately?
In case you are wondering what is Harikrishna upto lately, here is a good opportunity for you to ask him any question you want. You can also send your best wishes in the comments. Catch him LIVE on Sharjah Masters Instagram LIVE at 8:30 p.m. IST tonight.
Sharjah Masters Contest
Would you like to play in the next Sharjah Masters tournament? Answer the first question till 11:59 pm on 6th of June! Your dream can come true‼️🙂 Follow our Instagram account, give the right answers to our quizzes and win two invitations🎉🎉 for the next Sharjah Masters Open tournament and two prizes of $250 🎉🎉. The invitation to the Sharjah Master includes free entry fee + full board hotel accommodation.
Conditions of participation:
♟ Follow our Instagram account ✅
♟ Give answers to our quizzes, which will be published on 5, 7, 9 and 11th of June and mention three friends (not fake accounts) in your answer.
♟ If your answer is correct you gain the right to participate in the prize giving drawing.
♟ The invitation to Sharjah Masters will be issued to the name of the winner (real account) and cannot be transferred to another person. Any participant can win only one prize. The winners of the invitations have to be chess players.
♟ The names of the winners will be announced on 7, 9, 11, 13 in our social accounts and during live commentaries of the Sharjah World Stars International Chess Championship (on June 12-13). Drawing will be done by random number generator. Good luck to everyone! 🥳
Links
Follow Harikrishna on twitter and instagram
Follow Sharjah Masters on facebook, twitter and instagram
---