Generation Cup R9-12: Carlsen regains his sole lead, Arjun Erigaisi firm second
by Shahid Ahmed - 21/09/2022
Magnus Carlsen dominated the third day of Meltwater Champions Chess Tour Julius Baer Generation Cup to reclaim the pole position. He is back at the top 25/36 after beating Ivan Saric, Jan-Krzysztof Duda and Boris Gelfand. His sole draw of the day was against the evergreen maestro Vasyl Ivanchuk. The world champion was winning in that game too. However, his miss allowed the former World Rapid champion to build a fortress, something the world no.1 has little belief in. Arjun Erigaisi is in sole second position, breathing down Carlsen's neck at 24/36. Praggnannadhaa is tied at fourth place 19/36 along with Keymer and Duda. The final day of Prelims, Round 9 starts tonight at 9:30 p.m. IST. Photo: ChessBase India live stream
Ivanchuk makes Carlsen a believer in fortress
It is well-established by now that Vasyl Ivanchuk can still hang with the very best of the world. Despite living in uncertain times, the Ukrainian is continuously delivering some stellar games, one after the other. He is currently tied at ninth place with Christopher Yoo and Radoslaw Wojtaszek, at 15/36 each.
Round 9: Arjun Erigaisi - Ivanchuk: 3-0
The former World Rapid champion, Vasyl Ivanchuk went wrong in a position which one may assume to have arrived from Philidor Defence.
13...Nde5 would have been fine for Black. 13...Nb6 allowed 14.Bxf7+ Kxf7 15.Qxg4 Bxc3 16.bxc3 Qf6 17.Qh5+ Kf8 18.Nxd6 and it's over for Black.
Round 10: Praggnanandhaa - Liem: 1-1
Former World Blitz champion went for a rook and minor piece chain exchange which computer might evaluate as an incorrect decision. However, it is not easy to figure out where the advantage lies for a human.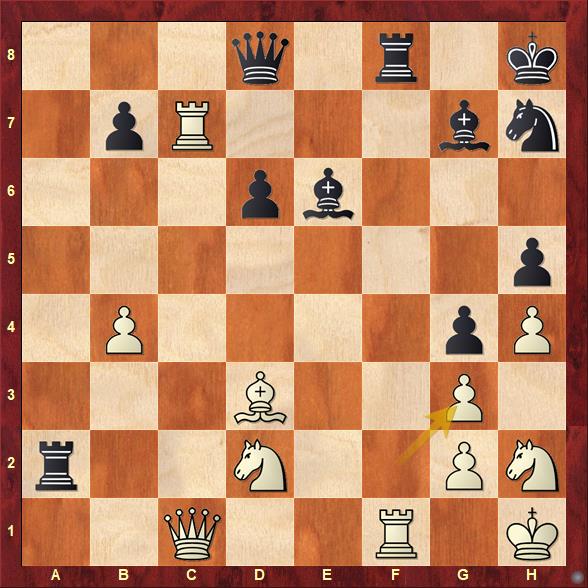 Computer does not like 30...Rxd2. It prefers 30...Ra1 for Black instead. The game continued 31.Rxg7 Kxg7 32.Qxd2 Rxf1+ 33.Nxf1. There is no definite plan for White to seize the advantage which the AI believes White to have.
Saric - Adhiban: 0-3
B Adhiban scored his first win of the event against the Croatia no.1, Ivan Saric
Ivanchuk - Carlsen: 1-1
Vasyl Ivanchuk and Magnus Carlsen certainly had a game of the day and probably, a good contender for game of the tournament too.
Carlsen showed his prowess by improving the position of his bishop. Which is the best diagonal for it? Hint: It is certainly not the long diagonal where it currently is.
Find out the only winning continuation for Black after 47.Rc1. Of course Carlsen found it and later missed a simple fork too. After all, he is a human. Ivanchuk eventually managed to hold a fortress to salvage a draw.
White has achieved a fortress! There is no practical way for Black to make a breakthrough in the position. The game ended in a draw after 122 moves.
Round 12: Yoo - Arjun Erigaisi: 0-3
Arjun Erigaisi lost to Jan-Krzysztof Duda in Round 10. Then he drew the following game against Boris Gelfand. In the final round of day 3, he defeated Christopher Yoo.
White needed to retreat his queen to d1. 18.Qb1 invited trouble Nc5 19.0-0 Nb3 20.Ra2 and the rook could not participate in the entire game. When it actually got freed, it was too little too late. With this win, Arjun finished the day with 24/36 at the sole second spot.
Replay the live stream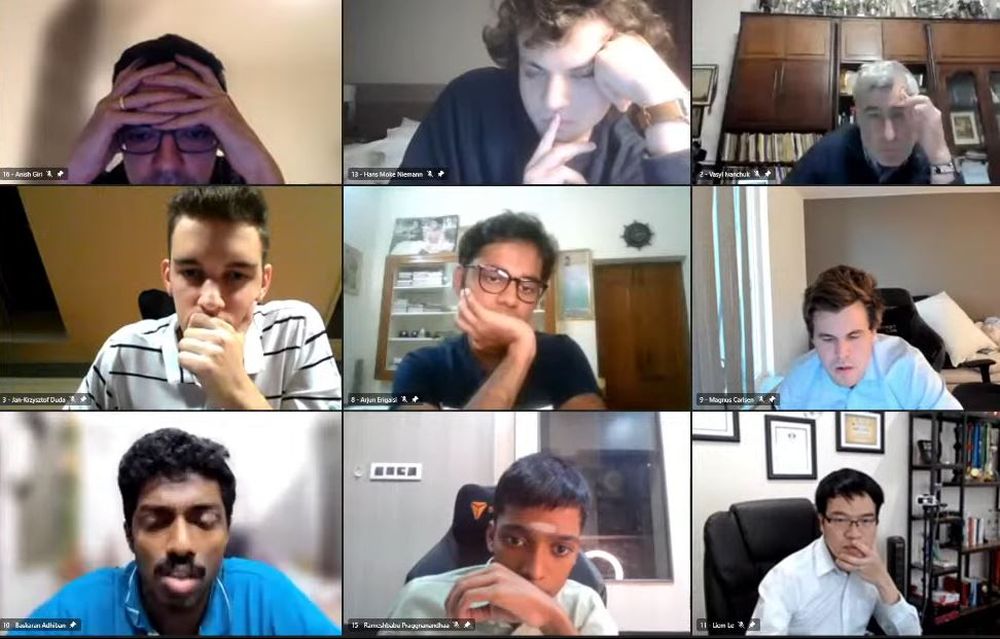 Replay Round 9-12 games
Standings after Round 12
All games will start from 9:30 p.m. IST between 18th and 25th September 2022.
Links
---
Related news
:
MCCT Finals R7: Praggnanandhaa beats Arjun Erigaisi, So finishes second

@ 21/11/2022 by Shahid Ahmed (en)
Magnus Carlsen wins MCCT Finals 2022 with a round to spare

@ 20/11/2022 by Shahid Ahmed (en)
MCCT Finals R5: Praggnanandhaa wins a thriller against Duda

@ 19/11/2022 by Shahid Ahmed (en)
MCCT Finals R4: Arjun Erigaisi beats Mamedyarov, ends his win drought

@ 18/11/2022 by Shahid Ahmed (en)
MCCT Finals R3: Praggnanandhaa squashes Liem 3-0

@ 17/11/2022 by Shahid Ahmed (en)
MCCT Finals R2: Giri makes a comeback against Praggnanandhaa

@ 16/11/2022 by Shahid Ahmed (en)
MCCT Finals R1: Tough start for Arjun and Praggnanandhaa

@ 15/11/2022 by Shahid Ahmed (en)
Arjun Erigaisi and Praggnanandhaa to battle Carlsen and Co. at Meltwater Champions Chess Tour 2022 Finals

@ 14/11/2022 by Shahid Ahmed (en)
Jan-Krzysztof Duda defies Mamedyarov's inspired comeback, clinches Aimchess Rapid 2022

@ 22/10/2022 by Shahid Ahmed (en)
Aimchess Rapid Finals: Jan-Krzysztof Duda wins the first set

@ 21/10/2022 by Shahid Ahmed (en)
Aimchess Rapid SF: Jan-Krzysztof Duda denies Magnus Carlsen a hat-trick again

@ 20/10/2022 by Shahid Ahmed (en)
Aimchess Rapid QF: Carlsen wins the Tour with a tournament to spare

@ 19/10/2022 by Shahid Ahmed (en)
Aimchess Rapid R13-15: Gukesh, Arjun Erigaisi and Vidit Gujrathi advance to the Quarterfinals

@ 18/10/2022 by Shahid Ahmed (en)
Aimchess Rapid R9-12: Gukesh becomes the youngest ever to win against the World Champion Carlsen

@ 17/10/2022 by Shahid Ahmed (en)
Aimchess Rapid R5-8: Arjun Erigaisi beats Magnus Carlsen for the very first time

@ 16/10/2022 by Shahid Ahmed (en)
Aimchess Rapid R1-4: Carlsen escapes the jaws of defeat against Aditya Mittal

@ 15/10/2022 by Shahid Ahmed (en)
Five Indians will battle Carlsen and the world's best at Aimchess Rapid starting today

@ 14/10/2022 by Shahid Ahmed (en)
Magnus Carlsen dominates Julius Baer Generation Cup

@ 26/09/2022 by Shahid Ahmed (en)
Generation Cup Final 1: Carlsen wins the first set

@ 25/09/2022 by Shahid Ahmed (en)
Generation Cup SF: Arjun Erigaisi bests Liem, set to clash with Carlsen in the Finals

@ 24/09/2022 by Shahid Ahmed (en)
जनरेशन कप के सेमी फाइनल में पहुंचे अर्जुन

@ 23/09/2022 by Niklesh Jain (hi)
Generation Cup QF: Arjun Erigaisi eliminates Christopher Yoo

@ 23/09/2022 by Shahid Ahmed (en)
Magnus Carlsen tops Generation Cup Prelims by a huge margin, breaks his silence

@ 22/09/2022 by Shahid Ahmed (en)
Generation Cup R5-8: Praggnanandhaa sets the board ablaze with Carlsen, Arjun Erigaisi grabs sole lead

@ 20/09/2022 by Shahid Ahmed (en)
Generation Cup R1-4: Praggnanandhaa beats Ivanchuk, Duda and Gelfand

@ 19/09/2022 by Shahid Ahmed (en)
Praggnanandhaa, Arjun Erigaisi and Adhiban to duke it out with Carlsen and co. at Julius Baer Generation Cup

@ 18/09/2022 by Shahid Ahmed (en)
Praggnanandhaa beats Magnus three times in-a-row, still Carlsen wins FTX Crypto Cup 2022

@ 22/08/2022 by Shahid Ahmed (en)
Magnus Carlsen on the verge of winning the FTX Crypto Cup 2022

@ 21/08/2022 by Shahid Ahmed (en)
FTX Crypto Cup 2022 R5: Duda beats Carlsen four times in four hours

@ 20/08/2022 by Shahid Ahmed (en)
FTX Crypto Cup 2022 R4: Praggnanandhaa scores a crushing victory over Aronian

@ 19/08/2022 by Shahid Ahmed (en)
FTX Crypto Cup 2022 R3: Praggnanandhaa beats Niemann, stays in the lead with Carlsen

@ 18/08/2022 by Shahid Ahmed (en)
FTX Crypto Cup 2022 R2: Praggnanandhaa gets his revenge against Giri

@ 17/08/2022 by Shahid Ahmed (en)
FTX Crypto Cup 2022 R1: Praggnanandhaa beats Firouzja for the very first time

@ 16/08/2022 by Shahid Ahmed (en)
Praggnanandhaa set to battle against Carlsen, Aronian, Duda and Co. at FTX Crypto Cup

@ 15/08/2022 by Shahid Ahmed (en)
FTX Road to Miami QF: Levon Aronian eliminates Arjun Erigaisi

@ 15/07/2022 by Shahid Ahmed (en)
FTX Road to Miami R13-15: Arjun Erigaisi set to clash with Aronian in the Quarterfinals

@ 14/07/2022 by Shahid Ahmed (en)
FTX Road to Miami R9-12: Arjun Erigaisi storms into the Quarterfinals with Sevian

@ 13/07/2022 by Shahid Ahmed (en)
FTX Road to Miami R5-8: Arjun Erigaisi ascends to the second place

@ 12/07/2022 by Shahid Ahmed (en)
FTX Road to Miami R1-4: Arjun Erigaisi beats Levon Aronian again

@ 11/07/2022 by Shahid Ahmed (en)
Arjun Erigaisi will face the World's best at FTX Road to Miami

@ 10/07/2022 by Shahid Ahmed (en)
Ding Liren clinches Chessable Masters 2022, Praggnanandhaa delivers stupendous performance

@ 27/05/2022 by Shahid Ahmed (en)
Chessable Masters 2022 F1: Ding Liren gains advantage

@ 26/05/2022 by Shahid Ahmed (en)
Chessable Masters 2022 SF: Praggnanandhaa knocks out Giri, will face Ding Liren in the Final

@ 25/05/2022 by Shahid Ahmed (en)
Chessable Masters 2022 QF: Praggnanandhaa eliminates Wei Yi, set to clash with Giri in the Semifinal

@ 24/05/2022 by Shahid Ahmed (en)
Chessable Masters 2022 R13-15: Praggnanandhaa advances to the Quarterfinals

@ 23/05/2022 by Shahid Ahmed (en)
Chessable Masters 2022 R9-12: Anish Giri climbs to the top

@ 22/05/2022 by Shahid Ahmed (en)
Chessable Masters 2022 R5-8: Praggnanandhaa beats Magnus Carlsen again

@ 21/05/2022 by Shahid Ahmed (en)
Chessable Masters 2022 R1-4: Wei Yi takes an early sole lead

@ 20/05/2022 by Shahid Ahmed (en)
Vidit, Harikrishna and Praggnanandhaa will duke it out with World's best at Chessable Masters 2022

@ 19/05/2022 by Shahid Ahmed (en)
Jan-Krzysztof Duda halts Carlsen's hat-trick, wins Oslo Esports Cup

@ 29/04/2022 by Shahid Ahmed (en)
Oslo Esports Cup R6: Duda denies Praggnanandhaa

@ 28/04/2022 by Shahid Ahmed (en)
Oslo Esports Cup R5: Minimalist Praggnanandhaa strikes again, regains sole lead

@ 27/04/2022 by Shahid Ahmed (en)
Oslo Esports Cup R4: Carlsen crushes Praggnanandhaa, joins the lead

@ 26/04/2022 by Shahid Ahmed (en)
Oslo Esports Cup R3: Fiery Praggnanandhaa bests Liem, scores a hat-trick

@ 25/04/2022 by Shahid Ahmed (en)
Oslo Esports Cup R2: Praggnanandhaa superb against Shakh, gains sole lead

@ 24/04/2022 by Shahid Ahmed (en)
Oslo Esports Cup R1: Praggnanandhaa beats Jorden van Foreest

@ 23/04/2022 by Shahid Ahmed (en)
Praggnanandhaa gets a Wildcard to the Oslo Esports Cup

@ 22/04/2022 by Shahid Ahmed (en)
Magnus Carlsen wins Charity Cup in a thrilling Final

@ 27/03/2022 by Shahid Ahmed (en)
मेगनस कार्लसन नें जीता मेल्टवाटर चैरिटी कप

@ 27/03/2022 by Niklesh Jain (hi)
Magnus Carlsen on the verge of winning the Charity Cup

@ 26/03/2022 by Shahid Ahmed (en)
Charity Cup SF: Carlsen will face arch rival Duda in the Finals

@ 25/03/2022 by Shahid Ahmed (en)
Charity Cup QF: Carlsen, Duda and Ding Liren storm into Semifinals

@ 24/03/2022 by Shahid Ahmed (en)
Charity Cup R13-15: Heartbreak for Praggnanandhaa and Vidit

@ 23/03/2022 by Shahid Ahmed (en)
Charity Cup R9-12: Vidit beats Duda

@ 22/03/2022 by Shahid Ahmed (en)
Charity Cup R5-8: Praggnanandhaa stuns World no.3 Ding Liren

@ 21/03/2022 by Shahid Ahmed (en)
Charity Cup R1-4: Vidit makes an unbeaten start 8.0/12

@ 20/03/2022 by Shahid Ahmed (en)
चैरिटी कप D1 : विदित गुजराती की अच्छी शुरुआत

@ 20/03/2022 by Niklesh Jain (hi)
Vidit, Harikrishna and Praggnanandhaa to face Carlsen and world's best at Charity Cup

@ 18/03/2022 by Shahid Ahmed (en)
Magnus Carlsen wins Airthings Masters 2022

@ 27/02/2022 by Shahid Ahmed (en)
Airthings Masters Final 1: Four exciting draws

@ 26/02/2022 by Shahid Ahmed (en)
Airthings Masters SF: Magnus Carlsen set to face Ian Nepomniachtchi in the Finals

@ 25/02/2022 by Shahid Ahmed (en)
Airthings Masters QF: Vladislav Artemiev eliminates Ding Liren

@ 24/02/2022 by Shahid Ahmed (en)
Airthings Masters R13-15: Nepomniachtchi tops the Prelims

@ 23/02/2022 by Shahid Ahmed (en)
Airthings Masters R9-12: Carlsen is down with Covid, still climbs to second spot

@ 22/02/2022 by Shahid Ahmed (en)
Airthings Masters R5-8: Praggnanandhaa beats Magnus Carlsen for the very first time

@ 21/02/2022 by Shahid Ahmed (en)
Airthings Masters R1-4: Ding Liren takes sole lead 10.0/12

@ 20/02/2022 by Shahid Ahmed (en)
Praggnanandhaa set to clash with Carlsen and world's best at Airthings Masters

@ 19/02/2022 by Shahid Ahmed (en)