MCCT Finals R5: Praggnanandhaa wins a thriller against Duda
by Shahid Ahmed - 19/11/2022
R Praggnanandhaa had his best match of MCCT Finals so far against Jan-Krzysztof Duda. They had six decisive games and White won in them all. They were trading wins and the 17-year-old won a must-win fourth game to force tie-breaks. The teenager started the tie-breaks with a win which put Duda in a must-win situation and he won that. Praggnanandhaa drew the Armageddon with black pieces. Thus, he won the match. Arjun Erigaisi made a short work of Anish Giri in just three games. Former World Blitz champion, Liem Quang Le stretched Magnus Carlsen to his limit and the World no.1 had to win the Armageddon to clinch the match. Carlsen vs Praggnanandhaa and Liem vs Arjun is set for Round 6 which starts tonight, 20th November at 1:30 a.m. IST. Photo: ChessBase India live stream
Arjun Erigaisi vanquishes Anish Giri
Anish Giri suffered third consecutive loss without scoring a single game victory. All three losses were conceded in a minimum number of games - three. His preparation prowess is not coming into use and his opponents' have clearly found some gap in his play. Arjun Erigaisi scored his second consecutive victory of the event without losing a single game. He is certainly getting used to the unique match time start in our time zone.
Arjun - Giri: 2.5-0.5
Arjun Erigaisi struck first after Anish Giri went wrong in the rook and bishop endgame under time scramble.
Arjun - Giri, Game 1
The subtle difference between 45...Kf6 and Kg6 is, black king is now further away from h6-pawn. Black is already behind a pawn and losing more time by attacking the rook. Instead of gaining any tempo, it is Black who lost some valuable time. 46.Rd5 Rh8 47.Bd3 Bxd3 48.Kxd3 and White is winning. The difference of the king's placement is now evident. Black cannot take the h6-pawn with the rook due to the threat of Rd6+, trade the rooks and promote the c-pawn. Arjun converted his advantage into a victory and gained a 1-0 lead.
One again, Giri erred in the endgame for the second consecutive game.
Giri - Arjun, Game 2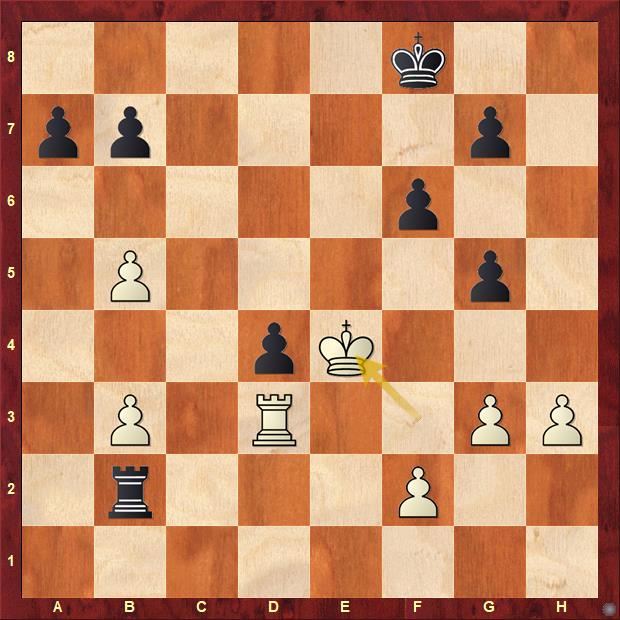 The rook and many pawns endgame was certainly not easy for White. 35.Ke4 did not help his case either. 35.h4 gxh4 36.gxh4 Ke7 37.Kg2 the idea is to safely capture the d4-pawn without the worry of Rxb3+ being a fork. After 35.Ke4 Rxf2 things just free flowed for Black 36.Rxd4 Re2+ an important check to drive the king back 37.Kd3 Rg2 38.Rd7 Rxg3+ 39.Kc4 b6 40.Rxa7 Rxh3 41.Kd5 Rxb3 42.Kc6 g4 43.Kxb6 g3 44.Kc6 f5 and no amount of time on the clock can save the game for White. Black's passed pawns are too strong. Thus, White had no choice but to resign. Arjun increased his lead 2-0. The third game ended in a draw after Giri declined the initial threefold repetition and later had to succumb to second repetition because there was not much to go on. Arjun Erigaisi won the match 2.5-0.5.
Duda - Praggnanandhaa: 3.5-3.5*
R Praggnanandhaa started the day with a loss against Jan-Krzysztof Duda. However, the former delivered an equalizer immediately in the second game.
Praggnanandhaa - Duda, Game 2
Both 44...Qe7 and Be8 would have been enough to ensure the e6-pawn does not become menacing. 44...Qxc5?? just allowed that to happen 45.e7 Qc1+ 46.Kh2 Qc2 47.Nh4 Be8 48.Nf5 Kg6 49.Nxg7 and it's over. Praggnanandhaa leveled the score 1-1.
Duda and Praggnanandhaa repeated the same line of Open Catalan from their first game. However, this time Praggnanandhaa deviated with 11...Bb7 instead of 11...a5 in the first game. The result was the same. In the endgame, the 17-year-old first dropped a pawn then an incorrect tactic cost him another pawn and eventually the game. Thus, the teenager was in a must-win situation in the fourth game. They repeated the same line in the Italian as the second game. This time Duda deviated 12...Ba5 instead of 12...Bg6 which he played in the second game.
Praggnanandhaa - Duda, Game 4
Duda sacrificed his knight having the idea to go for a perpetual check as he needed a draw to win the match. Praggnanandhaaa had to ensure that he does not allow any perpetual. 15.Bxd4 Qg5+ 16.Kh1 Bxc3 17.Bxc3 Qf5 offering another knight for Qxh3+ and Qg4+ perpetual. 18.Rfc1 Qxh3+ 19.Kg1 Ng5 20.Be2 and White went on to win the game and force tie-breaks.
Praggnanandhaa won the first Blitz tie-break game in a beautiful manner. He played like Duda to beat Duda.
Praggnanandhaa - Duda, Blitz 1
Praggnanandhaa took charge and started the annihilation with 20.Nxh7! Kxh7 21.hxg6+ fxg6 22.Ng5+ Kg8 23.Bxg6 N5f6 24.Bf7+ Kh8 25.Qd3 Nf8 26.Qh3+ N6h7 27.Rxe6 and White is certainly winning. It is well-known that those who love to attack, does not like to be on the receiving end. Duda certainly did not like defending in this position. Praggnanandhaa won the game eventually and put Duda in a must-win situation.
Duda won the second Blitz tie-break game and forced Armageddon. Praggnanandhaa managed to draw with the black pieces in Armageddon which means he won the match.
On a scale of 0 to Duda, how angry do you get when you blunder on the board?
* - Praggnanandhhaa won Armageddon.
Replay the live stream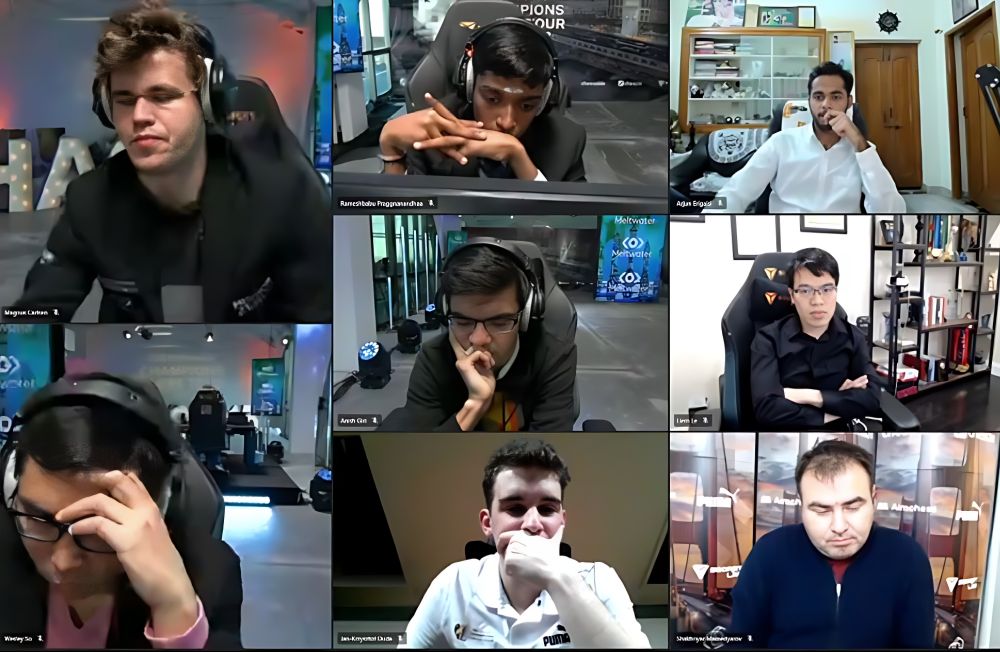 Replay Round 5 games
Round 5 results
Standings after Round 5
All games will start from 1:30 a.m. IST between 15th and 21st November 2022.
Links
---
Related news
:
MCCT Finals R7: Praggnanandhaa beats Arjun Erigaisi, So finishes second

@ 21/11/2022 by Shahid Ahmed (en)
Magnus Carlsen wins MCCT Finals 2022 with a round to spare

@ 20/11/2022 by Shahid Ahmed (en)
MCCT Finals R4: Arjun Erigaisi beats Mamedyarov, ends his win drought

@ 18/11/2022 by Shahid Ahmed (en)
MCCT Finals R3: Praggnanandhaa squashes Liem 3-0

@ 17/11/2022 by Shahid Ahmed (en)
MCCT Finals R2: Giri makes a comeback against Praggnanandhaa

@ 16/11/2022 by Shahid Ahmed (en)
MCCT Finals R1: Tough start for Arjun and Praggnanandhaa

@ 15/11/2022 by Shahid Ahmed (en)
Arjun Erigaisi and Praggnanandhaa to battle Carlsen and Co. at Meltwater Champions Chess Tour 2022 Finals

@ 14/11/2022 by Shahid Ahmed (en)
Jan-Krzysztof Duda defies Mamedyarov's inspired comeback, clinches Aimchess Rapid 2022

@ 22/10/2022 by Shahid Ahmed (en)
Aimchess Rapid Finals: Jan-Krzysztof Duda wins the first set

@ 21/10/2022 by Shahid Ahmed (en)
Aimchess Rapid SF: Jan-Krzysztof Duda denies Magnus Carlsen a hat-trick again

@ 20/10/2022 by Shahid Ahmed (en)
Aimchess Rapid QF: Carlsen wins the Tour with a tournament to spare

@ 19/10/2022 by Shahid Ahmed (en)
Aimchess Rapid R13-15: Gukesh, Arjun Erigaisi and Vidit Gujrathi advance to the Quarterfinals

@ 18/10/2022 by Shahid Ahmed (en)
Aimchess Rapid R9-12: Gukesh becomes the youngest ever to win against the World Champion Carlsen

@ 17/10/2022 by Shahid Ahmed (en)
Aimchess Rapid R5-8: Arjun Erigaisi beats Magnus Carlsen for the very first time

@ 16/10/2022 by Shahid Ahmed (en)
Aimchess Rapid R1-4: Carlsen escapes the jaws of defeat against Aditya Mittal

@ 15/10/2022 by Shahid Ahmed (en)
Five Indians will battle Carlsen and the world's best at Aimchess Rapid starting today

@ 14/10/2022 by Shahid Ahmed (en)
Magnus Carlsen dominates Julius Baer Generation Cup

@ 26/09/2022 by Shahid Ahmed (en)
Generation Cup Final 1: Carlsen wins the first set

@ 25/09/2022 by Shahid Ahmed (en)
Generation Cup SF: Arjun Erigaisi bests Liem, set to clash with Carlsen in the Finals

@ 24/09/2022 by Shahid Ahmed (en)
जनरेशन कप के सेमी फाइनल में पहुंचे अर्जुन

@ 23/09/2022 by Niklesh Jain (hi)
Generation Cup QF: Arjun Erigaisi eliminates Christopher Yoo

@ 23/09/2022 by Shahid Ahmed (en)
Magnus Carlsen tops Generation Cup Prelims by a huge margin, breaks his silence

@ 22/09/2022 by Shahid Ahmed (en)
Generation Cup R9-12: Carlsen regains his sole lead, Arjun Erigaisi firm second

@ 21/09/2022 by Shahid Ahmed (en)
Generation Cup R5-8: Praggnanandhaa sets the board ablaze with Carlsen, Arjun Erigaisi grabs sole lead

@ 20/09/2022 by Shahid Ahmed (en)
Generation Cup R1-4: Praggnanandhaa beats Ivanchuk, Duda and Gelfand

@ 19/09/2022 by Shahid Ahmed (en)
Praggnanandhaa, Arjun Erigaisi and Adhiban to duke it out with Carlsen and co. at Julius Baer Generation Cup

@ 18/09/2022 by Shahid Ahmed (en)
Praggnanandhaa beats Magnus three times in-a-row, still Carlsen wins FTX Crypto Cup 2022

@ 22/08/2022 by Shahid Ahmed (en)
Magnus Carlsen on the verge of winning the FTX Crypto Cup 2022

@ 21/08/2022 by Shahid Ahmed (en)
FTX Crypto Cup 2022 R5: Duda beats Carlsen four times in four hours

@ 20/08/2022 by Shahid Ahmed (en)
FTX Crypto Cup 2022 R4: Praggnanandhaa scores a crushing victory over Aronian

@ 19/08/2022 by Shahid Ahmed (en)
FTX Crypto Cup 2022 R3: Praggnanandhaa beats Niemann, stays in the lead with Carlsen

@ 18/08/2022 by Shahid Ahmed (en)
FTX Crypto Cup 2022 R2: Praggnanandhaa gets his revenge against Giri

@ 17/08/2022 by Shahid Ahmed (en)
FTX Crypto Cup 2022 R1: Praggnanandhaa beats Firouzja for the very first time

@ 16/08/2022 by Shahid Ahmed (en)
Praggnanandhaa set to battle against Carlsen, Aronian, Duda and Co. at FTX Crypto Cup

@ 15/08/2022 by Shahid Ahmed (en)
FTX Road to Miami QF: Levon Aronian eliminates Arjun Erigaisi

@ 15/07/2022 by Shahid Ahmed (en)
FTX Road to Miami R13-15: Arjun Erigaisi set to clash with Aronian in the Quarterfinals

@ 14/07/2022 by Shahid Ahmed (en)
FTX Road to Miami R9-12: Arjun Erigaisi storms into the Quarterfinals with Sevian

@ 13/07/2022 by Shahid Ahmed (en)
FTX Road to Miami R5-8: Arjun Erigaisi ascends to the second place

@ 12/07/2022 by Shahid Ahmed (en)
FTX Road to Miami R1-4: Arjun Erigaisi beats Levon Aronian again

@ 11/07/2022 by Shahid Ahmed (en)
Arjun Erigaisi will face the World's best at FTX Road to Miami

@ 10/07/2022 by Shahid Ahmed (en)
Ding Liren clinches Chessable Masters 2022, Praggnanandhaa delivers stupendous performance

@ 27/05/2022 by Shahid Ahmed (en)
Chessable Masters 2022 F1: Ding Liren gains advantage

@ 26/05/2022 by Shahid Ahmed (en)
Chessable Masters 2022 SF: Praggnanandhaa knocks out Giri, will face Ding Liren in the Final

@ 25/05/2022 by Shahid Ahmed (en)
Chessable Masters 2022 QF: Praggnanandhaa eliminates Wei Yi, set to clash with Giri in the Semifinal

@ 24/05/2022 by Shahid Ahmed (en)
Chessable Masters 2022 R13-15: Praggnanandhaa advances to the Quarterfinals

@ 23/05/2022 by Shahid Ahmed (en)
Chessable Masters 2022 R9-12: Anish Giri climbs to the top

@ 22/05/2022 by Shahid Ahmed (en)
Chessable Masters 2022 R5-8: Praggnanandhaa beats Magnus Carlsen again

@ 21/05/2022 by Shahid Ahmed (en)
Chessable Masters 2022 R1-4: Wei Yi takes an early sole lead

@ 20/05/2022 by Shahid Ahmed (en)
Vidit, Harikrishna and Praggnanandhaa will duke it out with World's best at Chessable Masters 2022

@ 19/05/2022 by Shahid Ahmed (en)
Jan-Krzysztof Duda halts Carlsen's hat-trick, wins Oslo Esports Cup

@ 29/04/2022 by Shahid Ahmed (en)
Oslo Esports Cup R6: Duda denies Praggnanandhaa

@ 28/04/2022 by Shahid Ahmed (en)
Oslo Esports Cup R5: Minimalist Praggnanandhaa strikes again, regains sole lead

@ 27/04/2022 by Shahid Ahmed (en)
Oslo Esports Cup R4: Carlsen crushes Praggnanandhaa, joins the lead

@ 26/04/2022 by Shahid Ahmed (en)
Oslo Esports Cup R3: Fiery Praggnanandhaa bests Liem, scores a hat-trick

@ 25/04/2022 by Shahid Ahmed (en)
Oslo Esports Cup R2: Praggnanandhaa superb against Shakh, gains sole lead

@ 24/04/2022 by Shahid Ahmed (en)
Oslo Esports Cup R1: Praggnanandhaa beats Jorden van Foreest

@ 23/04/2022 by Shahid Ahmed (en)
Praggnanandhaa gets a Wildcard to the Oslo Esports Cup

@ 22/04/2022 by Shahid Ahmed (en)
Magnus Carlsen wins Charity Cup in a thrilling Final

@ 27/03/2022 by Shahid Ahmed (en)
मेगनस कार्लसन नें जीता मेल्टवाटर चैरिटी कप

@ 27/03/2022 by Niklesh Jain (hi)
Magnus Carlsen on the verge of winning the Charity Cup

@ 26/03/2022 by Shahid Ahmed (en)
Charity Cup SF: Carlsen will face arch rival Duda in the Finals

@ 25/03/2022 by Shahid Ahmed (en)
Charity Cup QF: Carlsen, Duda and Ding Liren storm into Semifinals

@ 24/03/2022 by Shahid Ahmed (en)
Charity Cup R13-15: Heartbreak for Praggnanandhaa and Vidit

@ 23/03/2022 by Shahid Ahmed (en)
Charity Cup R9-12: Vidit beats Duda

@ 22/03/2022 by Shahid Ahmed (en)
Charity Cup R5-8: Praggnanandhaa stuns World no.3 Ding Liren

@ 21/03/2022 by Shahid Ahmed (en)
Charity Cup R1-4: Vidit makes an unbeaten start 8.0/12

@ 20/03/2022 by Shahid Ahmed (en)
चैरिटी कप D1 : विदित गुजराती की अच्छी शुरुआत

@ 20/03/2022 by Niklesh Jain (hi)
Vidit, Harikrishna and Praggnanandhaa to face Carlsen and world's best at Charity Cup

@ 18/03/2022 by Shahid Ahmed (en)
Magnus Carlsen wins Airthings Masters 2022

@ 27/02/2022 by Shahid Ahmed (en)
Airthings Masters Final 1: Four exciting draws

@ 26/02/2022 by Shahid Ahmed (en)
Airthings Masters SF: Magnus Carlsen set to face Ian Nepomniachtchi in the Finals

@ 25/02/2022 by Shahid Ahmed (en)
Airthings Masters QF: Vladislav Artemiev eliminates Ding Liren

@ 24/02/2022 by Shahid Ahmed (en)
Airthings Masters R13-15: Nepomniachtchi tops the Prelims

@ 23/02/2022 by Shahid Ahmed (en)
Airthings Masters R9-12: Carlsen is down with Covid, still climbs to second spot

@ 22/02/2022 by Shahid Ahmed (en)
Airthings Masters R5-8: Praggnanandhaa beats Magnus Carlsen for the very first time

@ 21/02/2022 by Shahid Ahmed (en)
Airthings Masters R1-4: Ding Liren takes sole lead 10.0/12

@ 20/02/2022 by Shahid Ahmed (en)
Praggnanandhaa set to clash with Carlsen and world's best at Airthings Masters

@ 19/02/2022 by Shahid Ahmed (en)