Aimchess Rapid R1-4: Carlsen escapes the jaws of defeat against Aditya Mittal
by Shahid Ahmed - 15/10/2022
IM Aditya Mittal was the on verge of beating Magnus Carlsen in their first-ever encounter. The 16-year-old missed his solitary winning opportunity in the fourth round of Meltwater Champions Chess Tour Aimchess Rapid 2022. The world champion avoided a second loss of the day and salvaged a draw. The teenager defeated Sweden no.1 GM Nils Grandelius and drew with GM Daniel Naroditsky. He could not have asked for a better start. Reigning World Rapid champion, Nodirbek Abdusattorov hasa emerged an early sole leader 10/12. He is followed by five players at 7/12 each. Gukesh scored an unbeaten 6/12, Arjun Erigaisi, Vidit Gujrathi and Aditya are at 5/12 each. Harikrishna is still in search of his first win of the event. Round 5 starts tonight at 9:30 p.m. IST. Photo: Champions Chess Tour
Abdusattorov emerges early sole leader
The first day of Aimchess Rapid had a lot of exciting games. Shakhriyar Mamedyarov started the day with a win over the world champion, Magnus Carlsen. It certainly inspired him to do well as he defeated Anish Giri in the third round with a spectacular play. It is not only the game of the day, perhaps game of the tournament, season and a strong contender for game of the year too.
Round 1: Mamedyarov - Carlsen: 0-3
Magnus Carlsen (NOR) launched a rapid attack on the Shakhriyar Mamedyarov's (AZE) kingside. He had no trouble halting that motion. The world champion made a rare positional mistake which shifted things completely in his opponent's favor.
27...Bd6 creates a dark square weakness for Black on the queenside after the bishops are traded. 28.Bxd6 Rdxd6 29.Na4 Rf6 30.Qd2 Rxf2 31.Qxf2 the position is relatively balanced now. Soon Black made some moves which completely destroyed the harmony among his pieces and White went on to win the game.
Aditya Mittal - Abdusattorov: 0-3
IM Aditya Mittal arrived at a same color bishop endgame with an extra pawn against the reigning World Rapid champion, Nodirbek Abdusattorov (UZB).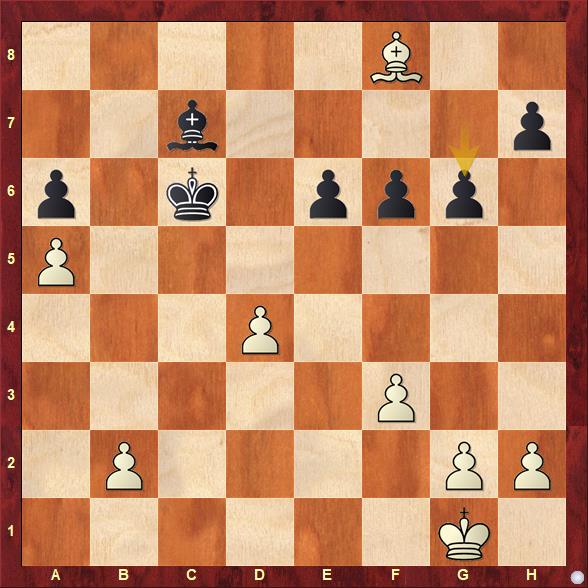 Having an extra pawn gives White the cushion to afford losing one. Since it is an endgame, White needed to activate his king. 40.Kf2 is certainly the move White should have gone for without the worry of losing the a5-pawn. The key reason behind moving the king is, Black's king is way advanced - Kd5 and e5 are the immediate threats. Bishop alone cannot do much, 40.Be7 f5 41.b4 e5 42.Kf2 too little too late exd4 and it's over for White.
Arjun Erigaisi - Vidit: 0-3
Arjun Erigaisi started the tournament with a loss against Vidit Gujrathi.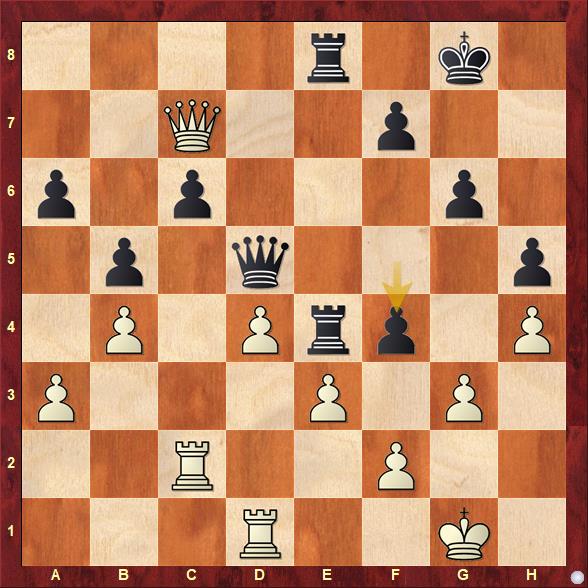 The best way to respond to the kingside break was 32.Qxc6 Qxc6 33.Rxc6 fxe3 34.Rc2 e2 35.Re1 Rxd4 36.Rcxe2 and things would have been fine for White. Instead 32.gxf4 created the opportunity Black was aiming for Qf5 33.Rdd2?? further worsened things for White Qg4+ 34.Kf1 Qf3 35.Qxc6 R8e6 36.Qa8+ Re8 37.Rc8 Qh3+ the rook falls, thus White resigned.
Round 2: Giri - Vidit: 3-0
Anish Giri launched a devastating attack on Vidit Gujrathi's kingside to checkmate him in 27 moves.
The World no.7 reminded everyone that he can play some very sharp chess on his best day. 17.Bxh6 is a simple tactical move yet it has a strong motive. Black obviously can neither take on e4 nor h6. 17...Nxe4 18.Qxe4 accelerates Black's demise. 17...gxh6 18.Nxf6+ does no good for Black either. It would not be an understatement to say Black's position is completely lost after 17.Bxh6 irrespective of how Black responds to it.
Grandelius - Aditya: 0-3
IM Aditya Mittal scored his first win of the event against Sweden no.1 GM Nils Grandelius.
Black forced the bishop exchange 24...Bf6. Declining the exchange offer would result in a loss of a queenside pawn. Thus, 25.Bxf6+ was the only choice Kxf6 26.a4 Bb3 27.Rd4 Rc1 28.g4 Ra1 29.Rxe4 Bxa4 30.Kh2 Bc6 and White resigned.
Round 3: Mamedyarov - Giri: 3-0
Mamedyarov played a spectacular game to beat Giri. The Azerbaijan no.1 and World no.13 sacrificed his rook, bishop and queen, before promoting a new queen and using it to win. All of these happened in just 30 moves.
Aditya - Naroditsky: 1-1
IM Aditya Mittal drew with GM Daniel Naroditsky (USA). Although the former was better for the majority of the middlegame.
Arjun - Harikrishna: 3-0
Arjun Erigaisi scored his first win of the day by handing Pentala Harikrishna his first loss of the event.
Round 4: Giri - Gukesh: 0-3
Anish Giri suffered second consecutive loss of the day, against D Gukesh in the fourth round. The World no.7 miscalculated a line and paid a heavy price for it.
The only way for White to get out of the precarious situation is 26.Rxh3 Bxh3 27.gxh3 Qxh3 28.Nxd5. However, White played 26.Nxd5 first and things fell apart in a hurry hxg2 27.Rxh8 Rxh8 28.Nxb6 Qxd1+ 29.Qxd1 Rh1 and White resigned.
Carlsen - Aditya: 1-1
IM Aditya Mittal had a great opportunity to beat the world champion, Magnus Carlsen in their first ever encounter.
38...Qb6 would have given Black a decisive advantage. It would not be immediately winning for Black as he would require to make some precise moves to convert his advantage. 38...a3 was played and the tiny window of opportunity closed for Black. The world no.1 managed to avoid a second loss of the day by salvaging a draw.
Replay the live stream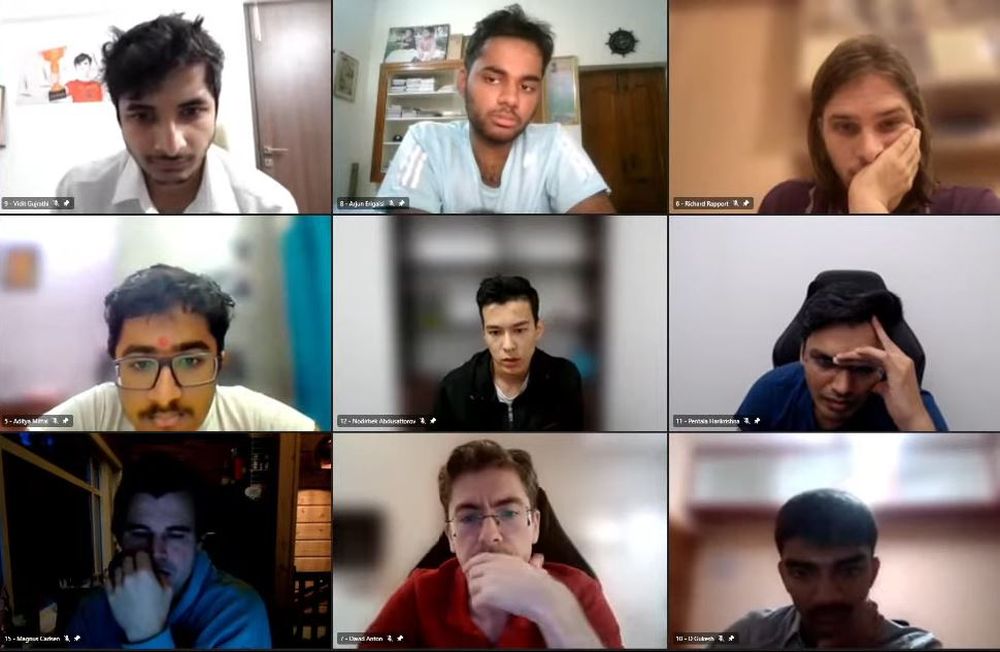 Replay Round 1-4 games
Standings after Round 4
All games will start from 9:30 p.m. IST between 14th and 21st October 2022.
Links
---
Related news
:
MCCT Finals R7: Praggnanandhaa beats Arjun Erigaisi, So finishes second

@ 21/11/2022 by Shahid Ahmed (en)
Magnus Carlsen wins MCCT Finals 2022 with a round to spare

@ 20/11/2022 by Shahid Ahmed (en)
MCCT Finals R5: Praggnanandhaa wins a thriller against Duda

@ 19/11/2022 by Shahid Ahmed (en)
MCCT Finals R4: Arjun Erigaisi beats Mamedyarov, ends his win drought

@ 18/11/2022 by Shahid Ahmed (en)
MCCT Finals R3: Praggnanandhaa squashes Liem 3-0

@ 17/11/2022 by Shahid Ahmed (en)
MCCT Finals R2: Giri makes a comeback against Praggnanandhaa

@ 16/11/2022 by Shahid Ahmed (en)
MCCT Finals R1: Tough start for Arjun and Praggnanandhaa

@ 15/11/2022 by Shahid Ahmed (en)
Arjun Erigaisi and Praggnanandhaa to battle Carlsen and Co. at Meltwater Champions Chess Tour 2022 Finals

@ 14/11/2022 by Shahid Ahmed (en)
Jan-Krzysztof Duda defies Mamedyarov's inspired comeback, clinches Aimchess Rapid 2022

@ 22/10/2022 by Shahid Ahmed (en)
Aimchess Rapid Finals: Jan-Krzysztof Duda wins the first set

@ 21/10/2022 by Shahid Ahmed (en)
Aimchess Rapid SF: Jan-Krzysztof Duda denies Magnus Carlsen a hat-trick again

@ 20/10/2022 by Shahid Ahmed (en)
Aimchess Rapid QF: Carlsen wins the Tour with a tournament to spare

@ 19/10/2022 by Shahid Ahmed (en)
Aimchess Rapid R13-15: Gukesh, Arjun Erigaisi and Vidit Gujrathi advance to the Quarterfinals

@ 18/10/2022 by Shahid Ahmed (en)
Aimchess Rapid R9-12: Gukesh becomes the youngest ever to win against the World Champion Carlsen

@ 17/10/2022 by Shahid Ahmed (en)
Aimchess Rapid R5-8: Arjun Erigaisi beats Magnus Carlsen for the very first time

@ 16/10/2022 by Shahid Ahmed (en)
Five Indians will battle Carlsen and the world's best at Aimchess Rapid starting today

@ 14/10/2022 by Shahid Ahmed (en)
Magnus Carlsen dominates Julius Baer Generation Cup

@ 26/09/2022 by Shahid Ahmed (en)
Generation Cup Final 1: Carlsen wins the first set

@ 25/09/2022 by Shahid Ahmed (en)
Generation Cup SF: Arjun Erigaisi bests Liem, set to clash with Carlsen in the Finals

@ 24/09/2022 by Shahid Ahmed (en)
जनरेशन कप के सेमी फाइनल में पहुंचे अर्जुन

@ 23/09/2022 by Niklesh Jain (hi)
Generation Cup QF: Arjun Erigaisi eliminates Christopher Yoo

@ 23/09/2022 by Shahid Ahmed (en)
Magnus Carlsen tops Generation Cup Prelims by a huge margin, breaks his silence

@ 22/09/2022 by Shahid Ahmed (en)
Generation Cup R9-12: Carlsen regains his sole lead, Arjun Erigaisi firm second

@ 21/09/2022 by Shahid Ahmed (en)
Generation Cup R5-8: Praggnanandhaa sets the board ablaze with Carlsen, Arjun Erigaisi grabs sole lead

@ 20/09/2022 by Shahid Ahmed (en)
Generation Cup R1-4: Praggnanandhaa beats Ivanchuk, Duda and Gelfand

@ 19/09/2022 by Shahid Ahmed (en)
Praggnanandhaa, Arjun Erigaisi and Adhiban to duke it out with Carlsen and co. at Julius Baer Generation Cup

@ 18/09/2022 by Shahid Ahmed (en)
Praggnanandhaa beats Magnus three times in-a-row, still Carlsen wins FTX Crypto Cup 2022

@ 22/08/2022 by Shahid Ahmed (en)
Magnus Carlsen on the verge of winning the FTX Crypto Cup 2022

@ 21/08/2022 by Shahid Ahmed (en)
FTX Crypto Cup 2022 R5: Duda beats Carlsen four times in four hours

@ 20/08/2022 by Shahid Ahmed (en)
FTX Crypto Cup 2022 R4: Praggnanandhaa scores a crushing victory over Aronian

@ 19/08/2022 by Shahid Ahmed (en)
FTX Crypto Cup 2022 R3: Praggnanandhaa beats Niemann, stays in the lead with Carlsen

@ 18/08/2022 by Shahid Ahmed (en)
FTX Crypto Cup 2022 R2: Praggnanandhaa gets his revenge against Giri

@ 17/08/2022 by Shahid Ahmed (en)
FTX Crypto Cup 2022 R1: Praggnanandhaa beats Firouzja for the very first time

@ 16/08/2022 by Shahid Ahmed (en)
Praggnanandhaa set to battle against Carlsen, Aronian, Duda and Co. at FTX Crypto Cup

@ 15/08/2022 by Shahid Ahmed (en)
FTX Road to Miami QF: Levon Aronian eliminates Arjun Erigaisi

@ 15/07/2022 by Shahid Ahmed (en)
FTX Road to Miami R13-15: Arjun Erigaisi set to clash with Aronian in the Quarterfinals

@ 14/07/2022 by Shahid Ahmed (en)
FTX Road to Miami R9-12: Arjun Erigaisi storms into the Quarterfinals with Sevian

@ 13/07/2022 by Shahid Ahmed (en)
FTX Road to Miami R5-8: Arjun Erigaisi ascends to the second place

@ 12/07/2022 by Shahid Ahmed (en)
FTX Road to Miami R1-4: Arjun Erigaisi beats Levon Aronian again

@ 11/07/2022 by Shahid Ahmed (en)
Arjun Erigaisi will face the World's best at FTX Road to Miami

@ 10/07/2022 by Shahid Ahmed (en)
Ding Liren clinches Chessable Masters 2022, Praggnanandhaa delivers stupendous performance

@ 27/05/2022 by Shahid Ahmed (en)
Chessable Masters 2022 F1: Ding Liren gains advantage

@ 26/05/2022 by Shahid Ahmed (en)
Chessable Masters 2022 SF: Praggnanandhaa knocks out Giri, will face Ding Liren in the Final

@ 25/05/2022 by Shahid Ahmed (en)
Chessable Masters 2022 QF: Praggnanandhaa eliminates Wei Yi, set to clash with Giri in the Semifinal

@ 24/05/2022 by Shahid Ahmed (en)
Chessable Masters 2022 R13-15: Praggnanandhaa advances to the Quarterfinals

@ 23/05/2022 by Shahid Ahmed (en)
Chessable Masters 2022 R9-12: Anish Giri climbs to the top

@ 22/05/2022 by Shahid Ahmed (en)
Chessable Masters 2022 R5-8: Praggnanandhaa beats Magnus Carlsen again

@ 21/05/2022 by Shahid Ahmed (en)
Chessable Masters 2022 R1-4: Wei Yi takes an early sole lead

@ 20/05/2022 by Shahid Ahmed (en)
Vidit, Harikrishna and Praggnanandhaa will duke it out with World's best at Chessable Masters 2022

@ 19/05/2022 by Shahid Ahmed (en)
Jan-Krzysztof Duda halts Carlsen's hat-trick, wins Oslo Esports Cup

@ 29/04/2022 by Shahid Ahmed (en)
Oslo Esports Cup R6: Duda denies Praggnanandhaa

@ 28/04/2022 by Shahid Ahmed (en)
Oslo Esports Cup R5: Minimalist Praggnanandhaa strikes again, regains sole lead

@ 27/04/2022 by Shahid Ahmed (en)
Oslo Esports Cup R4: Carlsen crushes Praggnanandhaa, joins the lead

@ 26/04/2022 by Shahid Ahmed (en)
Oslo Esports Cup R3: Fiery Praggnanandhaa bests Liem, scores a hat-trick

@ 25/04/2022 by Shahid Ahmed (en)
Oslo Esports Cup R2: Praggnanandhaa superb against Shakh, gains sole lead

@ 24/04/2022 by Shahid Ahmed (en)
Oslo Esports Cup R1: Praggnanandhaa beats Jorden van Foreest

@ 23/04/2022 by Shahid Ahmed (en)
Praggnanandhaa gets a Wildcard to the Oslo Esports Cup

@ 22/04/2022 by Shahid Ahmed (en)
Magnus Carlsen wins Charity Cup in a thrilling Final

@ 27/03/2022 by Shahid Ahmed (en)
मेगनस कार्लसन नें जीता मेल्टवाटर चैरिटी कप

@ 27/03/2022 by Niklesh Jain (hi)
Magnus Carlsen on the verge of winning the Charity Cup

@ 26/03/2022 by Shahid Ahmed (en)
Charity Cup SF: Carlsen will face arch rival Duda in the Finals

@ 25/03/2022 by Shahid Ahmed (en)
Charity Cup QF: Carlsen, Duda and Ding Liren storm into Semifinals

@ 24/03/2022 by Shahid Ahmed (en)
Charity Cup R13-15: Heartbreak for Praggnanandhaa and Vidit

@ 23/03/2022 by Shahid Ahmed (en)
Charity Cup R9-12: Vidit beats Duda

@ 22/03/2022 by Shahid Ahmed (en)
Charity Cup R5-8: Praggnanandhaa stuns World no.3 Ding Liren

@ 21/03/2022 by Shahid Ahmed (en)
Charity Cup R1-4: Vidit makes an unbeaten start 8.0/12

@ 20/03/2022 by Shahid Ahmed (en)
चैरिटी कप D1 : विदित गुजराती की अच्छी शुरुआत

@ 20/03/2022 by Niklesh Jain (hi)
Vidit, Harikrishna and Praggnanandhaa to face Carlsen and world's best at Charity Cup

@ 18/03/2022 by Shahid Ahmed (en)
Magnus Carlsen wins Airthings Masters 2022

@ 27/02/2022 by Shahid Ahmed (en)
Airthings Masters Final 1: Four exciting draws

@ 26/02/2022 by Shahid Ahmed (en)
Airthings Masters SF: Magnus Carlsen set to face Ian Nepomniachtchi in the Finals

@ 25/02/2022 by Shahid Ahmed (en)
Airthings Masters QF: Vladislav Artemiev eliminates Ding Liren

@ 24/02/2022 by Shahid Ahmed (en)
Airthings Masters R13-15: Nepomniachtchi tops the Prelims

@ 23/02/2022 by Shahid Ahmed (en)
Airthings Masters R9-12: Carlsen is down with Covid, still climbs to second spot

@ 22/02/2022 by Shahid Ahmed (en)
Airthings Masters R5-8: Praggnanandhaa beats Magnus Carlsen for the very first time

@ 21/02/2022 by Shahid Ahmed (en)
Airthings Masters R1-4: Ding Liren takes sole lead 10.0/12

@ 20/02/2022 by Shahid Ahmed (en)
Praggnanandhaa set to clash with Carlsen and world's best at Airthings Masters

@ 19/02/2022 by Shahid Ahmed (en)