Kaustuv Kundu triumphs at 4th Bangalore Open 2022
by Shahid Ahmed - 20/04/2022
Kaustuv Kundu scored an unbeaten 8.0/9. He finished a half point ahead of the field to win 4th Bangalore Open Rating Chess Tournament 2022. Five players scored 7.5/9 - Ritviz Parab, IM Neelash Saha, IM Ratnakaran K, FM Ram Aravind L N and FM Senthil Maran. They were placed second to sixh according to the tie-breaks. Kaustuv won ₹50000 and trophy, Runner-up Ritviz received ₹40000 and Second Runner-up Neelash earned ₹30000 cash each as their respective prize. Total prize fund of the tournament was ₹600000. This is the second out of the four consecutive rating tournaments organized by Innovators Chess Academy at GEAR Innovative International School, Bangalore, Karnataka. Check out the analysis by the winner of this tournament, Kaustuv Kundu. Photo: Sushruta Reddy
Kaustuv's second victory of the year
The participation of 424 players including a GM and 8 IMs ensured no clear leader till the very last round of the tournament. Five players were at 7.0/8 heading into the last round. Kaustuv Kundu defeated IM Chakravarthi Reddy. IM Ratnakaran K and IM Rajesh Vav drew with FM Ram Aravind L N and IM Neelash Saha respectively in the final round. Thus Kaustuv became a clear winner 8.0/9 and five players ended at 7.5/9. 14-year-old Advait Ratnakar Vibhute scored 7.0/9 to finish 13th. He was the youngest player to make a top 15 finish.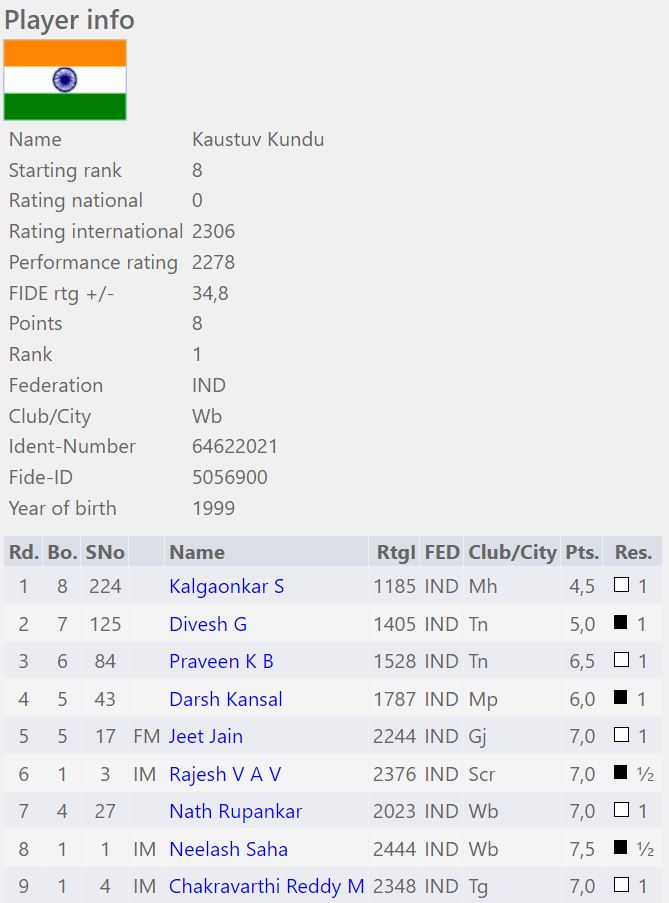 We caught up with Kaustuv Kundu after he won this tournament to get his thoughts. Check out the interview where he analyzes one of his favorite games from the tournament:
Kaustuv - Jeet, Round 5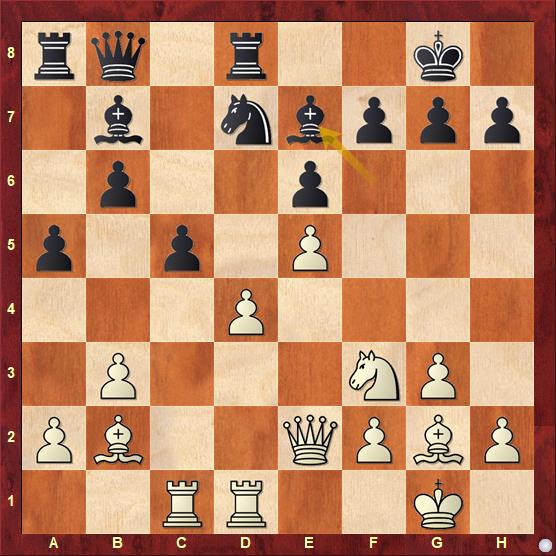 White has a substantial advantage in the above position. Find out how can White make a breakthrough here.
Kaustuv - Chakravarthi, Round 9
23...d4 is a mistake. White can liquidate into a winning major piece endgame. Find out how.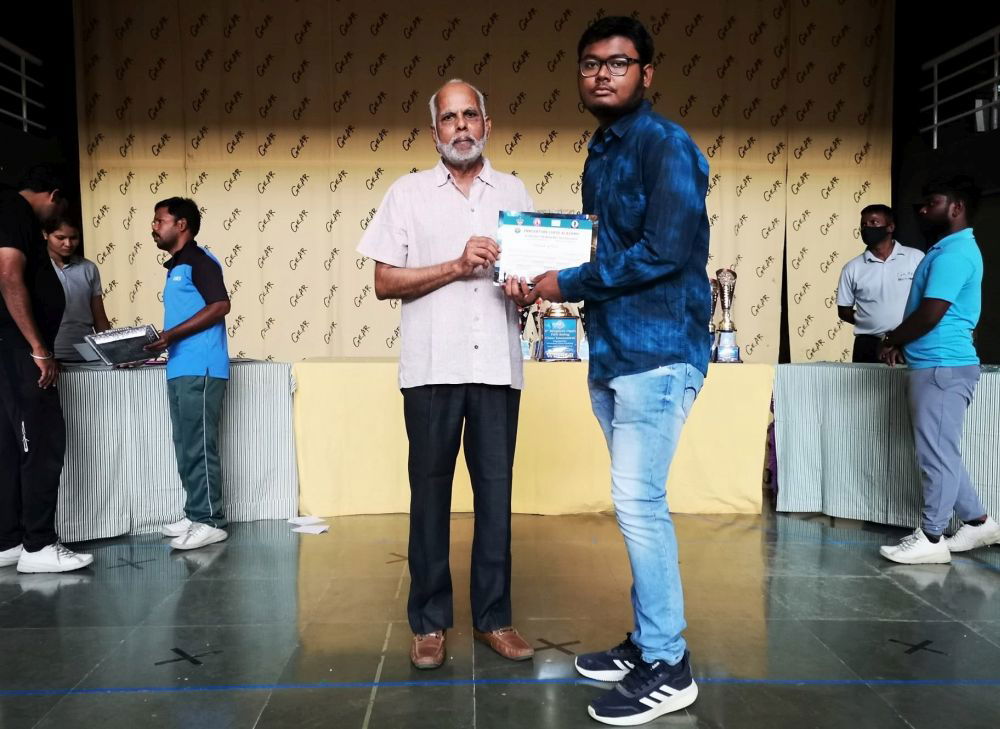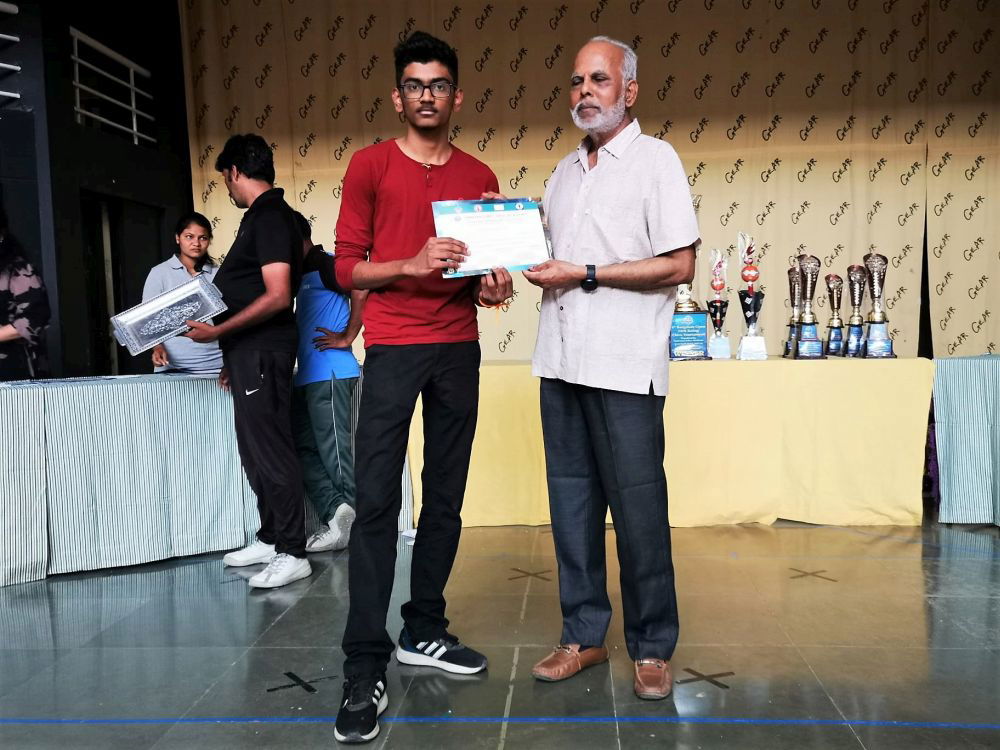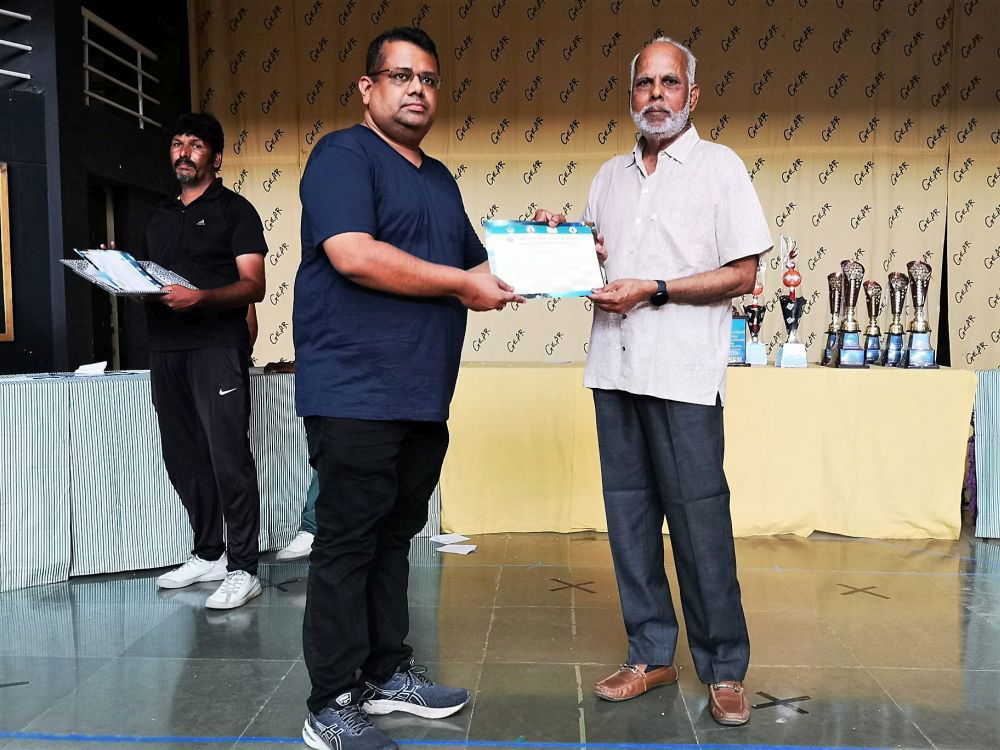 For more photos, please click here.
A total of 424 players including a GM, 8 IMs and a WIM participated from five countries across the world including India. The five-day nine-round Swiss league Rating tournament was organized by Innovators Chess Academy at GEAR Innovative International School from 10th to 14th April 2022. The time control of the tournament was 90 minutes + 30 seconds increment from move no.1.
Final Standings
| | | | | | | | | | | | | | | | |
| --- | --- | --- | --- | --- | --- | --- | --- | --- | --- | --- | --- | --- | --- | --- | --- |
| Rk. | SNo | | Name | Typ | sex | Gr | FED | RtgI | Club/City | Pts. | TB1 | TB2 | TB3 | TB4 | TB5 |
| 1 | 8 | | Kaustuv Kundu | | | | IND | 2306 | Wb | 8,0 | 53,0 | 57,5 | 50,25 | 0,0 | 7 |
| 2 | 5 | | Ritviz Parab | | | | IND | 2339 | Ga | 7,5 | 53,5 | 58,5 | 47,75 | 0,0 | 6 |
| 3 | 1 | IM | Neelash Saha | | | | IND | 2444 | Wb | 7,5 | 53,5 | 58,5 | 47,25 | 0,0 | 6 |
| 4 | 6 | IM | Ratnakaran K. | | | | IND | 2337 | Kl | 7,5 | 53,5 | 58,0 | 46,75 | 0,0 | 7 |
| 5 | 23 | FM | Ram Aravind L N | | | | IND | 2108 | Tn | 7,5 | 49,0 | 53,0 | 42,75 | 0,0 | 7 |
| 6 | 18 | FM | Senthil Maran K | | | | IND | 2191 | Tn | 7,5 | 49,0 | 51,5 | 40,75 | 0,0 | 6 |
| 7 | 3 | IM | Rajesh V A V | | | | IND | 2376 | Scr | 7,0 | 55,0 | 60,0 | 45,50 | 0,0 | 5 |
| 8 | 10 | | Bharat Kumar Reddy Poluri | | | | IND | 2285 | Tg | 7,0 | 52,0 | 56,5 | 41,75 | 0,0 | 6 |
| 9 | 4 | IM | Chakravarthi Reddy M | | | | IND | 2348 | Tg | 7,0 | 50,5 | 55,0 | 41,00 | 0,0 | 7 |
| 10 | 16 | FM | Sauravh Khherdekar | | | | IND | 2248 | Mh | 7,0 | 49,0 | 53,5 | 40,50 | 0,0 | 6 |
| 11 | 13 | IM | Palit Somak | | | | IND | 2273 | Rspb | 7,0 | 49,0 | 53,0 | 38,00 | 0,0 | 7 |
| 12 | 17 | FM | Jeet Jain | | | | IND | 2244 | Gj | 7,0 | 48,5 | 52,5 | 37,00 | 0,0 | 7 |
| 13 | 82 | | Advait Ratnakar Vibhute | U16 | | | IND | 1532 | Ka | 7,0 | 48,5 | 50,0 | 35,00 | 0,0 | 7 |
| 14 | 7 | IM | Abhishek Kelkar | | | | IND | 2320 | Mh | 7,0 | 48,0 | 52,0 | 38,75 | 0,0 | 5 |
| 15 | 25 | FM | Dutta Joydeep | | | | IND | 2067 | Wb | 7,0 | 47,5 | 51,5 | 38,75 | 0,0 | 5 |
| 16 | 31 | | Dinesh Kumar Jaganathan | | | | IND | 1937 | Tn | 7,0 | 47,0 | 51,0 | 37,25 | 0,0 | 6 |
| 17 | 27 | | Nath Rupankar | | | | IND | 2023 | Wb | 7,0 | 46,5 | 51,0 | 37,25 | 0,0 | 6 |
| 18 | 22 | | Arpan Das | | | | IND | 2112 | Wb | 7,0 | 46,5 | 50,5 | 37,75 | 0,0 | 6 |
| 19 | 9 | GM | Roy Chowdhury Saptarshi | | | | IND | 2287 | Rspb | 7,0 | 46,5 | 50,0 | 37,50 | 0,0 | 5 |
| 20 | 38 | | Gajanan Vijay Jayade | | | | IND | 1839 | Mh | 7,0 | 45,5 | 49,5 | 36,50 | 0,0 | 6 |
| 21 | 28 | IM | Hegde Ravi Gopal | S60 | | | IND | 2018 | Ka | 7,0 | 45,0 | 49,0 | 37,25 | 0,0 | 5 |
| 22 | 24 | | Sudarshan Bhat | | | | IND | 2073 | Ka | 7,0 | 43,5 | 47,0 | 35,00 | 0,0 | 7 |
| 23 | 55 | | Apoorv Kamble | U14 | | | IND | 1679 | Ka | 7,0 | 42,0 | 46,5 | 34,50 | 0,0 | 7 |
| 24 | 12 | FM | Sharan Rao | | | | IND | 2280 | Ka | 6,5 | 53,0 | 57,0 | 38,50 | 0,0 | 6 |
| 25 | 109 | | Ujjawal Bansal | | | | IND | 1442 | Gj | 6,5 | 48,0 | 51,5 | 34,75 | 0,0 | 5 |
---