Thej Kumar wins SCMA All India Rapid Rating Open 2022
Top seed of the tournament GM Thej Kumar M S, Nithin Babu and FM Sharan Rao scored 8.0/9 each. Thej won the SCMA All India Rapid Rating Open 2022 due to better tie-break score. He took a no-draw approach, scored eight wins and the sole loss was against the eventual runner-up Nithin Babu. Sharan was placed third according to tie-breaks. All three podium finishers suffered a loss each, yet none of them made a single draw. The total prize fund for the Rapid Rating was ₹200000 along with trophies in each event. Top three prizes in were ₹30000, ₹15000 and ₹12000 cash along with a trophy each respectively. Photo: SCMA
Ritviz Parab clinches the Blitz Open
Ritviz Parab and Nithin Babu scored sole 8.0/9. He won the Blitz Open tournament on account of better tie-break score. He also remained undefeated. Four players scored 7.5/9. FM Sharan Rao also claimed third place in Blitz. The total prize fund for the Blitz Open was ₹40000. Top three prizes were ₹8000, ₹5000 and ₹3000 cash each.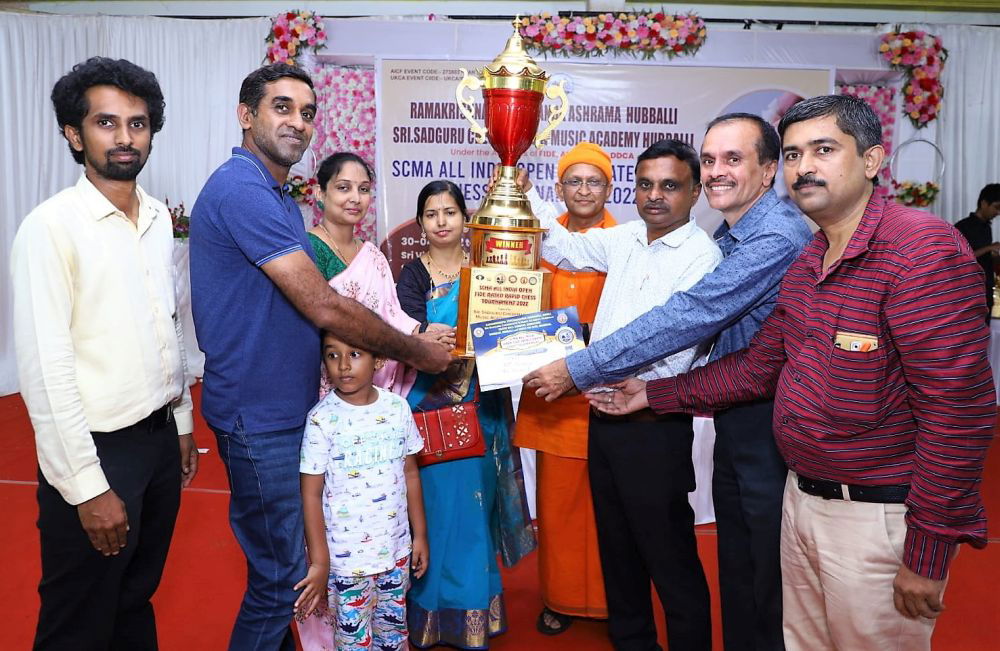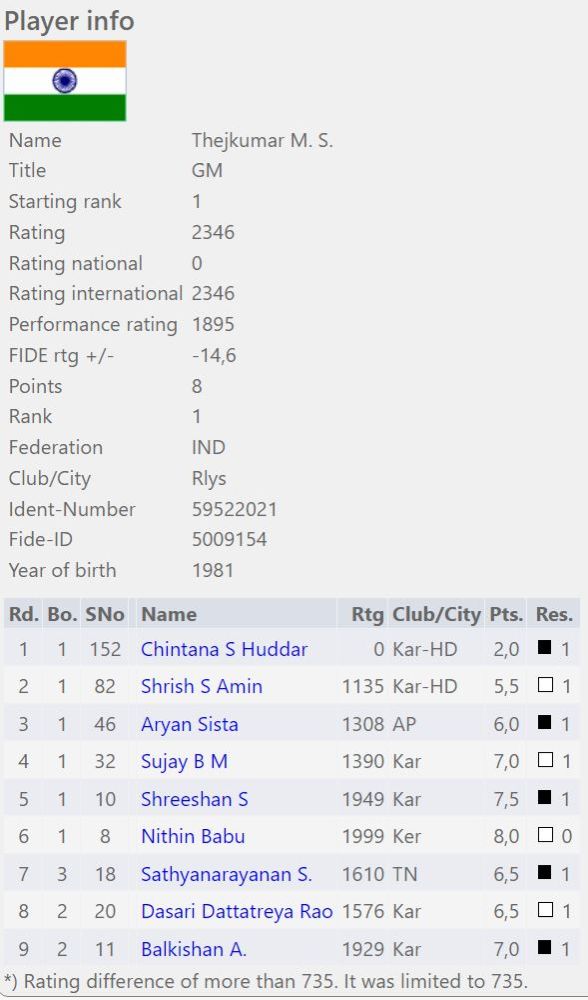 63-year-old Ramachandra Bhat scored 7.0/9 to secure 13th place. 11-year-old Akshaya Sathi was the youngest finisher among the top 15. He scored 7.0/9 to finish 15th. Physically Challenged CM Samarth Rao scored an impressive 7.0/9 to finish 16th and gain 46.8 Elo rating points.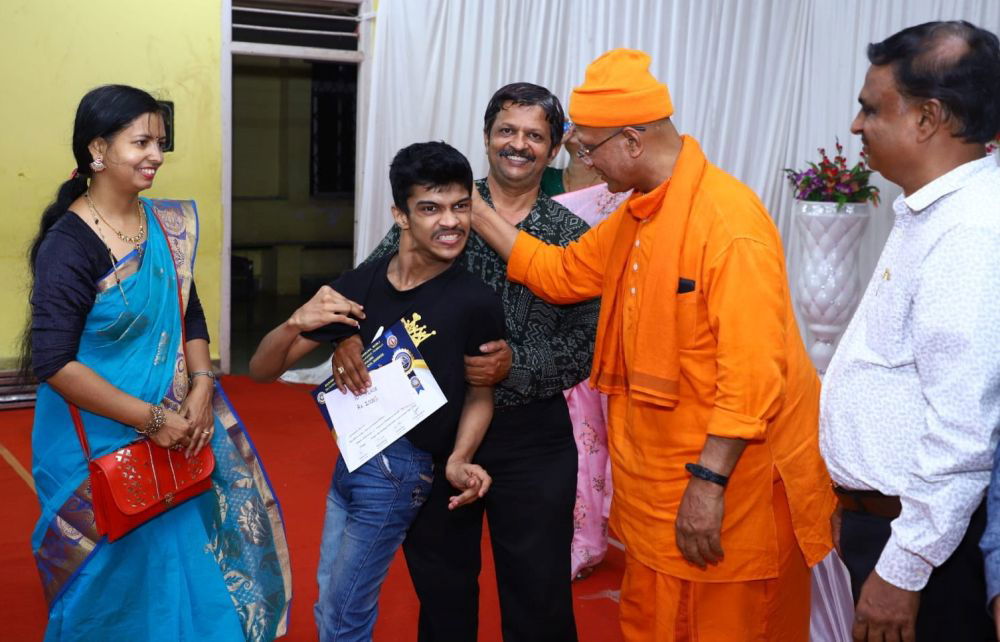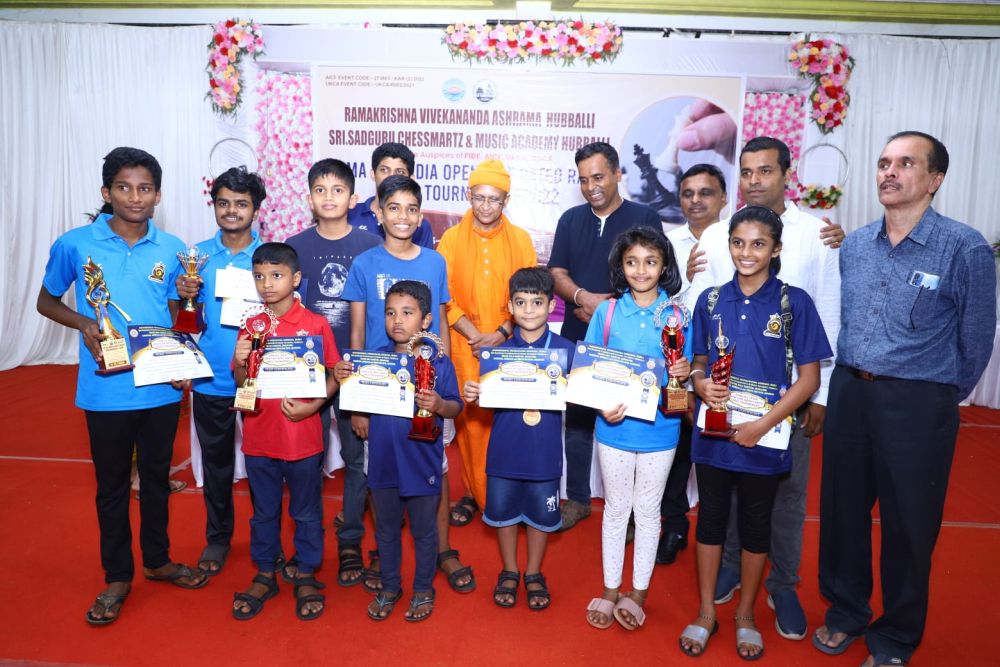 For more photos, please click here.
A total of 298 players including a GM and two IMs in the Rapid Rating and 213 in the Blitz Open including a GM and an IM, participated in this two-day tournament. The tournament was organized by Sri Sadguru Chessmartz & Music Academy, Hubli and Ramakrishna Vivekananda Ashram on 30th April and 1st May at Hubbali, Karnataka. The time control for the Rapid Rating was 25 minutes + 5 seconds increment and for Blitz Open, it was 3 minutes + 2 seconds increment.
Final Standings in Rapid Rating
| | | | | | | | | | | | | | |
| --- | --- | --- | --- | --- | --- | --- | --- | --- | --- | --- | --- | --- | --- |
| Rk. | SNo | | Name | Typ | sex | Rtg | Club/City | Pts. | TB1 | TB2 | TB3 | TB4 | TB5 |
| 1 | 1 | GM | Thejkumar M. S. | | | 2346 | Rlys | 8,0 | 54,0 | 56,5 | 48,00 | 0,0 | 8 |
| 2 | 8 | | Nithin Babu | | | 1999 | Ker | 8,0 | 52,5 | 54,5 | 47,50 | 0,0 | 8 |
| 3 | 9 | FM | Sharan Rao | | | 1967 | Kar | 8,0 | 49,5 | 51,5 | 44,50 | 0,0 | 8 |
| 4 | 2 | IM | Sai Agni Jeevitesh J | | | 2229 | Tel | 7,5 | 53,0 | 57,5 | 46,00 | 0,0 | 7 |
| 5 | 4 | | Sharma R. Preetham | | | 2210 | Kar | 7,5 | 50,5 | 55,0 | 44,75 | 0,0 | 7 |
| 6 | 10 | | Shreeshan S | | | 1949 | Kar | 7,5 | 48,0 | 51,5 | 40,50 | 0,0 | 7 |
| 7 | 11 | | Balkishan A. | | | 1929 | Kar | 7,0 | 54,0 | 58,0 | 43,25 | 0,0 | 6 |
| 8 | 23 | | Sudarshan Bhat | | | 1501 | Kar | 7,0 | 52,0 | 54,0 | 39,00 | 0,0 | 7 |
| 9 | 21 | | Nitish Bhat | | | 1517 | Kar | 7,0 | 50,0 | 53,5 | 38,00 | 0,0 | 7 |
| 10 | 19 | | Om Nagnath Lamkane | | | 1602 | Mah | 7,0 | 49,0 | 53,0 | 34,75 | 0,0 | 6 |
| 11 | 32 | | Sujay B M | | | 1390 | Kar | 7,0 | 48,0 | 51,0 | 36,50 | 0,0 | 7 |
| 12 | 5 | | Ritviz Parab | | | 2133 | Goa | 7,0 | 47,0 | 48,5 | 35,75 | 0,0 | 6 |
| 13 | 17 | | Ramachandra Bhat | S55 | | 1659 | Kar | 7,0 | 45,0 | 49,0 | 37,00 | 0,0 | 7 |
| 14 | 66 | | Nishanth Dsouza | | | 1208 | Kar | 7,0 | 45,0 | 47,5 | 36,50 | 0,0 | 7 |
| 15 | 28 | | Akshaya Sathi | U13 | w | 1444 | Kar | 7,0 | 44,0 | 47,5 | 38,00 | 0,0 | 7 |
| 16 | 53 | CM | Samarth J Rao | | | 1266 | Kar- PC | 7,0 | 43,5 | 45,0 | 34,25 | 0,0 | 6 |
| 17 | 26 | | Walvekar Praveen | | | 1487 | Kar | 7,0 | 43,0 | 47,0 | 34,50 | 0,0 | 7 |
| 18 | 7 | IM | Hegde Ravi Gopal | S55 | | 2019 | Kar | 6,5 | 51,5 | 55,5 | 37,75 | 0,0 | 6 |
| 19 | 71 | | Khairmode Aditya | | | 1190 | Mah | 6,5 | 51,0 | 54,0 | 36,00 | 0,0 | 6 |
| 20 | 20 | | Dasari Dattatreya Rao | | | 1576 | Kar | 6,5 | 50,5 | 54,5 | 36,75 | 0,0 | 6 |
| 21 | 18 | | Sathyanarayanan S. | | | 1610 | TN | 6,5 | 49,5 | 53,5 | 36,25 | 0,0 | 6 |
| 22 | 14 | | Nikam Ravindra | | | 1774 | Mah | 6,5 | 48,5 | 52,0 | 36,00 | 0,0 | 5 |
| 23 | 37 | | Parab Rishikesh | | | 1371 | Goa | 6,5 | 48,0 | 53,0 | 36,25 | 0,0 | 6 |
| 24 | 39 | | Shrihari Venkatesh Deshpande | U15 | | 1361 | Kar | 6,5 | 48,0 | 50,0 | 32,75 | 0,0 | 5 |
| 25 | 34 | AFM | Vivaan Sachdev | U13 | | 1382 | Kar | 6,5 | 47,5 | 52,5 | 36,25 | 0,0 | 5 |
| 26 | 98 | | Pratham Sahasrabudhe | | | 1083 | Kar-HD | 6,5 | 47,0 | 50,5 | 34,75 | 0,0 | 5 |
| 27 | 36 | | Aravinda B R | | | 1371 | Kar | 6,5 | 46,5 | 50,5 | 33,00 | 0,0 | 6 |
| 28 | 62 | | Varun V Navali | | | 1216 | Kar-HD | 6,5 | 45,5 | 49,5 | 33,75 | 0,0 | 6 |
| 29 | 35 | | Vivaan Sunil Ballikar | U15 | | 1372 | Goa | 6,5 | 45,5 | 49,5 | 32,75 | 0,0 | 6 |
| 30 | 44 | | Bharath Raj H M | | | 1323 | Kar | 6,5 | 42,0 | 46,0 | 31,25 | 0,0 | 6 |
Final Standings in Blitz Open
| | | | | | | | | | |
| --- | --- | --- | --- | --- | --- | --- | --- | --- | --- |
| Rk. | SNo | | Name | FED | Rtg | Pts. | TB1 | TB2 | TB3 |
| 1 | 3 | | Ritviz Parab | IND | 2174 | 8,0 | 52,0 | 54,5 | 47,25 |
| 2 | 7 | | Nithin Babu | IND | 1992 | 8,0 | 51,5 | 55,5 | 48,50 |
| 3 | 5 | FM | Sharan Rao | IND | 2078 | 7,5 | 51,5 | 54,5 | 43,50 |
| 4 | 11 | | Nikam Ravindra | IND | 1846 | 7,5 | 49,5 | 54,0 | 45,00 |
| 5 | 4 | IM | Sai Agni Jeevitesh J | IND | 2138 | 7,5 | 49,5 | 51,0 | 39,75 |
| 6 | 1 | GM | Thejkumar M. S. | IND | 2294 | 7,5 | 47,0 | 50,0 | 40,50 |
| 7 | 6 | | Balkishan A. | IND | 2065 | 7,0 | 56,0 | 60,5 | 44,75 |
| 8 | 2 | | Sharma R. Preetham | IND | 2290 | 7,0 | 55,0 | 57,5 | 42,50 |
| 9 | 8 | | Shreeshan S | IND | 1949 | 7,0 | 52,0 | 56,5 | 42,50 |
| 10 | 13 | | Sirsat Shekhar V. | IND | 1768 | 7,0 | 48,5 | 52,0 | 39,00 |
| 11 | 16 | | Shriya R Revankar | IND | 1728 | 7,0 | 47,5 | 51,5 | 34,00 |
| 12 | 47 | | Shrihari Venkatesh Deshpande | IND | 1248 | 7,0 | 47,5 | 50,0 | 35,50 |
| 13 | 43 | | Pednekar Balkrishna | IND | 1280 | 7,0 | 47,0 | 50,5 | 36,00 |
| 14 | 26 | | Patil Abhishek | IND | 1429 | 7,0 | 47,0 | 48,5 | 34,00 |
| 15 | 41 | | Nishanth Dsouza | IND | 1283 | 7,0 | 46,0 | 49,5 | 35,50 |
| 16 | 65 | | Pratham Sahasrabudhe | IND | 1166 | 7,0 | 45,5 | 49,0 | 35,00 |
| 17 | 106 | | Chaitanya Vijay Gaonkar | IND | 0 | 6,5 | 48,5 | 51,5 | 36,00 |
| 18 | 49 | | Stuti Pradeep | IND | 1238 | 6,5 | 46,5 | 50,0 | 33,75 |
| 19 | 10 | | Akshay V Halagannavar | IND | 1874 | 6,5 | 45,0 | 49,0 | 33,25 |
---