Chakravarthy Reddy clinches Sushruta Reddy's 1st Rating Open 2022
by Shahid Ahmed - 23/10/2022
Top seed of the tournament, IM Chakravarthi Reddy scored an unbeaten 8/9 to win Sushruta Reddy's 1st Rating Open 2022. Dhanush Ragav N S and Arpan Das also scored 8/9 each. However, they were placed second and third according to tie-breaks. Third to fifth seed finished in the same order. The total prize fund of the tournament was ₹600000. The top three prizes were ₹50000 and a trophy, ₹40000 and ₹30000 each respectively. A total of 247 players took part from various parts of the country, Australia, Mongolia, Scotland and USA. The five-day nine-round Swiss League Rating tournament was organized by Innovators Chess Academy from 1st to 5th October at Virginia Mall, Whitefield in Bangalore, Karnataka. Photo: FI NA Sushruta Reddy
Top three score 8/9
This is IM Chakravarthi Reddy's second tournament triumph of the year. He won the 1st BUDCA Rapid Rating Open 2022 in May this year and also finished third in the Blitz event. The last Classical Open Rating tournament he won was in August 2019 in Sri Lanka. 10-year-old Sathvik Adiga and Sarthak Sharma were the youngest to finish in top ten. They both scored 7/9 to finish seventh and eighth place. Alka Das was the highest finisher among female participants. She scored 6.5/9 to finish 17th overall.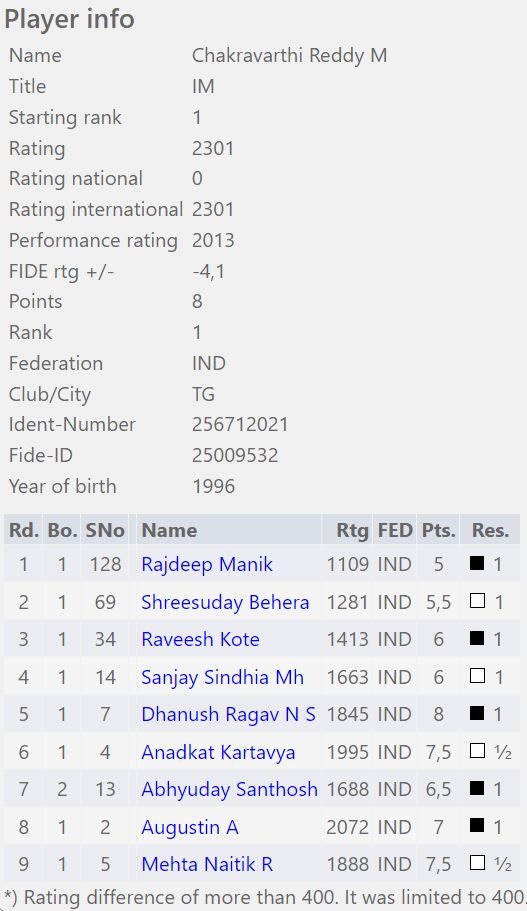 For more photos, please click here.
A total of 247 players including an IM took part from various parts of the country along with players from Australia, Mongolia, Scotland and USA. The five-day nine-round Swiss league Classical Rating tournament was organized by Innovators Chess Academy at Virginia Mall in Bangalore, Karnataka from 1st to 5th October 2022. The time control of the tournament was 90 minutes + 30 seconds increment from move no.1.
Final Standings
| | | | | | | | | | | | |
| --- | --- | --- | --- | --- | --- | --- | --- | --- | --- | --- | --- |
| Rk. | SNo | | Name | Typ | sex | FED | Rtg | Pts. | TB1 | TB2 | TB3 |
| 1 | 1 | IM | Chakravarthi Reddy M | | | IND | 2301 | 8 | 54 | 59 | 51,50 |
| 2 | 7 | | Dhanush Ragav N S | | | IND | 1845 | 8 | 52 | 55 | 47,00 |
| 3 | 3 | | Arpan Das | | | IND | 2052 | 8 | 49,5 | 54 | 47,50 |
| 4 | 4 | | Anadkat Kartavya | | | IND | 1995 | 7,5 | 51 | 55,5 | 44,50 |
| 5 | 5 | | Mehta Naitik R | | | IND | 1888 | 7,5 | 49,5 | 54,5 | 44,00 |
| 6 | 2 | | Augustin A | | | IND | 2072 | 7 | 54 | 58,5 | 42,50 |
| 7 | 12 | | Sathvik Adiga | U13 | | IND | 1728 | 7 | 46,5 | 50 | 36,00 |
| 8 | 35 | | Sarthak Sharma | U13 | | IND | 1413 | 7 | 45,5 | 48,5 | 35,00 |
| 9 | 49 | | Aravindakshan Su | | | IND | 1345 | 7 | 45,5 | 48 | 34,00 |
| 10 | 25 | | Niranjan J Warrier | U13 | | IND | 1454 | 7 | 44 | 48,5 | 36,50 |
| 11 | 13 | | Abhyuday Santhosh | U13 | | IND | 1688 | 6,5 | 52 | 56,5 | 38,00 |
| 12 | 11 | | Apoorv Kamble | U13 | | IND | 1735 | 6,5 | 50,5 | 55 | 36,75 |
| 13 | 40 | | Sriram Alwala | U13 | | IND | 1389 | 6,5 | 49,5 | 52 | 35,25 |
| 14 | 6 | | Jagadish P | | | IND | 1855 | 6,5 | 49 | 52 | 34,25 |
| 15 | 31 | | Atharva Kale | | | IND | 1431 | 6,5 | 48 | 52 | 35,25 |
| 16 | 39 | | Balaram U | | | IND | 1389 | 6,5 | 47,5 | 51,5 | 33,50 |
| 17 | 9 | | Alka Das | | w | IND | 1754 | 6,5 | 47 | 51 | 34,50 |
| 18 | 29 | | Siddhanth Poonja | U10 | | IND | 1439 | 6,5 | 44 | 47,5 | 31,50 |
| 19 | 185 | | Jargalsaikhan Surenkhuu | S60 | | MGL | 0 | 6,5 | 43,5 | 47,5 | 33,00 |
| 20 | 27 | | Medhvansh Madeti | U13 | | IND | 1446 | 6,5 | 42,5 | 46,5 | 31,75 |
| 21 | 19 | | Rejith Babu C | | | IND | 1498 | 6,5 | 42,5 | 46 | 32,50 |
| 22 | 18 | | Advait Ratnakar Vibhute | | | IND | 1534 | 6,5 | 42,5 | 44 | 29,00 |
| 23 | 61 | | Tapovrata Handique | | | IND | 1306 | 6,5 | 41 | 43 | 27,50 |
| 24 | 43 | | Sumeetkumar M S | | | IND | 1387 | 6 | 49 | 50,5 | 29,25 |
| 25 | 16 | | Hermon Dain Saldanha | | | IND | 1555 | 6 | 48 | 52 | 32,00 |
---