Akshayakalpa Organic Karnataka State Open 2023 R1-2: Co-founder and CEO Shashi Kumar score 2/2
Akshayakalpa Organic Karnataka State Open Rating 2023 is off to a flying start. 103 out of 491 players have won their first two games. All top seven seeds have remained unscathed. Shrinidhi G put up a very good fight against FM FT Niranjan Navalgund. However, the much stronger player prevailed when the 12-year-old was unable to maintain the tension in a queek, rook and knight vs queen, rook and bishop endgame. Former National Under-7 Girls champion, Siddhi Rao fought well to hold Sudarshan Bhat to a draw after a 3.5 hours of grueling battle. The CEO and Co-Founder of Akshayakalpa Organic, Shashi Kumar has won his first two games. He took an oath to himself of scoring a minimum of 5/9 at this event. He certainly seems to be on the right track to achieve it. Round 3 starts today Saturday 27th May at 9:30 a.m. IST. All photos in this article are by Shahid Ahmed unless stated otherwise.
491 players are taking part
Akshayakalpa Organic Karnataka State Open Rating 2023 is off to a roaring start. The fantastic venue, beautiful trophies and a zero waste event, definitely makes it a tournament with a lot of thought put into it.
The top seven seeds have made a perfect start of 2/2. They are:
Photo Gallery
Chief Guests - Dr. Brinda V, Outstanding Scientist and Director, Directorate of Safety, Reliability and Quality (DSRQ), M N Nataraj, Regional Director, NYKS Ministry of Youth Affairs and Sports, Govt. of India, Southern States, in presence of Shashi Kumar, Co-founder and CEO of Akshayakalpa Organic, Manoj Singh, Vice President, Forum Mall, and Sowmya M U, President of BUDCA.
Guests of Honor - D P Anantha, Vice President of AICF and President of KSCA, T N Madhukar, Vice President KSCA, Managing Editor of Praja Pragathi, Pragathi TV and Pragathi Digital, Dr. Muralidhar, Vice President KSCA President, Jupiter Group of Institutions, and Nagendra Muralidhar, Vice President KSCA and Secretary of Mysore District Chess Association.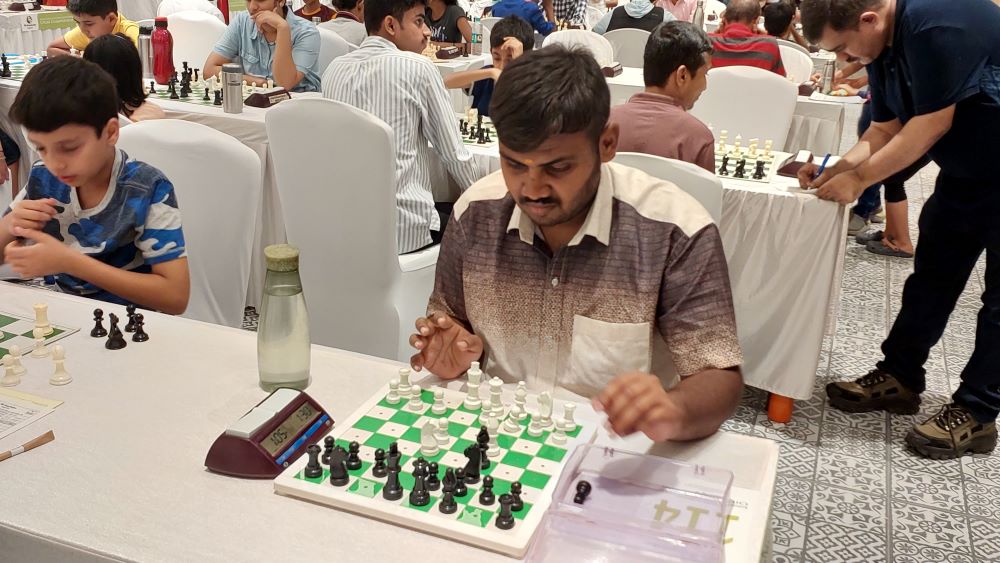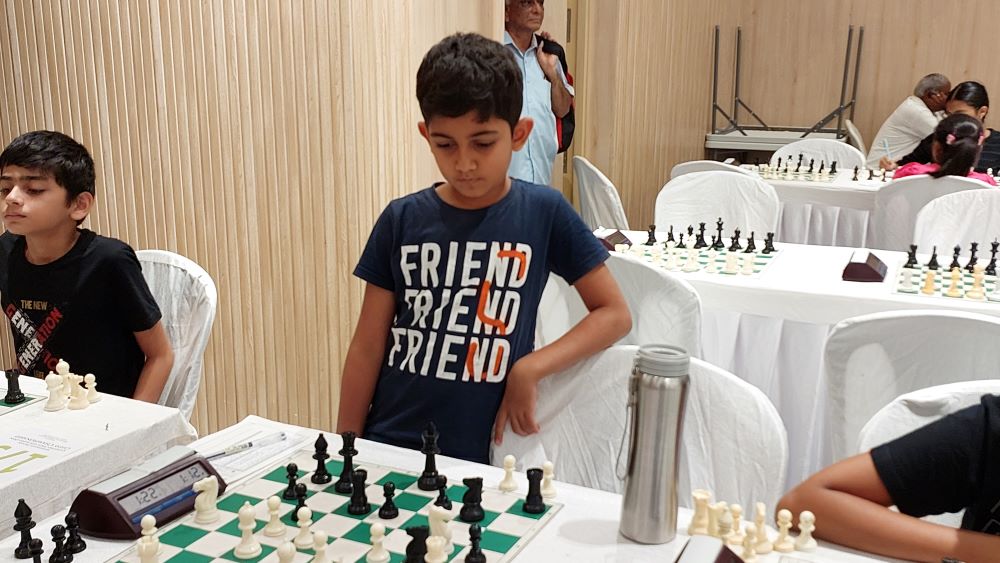 For more Inauguration Ceremony, Round 1 and Round 2 photos, please click at the respective links.
Video Gallery
More videos and interviews will be published soon, stay tuned.
Round 2 results
| | | | | | | | | | | | | | |
| --- | --- | --- | --- | --- | --- | --- | --- | --- | --- | --- | --- | --- | --- |
| Bo. | No. | | Name | Typ | Rtg | Pts. | Result | Pts. | | Name | Typ | Rtg | No. |
| 1 | 1 | IM | Viani, Antonio Dcunha | | 2417 | 1 | 1 - 0 | 1 | | Akanksh, U D | U13 | 1228 | 128 |
| 2 | 129 | | Darsha, Bhat | U13 | 1228 | 1 | 0 - 1 | 1 | GM | Thejkumar, M. S. | | 2384 | 2 |
| 3 | 3 | FM | Yashas, D. | | 2315 | 1 | 1 - 0 | 1 | | Dhanushkka, S | F13 | 1224 | 130 |
| 4 | 131 | | Nithish, Sivasubramanian | U13 | 1223 | 1 | 0 - 1 | 1 | WIM | Sharma, Isha | | 2275 | 4 |
| 5 | 5 | FM | Sharan, Rao | | 2248 | 1 | 1 - 0 | 1 | | Anirudh, C R | U13 | 1219 | 132 |
| 6 | 133 | | Shrinidhi, G | U13 | 1218 | 1 | 0 - 1 | 1 | FM | Navalgund, Niranjan | | 2200 | 6 |
| 7 | 7 | | Shet, Prajwal P | | 2096 | 1 | 1 - 0 | 1 | | Samanth, Nataraj Naidu | U11 | 1215 | 134 |
| 8 | 135 | | Sai, Parashuram Mangnaik | U15 | 1209 | 1 | ½ - ½ | 1 | | Sudhir, S. | | 2084 | 8 |
| 9 | 9 | | Sudarshan, Bhat | | 2020 | 1 | ½ - ½ | 1 | | Siddhi, Rao | F11 | 1208 | 136 |
| 10 | 137 | | Shreyas, G Kaushik | U13 | 1207 | 1 | 0 - 1 | 1 | | Apoorv, Kamble | U15 | 1981 | 10 |
| 11 | 11 | | Likhit, Chilukuri | | 1976 | 1 | 1 - 0 | 1 | | Soma, Shankara Sharma B | | 1206 | 138 |
| 12 | 141 | | Kovidh, Muraleedhara | U11 | 1202 | 1 | 0 - 1 | 1 | | Augustin, A | | 1953 | 12 |
| 13 | 13 | | Parthasarathy, R | | 1938 | 1 | 1 - 0 | 1 | | Sharvil, Sapre | U11 | 1204 | 140 |
| 14 | 143 | | Prajwal, Nayak | | 1200 | 1 | ½ - ½ | 1 | | Abhishek, Singh | | 1919 | 15 |
| 15 | 16 | | Sathvik, Adiga | U13 | 1906 | 1 | 1 - 0 | 1 | AFM | Aarush, Bhat | U11 | 1200 | 142 |
| 16 | 18 | | Santoshkashyap, Hg | | 1844 | 1 | ½ - ½ | 1 | | Yashika, R Joshi | F15 | 1198 | 144 |
| 17 | 145 | | Aiyappan, V R | | 1196 | 1 | 0 - 1 | 1 | | Balkishan, A. | | 1817 | 19 |
| 18 | 20 | | Naveen, S Hegde | | 1816 | 1 | 1 - 0 | 1 | | Avyan, Shah | U13 | 1189 | 148 |
| 19 | 147 | ACM | Avneesh, Devadiga | U09 | 1191 | 1 | 0 - 1 | 1 | | Gavi, Siddayya | | 1764 | 21 |
| 20 | 22 | | Leelajai, Krishna N | | 1756 | 1 | 1 - 0 | 1 | | Ruthvik, Srikanth | U15 | 1187 | 150 |
Standings after Round 2
| | | | | | | | | | | | | | |
| --- | --- | --- | --- | --- | --- | --- | --- | --- | --- | --- | --- | --- | --- |
| Rk. | SNo | | Name | Typ | sex | Rtg | Club/City | Pts. | TB1 | TB2 | TB3 | TB4 | TB5 |
| 1 | 3 | FM | Yashas, D. | | | 2315 | Bengaluru Urban | 2 | 1 | 2 | 2,00 | 0 | 2 |
| | 4 | WIM | Sharma, Isha | | w | 2275 | DK | 2 | 1 | 2 | 2,00 | 0 | 2 |
| | 10 | | Apoorv, Kamble | U15 | | 1981 | Bengaluru Urban | 2 | 1 | 2 | 2,00 | 0 | 2 |
| | 16 | | Sathvik, Adiga | U13 | | 1906 | Bengaluru Rural | 2 | 1 | 2 | 2,00 | 0 | 2 |
| | 25 | | Shree, Krishna Pranama | | | 1654 | Bengaluru Urban | 2 | 1 | 2 | 2,00 | 0 | 2 |
| | 28 | | Dilip, Kumar Pedda | | | 1641 | Bengaluru Urban | 2 | 1 | 2 | 2,00 | 0 | 2 |
| | 35 | | Ramachandra, Bhat | S60 | | 1598 | Sirsi | 2 | 1 | 2 | 2,00 | 0 | 2 |
| | 41 | | Rishabh, Kumara | | | 1545 | Bengaluru Urban | 2 | 1 | 2 | 2,00 | 0 | 2 |
| | 44 | | Atharva, Kale | U15 | | 1515 | Bengaluru Urban | 2 | 1 | 2 | 2,00 | 0 | 2 |
| | 45 | | Dhrikshu, K Vasant | | | 1515 | Mangalore | 2 | 1 | 2 | 2,00 | 0 | 2 |
| | 49 | | Krupha, S Ukkali | F11 | w | 1481 | Bengaluru Urban | 2 | 1 | 2 | 2,00 | 0 | 2 |
| | 57 | | Thejas, K | | | 1422 | Bengaluru Urban | 2 | 1 | 2 | 2,00 | 0 | 2 |
| | 63 | | Prasiddhi, Bhat | | w | 1409 | Mysore | 2 | 1 | 2 | 2,00 | 0 | 2 |
| | 67 | | Niranjan, J Warrier | U15 | | 1398 | Bengaluru Urban | 2 | 1 | 2 | 2,00 | 0 | 2 |
| | 74 | | Rudra, Rajeev | F13 | w | 1377 | DK | 2 | 1 | 2 | 2,00 | 0 | 2 |
| | 76 | | Varun, A Bharadwaj | | | 1374 | Bengaluru Urban | 2 | 1 | 2 | 2,00 | 0 | 2 |
| | 80 | | Anuran, Ghosh | | | 1362 | Bengaluru Urban | 2 | 1 | 2 | 2,00 | 0 | 2 |
| | 81 | AFM | Shanjula, Senthil | F13 | w | 1360 | Bengaluru Urban | 2 | 1 | 2 | 2,00 | 0 | 2 |
| | 82 | | Abhinav, Anand | U09 | | 1360 | Bengaluru Urban | 2 | 1 | 2 | 2,00 | 0 | 2 |
Round 3 pairings
| | | | | | | | | | | | | | |
| --- | --- | --- | --- | --- | --- | --- | --- | --- | --- | --- | --- | --- | --- |
| Bo. | No. | | Name | Typ | Rtg | Pts. | Result | Pts. | | Name | Typ | Rtg | No. |
| 1 | 69 | | Rachitraj, V Shetty | | 1390 | 2 | | 2 | IM | Viani, Antonio Dcunha | | 2417 | 1 |
| 2 | 2 | GM | Thejkumar, M. S. | | 2384 | 2 | | 2 | | Rudra, Rajeev | F13 | 1377 | 74 |
| 3 | 73 | | Abhay, Hippargi | U13 | 1383 | 2 | | 2 | FM | Yashas, D. | | 2315 | 3 |
| 4 | 4 | WIM | Sharma, Isha | | 2275 | 2 | | 2 | | Varun, A Bharadwaj | | 1374 | 76 |
| 5 | 77 | | Aradyo, Bhattacharyya | U13 | 1373 | 2 | | 2 | FM | Sharan, Rao | | 2248 | 5 |
| 6 | 6 | FM | Navalgund, Niranjan | | 2200 | 2 | | 2 | AFM | Shanjula, Senthil | F13 | 1360 | 81 |
| 7 | 78 | | Medhvansh, Madeti | U15 | 1367 | 2 | | 2 | | Shet, Prajwal P | | 2096 | 7 |
| 8 | 10 | | Apoorv, Kamble | U15 | 1981 | 2 | | 2 | ACM | Prathamesh, Shashikant Deshmukh | U13 | 1350 | 85 |
| 9 | 80 | | Anuran, Ghosh | | 1362 | 2 | | 2 | | Likhit, Chilukuri | | 1976 | 11 |
| 10 | 12 | | Augustin, A | | 1953 | 2 | | 2 | | Avyaya, Kumara Bhat | U13 | 1344 | 89 |
| 11 | 82 | | Abhinav, Anand | U09 | 1360 | 2 | | 2 | | Parthasarathy, R | | 1938 | 13 |
| 12 | 86 | | Pratitee, Bordoloi | F11 | 1347 | 2 | | 2 | | Sathvik, Adiga | U13 | 1906 | 16 |
| 13 | 19 | | Balkishan, A. | | 1817 | 2 | | 2 | | Samaksh, Ashok | U09 | 1326 | 93 |
| 14 | 90 | | Abhay, Chetty | U13 | 1338 | 2 | | 2 | | Naveen, S Hegde | | 1816 | 20 |
| 15 | 21 | | Gavi, Siddayya | | 1764 | 2 | | 2 | | Aravinda, B R | | 1324 | 95 |
| 16 | 92 | | Atharv, Venkatesh | U11 | 1333 | 2 | | 2 | | Leelajai, Krishna N | | 1756 | 22 |
| 17 | 23 | | Swara, Lakshmi S Nair | | 1693 | 2 | | 2 | | Rakshan, Agrawal | U15 | 1322 | 97 |
| 18 | 94 | | Srikant, Nayak A | | 1326 | 2 | | 2 | | Vivekananda, L | | 1687 | 24 |
| 19 | 25 | | Shree, Krishna Pranama | | 1654 | 2 | | 2 | | Pranav, P G | U15 | 1312 | 99 |
| 20 | 26 | | Siddhanth, Poonja | U11 | 1648 | 2 | | 2 | AFM | Aarav, Manche | U11 | 1309 | 101 |
Links
Akshayakalpa Organic: Official site, facebook, twitter, instagram, youtube and linkedin
---