Akshayakalpa Karnataka State 2023 R5-6: Viani, Sharan, Augustin and Parthasarathy score a double hat-trick
IM Viani Antonio Dcunha, FM Sharan Rao, Augustin A and Parthasarathy R are the four leaders with a 6/6 score. 10-year-old Siddhanth Poonja held GM Thej Kumar M S to a solid draw in the fifth round. Dilip Kumar Pedda caused an upset against WIM Isha Sharma. First nine out of top ten games ended decisively in Round 6. Sharan scored a quick win over Niranjan J Warrier and became the first person to score a double hat-trick at this event. IM Viani Antonio Dcunha cruised his way to the sixth victory of the event against Gavi Siddayya. India's 50th and Karnataka's first GM Thej Kumar played three Blindfold Simultaneous Exhibition matches after his two Classical games and won them all. Akshayakalpa Organic Karnataka State Open Rating Chess Championship 2023 Round 7 starts today at 9:30 a.m. IST. All photos in this article are by Shahid Ahmed.
10-year-old Siddhanth Poonja draws against GM Thej Kumar
Before each round, Chief Arbiter announces players to ensure they are not wearing any wrist-watch or having an electronic item in their possession. Unfortunately a teenager forgot to take his wrist watch and as per AICF rule, he had to forfeit the game, after his opponent made the claim and arbiter validated it. The other announcement which is made and can often be overlooked by anyone is, draw agreement within 30 moves without the consent of arbiter is not allowed. Now, ask yourself, have you heard that in any state championship ever before? That certainly promotes the fighting spirit among the kids and adults both.
Round 5
10-year-old Siddhanth Poonja (1648) held India's 50th and Karnataka's first GM M S Thej Kumar to a draw. Dilip Kumar Pedda (1641) defeated Karnataka's only WIM Isha Sharma (2275).
At the age of ten years, Siddhanth Poonja definitely played solid to force the Grandmaster concede a half point
WIM Isha Sharma suffered her first loss of the event against Dilip Kumar Pedda
Ramachandra Bhat's old Indian style double fianchetto did not work out against FM Sharan Rao
Augustin A halted Atharva Kale's winning streak
Shilpa Kumar, better half of Akshayakalpa Organic Co-Founder and CEO, Shashi Kumar and Vinay Kurtkoti, Vice President of KSCA made the ceremonial first move of Round 5.
Viani - Gavi, Round 6
Viani went for a thematic idea in the Sicilian Dragon 19.Nf5+ Bxf5 20.exf5 Rh8 21.fxg6 and the game followed an over a decade old game between two 2300+ players at a Serbian tournament. 21...Nxg6 22.Ne4 Nhf4 23.Rhg1 Rh4 24.Rdf1 Qb6 25.Ng5 e6 26.Nf3 and things started falling apart for Black soon.
Bhargavi Bharath, Vice President BUDCA and Shubha Hebbar, Secretary BUDCA made the ceremonial first move of Round 6
Photo Gallery
The fastest result of Round 5 is a less than nine minutes of game comprising five moves. Pushkar Vithal was wearing a wrist-watch for which he had to forfeit his game when his opponent Nisarga Girisha Priya (1109) claimed it.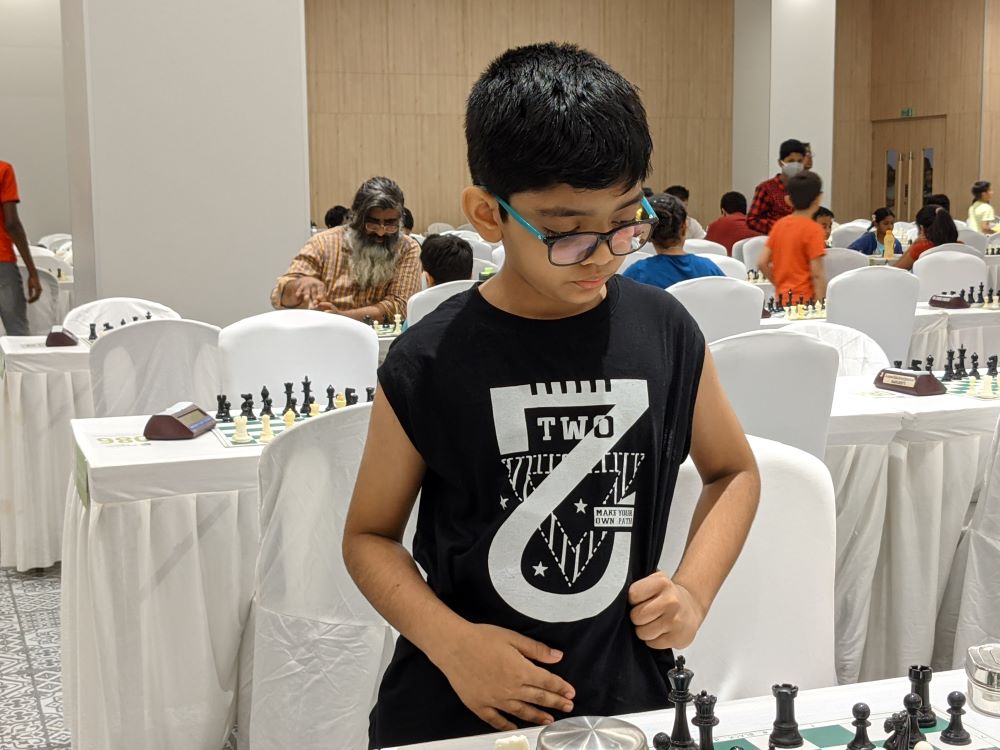 For more Round 5, Round 6 and Blindfold Simul photos, please click at the respective links.
More videos will be published soon, stay tuned.
Round 6 results
| | | | | | | | | | | | | | |
| --- | --- | --- | --- | --- | --- | --- | --- | --- | --- | --- | --- | --- | --- |
| Bo. | No. | | Name | Typ | Rtg | Pts. | Result | Pts. | | Name | Typ | Rtg | No. |
| 1 | 1 | IM | Viani, Antonio Dcunha | | 2417 | 5 | 1 - 0 | 5 | | Gavi, Siddayya | | 1764 | 21 |
| 2 | 5 | FM | Sharan, Rao | | 2248 | 5 | 1 - 0 | 5 | | Niranjan, J Warrier | U15 | 1398 | 67 |
| 3 | 13 | | Parthasarathy, R | | 1938 | 5 | 1 - 0 | 5 | | Apoorv, Kamble | U15 | 1981 | 10 |
| 4 | 28 | | Dilip, Kumar Pedda | | 1641 | 5 | 0 - 1 | 5 | | Augustin, A | | 1953 | 12 |
| 5 | 16 | | Sathvik, Adiga | U13 | 1906 | 4½ | 0 - 1 | 4½ | GM | Thejkumar, M. S. | | 2384 | 2 |
| 6 | 3 | FM | Yashas, D. | | 2315 | 4½ | 1 - 0 | 4½ | | Nambiar, Vivek | | 1870 | 17 |
| 7 | 7 | | Shet, Prajwal P | | 2096 | 4½ | 1 - 0 | 4½ | | Vivekananda, L | | 1687 | 24 |
| 8 | 36 | | Pranav, A J | | 1588 | 4½ | 1 - 0 | 4½ | | Sudhir, S. | | 2084 | 8 |
| 9 | 11 | | Likhit, Chilukuri | | 1976 | 4½ | 1 - 0 | 4½ | | Siddhanth, Poonja | U11 | 1648 | 26 |
| 10 | 40 | | Amith, A | | 1560 | 4½ | ½ - ½ | 4 | WIM | Sharma, Isha | | 2275 | 4 |
| 11 | 58 | | Prasanth, Bhuvan Krishna | U11 | 1417 | 4 | 0 - 1 | 4 | FM | Navalgund, Niranjan | | 2200 | 6 |
| 12 | 9 | | Sudarshan, Bhat | | 2020 | 4 | 1 - 0 | 4 | | Raveesh, Kote | U15 | 1417 | 59 |
| 13 | 64 | | Aditya, Saxena | U13 | 1404 | 4 | 0 - 1 | 4 | | Balkishan, A. | | 1817 | 19 |
| 14 | 22 | | Leelajai, Krishna N | | 1756 | 4 | 0 - 1 | 4 | | Prasiddhi, Bhat | | 1409 | 63 |
| 15 | 65 | | Aaditya, Ranjan Sahu | U13 | 1403 | 4 | 0 - 1 | 4 | | Swara, Lakshmi S Nair | | 1693 | 23 |
| 16 | 68 | | Suman, Saideep | U11 | 1392 | 4 | ½ - ½ | 4 | | Shree, Krishna Pranama | | 1654 | 25 |
| 17 | 73 | | Abhay, Hippargi | U13 | 1383 | 4 | 0 - 1 | 4 | | Nitish, Bhat | | 1627 | 29 |
| 18 | 30 | | Ajith, M.P. | | 1626 | 4 | ½ - ½ | 4 | | Thirunarayanan, Sampath Kumar | | 1387 | 71 |
| 19 | 78 | | Medhvansh, Madeti | U15 | 1367 | 4 | 0 - 1 | 4 | | Chinmay, Kowshik | U13 | 1604 | 33 |
| 20 | 83 | | Harshini, A | | 1352 | 4 | 0 - 1 | 4 | | Dhanush, Ram M | | 1601 | 34 |
Standings after Round 6
| | | | | | | | | | | | | | |
| --- | --- | --- | --- | --- | --- | --- | --- | --- | --- | --- | --- | --- | --- |
| Rk. | SNo | | Name | Typ | sex | Rtg | Club/City | Pts. | TB1 | TB2 | TB3 | TB4 | TB5 |
| 1 | 5 | FM | Sharan, Rao | | | 2248 | DK | 6 | 21,5 | 22 | 23,00 | 0 | 6 |
| 2 | 1 | IM | Viani, Antonio Dcunha | | | 2417 | DK | 6 | 21 | 23 | 23,50 | 0 | 6 |
| 3 | 13 | | Parthasarathy, R | | | 1938 | Bengaluru Urban | 6 | 20,5 | 22 | 22,50 | 0 | 6 |
| 4 | 12 | | Augustin, A | | | 1953 | Kodagu | 6 | 20,5 | 22 | 22,00 | 0 | 6 |
| 5 | 3 | FM | Yashas, D. | | | 2315 | Bengaluru Urban | 5,5 | 20,5 | 23,5 | 22,25 | 0 | 5 |
| 6 | 2 | GM | Thejkumar, M. S. | | | 2384 | Mysore | 5,5 | 20,5 | 21 | 18,75 | 0 | 5 |
| 7 | 7 | | Shet, Prajwal P | | | 2096 | Mysore | 5,5 | 19 | 22 | 21,25 | 0 | 5 |
| 8 | 36 | | Pranav, A J | | | 1588 | Bengaluru Urban | 5,5 | 19 | 22 | 20,25 | 0 | 5 |
| 9 | 11 | | Likhit, Chilukuri | | | 1976 | Bengaluru Urban | 5,5 | 18,5 | 21,5 | 20,75 | 0 | 5 |
| 10 | 67 | | Niranjan, J Warrier | U15 | | 1398 | Bengaluru Urban | 5 | 23 | 25,5 | 19,50 | 0 | 5 |
| 11 | 10 | | Apoorv, Kamble | U15 | | 1981 | Bengaluru Urban | 5 | 23 | 25 | 19,00 | 0 | 5 |
| | 28 | | Dilip, Kumar Pedda | | | 1641 | Bengaluru Urban | 5 | 23 | 25 | 19,00 | 0 | 5 |
| 13 | 19 | | Balkishan, A. | | | 1817 | Mysore | 5 | 22,5 | 26 | 21,00 | 0 | 5 |
| 14 | 49 | | Krupha, S Ukkali | F11 | w | 1481 | Bengaluru Urban | 5 | 22 | 25 | 19,00 | 0 | 5 |
| 15 | 23 | | Swara, Lakshmi S Nair | | w | 1693 | Bengaluru Urban | 5 | 21,5 | 23 | 18,50 | 0 | 5 |
| 16 | 21 | | Gavi, Siddayya | | | 1764 | Bengaluru Urban | 5 | 21,5 | 23 | 17,00 | 0 | 5 |
| 17 | 9 | | Sudarshan, Bhat | | | 2020 | Bengaluru Urban | 5 | 21 | 23,5 | 16,50 | 0 | 4 |
| 18 | 55 | | Medhansh, Rathi | U15 | | 1435 | Bengaluru Urban | 5 | 20,5 | 23 | 19,50 | 0 | 4 |
| 19 | 54 | | Adrij, Bhattacharyya | U13 | | 1438 | DK | 5 | 20 | 23 | 18,00 | 0 | 5 |
| 20 | 34 | | Dhanush, Ram M | | | 1601 | DK | 5 | 20 | 22,5 | 17,50 | 0 | 5 |
Round 7 pairings
| | | | | | | | | | | | | | |
| --- | --- | --- | --- | --- | --- | --- | --- | --- | --- | --- | --- | --- | --- |
| Bo. | No. | | Name | Typ | Rtg | Pts. | Result | Pts. | | Name | Typ | Rtg | No. |
| 1 | 12 | | Augustin, A | | 1953 | 6 | | 6 | IM | Viani, Antonio Dcunha | | 2417 | 1 |
| 2 | 13 | | Parthasarathy, R | | 1938 | 6 | | 6 | FM | Sharan, Rao | | 2248 | 5 |
| 3 | 2 | GM | Thejkumar, M. S. | | 2384 | 5½ | | 5½ | | Shet, Prajwal P | | 2096 | 7 |
| 4 | 11 | | Likhit, Chilukuri | | 1976 | 5½ | | 5½ | FM | Yashas, D. | | 2315 | 3 |
| 5 | 10 | | Apoorv, Kamble | U15 | 1981 | 5 | | 5½ | | Pranav, A J | | 1588 | 36 |
| 6 | 6 | FM | Navalgund, Niranjan | | 2200 | 5 | | 5 | | Amith, A | | 1560 | 40 |
| 7 | 41 | | Rishabh, Kumara | | 1545 | 5 | | 5 | | Sudarshan, Bhat | | 2020 | 9 |
| 8 | 19 | | Balkishan, A. | | 1817 | 5 | | 5 | | Sumeetkumar, M S | | 1520 | 42 |
| 9 | 21 | | Gavi, Siddayya | | 1764 | 5 | | 5 | | Aarav, Saish Amonkar | U11 | 1512 | 46 |
| 10 | 23 | | Swara, Lakshmi S Nair | | 1693 | 5 | | 5 | | Krupha, S Ukkali | F11 | 1481 | 49 |
| 11 | 55 | | Medhansh, Rathi | U15 | 1435 | 5 | | 5 | | Dilip, Kumar Pedda | | 1641 | 28 |
| 12 | 29 | | Nitish, Bhat | | 1627 | 5 | | 5 | | Adrij, Bhattacharyya | U13 | 1438 | 54 |
| 13 | 33 | | Chinmay, Kowshik | U13 | 1604 | 5 | | 5 | AIM | Sushrutha, Reddy | | 1428 | 56 |
| 14 | 63 | | Prasiddhi, Bhat | | 1409 | 5 | | 5 | | Dhanush, Ram M | | 1601 | 34 |
| 15 | 67 | | Niranjan, J Warrier | U15 | 1398 | 5 | | 5 | AFM | Sureka, Akshat | U15 | 1560 | 39 |
| 16 | 8 | | Sudhir, S. | | 2084 | 4½ | | 5 | | Abhimaan, S Nair | U15 | 1300 | 103 |
| 17 | 4 | WIM | Sharma, Isha | | 2275 | 4½ | | 4½ | | Aneesh, Adiga | U15 | 1416 | 61 |
| 18 | 15 | | Abhishek, Singh | | 1919 | 4½ | | 4½ | | Suman, Saideep | U11 | 1392 | 68 |
| 19 | 66 | | Adarsh, D | U13 | 1402 | 4½ | | 4½ | | Sathvik, Adiga | U13 | 1906 | 16 |
| 20 | 17 | | Nambiar, Vivek | | 1870 | 4½ | | 4½ | | Nithinpal, | | 1386 | 72 |
Links
Akshayakalpa Organic: Official site, facebook, twitter, instagram, youtube and linkedin
---