Viani Antonio Dcunha dominates Akshayakalpa Organic Karnataka State Open Rating 2023
IM Viani Antonio Dcunha drew his final round game against FM Yashas D to become Akshayakalpa Organic Karnataka State Open 2023 champion. He scored an unbeaten 8.5/9 and finished a half point ahead of the field. The last time Viani played Karnataka State Championship was back in 2017. Then also he was the top seed and won the tournament by scoring an unbeaten 8.5/10. His opponent Yashas was placed second. Balkishan Anand, GM Thej Kumar and Chinmay Kowshik also scored 8/9 each. They were placed third to fifth according to tie-breaks. Akshayakalpa Organic Co-Founder and CEO lived up to his oath and scored 5/9. He also ensured that the next year's State Championship will also be sponsored by his company. All photos in this article are by Shahid Ahmed.
Viani's second State Open unbeaten triumph
The total prize fund of the tournament was ₹1000000. The top three prizes were ₹100000, ₹70000 and ₹55000 along with a trophy each. 11-year-old Chinmay Kowshik became the youngest player to make a top ten finish. He scored 8/9 to finish fifth. 103-seeded 13-year-old Abhimaan S Nair scored 7.5/9 to finish ninth. Interviews of the top three finishers, Chinmay, top female finisher, Shashi Kumar, FM Arvind Shastry, Anand (Father of Karnataka's latest GM Pranav Anand) and many more interviews and game videos will be published soon.
Each trophy has been meticulously designed. The champion's trophy contains a king, runner-up has queen, second runner-up rook and fourth bishop. One can easily figure out the reasoning behind it. The trophies are not only beautiful and heavy but also thoughtfully designed.
Thej Kumar - Augustin
GM Thej Kumar (2384) decided to sacrifice his queen for a rook and bishop against Augustin A (1953) 11.exd6 Re8 12.Qxe8+ Qxe8 13.Be3 while there was nothing immediate for White, it was not easy to get play for Black. White went on to win the game after Black blundered in the endgame.
Parthasarathy - Niranjan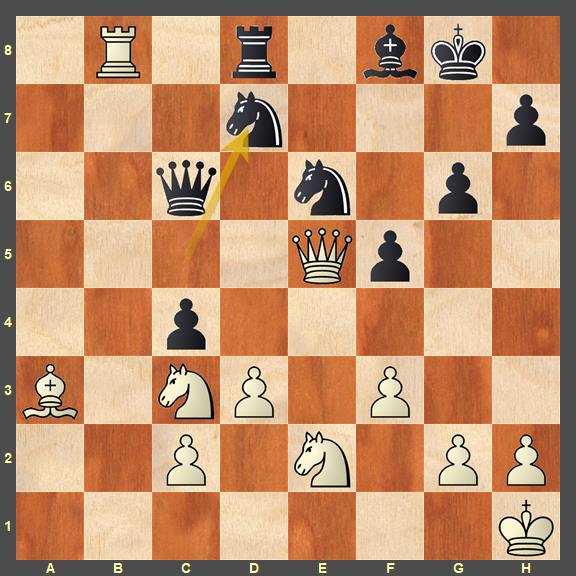 39...Nd7 fork and discover attack left Parthasarathy R's (1938) queen, rook and bishop hanging. He had no choice but to sacrifice his queen 40.Qxe6+ Qxe6 41.Rxd8 cxd3 42.cxd3 Kf7 43.Bxf8 Nxf8 44.d4 Qa6 and soon White's rook got trapped.
50.Rxf8 Kxf8 and White should be able to hold a fortress with his knights while ensuring Black does not get a breakthrough with his pawns. It sounds easier in theory, practically it is quite difficult especially when you are getting low on time and your opponent is a strong FM FT Niranjan Navalgund (2200). White eventually gave up on the knight fortress and his opponent broke through with his king and queen. Try to figure out what were the best possible knight fortresses White could have built to prevent the black king's entry.
Bharat Singh Chauhan, Chairman of FIDE Advisory Board and Shashi Kumar, Co-Founder and CEO of Akshayakalpa, made the ceremonial first move of Akshayakalpa Organic Karnataka State Open Rating 2023 Round 9
Photo Gallery
Prize distribution ceremony photos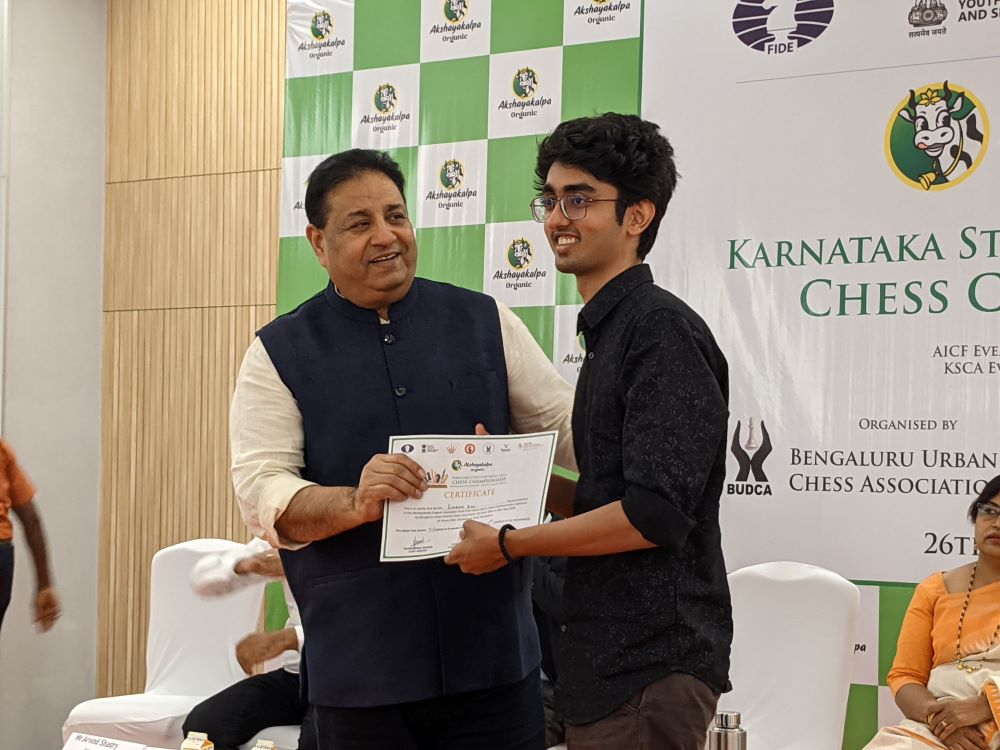 Both Niranjan and Likhit had all three tie-break scores exactly the same
For more Round 9 and Prize distribution ceremony photos, please click at the respective links.
More videos and prize distribution ceremony photos will be published soon, stay tuned.
Round 9 results
| | | | | | | | | | | | | | |
| --- | --- | --- | --- | --- | --- | --- | --- | --- | --- | --- | --- | --- | --- |
| Bo. | No. | | Name | Typ | Rtg | Pts. | Result | Pts. | | Name | Typ | Rtg | No. |
| 1 | 3 | FM | Yashas, D. | | 2315 | 7½ | ½ - ½ | 8 | IM | Viani, Antonio Dcunha | | 2417 | 1 |
| 2 | 2 | GM | Thejkumar, M. S. | | 2384 | 7 | 1 - 0 | 7 | | Augustin, A | | 1953 | 12 |
| 3 | 19 | | Balkishan, A. | | 1817 | 7 | 1 - 0 | 7 | | Shet, Prajwal P | | 2096 | 7 |
| 4 | 33 | | Chinmay, Kowshik | U13 | 1604 | 7 | 1 - 0 | 6½ | | Sathvik, Adiga | U13 | 1906 | 16 |
| 5 | 5 | FM | Sharan, Rao | | 2248 | 6½ | 1 - 0 | 6½ | | Dhanush, Ram M | | 1601 | 34 |
| 6 | 13 | | Parthasarathy, R | | 1938 | 6½ | 0 - 1 | 6½ | FM | Navalgund, Niranjan | | 2200 | 6 |
| 7 | 10 | | Apoorv, Kamble | U15 | 1981 | 6½ | 0 - 1 | 6½ | | Abhimaan, S Nair | U15 | 1300 | 103 |
| 8 | 11 | | Likhit, Chilukuri | | 1976 | 6½ | 1 - 0 | 6½ | | Pranav, A J | | 1588 | 36 |
| 9 | 45 | | Dhrikshu, K Vasant | | 1515 | 6½ | 0 - 1 | 6 | | Sudarshan, Bhat | | 2020 | 9 |
| 10 | 50 | | Samuel, Mathew | U15 | 1472 | 6 | 0 - 1 | 6 | | Akshay, V Halagannavar | | 1933 | 14 |
| 11 | 21 | | Gavi, Siddayya | | 1764 | 6 | 1 - 0 | 6 | | Nachiketh, Adiga | | 1464 | 51 |
| 12 | 52 | | Matthew, R Joseph | U15 | 1452 | 6 | 0 - 1 | 6 | | Leelajai, Krishna N | | 1756 | 22 |
| 13 | 53 | | Aryagopal, | | 1449 | 6 | 0 - 1 | 6 | | Swara, Lakshmi S Nair | F18 | 1693 | 23 |
| 14 | 54 | | Adrij, Bhattacharyya | U13 | 1438 | 6 | 1 - 0 | 6 | | Vivekananda, L | | 1687 | 24 |
| 15 | 25 | | Shree, Krishna Pranama | | 1654 | 6 | 1 - 0 | 6 | AIM | Sushrutha, Reddy | | 1428 | 56 |
| 16 | 55 | | Medhansh, Rathi | U15 | 1435 | 6 | 1 - 0 | 6 | | Siddhanth, Poonja | U11 | 1648 | 26 |
| 17 | 59 | | Raveesh, Kote | U15 | 1417 | 6 | 0 - 1 | 6 | | Dilip, Kumar Pedda | | 1641 | 28 |
| 18 | 29 | | Nitish, Bhat | | 1627 | 6 | 1 - 0 | 6 | | Aditya, Saxena | U13 | 1404 | 64 |
| 19 | 67 | | Niranjan, J Warrier | U15 | 1398 | 6 | ½ - ½ | 6 | | Ajith, M.P. | | 1626 | 30 |
| 20 | 77 | | Aradyo, Bhattacharyya | U13 | 1373 | 6 | ½ - ½ | 6 | AFM | Sureka, Akshat | U15 | 1560 | 39 |
Final standings
| | | | | | | | | | | | | | |
| --- | --- | --- | --- | --- | --- | --- | --- | --- | --- | --- | --- | --- | --- |
| Rk. | SNo | | Name | Typ | sex | Rtg | Club/City | Pts. | TB1 | TB2 | TB3 | TB4 | TB5 |
| 1 | 1 | IM | Viani, Antonio Dcunha | | | 2417 | DK | 8,5 | 53 | 58 | 54,50 | 0 | 8 |
| 2 | 3 | FM | Yashas, D. | | | 2315 | Bengaluru Urban | 8 | 51,5 | 55,5 | 49,00 | 0 | 7 |
| 3 | 19 | | Balkishan, A. | | | 1817 | Mysore | 8 | 50,5 | 55 | 48,50 | 0 | 8 |
| 4 | 2 | GM | Thejkumar, M. S. | | | 2384 | Mysore | 8 | 49,5 | 50,5 | 44,50 | 0 | 7 |
| 5 | 33 | | Chinmay, Kowshik | U13 | | 1604 | BUB | 8 | 46,5 | 49,5 | 44,00 | 0 | 8 |
| 6 | 5 | FM | Sharan, Rao | | | 2248 | DK | 7,5 | 51,5 | 52 | 41,25 | 0 | 7 |
| 7 | 6 | FM | Navalgund, Niranjan | | | 2200 | Belgaum | 7,5 | 50 | 55 | 45,25 | 0 | 7 |
| | 11 | | Likhit, Chilukuri | | | 1976 | Bengaluru Urban | 7,5 | 50 | 55 | 45,25 | 0 | 7 |
| 9 | 103 | | Abhimaan, S Nair | U15 | | 1300 | BUB | 7,5 | 45,5 | 48,5 | 40,75 | 0 | 7 |
| 10 | 7 | | Shet, Prajwal P | | | 2096 | Mysore | 7 | 53 | 58 | 43,75 | 0 | 6 |
| 11 | 12 | | Augustin, A | | | 1953 | Kodagu | 7 | 53 | 55,5 | 39,50 | 0 | 7 |
| 12 | 9 | | Sudarshan, Bhat | | | 2020 | Bengaluru Urban | 7 | 51 | 55 | 37,75 | 0 | 6 |
| 13 | 55 | | Medhansh, Rathi | U15 | | 1435 | BUB | 7 | 49,5 | 53 | 40,75 | 0 | 6 |
| 14 | 21 | | Gavi, Siddayya | | | 1764 | Bengaluru Urban | 7 | 49,5 | 53 | 37,50 | 0 | 7 |
| 15 | 46 | | Aarav, Saish Amonkar | U11 | | 1512 | BUB | 7 | 49 | 52 | 37,25 | 0 | 6 |
| 16 | 28 | | Dilip, Kumar Pedda | | | 1641 | Bengaluru Urban | 7 | 48,5 | 52,5 | 38,00 | 0 | 7 |
| 17 | 42 | | Sumeetkumar, M S | | | 1520 | Karwar | 7 | 48 | 51,5 | 38,50 | 0 | 7 |
| 18 | 29 | | Nitish, Bhat | | | 1627 | Uttar Kannada | 7 | 48 | 51 | 38,50 | 0 | 6 |
| 19 | 23 | | Swara, Lakshmi S Nair | F18 | w | 1693 | BUG | 7 | 48 | 49,5 | 35,00 | 0 | 7 |
| 20 | 25 | | Shree, Krishna Pranama | | | 1654 | BUB | 7 | 47 | 50 | 38,50 | 0 | 6 |
| 21 | 54 | | Adrij, Bhattacharyya | U13 | | 1438 | DK | 7 | 46,5 | 50,5 | 37,00 | 0 | 7 |
| 22 | 22 | | Leelajai, Krishna N | | | 1756 | Koppa | 7 | 45,5 | 49,5 | 36,00 | 0 | 7 |
| 23 | 148 | | Avyan, Shah | U13 | | 1189 | BUB | 7 | 43 | 46 | 33,00 | 0 | 7 |
| 24 | 14 | | Akshay, V Halagannavar | | | 1933 | Dharwad | 7 | 40,5 | 42,5 | 34,00 | 0 | 7 |
| 25 | 109 | | Aneesh, Krishna S | | | 1285 | BUB | 7 | 38 | 40 | 29,50 | 0 | 7 |
| 26 | 10 | | Apoorv, Kamble | U15 | | 1981 | BUB | 6,5 | 53 | 56 | 38,75 | 0 | 6 |
| 27 | 34 | | Dhanush, Ram M | | | 1601 | DK | 6,5 | 50,5 | 54 | 35,75 | 0 | 6 |
| 28 | 13 | | Parthasarathy, R | | | 1938 | Bengaluru Urban | 6,5 | 50 | 52,5 | 33,75 | 0 | 6 |
| 29 | 67 | | Niranjan, J Warrier | U15 | | 1398 | BUB | 6,5 | 49 | 51,5 | 34,25 | 0 | 6 |
| 30 | 16 | | Sathvik, Adiga | U13 | | 1906 | Bengaluru Rural | 6,5 | 48,5 | 53 | 34,25 | 0 | 6 |
Links
Akshayakalpa Organic: Official site, facebook, twitter, instagram, youtube and linkedin
---