Akshayakalpa Organic Karnataka State Open 2023 R3-4: The 1515s stir up trouble for the 2200+
Two 1515 rated players caused trouble for two players rated 2200 and above. 14-year-old Atharva Kale outplayed FM FT Niranjan Navalgund. The 2200's small positional inaccuracy was caught by the teenager who seized his opportunity and went on to win the game. He is now one of the 18 players who has scored 4/4 at Akshayakalpa Organic Karnataka State Open Ratng Chess Championship 2023. The other 1515 rated player, Dhrikshu K Vasant drew against the third seeded FM Yashas D. The 2315-rated Yashas definitely had his fair share of chances to win the game, however he missed it. The top three titled players - GM Thej Kumar M S, IM Viani Antonio Dcunha and WIM Isha Sharma have made a perfect start 4/4. Round 5 starts today at 9:30 a.m. IST. All photos in this article are by Shahid Ahmed.
A dozen and a half at 4/4
After the conclusion of the fourth round, a panel discussion took place at Forum Mall. The discussion was about Chess moves for 21st century - How has chess shaped lives and career? The panel discussion members were - Raghavendra V, Vice President KSCA, Founder, Karnataka Chess School, Shashi Kumar, Co-Founder and CEO of Akshayakalpa Organic, GM Stany G A, WIM Isha Sharma, IM Viani Antonio Dcunha and Dr. Suraj Muralidhar, Commonwealth Bronze medalist, Consulting Eurologist, Board Member of Jupiter Hospital and Jupiter Group of Institutions.
Anuran - Likhit, Round 3
Likhit Chilukuri (1976) is an exchange up. However, his opponent Anuran Ghosh (1362) has a pawn for it and lots of time on the clock, Black on the other hand had less than a minute to play the endgame. Can Black win this? In a practical game it is not so easy for Black to find the winning plan. The game continued for another 65 moves, Black made all attempts to win this but his opponent manage to hold the draw.
The CEO and Co-Founder of Akshayakalpa, Shashi Kumar and Secretary of Karnataka State Chess Association, Aravind Shastry made the ceremonial first move of Round 3
Yashas - Dhrikshu, Round 4
1...Ne4 created a winning opportunity for White. 2.Bxe4 dxe4 3.Qc4 Qa3 is forced as Bd1 drops the bishop after Ne3. Now the bishop cannot be saved due to Qc8+ followed by Nf5+ fork threat. After 3...Qa3 4.Qc6 Qb3 5.Qxh6+ Ke8 6.Qc6+ Kf8 7.Qxb6 White gains a couple of pawns and can certainly push for a win. The game continued 2.Qc8+ Kg7 3.Ne3 Qe6 4.Qb7 Bb3 still Bxe4 would have given White an upper hand. 5.g4 h5 6.Qb8 Bc4 7.Nf5+ Kh7 8.Qf8 Qf6 and White's advantage was gone.
Atharva - Niranjan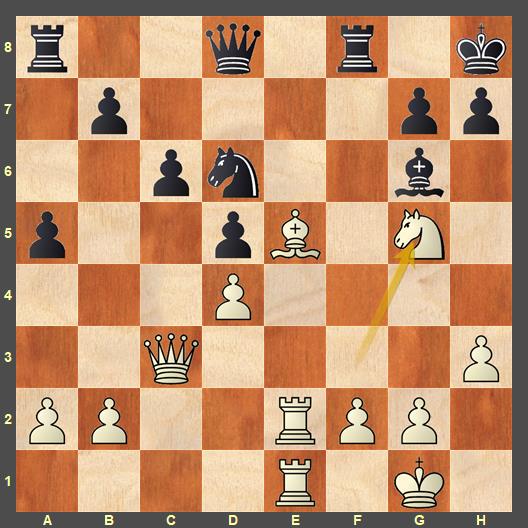 25...Nd6 was a positional mistake as it allowed 26.Ng5! now Ne4 does not work due to 27.Bxg7+ Kxg7 28.Ne6+ followed by Rxe4. 26...Qxg5 27.Bxd6 Rg8 28.Re7 Rad8 29.Bg3 Be4 30.Rxb7 Rdf8 31.Kh2 Rf6 32.Qxa5 and White went on to win the game.
Srinivas - Nisha
The above position is quite an interesting double-edged one. Neither player can afford to make a mistake. It seemed like Nisha N Patkar (1617) was winning for the better part of the game against Srinivas Murthy N (1163). However, in reality it was not that easy. White kept fighting back in the game. The game continued 1.Rb8 Kg7 2.Bd4+ Kg6 3.R2b6+ Kg5?? Black had to play Kh5 to avoid any tactical combination. 4.Be3+ Kg4 5.Rg6+ Kh5 6.Rg5+ Kh6 7.Rf5+ and it's over.
IA Vasanth B H and FA Sahana Subramanya made the ceremonial first move of Round 4
Photo Gallery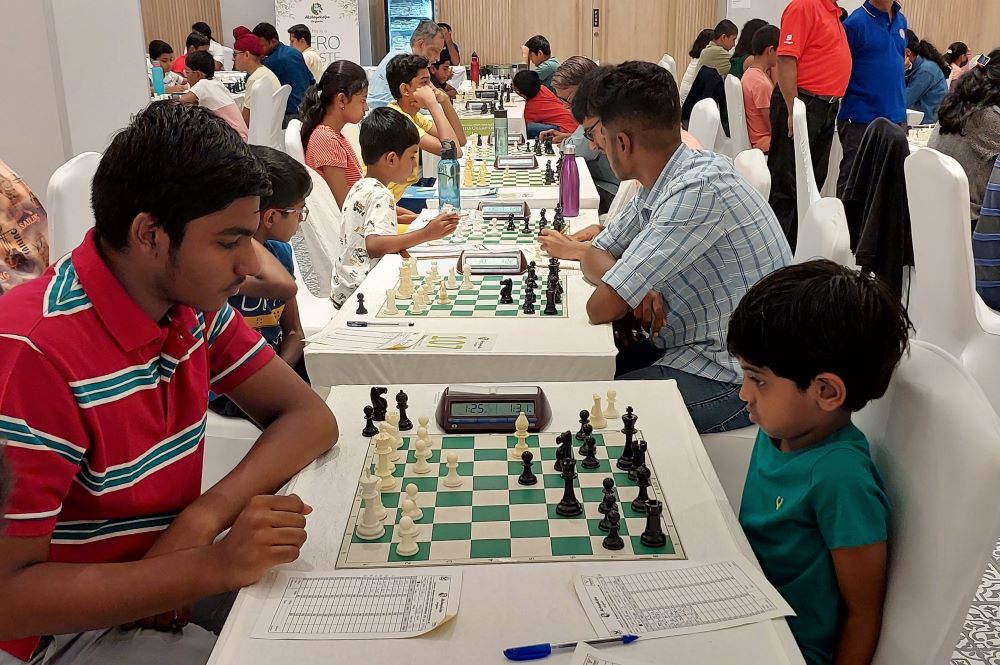 For more Round 3 and Round 4 photos, please click at the respective links.
More videos will be published soon, stay tuned.
Round 4 results
| | | | | | | | | | | | | | |
| --- | --- | --- | --- | --- | --- | --- | --- | --- | --- | --- | --- | --- | --- |
| Bo. | No. | | Name | Typ | Rtg | Pts. | Result | Pts. | | Name | Typ | Rtg | No. |
| 1 | 1 | IM | Viani, Antonio Dcunha | | 2417 | 3 | 1 - 0 | 3 | | Sujay, B M | | 1571 | 37 |
| 2 | 41 | | Rishabh, Kumara | | 1545 | 3 | 0 - 1 | 3 | GM | Thejkumar, M. S. | | 2384 | 2 |
| 3 | 3 | FM | Yashas, D. | | 2315 | 3 | ½ - ½ | 3 | | Dhrikshu, K Vasant | | 1515 | 45 |
| 4 | 42 | | Sumeetkumar, M S | | 1520 | 3 | 0 - 1 | 3 | WIM | Sharma, Isha | | 2275 | 4 |
| 5 | 5 | FM | Sharan, Rao | | 2248 | 3 | 1 - 0 | 3 | | Krupha, S Ukkali | F11 | 1481 | 49 |
| 6 | 44 | | Atharva, Kale | U15 | 1515 | 3 | 1 - 0 | 3 | FM | Navalgund, Niranjan | | 2200 | 6 |
| 7 | 7 | | Shet, Prajwal P | | 2096 | 3 | ½ - ½ | 3 | | Thejas, K | | 1422 | 57 |
| 8 | 54 | | Adrij, Bhattacharyya | U13 | 1438 | 3 | 0 - 1 | 3 | | Apoorv, Kamble | U15 | 1981 | 10 |
| 9 | 58 | | Prasanth, Bhuvan Krishna | U11 | 1417 | 3 | 0 - 1 | 3 | | Augustin, A | | 1953 | 12 |
| 10 | 13 | | Parthasarathy, R | | 1938 | 3 | 1 - 0 | 3 | | Raveesh, Kote | U15 | 1417 | 59 |
| 11 | 16 | | Sathvik, Adiga | U13 | 1906 | 3 | ½ - ½ | 3 | | Aneesh, Adiga | U15 | 1416 | 61 |
| 12 | 63 | | Prasiddhi, Bhat | | 1409 | 3 | 0 - 1 | 3 | | Balkishan, A. | | 1817 | 19 |
| 13 | 64 | | Aditya, Saxena | U13 | 1404 | 3 | 0 - 1 | 3 | | Gavi, Siddayya | | 1764 | 21 |
| 14 | 22 | | Leelajai, Krishna N | | 1756 | 3 | 0 - 1 | 3 | | Aaditya, Ranjan Sahu | U13 | 1403 | 65 |
| 15 | 67 | | Niranjan, J Warrier | U15 | 1398 | 3 | 1 - 0 | 3 | | Swara, Lakshmi S Nair | | 1693 | 23 |
| 16 | 90 | | Abhay, Chetty | U13 | 1338 | 3 | 1 - 0 | 3 | | Shree, Krishna Pranama | | 1654 | 25 |
| 17 | 26 | | Siddhanth, Poonja | U11 | 1648 | 3 | 1 - 0 | 3 | | Abhimaan, S Nair | U15 | 1300 | 103 |
| 18 | 28 | | Dilip, Kumar Pedda | | 1641 | 3 | 1 - 0 | 3 | | Ashok, Abijeeth | | 1276 | 112 |
| 19 | 30 | | Ajith, M.P. | | 1626 | 3 | 1 - 0 | 3 | | Udupi, Avani Acharya | | 1262 | 118 |
| 20 | 113 | | Gopika, M | | 1274 | 3 | 0 - 1 | 3 | | Dhanush, Ram M | | 1601 | 34 |
Standings after Round 4
| | | | | | | | | | | | | | |
| --- | --- | --- | --- | --- | --- | --- | --- | --- | --- | --- | --- | --- | --- |
| Rk. | SNo | | Name | Typ | sex | Rtg | Club/City | Pts. | TB1 | TB2 | TB3 | TB4 | TB5 |
| 1 | 4 | WIM | Sharma, Isha | | w | 2275 | DK | 4 | 9 | 10,5 | 11,00 | 0 | 4 |
| 2 | 19 | | Balkishan, A. | | | 1817 | Mysore | 4 | 9 | 10,5 | 10,50 | 0 | 4 |
| 3 | 28 | | Dilip, Kumar Pedda | | | 1641 | Bengaluru Urban | 4 | 9 | 10 | 10,00 | 0 | 4 |
| 4 | 2 | GM | Thejkumar, M. S. | | | 2384 | Mysore | 4 | 9 | 9 | 9,00 | 0 | 4 |
| 5 | 12 | | Augustin, A | | | 1953 | Kodagu | 4 | 8,5 | 10 | 10,00 | 0 | 4 |
| | 21 | | Gavi, Siddayya | | | 1764 | Bengaluru Urban | 4 | 8,5 | 10 | 10,00 | 0 | 4 |
| 7 | 90 | | Abhay, Chetty | U13 | | 1338 | Bengaluru Urban | 4 | 8,5 | 9,5 | 9,50 | 0 | 4 |
| 8 | 13 | | Parthasarathy, R | | | 1938 | Bengaluru Urban | 4 | 8,5 | 9 | 9,50 | 0 | 4 |
| 9 | 5 | FM | Sharan, Rao | | | 2248 | DK | 4 | 8,5 | 8,5 | 9,00 | 0 | 4 |
| 10 | 26 | | Siddhanth, Poonja | U11 | | 1648 | Bengaluru Urban | 4 | 8 | 9,5 | 10,50 | 0 | 4 |
| 11 | 1 | IM | Viani, Antonio Dcunha | | | 2417 | DK | 4 | 8 | 9 | 9,50 | 0 | 4 |
| 12 | 10 | | Apoorv, Kamble | U15 | | 1981 | Bengaluru Urban | 4 | 8 | 9 | 9,00 | 0 | 4 |
| 13 | 44 | | Atharva, Kale | U15 | | 1515 | Bengaluru Urban | 4 | 7,5 | 9,5 | 10,00 | 0 | 4 |
| 14 | 30 | | Ajith, M.P. | | | 1626 | Mysore | 4 | 7,5 | 9 | 9,00 | 0 | 4 |
| 15 | 67 | | Niranjan, J Warrier | U15 | | 1398 | Bengaluru Urban | 4 | 7,5 | 8,5 | 8,50 | 0 | 4 |
| 16 | 65 | | Aaditya, Ranjan Sahu | U13 | | 1403 | Bengaluru Urban | 4 | 7 | 9 | 9,00 | 0 | 4 |
| 17 | 34 | | Dhanush, Ram M | | | 1601 | DK | 4 | 7 | 8 | 9,00 | 0 | 4 |
| 18 | 35 | | Ramachandra, Bhat | S60 | | 1598 | Sirsi | 4 | 7 | 8 | 8,00 | 0 | 4 |
| 19 | 16 | | Sathvik, Adiga | U13 | | 1906 | Bengaluru Rural | 3,5 | 9,5 | 11 | 9,25 | 0 | 3 |
| 20 | 11 | | Likhit, Chilukuri | | | 1976 | Bengaluru Urban | 3,5 | 9 | 11,5 | 10,25 | 0 | 3 |
Round 5 pairings
| | | | | | | | | | | | | | |
| --- | --- | --- | --- | --- | --- | --- | --- | --- | --- | --- | --- | --- | --- |
| Bo. | No. | | Name | Typ | Rtg | Pts. | Result | Pts. | | Name | Typ | Rtg | No. |
| 1 | 34 | | Dhanush, Ram M | | 1601 | 4 | | 4 | IM | Viani, Antonio Dcunha | | 2417 | 1 |
| 2 | 2 | GM | Thejkumar, M. S. | | 2384 | 4 | | 4 | | Siddhanth, Poonja | U11 | 1648 | 26 |
| 3 | 4 | WIM | Sharma, Isha | | 2275 | 4 | | 4 | | Dilip, Kumar Pedda | | 1641 | 28 |
| 4 | 35 | | Ramachandra, Bhat | S60 | 1598 | 4 | | 4 | FM | Sharan, Rao | | 2248 | 5 |
| 5 | 10 | | Apoorv, Kamble | U15 | 1981 | 4 | | 4 | | Ajith, M.P. | | 1626 | 30 |
| 6 | 12 | | Augustin, A | | 1953 | 4 | | 4 | | Atharva, Kale | U15 | 1515 | 44 |
| 7 | 65 | | Aaditya, Ranjan Sahu | U13 | 1403 | 4 | | 4 | | Parthasarathy, R | | 1938 | 13 |
| 8 | 19 | | Balkishan, A. | | 1817 | 4 | | 4 | | Niranjan, J Warrier | U15 | 1398 | 67 |
| 9 | 21 | | Gavi, Siddayya | | 1764 | 4 | | 4 | | Abhay, Chetty | U13 | 1338 | 90 |
| 10 | 50 | | Samuel, Mathew | U15 | 1472 | 3½ | | 3½ | FM | Yashas, D. | | 2315 | 3 |
| 11 | 45 | | Dhrikshu, K Vasant | | 1515 | 3½ | | 3½ | | Shet, Prajwal P | | 2096 | 7 |
| 12 | 8 | | Sudhir, S. | | 2084 | 3½ | | 3½ | | Matthew, R Joseph | U15 | 1452 | 52 |
| 13 | 55 | | Medhansh, Rathi | U15 | 1435 | 3½ | | 3½ | | Sudarshan, Bhat | | 2020 | 9 |
| 14 | 57 | | Thejas, K | | 1422 | 3½ | | 3½ | | Likhit, Chilukuri | | 1976 | 11 |
| 15 | 60 | | Akshaya, Sathi | F13 | 1416 | 3½ | | 3½ | | Sathvik, Adiga | U13 | 1906 | 16 |
| 16 | 61 | | Aneesh, Adiga | U15 | 1416 | 3½ | | 3½ | | Nambiar, Vivek | | 1870 | 17 |
| 17 | 66 | | Adarsh, D | U13 | 1402 | 3½ | | 3½ | | Vivekananda, L | | 1687 | 24 |
| 18 | 80 | | Anuran, Ghosh | | 1362 | 3½ | | 3½ | | Pranav, A J | | 1588 | 36 |
| 19 | 119 | | Aarav, Das | U11 | 1258 | 3½ | | 3½ | | Amith, A | | 1560 | 40 |
| 20 | 6 | FM | Navalgund, Niranjan | | 2200 | 3 | | 3½ | | Prajwal, Nayak | | 1200 | 143 |
Links
Akshayakalpa Organic: Official site, facebook, twitter, instagram, youtube and linkedin
---