Vaisnav A dominates 8th ICA Below 1700 Rating Tournament
by Shahid Ahmed - 06/12/2022
Third seed of the tournament, Vaisnav A scored an unbeaten 8.5/9 to win 8th ICA Below 1700 Rating Tournament 2022. He finished a half point ahead of the field. Yogesh Selvam scored sole 8/9 to secure second place. He also remained undefeated. Five players scored 7.5/9. Out of them, Satheesh Kumar G was placed third according to tie-breaks. The total prize fund of the tournament was ₹599000. The top three prizes were ₹50000 and a trophy, ₹40000 and ₹30000 each respectively. A total of 426 players took part from various parts of the country, Mongolia and USA. The three-day nine-round Swiss League Rating tournament was organized by Innovators Chess Academy from 11th to 13th November at Virginia Mall, Whitefield in Bangalore, Karnataka. Photo: FI NA Sushruta Reddy
Vaisnav's first rating tournament triumph
This is Vaisnav A's first-ever Rating tournament championship finish. It is also his first-ever podium finish in any of the tournaments he has played so far.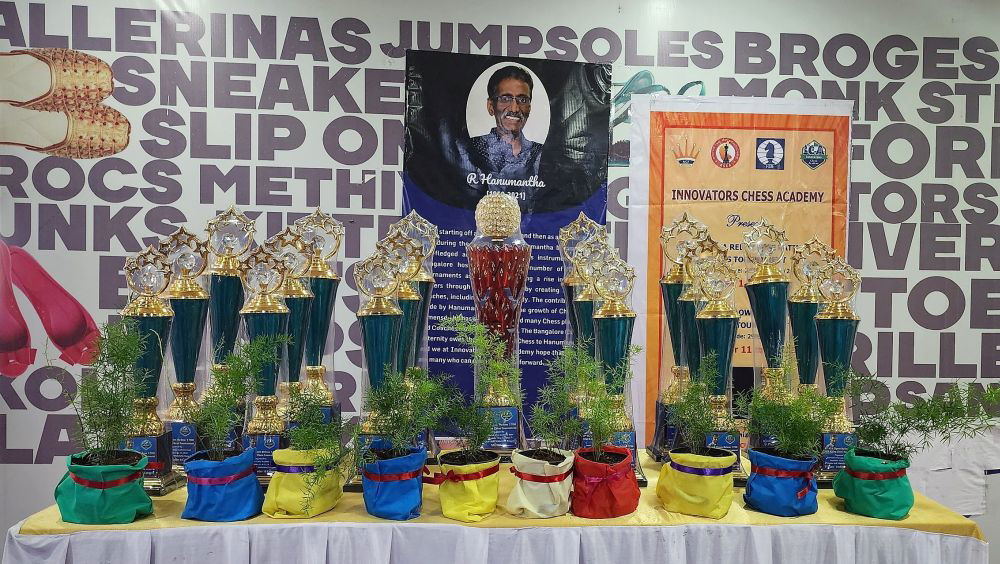 For more photos, please click here.
A total of 426 players took part from various parts of the country along with players from Mongolia and USA. The three-day nine-round Swiss league Classical Rating tournament was organized by Innovators Chess Academy at Virginia Mall in Bangalore, Karnataka from 11th to 13th October 2022. The time control of the tournament was 30 minutes + 30 seconds increment from move no.1.
Final standings
| | | | | | | | | | | | |
| --- | --- | --- | --- | --- | --- | --- | --- | --- | --- | --- | --- |
| Rk. | SNo | | Name | Typ | sex | FED | Rtg | Pts. | TB1 | TB2 | TB3 |
| 1 | 3 | | Vaisnav A | | | IND | 1680 | 8,5 | 52,5 | 58,5 | 55,25 |
| 2 | 30 | | Yogesh Selvam | | | IND | 1488 | 8 | 48 | 52,5 | 47,00 |
| 3 | 24 | | Satheesh Kumar G | | | IND | 1507 | 7,5 | 51 | 54 | 42,00 |
| 4 | 49 | | Naveen K S | | | IND | 1435 | 7,5 | 49 | 53,5 | 42,25 |
| 5 | 27 | | Chiranth M D | | | IND | 1494 | 7,5 | 49 | 53 | 43,50 |
| 6 | 21 | | Mahith Giridhar | | | IND | 1510 | 7,5 | 46 | 49,5 | 41,50 |
| 7 | 28 | | Ayyappan Santhosh | U08 | | USA | 1489 | 7,5 | 42,5 | 45,5 | 37,25 |
| 8 | 14 | | Jake Shanty | U13 | | IND | 1558 | 7 | 51 | 55 | 40,75 |
| 9 | 11 | | Kashthuri Bhai R | | w | IND | 1600 | 7 | 50 | 54 | 40,50 |
| 10 | 9 | | Srihari K R | | | IND | 1616 | 7 | 50 | 53,5 | 40,00 |
| 11 | 36 | AIM | Sushrutha Reddy | | | IND | 1470 | 7 | 48,5 | 52,5 | 39,00 |
| 12 | 4 | | Menhajul Hoda | | | IND | 1663 | 7 | 48,5 | 52,5 | 37,50 |
| 13 | 46 | | Siddhanth Poonja | U10 | | IND | 1437 | 7 | 48 | 51,5 | 38,75 |
| 14 | 41 | | Santhosh Manikantan | | | IND | 1454 | 7 | 48 | 51 | 37,75 |
| 15 | 10 | | Padhi Kamal Lochan | | | IND | 1610 | 7 | 47,5 | 51,5 | 39,25 |
| 16 | 7 | | Sahil Bheron | | | IND | 1627 | 7 | 47,5 | 51,5 | 38,00 |
| 17 | 26 | | Mithiran A | U13 | | IND | 1498 | 7 | 46 | 50,5 | 38,50 |
| 18 | 62 | | Sai Kiran G V | | | IND | 1405 | 7 | 45,5 | 50 | 35,00 |
| 19 | 76 | | Abbas Soni | U13 | | IND | 1370 | 7 | 44 | 45,5 | 33,25 |
| 20 | 32 | | Atharva Kale | | | IND | 1478 | 7 | 43,5 | 47,5 | 37,00 |
| 21 | 31 | | Gopinath P | | | IND | 1487 | 7 | 43,5 | 47,5 | 36,50 |
| 22 | 94 | | Mitul K H | U13 | | IND | 1328 | 7 | 43 | 46 | 34,00 |
| 23 | 38 | | Jargalsaikhan Surenkhuu | S60 | | MGL | 1460 | 7 | 42 | 45 | 34,25 |
| 24 | 54 | | Phani Kanuri | | | IND | 1428 | 7 | 41,5 | 46 | 35,75 |
| 25 | 100 | | Ethan V Johnson | | | IND | 1314 | 7 | 39,5 | 42,5 | 30,00 |
---