Bharath Subramaniyam H triumphs at 4th ICA Rapid Rating Open 2023
by Shahid Ahmed - 24/04/2023
GM Bharath Subramaniyam H, Aakash Sharadchandra Dalvi, GM Arjun Kalyan and CM Gireman Ja scored 8/9 each at 4th ICA Rapid Rating Open 2023. Bharath won the tournament due to better tie-breaks. Aakash, Arjun and Gireman were placed second, third and fourth respectively. Only Arjun remained undefeated among them. Bharath defeated the runner-up, Aakash in Round 5. The total prize fund of the tournament was ₹500000. The top three prizes were ₹51000, ₹41000 and ₹31000 each respectively. Before this Bharath had two consecutive podium finishes at CCS Chess Festival. This is his first tournament triumph since he won a one-day rapid rating tournament back in August 2022. Photo: FI NA Sushrutha Reddy
Top four score 8/9
IM Rathanvel V S defeated GM Bharath Subramaniyam H in the penultimate round. He gained sole lead 7.5/8 heading into the final round. GM Arjun Kalyan got the better of him in Round 9. CM Gireman Ja, GM Bharath Subramaniyam H and Aakash Sharadchandra Dalvi defeated GM Diptayan Ghosh, IM Abhishek Kelkar and IM Harikrishnan A Ra respectively. Thus, four players ended up with the same score 8/9.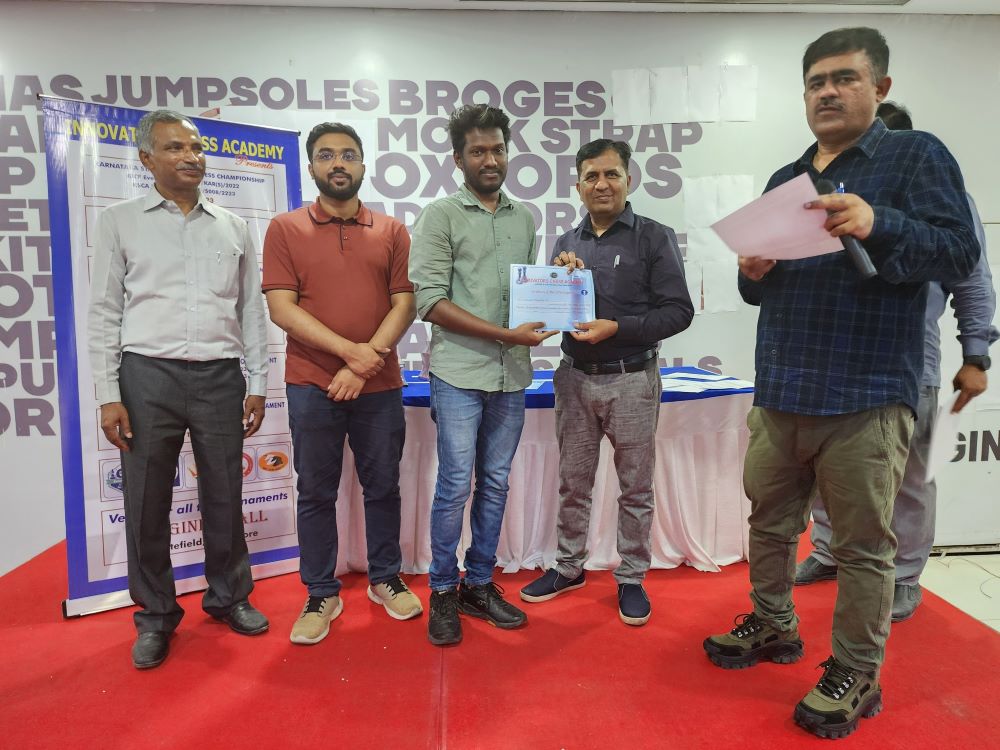 For more photos, please click here.
A total of 371 players including 4 GMs and 10 IMs participated from various states across the country and one from Australia and Singapore each. The nine-round Swiss league one-day Rapid Rating tournament was organized by Innovators Chess Academy at Virginia Mall in Bangalore, Karnataka on 7th April 2023. The time control for the event was 15 minutes + 5 seconds increment from move no.1.
Final standings
| | | | | | | | | | | | | | | |
| --- | --- | --- | --- | --- | --- | --- | --- | --- | --- | --- | --- | --- | --- | --- |
| Rk. | SNo | | Name | Typ | sex | FED | Rtg | Club/City | Pts. | TB1 | TB2 | TB3 | TB4 | TB5 |
| 1 | 4 | GM | Bharath, Subramaniyam H | | | IND | 2355 | TN | 8 | 54 | 58 | 50,50 | 0 | 8 |
| 2 | 17 | | Aakash Sharadchandra Dalvi, | | | IND | 2169 | MH | 8 | 51,5 | 53,5 | 45,50 | 0 | 8 |
| 3 | 3 | GM | Arjun Kalyan, | | | IND | 2387 | TN | 8 | 51 | 55 | 48,75 | 0 | 7 |
| 4 | 21 | CM | Gireman Ja, | | | IND | 2084 | TN | 8 | 51 | 53,5 | 46,00 | 0 | 8 |
| 5 | 9 | | Hari, Madhavan N B | | | IND | 2284 | TN | 7,5 | 55 | 60 | 48,25 | 0 | 7 |
| 6 | 8 | IM | Rathanvel, V S | | | IND | 2295 | TN | 7,5 | 52,5 | 56,5 | 45,25 | 0 | 7 |
| 7 | 6 | IM | Muthaiah, Al | | | IND | 2337 | KA | 7,5 | 52 | 56 | 45,25 | 0 | 6 |
| 8 | 2 | GM | Stany, G.A. | | | IND | 2416 | KA | 7,5 | 49 | 53,5 | 44,25 | 0 | 6 |
| 9 | 13 | IM | Abhishek Kelkar, | | | IND | 2235 | MH | 7 | 53,5 | 57,5 | 41,50 | 0 | 7 |
| 10 | 18 | | Bharat, Kumar Reddy Poluri | | | IND | 2169 | TG | 7 | 52,5 | 56,5 | 41,75 | 0 | 6 |
| 11 | 1 | GM | Ghosh, Diptayan | | | IND | 2442 | WB | 7 | 51,5 | 55,5 | 40,75 | 0 | 6 |
| 12 | 36 | | Apoorv Kamble, | | | IND | 1801 | KA | 7 | 51 | 56 | 41,50 | 0 | 7 |
| 13 | 22 | FM | Senthil, Maran K | | | IND | 2082 | TN | 7 | 51 | 55 | 40,50 | 0 | 6 |
| 14 | 15 | | Srihari, L | | | IND | 2216 | KA | 7 | 51 | 54 | 39,00 | 0 | 7 |
| 15 | 28 | IM | Ravi, Thandalam Shanmugam | | | IND | 1921 | TN | 7 | 50,5 | 54,5 | 39,50 | 0 | 7 |
| 16 | 5 | IM | Ravi, Teja S. | | | IND | 2350 | AP | 7 | 50 | 54 | 40,00 | 0 | 7 |
| 17 | 19 | IM | Sai Agni Jeevitesh, J | | | IND | 2162 | TG | 7 | 50 | 54 | 38,50 | 0 | 7 |
| 18 | 33 | | Peter Anand, A | | | IND | 1852 | PY | 7 | 50 | 53 | 39,50 | 0 | 7 |
| 19 | 24 | | Augustin A, | | | IND | 2051 | KA | 7 | 49,5 | 53,5 | 38,50 | 0 | 7 |
| 20 | 16 | IM | Chakravarthi Reddy M, | | | IND | 2181 | TG | 7 | 49 | 53 | 38,00 | 0 | 7 |
Links
---