Kaustuv Kundu becomes the latest International Master of India
Kaustuv Kundu scored three IM-norms and crossed 2400 in a little over a month's time to become India's latest International Master. The youth from Kolkata earned his maiden IM-norm at 1st Maharashtra GM 2022. He has won tournaments all over the country in all three formats. In recent times, his tournament triumphs is only second to GM Laxman R R, covered on our website. The 23-year-old man from Kolkata started his journey to Spain with 2266 rating and one IM-norm. In July, he scored two IM-norms at 45th Barbera del Valles Open 2023 and 47th Sitges Open. Before Sitges, he crossed 2400 in the live ratings at 23rd Sant Marti 2023. He earned his fourth IM-norm for a good measure at 47th Badalona Open 2023. On September FIDE Rating list, Kaustuv has a rating of 2432, making India's latest IM. Photo: Shahid Ahmed
Three IM-norms and 166 Elo rating points in 38 days
For a long time, Kaustuv Kundu has had the strength of an International Master. He did not play outside of India much, naturally the scope of scoring any norm was much less for him. He kept winning tournaments now and then, all over the country. This year he has already won three tournaments, two rated events consecutively. Anyone who knows Kaustuv's strength on the 64 boards is quite well aware of the fact that he would become an IM. It was never a question of if, it was always matter of time. That time has finally come and he has become an IM. Now his journey towards the GM title continues.
First IM-norm: 1st Maharashtra GM Open 2022
Kaustuv scored his first IM-norm at 1st Maharashtra GM Open in 2022. He scored 7/11, with a performance of 2446, including a win over GM Enamul Hossain (BAN), draws against GM Karthik Venkataraman, GM Deepan Chakkravarthy, GM Vishnu Prasanna and IM Mohammad Nubairshah Shaikh.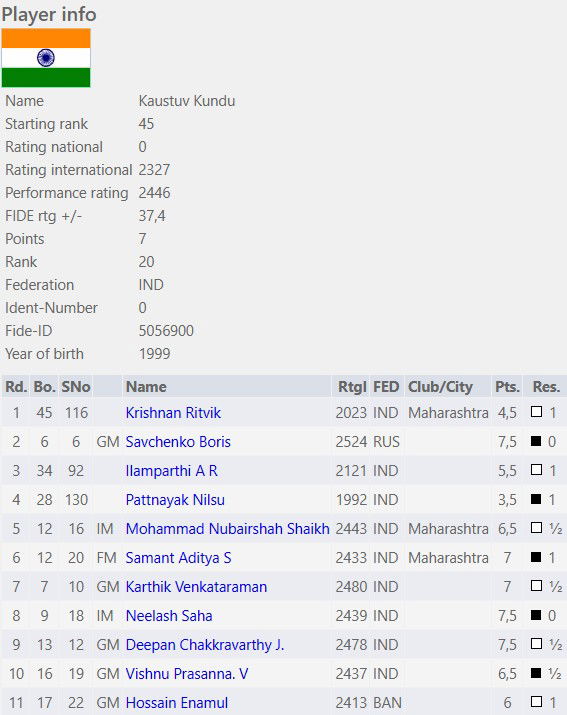 Second IM-norm: XLV Open Internacional Barbera del Valles
Kaustuv secured his second IM-norm at 45th Barbera del Valles Open 2023. He defeated GM Raven Sturt (USA), GM David Arenas (COL), drew against IM Gerard Ayats Llobera (ESP), IM Emmanuel Jimenez Garcia (CRC) and IM Ilamparthi A R with a performance of 2465.
Vanegas - Kaustuv, Round 6
22.Qc4? allowed Black to gain some material Bxc2!-+ 23.Qxc7 Bxc7 24.Bd2 Bxd1 25.Rxd1 Rd8 and White loses some more.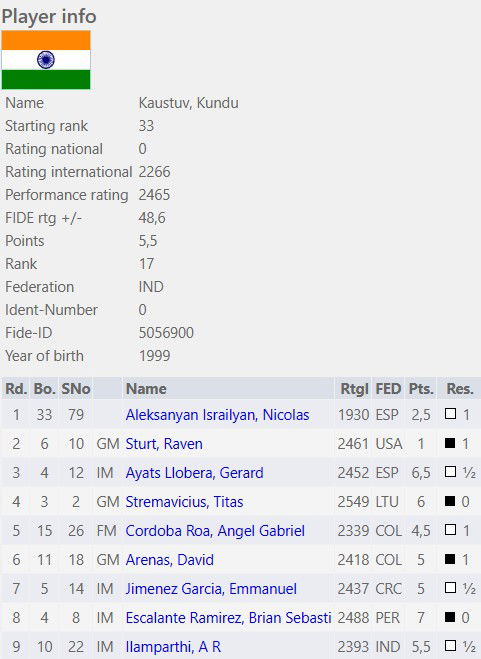 Third IM-norm: 47th Open Internacional de Escacs Vila de Sitges 2023
Kaustuv Kundu suffered a loss in the third round, making a 1.5/3 start at 47th Sitges Open 2023. Then he scored 5/6 to secure his final IM-norm. He defeated IM Filemon Cruz (PER), IM Jose Antonio Lacasa Diaz (ESP), IM Jonathan Cruz (PER), drew against GM Dylan Isidro Berdayes Asn (CUB) and GM David Arenas (COL) with a performance of 2447 and gained 48.8 Elo rating points.
Lacasa Diaz - Kaustav, Round 8
44.h4? actually helped White 45.gxh4 Rxh4 46.Rcc1 Rh7 47.Rg1 Rhg7 48.Rxg6 Rxg6 49.Ne8 Bf7 50.Nc7 Rc6 51.Na8! generally no one wants to corner their own knight. However, in this case, it was a necessity to put it on b6 and provide support to the passed c-pawn. 51...Be6 52.Nb6 Kf7 53.Rg1 and White won the game soon.
Fourth IM-norm : 47th Badalona City Open 2023
Kaustuv Kundu scored 7/9 at 47th Badalona City Open 2023. Thus, he secured a second place finish and score his fourth IM-norm in the process too. While, a fourth IM-norm was not required but it's good to have one extra, just in case one of the norms get cancelled for some technicalities. Kaustuv defeated GM Miguel Manoz (PER), drew against GM Dylan Isidro Berdayes Ason (CUB), GM Omar Almeida Quintana (CUB) and IM Gerard Ayats Llobera (ESP).
Replay Kaustuv's games
Videos
---