Bangladesh Premier League R1: Mitrabha stuns Abhimanyu
Defending champion Bangladesh Police started their campaign with a 4-0 whitewash victory over Sheikh Russel Chess Club at Mujib Borso SAIF Powertec Premier Division Chess League. SAIF Sporting Club registered a victory by minimum margin 2.5-1.5 over Sonali Bank Sports & Recreation Club. Titas Club Chess Team scored a big upset by winning against Bangladesh Biman 2.5-1.5. Among individuals, IM Mitrabha Guha of Uttara Central Chess Club scored an upset over GM Abhimanyu Puranik of Shahin Chess Club. Photo: Shahid Ahmed
Bangladesh Police starts with a whitewash
Defending champion Bangladesh Police scored the only whitewash victory of the round against Sheikh Russel Chess Club. SAIF Sporting Club registered a win by minimum margin 2.5-1.5 against Sonali Bank Sports & Recreation Club. Leonin Chess Club lost to higher rated Bangladesh Navy by 1-3. Uttara Central Chess Club held Shahin Chess Club to a 2-2 draw. Titas Club Chess Team scored an upset victory over Bangladesh Biman.
SAIF Sporting Club - Sonali Bank Sports & Recreation Club: 2.5-1.5
Adhiban, the top board of SAIF Sporting Club displayed beautiful positional skill against his opponent Sabya Sachi.
Adhiban - Sabya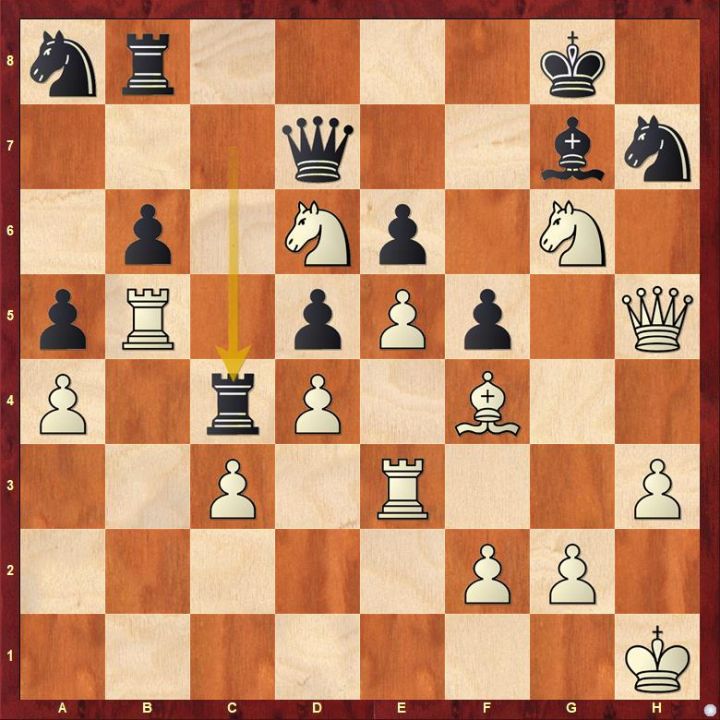 White is completely winning here. Find out the best continuation for white after 38...Rc4.
Belarus no.1 GM Vladislav Kovalev scored a fine victory over Matiur Rahman.
Kovalev - Matiur
Position after 34...e5
White got an opportunity to equalize here with 35.fxe5 fxe5 36.d5 Rd6 37.Nxb3 cxb3 38.Rb1. Unfortunately white missed it and played 35.Nf3 which only helped black with 35...e4 and things turned into black's favor. White lost the game in the next six moves.
GM Reefat Bin Sattar was held to an exciting draw by veteran IM Sekhar Chandra Sahu.
IM Anup Deshmukh scored a clinical victory over FM Mehdi Hasan Parag in 26 moves.
Sheikh Russel Chess Club - Bangladesh Police: 0-4
Bangladesh's legendary WIM Rani Hamid put up a valiant effort against the country's budding talent IM Mohammad Fahad Rahman. The youth proved to be stronger who won the game after his opponent had a tactical oversight.
GM Surya Sekhar Ganguly made a short work of CM Nayem Haque in just 22 moves.
Kaustuv Kundu had a strong challenge in the form of GM Raunak Sadhwani.
Kaustuv - Raunak
White missed black's idea of bringing the a6-knight into play. The game went on with 25.Kc2 Nc5 and that very knight proved to be decisive for black. Instead white could have played 25.Na4 here to prevent Nc5 and continue the play a bit longer.
GM Abdullah Al-Rakib won comfortably against compatriot WIM Sharmin Shirin Sultana as the latter played passively.
IM Mitrabha Guha of Uttara Central Chess Club finally squared off against GM Abhimanyu Puranik of Shahin Chess Club in an over-the-board after battling online for months. The last time they faced each other was in Vidit Chess Tour where Mitrabha won Armageddon against Abhimanyu.
Abhimanyu - Mitrabha
White misjudged black's attack and eventually lost material and the game.
GM Gukesh D of Bangladesh Biman scored an easy victory over Al Azad Jabed.
GM Arjun Erigaisi of Titas Club Chess Team scored a fine victory over GM Neelotpal Das of Bangladesh Biman after the latter made an error in the endgame.
Neelotpal - Arjun
How should white respond to black's threat of taking on a2? White played 43.Bc4 which is not correct.
Photo Gallery
Replay games from Round 1
There is one round every day starting at 3 p.m. BST (2:30 p.m. IST) from 19th to 28th March 2021. On 29th March the final round starts at 2 p.m. BST (1:30 p.m. IST). A total of 63 players including 13 GMs, 9 IMs, 2 WIMs, 10 FMs and 8 CMs are slated to take part. A staggering 66.67% players are titled, 20.6% are GMs and 14.3% are IMs.
Round 1 results
No.
Team
Team
Res.
:
Res.
1
SAIF Sporting Club
Sonali Bank Sports & Recreation Club
2½
:
1½
2
Sheikh Russel Chess Club
Bangladesh Police
0
:
4
3
Leonin Chess Club
Bangladesh Navy
1
:
3
4
Uttara Central Chess Club
Shahin Chess Club
2
:
2
5
Titas Club Chess Team
Bangladesh Biman
2½
:
1½
6
Janata Bank Officer Welfare Society
bye


Links
---