Mitrabha Guha wins 27th The Telegraph Schools' Chess 2018
Mitrabha Guha won his maiden title in 27th The Telegraph Schools' Chess 2018 in his final appearance at the longest running school level chess tournament of the country. Mitrabha scored 8.5/9 and finished half-a-point ahead of the runner-up Koustav Chatterjee. Rajdeep Sarkar scored 7.5/9 and finished at 3rd position. Mitrabha also won the Parimal Mukherjee Trophy for the Best Game prize against Rajdeep Sarkar from their round 8 encounter. He was the spearhead for his school team, South Point's another championship run at the Best School prize. We bring you photos, interviews, games and an annotated game by the champion himself. Photo: Shahid Ahmed
Mitrabha's all round triumph at The Telegraph Schools' Chess
True Grit shown by Mitrabha
What makes Mitrabha apart from others? He does not like to settle for a draw and leave things up for chance. In a position where it was equal and draw was the only predictable outcome, Mitrabha waited over 41 moves for his opponent to mistake and his opponent eventually did break.
Parimal Mukherjee Trophy winning Best Game of the tournament annotated by the Champ himself:
Prize Distribution Ceremony Photo Gallery:
For more Prize Distribution Ceremony photos, visit here
It was absolutely shocking and saddening to the entire chess fraternity when we all learnt that Tapas Chakraborty (standing between Deputy and Chief Arbiter) passed away due to massive heart attack while returning from the his tournament duties.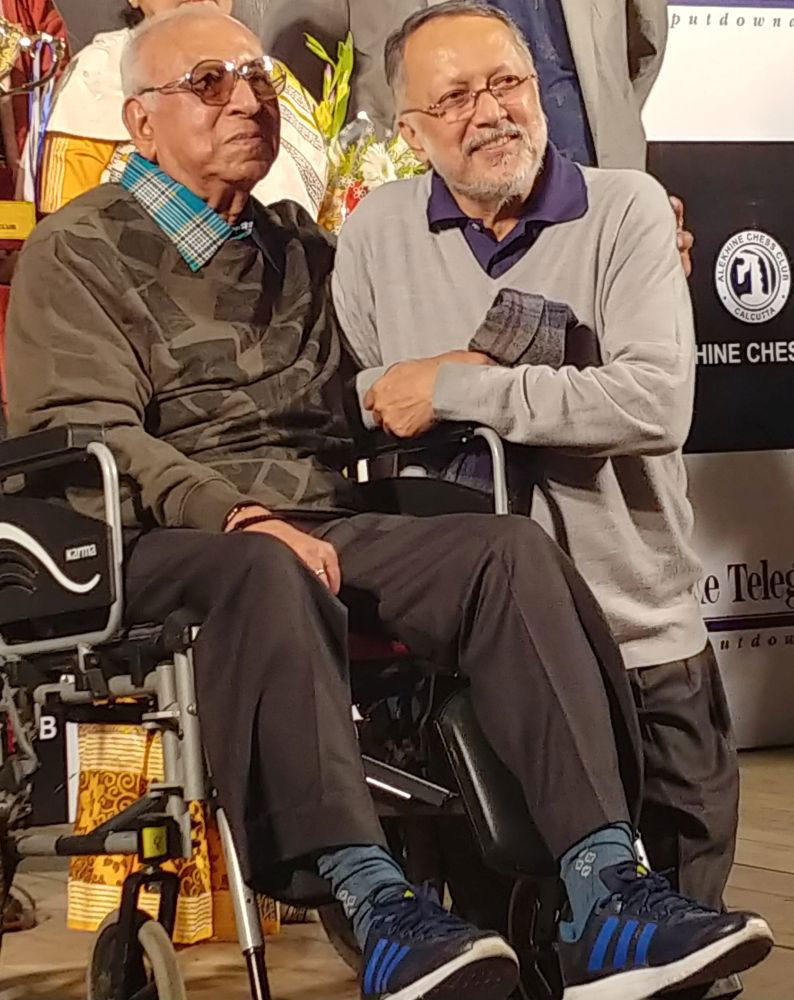 The tournament was organized by Alekhine Chess Club in Gorky Sadan - Russian Centre of Science and Culture in Kolkata from 14th to 19th December 2018. The tournament witnessed over 425 players from Bangladesh, Nepal, Philippines and India. Former Bengal Cricket Team Captain and Selector Raju Mukherjee and former Indian Footballer and Coach, Legendary PK Banerjee were the Chief Guests for the Prize Distribution Ceremony along with President of Alekhine Chess Club - Biswarup Dey and Chairman of the Organizing Committee - Navratan Jhawar.
Round 9 results
Final Standings
| | | | | | | | | | | | | | | | | | | | | |
| --- | --- | --- | --- | --- | --- | --- | --- | --- | --- | --- | --- | --- | --- | --- | --- | --- | --- | --- | --- | --- |
| Rk. | SNo | | Name | Typ | sex | FED | Rtg | Club/City | Pts. | TB1 | TB2 | TB3 | TB4 | TB5 | n | w | we | w-we | K | rtg+/- |
| 1 | 2 | FM | Mitrabha Guha | | | IND | 2351 | South Point High School | 8,5 | 0,0 | 54,5 | 60,0 | 55,50 | 8 | 8 | 7,5 | 6,50 | 1,00 | 20 | 20,0 |
| 2 | 3 | | Koustav Chatterjee | | | IND | 2345 | Garden High School | 8,0 | 0,0 | 53,0 | 55,0 | 47,00 | 7 | 8 | 7 | 6,91 | 0,09 | 20 | 1,8 |
| 3 | 1 | FM | Rajdeep Sarkar | | | IND | 2370 | Bhaban's Gangabux K. V. M., Salt La | 7,5 | 0,0 | 54,5 | 58,5 | 46,25 | 7 | 8 | 6,5 | 6,97 | -0,47 | 10 | -4,7 |
| 4 | 4 | | Sanket Chakravarty | | | IND | 1974 | Vivekananda Mission School | 7,5 | 0,0 | 53,5 | 57,0 | 45,75 | 6 | 8 | 6,5 | 5,35 | 1,15 | 40 | 46,0 |
| 5 | 12 | | Soham Dey | | | IND | 1770 | Aditya Academy (Senior Secondary) | 7,5 | 0,0 | 52,5 | 56,0 | 44,50 | 7 | 8 | 6,5 | 5,89 | 0,61 | 40 | 24,4 |
| 6 | 10 | | Ayan Pal | | | IND | 1827 | Don Bosco Park Circus | 7,0 | 0,0 | 53,0 | 58,0 | 43,00 | 7 | 8 | 6 | 5,42 | 0,58 | 40 | 23,2 |
| 7 | 7 | | Rupam Mukherjee | | | IND | 1875 | Uttarpara Amarendra Vidyapith | 7,0 | 0,0 | 52,0 | 54,5 | 38,75 | 6 | 8 | 6 | 5,75 | 0,25 | 40 | 10,0 |
| 8 | 16 | | Mohanty Soyamsree | U12 | | IND | 1706 | Delhi Public School Rourkela | 7,0 | 0,0 | 50,0 | 53,0 | 40,50 | 6 | 8 | 6 | 6,89 | -0,89 | 40 | -35,6 |
| 9 | 11 | | Praloy Sahoo | | | IND | 1795 | Santragachi Kedarnath Institution | 7,0 | 0,0 | 50,0 | 52,0 | 37,00 | 6 | 8 | 6 | 6,01 | -0,01 | 40 | -0,4 |
| 10 | 6 | | Ghosh Samriddhaa | | w | IND | 1892 | Shri Shikshayatan School | 7,0 | 0,0 | 49,5 | 50,5 | 37,50 | 5 | 8 | 6 | 6,84 | -0,84 | 40 | -33,6 |
| 11 | 21 | | Pratyay Chowdhury | | | IND | 1645 | The Park Institution | 7,0 | 0,0 | 49,0 | 53,0 | 39,25 | 6 | 8 | 6 | 5,20 | 0,80 | 40 | 32,0 |
| 12 | 8 | | Sambarta Banerjee | | | IND | 1874 | Aditya Academy (Senior Secondary) | 7,0 | 0,0 | 49,0 | 52,5 | 38,75 | 6 | 8 | 6 | 7,15 | -1,15 | 40 | -46,0 |
| 13 | 13 | | Bhattacharyya Soham | | | IND | 1727 | La Martiniere For Boys | 7,0 | 0,0 | 48,5 | 53,0 | 39,50 | 6 | 8 | 6 | 6,28 | -0,28 | 40 | -11,2 |
| 14 | 51 | | Debargha Basu | | | IND | 1428 | Hare School | 7,0 | 0,0 | 48,5 | 51,5 | 37,75 | 6 | 8 | 6 | 3,37 | 2,63 | 40 | 105,2 |
| 15 | 25 | AIM | Debarghya Samanta | U12 | | IND | 1595 | Calcutta Boy's School | 7,0 | 0,0 | 47,5 | 50,0 | 36,75 | 5 | 8 | 6 | 4,99 | 1,01 | 40 | 40,4 |
| 16 | 15 | | Rounak Pathak | | | IND | 1719 | South Point High School | 7,0 | 0,0 | 47,0 | 50,5 | 37,50 | 7 | 8 | 6 | 6,33 | -0,33 | 40 | -13,2 |
| 17 | 44 | | Mohammad Shafiqul Islam | | | BAN | 1458 | St. Gregorys High School | 7,0 | 0,0 | 46,0 | 50,0 | 37,00 | 6 | 8 | 6 | 5,86 | 0,14 | 40 | 5,6 |
| 18 | 29 | | Arijit Mukherjee | | | IND | 1566 | Madarat Popular Academy | 7,0 | 0,0 | 46,0 | 49,5 | 36,25 | 5 | 8 | 6 | 6,73 | -0,73 | 40 | -29,2 |
| 19 | 37 | | Arijit Ghosh | | | IND | 1509 | Delhi Public School, Joka | 7,0 | 0,0 | 45,5 | 50,0 | 38,00 | 7 | 8 | 6 | 5,87 | 0,13 | 40 | 5,2 |
| 20 | 41 | | Sagnik Saha | | | IND | 1478 | B D M International | 7,0 | 0,0 | 45,5 | 48,5 | 37,50 | 6 | 7 | 5 | 4,68 | 0,32 | 40 | 12,8 |
| 21 | 45 | | Anushka Gupta | F12 | w | IND | 1455 | Vivekananda Mission School | 7,0 | 0,0 | 45,0 | 49,0 | 37,00 | 7 | 8 | 6 | 4,69 | 1,31 | 40 | 52,4 |
| 22 | 67 | | Arunika Ghosh | | w | IND | 1338 | Sri Krishna Mission School, Agartal | 7,0 | 0,0 | 44,5 | 46,5 | 33,50 | 7 | 8 | 6 | 3,93 | 2,07 | 40 | 82,8 |
| 23 | 17 | | Shuvam Roy | | | IND | 1681 | Sonarpur Shiksha Sadan | 6,5 | 0,0 | 51,0 | 56,0 | 37,50 | 6 | 8 | 5,5 | 4,73 | 0,77 | 40 | 30,8 |
| 24 | 18 | | Sudipa Haldar | | w | IND | 1675 | Shri Shikshayatan School | 6,5 | 0,0 | 51,0 | 55,0 | 37,25 | 6 | 8 | 5,5 | 6,98 | -1,48 | 40 | -59,2 |
| 25 | 26 | | Anish Rooj | | | IND | 1584 | E.G.E.I | 6,5 | 0,0 | 51,0 | 54,0 | 37,00 | 6 | 8 | 5,5 | 4,88 | 0,62 | 40 | 24,8 |
---