Sant Marti Open 2018: Mitrabha Guha earns his maiden GM norm!
In the third leg of the Catalan circuit, the 20th Sant Marti International Chess Open, the top seed of the tournament, Gadir Guseinov from Azerbaijan clinched the title with a score of 7.5/9. This was his second straight title in the Catalan circuit after the Barbera Open and nobody seems to be in a place to challenge his dominance in the circuit as of now. 19-year-old Peruvian GM Alcantara Martinez took second place with a score of 7.0/9. IM Luiz Lazaro from Cuba had scored the same as Martinez but was placed third due to an inferior tiebreak. In the fourth place was India's Mitrabha Guha who scored 6.5 points and also made his maiden Grandmaster norm. Among other Indians in the fray, Nilesh Saha scored an International Master norm and, with a score of 6.0/9, was placed 11th in the final standings. With another strong performance, the Indian contingent kept up their stronghold in Spain.
Like Saha, Saurabh Anand, P Iniyan and Soham Das also finished with a score of 6.0/9 but as per tiebreaks they were placed 17th, 18th and 20th in the final standings. The event had attracted 118 players from 24 countries among whom 49 were titled.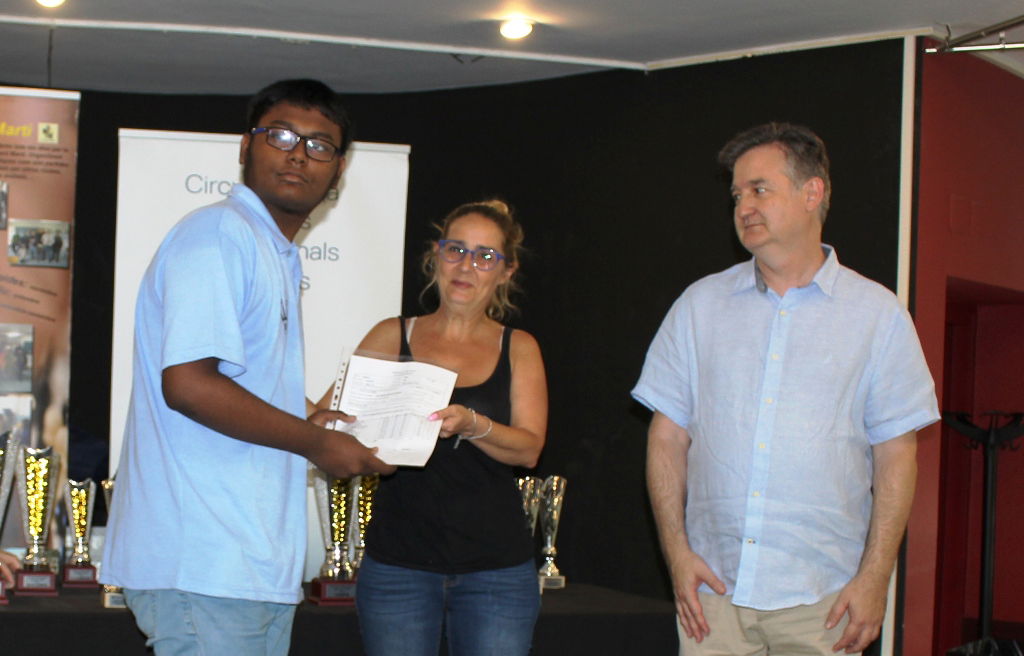 The technical head of the Catalan circuit, Jordi Magem spoke to ChessBase India at the conclusion of the event. Having been the coach of the creative genius Alexei Shirov at one point, Jordi is currently the captain of the Spanish Olympic team. In the interview, he talks about the Catalan circuit, the participation of Indians and his own visit to India during the FIDE world cup.
Final Standings
| | | | | | | | | | | | | | | | | | | | | | |
| --- | --- | --- | --- | --- | --- | --- | --- | --- | --- | --- | --- | --- | --- | --- | --- | --- | --- | --- | --- | --- | --- |
| Rk. | SNo | | Name | Typ | sex | Gr | FED | RtgI | RtgN | Club/City | Pts. | TB1 | TB2 | TB3 | TB4 | n | w | we | w-we | K | rtg+/- |
| 1 | 1 | GM | Guseinov Gadir | | | 0 | AZE | 2654 | 0 | AZERBAIJAN | 7,5 | 48,5 | 41,5 | 6 | 2757 | 9 | 7,5 | 7,06 | 0,44 | 10 | 4,4 |
| 2 | 2 | GM | Martinez Alcantara Jose Eduardo | | | 0 | PER | 2545 | 2467 | PERU | 7,0 | 51,5 | 44,0 | 5 | 2681 | 9 | 7 | 6,01 | 0,99 | 10 | 9,9 |
| 3 | 11 | IM | Aguero Jimenez Luis Lazaro | | | 2474 | CUB | 2473 | 2473 | Tora | 7,0 | 48,0 | 40,5 | 6 | 2658 | 9 | 7 | 5,43 | 1,57 | 10 | 15,7 |
| 4 | 29 | FM | Mitrabha Guha | A-18 | | 0 | IND | 2299 | 0 | INDIA | 6,5 | 50,0 | 42,5 | 5 | 2611 | 9 | 6,5 | 3,26 | 3,24 | 20 | 64,8 |
| 5 | 4 | GM | Quesada Perez Yasser | | | 0 | CUB | 2531 | 0 | CUBA | 6,5 | 49,5 | 42,0 | 5 | 2615 | 9 | 6,5 | 6,09 | 0,41 | 10 | 4,1 |
| 6 | 5 | GM | Alonso Rosell Alvar | | | 2549 | ESP | 2523 | 2512 | Gerunda | 6,5 | 47,0 | 40,5 | 5 | 2584 | 9 | 6,5 | 6,24 | 0,26 | 10 | 2,6 |
| 7 | 7 | GM | Munoz Miguel | | | 2540 | ESP | 2500 | 2486 | Sant Andreu | 6,5 | 47,0 | 40,5 | 4 | 2573 | 9 | 6,5 | 6,30 | 0,20 | 10 | 2,0 |
| 8 | 3 | GM | Krysa Leandro | | | 2510 | ARG | 2533 | 2547 | Mollet | 6,5 | 43,5 | 37,0 | 6 | 2489 | 9 | 6,5 | 7,51 | -1,01 | 10 | -10,1 |
| 9 | 10 | IM | Pena Gomez Manuel | | | 0 | ESP | 2475 | 2474 | Escola Xadrez Pontevedra | 6,0 | 47,5 | 40,5 | 4 | 2588 | 8 | 6 | 5,25 | 0,75 | 10 | 7,5 |
| 10 | 6 | GM | Cuartas Jaime Alexander | | | 2557 | COL | 2508 | 2500 | Peona I Peó | 6,0 | 47,5 | 40,0 | 4 | 2564 | 9 | 6 | 6,07 | -0,07 | 10 | -0,7 |
| 11 | 26 | | Neelash Saha | A-18 | | 0 | IND | 2319 | 0 | INDIA | 6,0 | 46,5 | 40,0 | 3 | 2451 | 8 | 5 | 3,40 | 1,60 | 20 | 32,0 |
| 12 | 16 | IM | Ruiz Castillo Joshua Daniel | | | 0 | COL | 2410 | 0 | COLOMBIA | 6,0 | 45,5 | 38,5 | 4 | 2529 | 8 | 6 | 5,52 | 0,48 | 10 | 4,8 |
| 13 | 9 | IM | Cori Quispe Kevin Joel | | | 0 | PER | 2487 | 0 | PERU | 6,0 | 44,5 | 37,5 | 5 | 2451 | 9 | 6 | 6,74 | -0,74 | 10 | -7,4 |
| 14 | 33 | FM | Serarols Mabras Bernat | A | | 0 | ESP | 2269 | 2264 | Xeraco | 6,0 | 44,0 | 37,5 | 4 | 2431 | 9 | 6 | 3,67 | 2,33 | 20 | 46,6 |
| 15 | 23 | GM | Gonzales Jayson | A | | 0 | PHI | 2367 | 0 | PHILIPPINES | 6,0 | 44,0 | 37,0 | 5 | 2416 | 9 | 6 | 5,91 | 0,09 | 10 | 0,9 |
| 16 | 8 | GM | Oliva Castaneda Kevel | | | 0 | CUB | 2491 | 0 | CUBA | 6,0 | 42,5 | 36,5 | 3 | 2461 | 9 | 6 | 6,60 | -0,60 | 10 | -6,0 |
| 17 | 34 | | Saurabh Anand | A-18 | | 0 | IND | 2258 | 0 | INDIA | 6,0 | 41,0 | 34,0 | 5 | 2304 | 9 | 6 | 5,62 | 0,38 | 20 | 7,6 |
| 18 | 12 | IM | Iniyan P | U18 | | 0 | IND | 2451 | 0 | INDIA | 6,0 | 40,0 | 34,0 | 5 | 2342 | 9 | 6 | 7,34 | -1,34 | 10 | -13,4 |
| 19 | 21 | FM | Valenzuela Gomez Fernando | A | | 2425 | CHI | 2389 | 2393 | Sant Martí | 6,0 | 40,0 | 33,0 | 5 | 2338 | 9 | 6 | 6,26 | -0,26 | 10 | -2,6 |
| 20 | 25 | | Abhishek Das | A | | 0 | IND | 2325 | 0 | INDIA | 6,0 | 36,0 | 30,5 | 5 | 2246 | 9 | 6 | 6,56 | -0,56 | 20 | -11,2 |
| 21 | 17 | IM | Smirnov Artem | | | 0 | RUS | 2405 | 0 | RUSSIA | 5,5 | 47,0 | 39,5 | 5 | 2455 | 9 | 5,5 | 5,46 | 0,04 | 10 | 0,4 |
| 22 | 15 | IM | Miciano John Marvin | U18 | | 0 | PHI | 2411 | 0 | PHILIPPINES | 5,5 | 45,0 | 38,5 | 4 | 2406 | 9 | 5,5 | 6,14 | -0,64 | 10 | -6,4 |
| 23 | 20 | IM | Alarcon Casellas Rolando | A | | 0 | CUB | 2389 | 2399 | CUBA | 5,5 | 43,5 | 37,0 | 4 | 2346 | 9 | 5,5 | 5,92 | -0,42 | 10 | -4,2 |
| 24 | 35 | FM | Gorti Akshita | A-18 | w | 0 | USA | 2255 | 0 | USA | 5,5 | 42,0 | 35,0 | 5 | 2305 | 9 | 5,5 | 4,46 | 1,04 | 20 | 20,8 |
| 25 | 14 | IM | Fernandez Cardoso Alexey | | | 0 | CUB | 2439 | 0 | CUBA | 5,5 | 41,5 | 34,0 | 4 | 2337 | 9 | 5,5 | 6,52 | -1,02 | 10 | -10,2 |
| 26 | 31 | FM | Ryan Joseph | A | | 2337 | IRL | 2273 | 2254 | Montcada | 5,5 | 41,0 | 34,5 | 2 | 2301 | 7 | 3,5 | 3,91 | -0,41 | 20 | -8,2 |
| 27 | 39 | | Glimbrant Torbjorn | B | | | SWE | 2213 | 2288 | SWEDEN | 5,5 | 39,5 | 33,0 | 4 | 2275 | 9 | 5,5 | 4,90 | 0,60 | 20 | 12,0 |
| 28 | 51 | MK | Garcia Gil Javier | B | | 2240 | ESP | 2110 | 2151 | Ideal Clavé | 5,5 | 38,0 | 32,0 | 4 | 2234 | 9 | 5,5 | 3,94 | 1,56 | 20 | 31,2 |
| 29 | 27 | WGM | Frayna Janelle Mae | A | w | 0 | PHI | 2315 | 0 | PHILIPPINES | 5,5 | 36,5 | 30,0 | 4 | 2240 | 9 | 5,5 | 6,24 | -0,74 | 20 | -14,8 |
| 30 | 22 | IM | Vidarte Morales Arturo | A | | 2453 | ESP | 2381 | 2345 | Montcada | 5,0 | 44,0 | 37,5 | 4 | 2402 | 8 | 5 | 5,09 | -0,09 | 10 | -0,9 |
Do like ChessBase India Hindi on Facebook for more pictures from the Sant Marti Open


Translation from Hindi by Aditya Pai
---