Mitrabha Guha wins Olympiad Torch Run Open Rapid Chess Tournament 2022
GM Mitrabha Guha along with five more players scored an unbeaten 7/7. Mitrabha won the Olympiad Torch Run Open Rapid Chess Tournament 2022 due to better tie-breaks. IM Dinesh Kumar Sharma and reigning Asian Junior Open Gold medalist, IM Raahul V S were adjudged second and third respectively. The total prize fund of the tournament was ₹1000000. Top three prizes were ₹100000, ₹60000 and ₹40000 cash each. About 1500 players took part in this historic event. First-ever Torch Relay for the 44th Chess Olympiad took place on the very same day. Due to time constraints, the tournament got truncated from nine rounds to seven. Photo: Aditya Sur Roy
Six players score 7/7
Mitrabha Guha on winning the tournament, "It was a great feeling to witness the Olympiad Torch Relay Ceremony live in person, for which I came directly from Vizag where I was playing the GITAM University 3rd Vizag GM Open. Our dearest PM and Sports Minister gracing the occasion. Vishy Anand Sir carrying the torch out of the stadium; Madam Humpy playing the opening moves with respected PM. I can't think of better sights. You must also admit that IG stadium was packed to capacity, which shows how chess is popular. Playing the Torch Rapid Open was memorable too! I don't think I have played along with 1600 players together ever. Topping the list of 1600 players has also given me great satisfaction. All in all, it was a unique experience!". This was Mitrabha's fourth triumph of the year and ninth podium finish.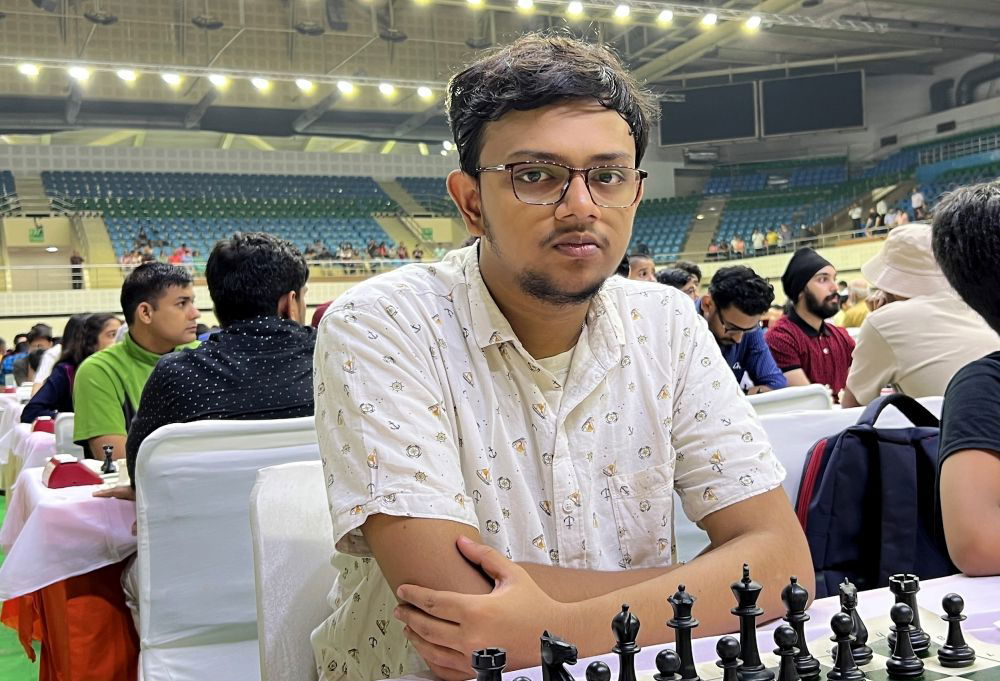 L to R: Atul Kumar Gupta, Joint Secretary, AICF; A K Verma, Tournament Director and Secretary, Delhi Chess Association; Bharat Singh Chauhan, Hony. Secretary, AICF; Chief Arbiter IA Dharmendra Kumar and Ranjan Mohanty, Joint Secretary, AICF
For more photos, please click here.
About 1500 players including 3 GMs, 7 IMs took part in this one-day Rapid Open tournament. The event was organized by Delhi Chess Association at Indira Gandhi International Stadium, New Delhi on 19th June 2022. The time control for the tournament was 10 minutes + 5 seconds increment.
Final standings
| | | | | | | | | | | | | | | | |
| --- | --- | --- | --- | --- | --- | --- | --- | --- | --- | --- | --- | --- | --- | --- | --- |
| Rk. | SNo | | | Name | Typ | sex | FED | Rtg | Club/City | Pts. | TB1 | TB2 | TB3 | TB4 | TB5 |
| 1 | 7 | | GM | Mitrabha Guha | | | IND | 2268 | Wes | 7,0 | 34,5 | 38,5 | 38,50 | 7 | 4 |
| 2 | 4 | | IM | Sharma Dinesh K. | | | IND | 2315 | UP | 7,0 | 31,0 | 34,0 | 34,00 | 7 | 3 |
| 3 | 8 | | IM | Raahul V S | | | IND | 2203 | TN | 7,0 | 30,5 | 34,0 | 34,00 | 7 | 3 |
| 4 | 6 | | IM | Hemant Sharma | | | IND | 2297 | Del | 7,0 | 30,5 | 33,0 | 33,00 | 7 | 4 |
| 5 | 17 | | | Abid Ali | | | IND | 1978 | UP | 7,0 | 29,5 | 31,5 | 31,50 | 7 | 3 |
| 6 | 16 | | IM | Krishnater Kushager | | | IND | 1987 | Mah | 7,0 | 29,0 | 32,5 | 32,50 | 7 | 3 |
| 7 | 11 | | | Santu Mondal | | | IND | 2160 | Del | 6,5 | 30,0 | 34,0 | 31,50 | 6 | 3 |
| 8 | 19 | | | Soni Krishan | | | IND | 1956 | Har | 6,5 | 29,5 | 32,5 | 29,25 | 6 | 2 |
| 9 | 350 | | CM | Namitbir Singh Walia | | | IND | 1217 | Pun | 6,5 | 29,5 | 32,0 | 28,75 | 6 | 4 |
| 10 | 63 | | | Abhishek Jaiswal | | | IND | 1688 | UP | 6,5 | 29,0 | 32,5 | 30,25 | 6 | 3 |
| 11 | 82 | | CM | Singh Ojasva | | | IND | 1606 | MP | 6,5 | 29,0 | 31,0 | 28,50 | 6 | 3 |
| 12 | 44 | | | Ashish Kumar | | | IND | 1769 | UP | 6,5 | 27,0 | 29,0 | 26,75 | 6 | 3 |
| 13 | 14 | | CM | Deepak Katiyar | | | IND | 2088 | Raj | 6,5 | 26,5 | 29,0 | 26,25 | 6 | 2 |
| 14 | 243 | | | Madhvendra Pratap Sharma | U09 | | IND | 1345 | MP | 6,5 | 25,5 | 27,5 | 25,00 | 6 | 3 |
| 15 | 115 | | | Aryan Ranjan | | | IND | 1524 | Del | 6,0 | 32,0 | 34,5 | 27,50 | 6 | 3 |
| 16 | 55 | | IM | Dushyant Sharma | | | IND | 1705 | Pun | 6,0 | 31,5 | 35,5 | 28,50 | 6 | 2 |
| 17 | 33 | | AIM | Baig Akram | | | IND | 1818 | Del | 6,0 | 31,0 | 35,0 | 28,50 | 6 | 3 |
| 18 | 326 | | | Chehal Nikhil | | | IND | 1244 | Pun | 6,0 | 31,0 | 34,0 | 27,00 | 6 | 3 |
| 19 | 38 | | | Dileep Tripathi | | | IND | 1799 | UP | 6,0 | 31,0 | 33,5 | 27,00 | 6 | 4 |
| 20 | 396 | | | Vipin Singh | | | IND | 1176 | Del | 6,0 | 31,0 | 33,0 | 27,00 | 6 | 3 |
| 21 | 3 | | GM | Himanshu Sharma | | | IND | 2322 | Har | 6,0 | 31,0 | 33,0 | 27,00 | 5 | 2 |
| 22 | 75 | | | Pushpendra | | | IND | 1663 | Del | 6,0 | 31,0 | 32,5 | 25,50 | 6 | 3 |
| 23 | 23 | | | Sharma Harish | | | IND | 1870 | Del | 6,0 | 30,5 | 33,5 | 27,50 | 6 | 3 |
| 24 | 229 | | | Swayam Gupta | | | IND | 1365 | Del | 6,0 | 30,5 | 33,0 | 27,75 | 5 | 2 |
| 25 | 121 | | | Garv Rai | U15 | | IND | 1511 | Del | 6,0 | 30,5 | 32,0 | 25,00 | 6 | 3 |
| 26 | 41 | | | Chandan Mandal | | | IND | 1784 | Del | 6,0 | 30,0 | 34,0 | 28,50 | 5 | 2 |
| 27 | 21 | | | Sradhanjali Jena | S15 | w | IND | 1877 | Ori | 6,0 | 30,0 | 33,5 | 28,00 | 5 | 4 |
| 28 | 26 | | | Anshul Nigam | | | IND | 1866 | Jha | 6,0 | 30,0 | 33,5 | 27,50 | 6 | 3 |
| 29 | 159 | | | Raj Prakhar | | | IND | 1451 | Har | 6,0 | 30,0 | 33,0 | 26,00 | 6 | 3 |
| 30 | 61 | | | Uttam Prakash Sharma | | | IND | 1694 | Har | 6,0 | 30,0 | 32,0 | 25,00 | 6 | 3 |
| 31 | 5 | | IM | Prince Bajaj | | | IND | 2312 | Del | 6,0 | 29,5 | 32,5 | 27,00 | 6 | 4 |
| 32 | 72 | | | Saptorshi Gupta | | | IND | 1673 | Wes | 6,0 | 29,5 | 32,5 | 26,75 | 5 | 3 |
| 33 | 47 | | | Yatin Kumar | | | IND | 1740 | Del | 6,0 | 29,5 | 32,5 | 25,50 | 6 | 3 |
| 34 | 1402 | | | Sirohi Narendra | | | IND | 0 | UP | 6,0 | 29,5 | 31,5 | 26,00 | 6 | 3 |
| 35 | 88 | | | Vedant Bhardwaj | | | IND | 1595 | MP | 6,0 | 29,5 | 31,5 | 24,50 | 6 | 3 |
| 36 | 60 | | | Aashman Gupta | U15 | | IND | 1695 | Del | 6,0 | 29,0 | 32,5 | 26,50 | 6 | 3 |
| 37 | 59 | | | Bhandari Jitendra Singh | | | IND | 1697 | Del | 6,0 | 29,0 | 32,0 | 26,25 | 5 | 1 |
| 38 | 124 | | | Utkarsh Bhatnagar | | | IND | 1508 | UP | 6,0 | 29,0 | 32,0 | 26,00 | 6 | 3 |
| 39 | 112 | | | Ansh Bhargava | | | IND | 1526 | Del | 6,0 | 29,0 | 32,0 | 25,50 | 6 | 3 |
| 40 | 140 | | | Gaurav Nishad | | | IND | 1472 | UP | 6,0 | 29,0 | 31,5 | 25,75 | 5 | 3 |
---