Play at the Olympiad Torch Run International Open Rapid Chess Tournament 2022
For the first ever in Chess Olympiad history, there will be a torch relay. Next Sunday, on 19th June 2022, Olympiad Torch Run International Rapid Open Chess Tournament will take place at Indira Gandhi International Stadium in New Delhi. Total ₹1000000 prize fund is up for grabs. That's not all. Vishy Anand himself will be present there. Entry fee is only ₹200. Over 500 players have already registered for the event. A maximum of 1500 number of entries will be accepted. It is a one-day non-rating Rapid Chess Tournament. Check out the article for more details about the tournament and do not miss this fantastic opportunity. Photo: Tournament Circular
Olympiad Torch Run International Rapid Open has a total prize fund of ₹1000000
Schedule
The one-day Rapid Open tournament will have nine rounds which will be played on Sunday 19th June 2022. Reporting time is 8:30 a.m. IST.
Prizes
Olympiad Torch Run International Rapid Open has a total prize fund of ₹1000000. Top three prizes are: ₹100000, ₹60000 and ₹40000 respectively. Top 20 prizes are there for five rating categories, which includes Unrated players too. Five age groups, Best Female (Above 15) category prizes are also there. A total of 252 prizes in total up for grabs.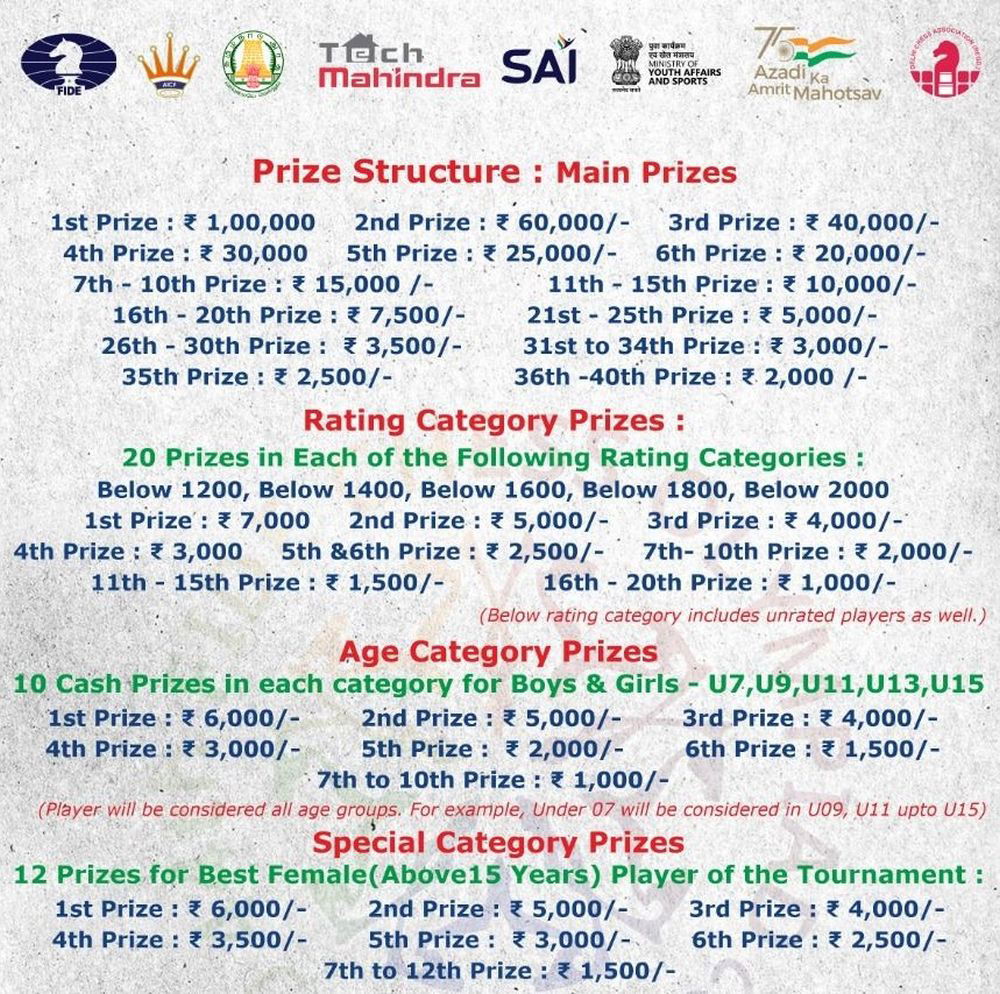 Time Control
Time control is 10 minutes + 5 seconds increment.
Venue
Indira Gandhi International Stadium, New Delhi
Where to register?
For more details, please refer to the tournament circular.
Players list
---