Gukesh and Praggnanandhaa relay the Chess Olympiad Torch in the final leg with S Vijayalakshmi
India's 31st GM Shyam Sundar M, 68th GM Arjun Kalyan, WGM Srija Seshadri, 14th GM Neelotpal Das, IM Harshavardhan G B and IM Srihari L R relayed the Chess Olympiad Torch in various parts of the host state, Tamil Nadu. The man who revolutionized chess India decades ago and carried it to all over the world, Vishy Anand relayed the Torch to Prime Minister of India, Narendra Modi and Chief Minister of Tamil Nadu, M K Stalin. GM D Gukesh and GM Praggnanandhaa R received the Torch from them and relayed it with IM Subbaraman Vijayalakshmi. Who will take the figurative Torch from Anand and run across the world next? This Olympiad could give us an inkling to that. Photo: FIDE/Lennart Ootes
The Chess Olympiad Torch reaches its final destination
Monday 25th July - Tamil Nadu, the host state for the 44th Chess Olympiad welcomed the Torch in a grand way! India's 31st GM Shyam Sundar took the Torch forward in the city amid an energetic audience.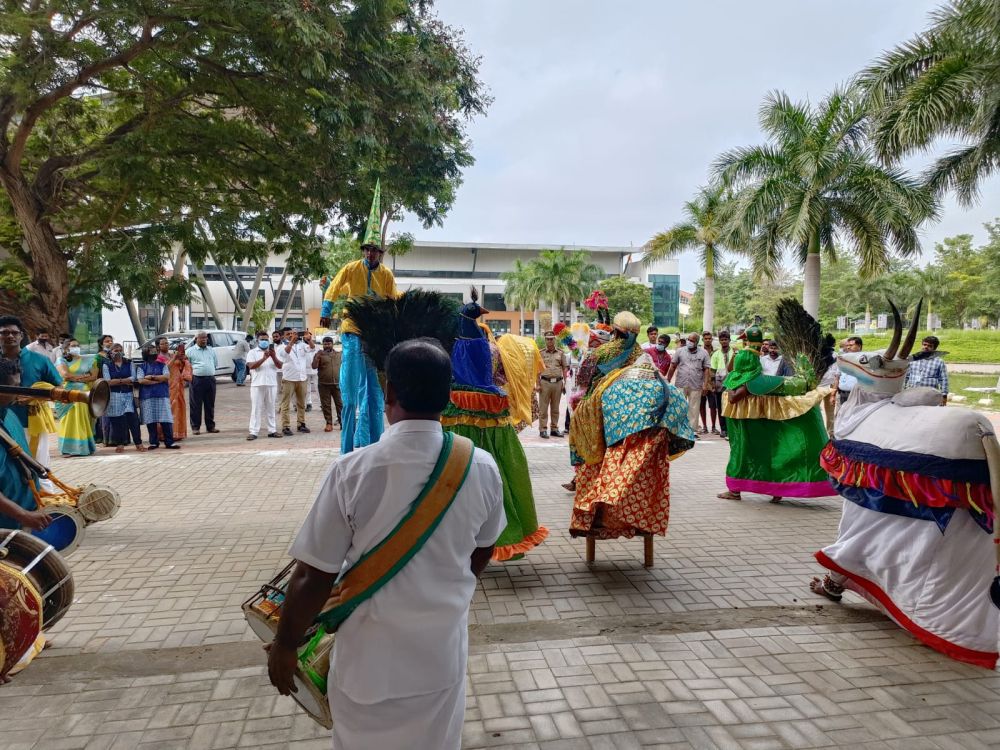 Tuesday 26th July - Anbil Mahesh Poyyamozhi, The Minister for School Education, Govt. of Tamil Nadu received the Torch from India's 68th GM Arjun Kalyan & WGM Srija Seshadri at Brihadeshwara Temple in Thanjavur, Tamil Nadu.
Anitha Radhakrishnan, The Minister for Fisheries - Fishermen Welfare & Animal Husbandry, Govt. of Tamil Nadu, received the Torch from India's 14th GM Neelotpal Das & WGM Srija Seshadri at Tiruvallur statue.
Wednesday 27th July - International Masters Srihari L R & Harshavardhan G B took the Torch forward to Shore Temple at Mahabalipuram, Tamil Nadu.
Vishy Anand who lit the Torch for Indian chess decades ago, rallied it to Tamil Nadu Chief Minister M K Stalin and Prime Minister of India, Narendra Modi. D Gukesh and Praggnanandhaa R. took the Torch from them and relayed it at the Inauguration Ceremony of 44th Chess Olympiad 2022.
It is absolutely fitting that Gukesh and Praggnanandhaa relay the Torch with the woman who has won more medals at the Olympiad than any other Indian. The Torch was relayed in 75 cities across the country spanning 38 days.
---