Vishnu, Akash and Neelotpal relay the Chess Olympiad Torch from Kerala to Andaman and Nicobar Islands
India's 33rd GM Vishnu Prasanna relayed the Chess Olympiad Torch at Marottichal, Thrissur in Kerala. Marottichal is famous for being the village which was saved by chess. Vishnu is the trainer of India's youngest and fourth youngest in history to break 2700, GM D Gukesh. The strong GM from Tamil Nadu has won tournaments in Spain, a Blitz event in 9th London Chess Classic. He also won the Olympiad Curtain Raiser Rapid Rating Open within three days after relaying the Torch. India's 66th GM and youngest National Senior champion of the country, GM Akash Ganesan and India's 14th GM Neelotpal Das relayed the Torch in Puducherry, and Andaman and Nicobar Islands respectively. Photo: NYKS Kerala
The Torch travels to Port Blair
Thursday 21st July - The District Collector, Haritha V Kumar received the Torch from India's 33rd GM Vishnu Prasanna at a function held in Marottichal, Thrissur, Kerala.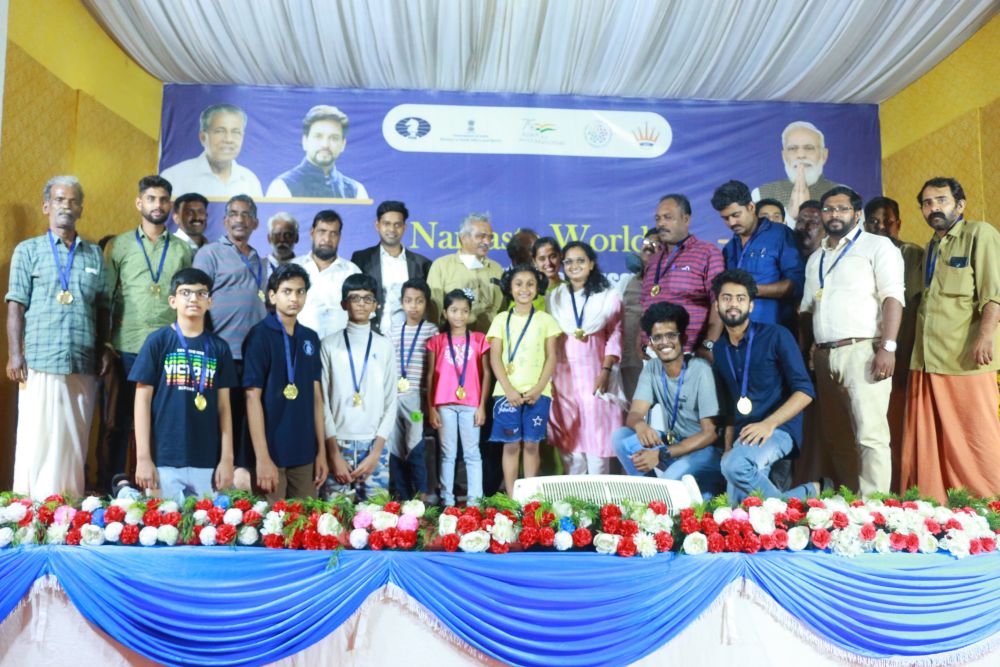 Friday 22nd July - The Transport Minister, Govt. of Kerala, Mr.Antony Raju received the Torch from Ms. Navjot Khosa, District Collector, Trivandrum in presence of GM Vishnu Prasanna at Jimmy George Indoor Stadium.
Saturday 23rd July - The Lt. Governor of Puducherry, Dr. Tamilisai Soundararajan received the Torch from India's 66th GM Akash Ganesan at Indira Gandhi Indoor Stadium.
Sunday 24th July - Jitendra Narain, IAS, Chief Secretary, Andaman & Nicobar Islands received the Torch from India's 14th GM Neelotpal Das at the iconic Cellular Jail.
Where is the Torch heading next?
Check out the upcoming dates where the Chess Olympiad Torch is heading next. For exact timing and location, please contact your local district/state chess association.
| | | |
| --- | --- | --- |
| 74 | 26th July | Kanyakumari, Tamil Nadu |
| 75 | 27th July | Chennai, Tamil Nadu |
---