Himanshu Sharma passes the Chess Olympiad Torch to Prithu Gupta
The 47th Grandmaster of India, Himanshu Sharma, received the Chess Olympiad Torch at Brahm Sarovar, Kurukshetra. The man who has won various rating tournaments all over the country, brought the Torch to Panipat Museum at Panipat. Himanshu has a fantastic understanding of chess. He won a Fischer Random tournament in 2017 before winning the 50th Barbera del Valles GM Open. Haryana's first GM won that event before becoming a GM and finished ahead of many. India's 64th GM Prithu Gupta received the Torch at Shiv Nadar School, Gurugram. The 18-year-old became a GM in six years after he got his FIDE rating. Photo: AICF
Prithu Gupta receives the Torch at Gurugram
On Friday 24th June 2022, Deputy Commissioner Kurukshetra, Mukul Kumar, IAS received the Chess Olympiad Torch at Brahm Sarovar and handed it over to 47th GM of India, Himanshu Sharma.
At Panipat, The Torch was received by Mahipal Dhanda, MLA, Parmod Kumar Vij, MLA, Ms. Veena Hooda, Additional Deputy Commissioner, Mr. Lalit Sharma, Director SAI Sonipat, Mr. Naresh Sharma, Treasurer AICF. It was handed over to GM Himanshu Sharma.
Mr. Vishram Meena IAS, Additional Deputy Commissioner Gurugram received the Chess Olympiad Torch at Shiv Nadar School, Gurugram and handed it over to India's 64th GM Prithu Gupta.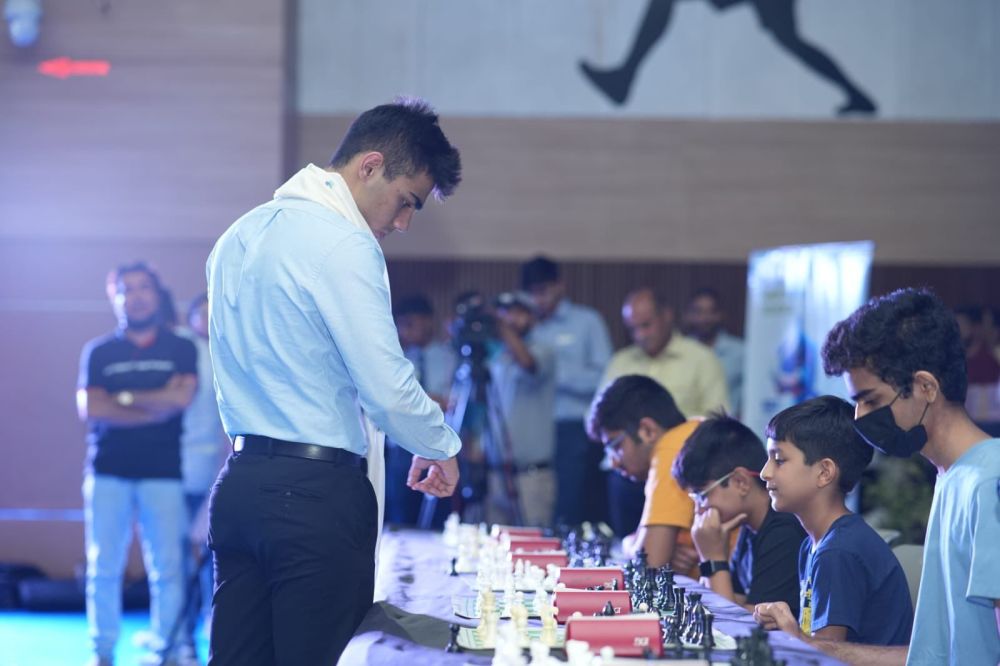 For more photos, please click here.
Where is the Torch heading next?
Check out the upcoming dates where the Chess Olympiad Torch is heading next. For exact timing and location, please contact your local district/state chess association.
| | | |
| --- | --- | --- |
| S. No. | Date | City / State, UT |
| 1 | 20th June 2022 | New Delhi, Delhi |
| 2 | 20th June 2022 | Leh, Ladakh |
| 3 | 21st June 2022 | Srinagar, Jammu and Kashmir |
| 4 | 21st June 2022 | Jammu, Jammu and Kashmir |
| 5 | 22nd June 2022 | Dharamshala, Himachal Pradesh |
| 6 | 22nd June 2022 | Shimla, Himachal Pradesh |
| 7 | 23rd June 2022 | Chandigarh, Chandigarh |
| 8 | 23rd June 2022 | Patiala, Punjab |
| 9 | 23rd June 2022 | Amritsar, Punjab |
| 10 | 24th June 2022 | Kurukshetra, Haryana |
| 11 | 24th June 2022 | Panipat, Haryana |
| 12 | 24th June 2022 | Gurugram, Haryana |
| 13 | 25th June 2022 | Dehradun, Uttarakhand |
| 14 | 25th June 2022 | Haridwar, Uttarakhand |
| 15 | 25th June 2022 | Meerut, Uttar Pradesh |
| 16 | 26th June 2022 | Noida, Uttar Pradesh |
| 17 | 26th June 2022 | Agra, Uttar Pradesh |
| 18 | 26th June 2022 | Lucknow, Uttar Pradesh |
| 19 | 27th June 2022 | Prayagraj, Uttar Pradesh |
| 20 | 27th June 2022 | Varanasi, Uttar Pradesh |
| 21 | 28th June 2022 | Ayodhya, Uttar Pradesh |
| 22 | 28th June 2022 | Gorakhpur, Uttar Pradesh |
| 23 | 29th June 2022 | Jaipur, Rajasthan |
| 24 | 29th June 2022 | Ajmer / Pushkar, Rajasthan |
| 25 | 29th June 2022 | Udaipur, Rajasthan |
| 26 | 30th June 2022 | Ahmedabad, Gujarat |
| 27 | 30th June 2022 | Kevadia, Gujarat |
| 28 | 30th June 2022 | Vadodra, Gujarat |
| 29 | 1st July 2022 | Surat, Gujarat |
| 30 | 1st July 2022 | Dandi, Gujarat |
| 31 | 1st July 2022 | Daman, Daman & Diu |
| 32 | 2nd July 2022 | Nagpur, Maharashtra |
| 33 | 2nd July 2022 | Pune, Maharashtra |
| 34 | 2nd July 2022 | Mumbai, Maharashtra |
| 35 | 3rd July 2022 | Panaji, Goa |
| 36 | 3rd July 2022 | Ujjain, Madhya Pradesh |
| 37 | 4th July 2022 | Indore, Madhya Pradesh |
| 38 | 4th July 2022 | Bhopal, Madhya Pradesh |
| 39 | 5th July 2022 | Jhansi, Uttar Pradesh |
| 40 | 5th July 2022 | Gwalior, Madhya Pradesh |
| 41 | 6th July 2022 | Patna, Bihar |
| 42 | 6th July 2022 | Rajgir, Bihar |
| 43 | 6th July 2022 | Gaya, Bihar |
| 44 | 7th July 2022 | Ranchi, Jharkhand |
| 45 | 7th July 2022 | Kolkata, West Bengal |
| 46 | 8th July 2022 | Siliguri, West Bengal |
| 47 | 8th July 2022 | Gangtok, Sikkim |
| 48 | 9th July 2022 | Cooch Behar, West Bengal |
| 49 | 9th July 2022 | Guwahati, Assam |
| 50 | 10th July 2022 | Shillong, Meghalaya |
| 51 | 10th July 2022 | Imphal, Manipur |
| 52 | 11th July 2022 | Kohima, Nagaland |
| 53 | 12th July 2022 | Aizawl, Mizoram |
| 54 | 13th July 2022 | Itanagar, Arunachal Pradesh |
| 55 | 13th July 2022 | Dibrugarh, Assam |
| 56 | 14th July 2022 | Nam Sai Arunachal Pradesh |
| 57 | 14th July 2022 | Agartala, Tripura |
| 58 | 15th July 2022 | Bhubaneswar, Odisha |
| 59 | 15th July 2022 | Puri, Odisha |
| 60 | 15th July 2022 | Konark, Odisha |
| 61 | 16th July 2022 | Raipur, Chattisgarh |
| 62 | 16th July 2022 | Hyderabad, Telangana |
| 63 | 17th July 2022 | Amaravati, Andhra Pradesh |
| 64 | 17th July 2022 | Visakhapatnam, Andhra Pradesh |
| 65 | 18th July 2022 | Bengaluru, Karnataka |
| 66 | 19th July 2022 | Mangaluru, Karnataka |
| 67 | 20th July 2022 | Kavaratti, Lakshadweep (Agatti Island Airport) |
| 68 | 21th July 2022 | Thrissur, Kerala |
| 69 | 22st July 2022 | Thiruvananthapuram, Kerala |
| 70 | 23rd July 2022 | Tirupati, Andhra Pradesh |
| 71 | 23rd July 2022 | Puducherry, Puducherry |
| 72 | 24th July 2022 | Port Blair, Andaman & Nicobar Islands |
| 73 | 25th July 2022 | Madurai, Tamil Nadu |
| 74 | 26th July 2022 | Kanyakumari, Tamil Nadu |
| 75 | 27th July 2022 | Chennai, Tamil Nadu |
---