Kiran, Padmini, Satyapragyan and Anwesh relay the Chess Olympiad Torch in Odisha
Odisha's first Woman Grandmaster Kiran Manisha Mohanty brought the Chess Olympiad Torch to Bhubaneswar, Odisha. The individual Gold medalist for India at the Tromso Olympiad 2014, IM and WGM Padmini Rout, National Rapid 2017 champion, IM Anwesh Upadhyaya and Odisha's second International Master and also a FIDE Trainer, IM Swayangsu Satyapragyan relayed the Torch at Bhubaneswar, Puri and Konark. All four of them are accomplished chess players who have won multiple medals and accolades combined in National, Asian and World level. Padmini will be representing the India-2 in the Women at the upcoming 44th Chess Olympiad in Chennai. Photo: AICF
Odisha's top players relay the Torch
Friday 15th July: WGM Kiran Manisha Mohanty brought the Torch to Bhubaneswar. The Chief Minister of Odisha, Naveen Patnaik received the Torch from IM Padmini Rout at Lokseva Bhawan in presence of eminent dignitaries.
IM Padmini Rout and IM Anwesh Upadhyaya took the Torch forward to Jagannath Temple (Singhadwara) at Puri.
The Sports & Youth Services Minister, Govt. of Odisha, Tusharkanti Behera received the Torch from IM Anwesh Upadhyaya, IM Swayanshu Satyapragyan and IM Padmini Rout at Konark Temple.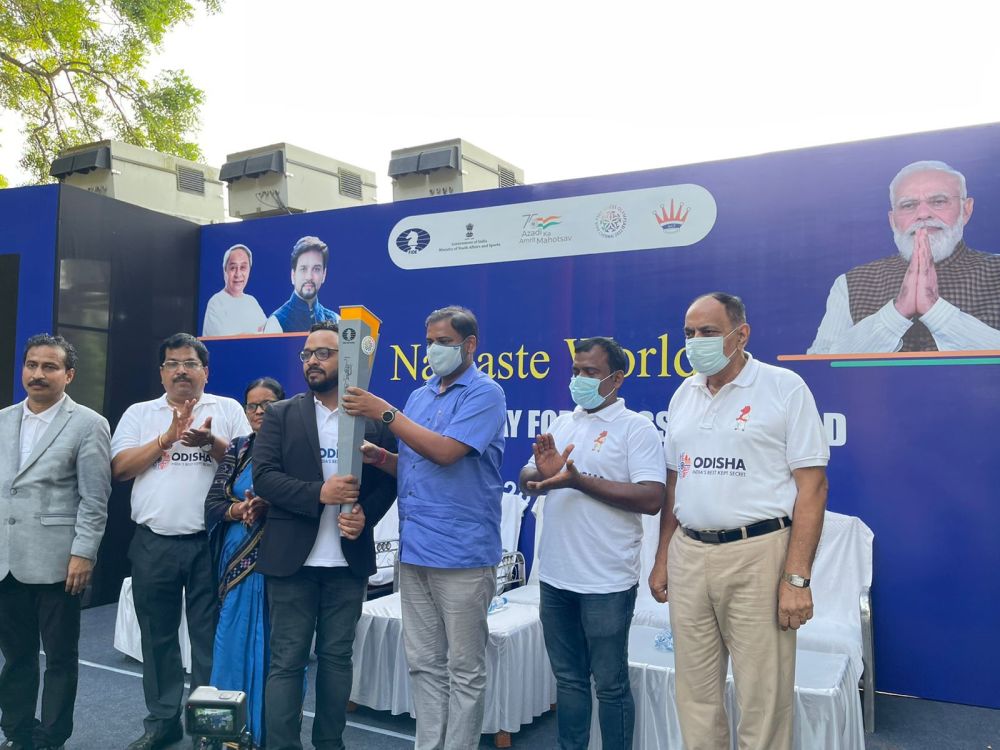 Where is the Torch heading next?
Check out the upcoming dates where the Chess Olympiad Torch is heading next. For exact timing and location, please contact your local district/state chess association.
| | | |
| --- | --- | --- |
| 65 | 18th July 2022 | Bengaluru, Karnataka |
| 66 | 19th July 2022 | Mangaluru, Karnataka |
| 67 | 20th July 2022 | Kavaratti, Lakshadweep (Agatti Island Airport) |
| 68 | 21th July 2022 | Thrissur, Kerala |
| 69 | 22nd July 2022 | Thiruvananthapuram, Kerala |
| 70 | 23rd July 2022 | Tirupati, Andhra Pradesh |
| 71 | 23rd July 2022 | Puducherry, Puducherry |
| 72 | 24th July 2022 | Port Blair, Andaman & Nicobar Islands |
| 73 | 25th July 2022 | Madurai, Tamil Nadu |
| 74 | 26th July 2022 | Kanyakumari, Tamil Nadu |
| 75 | 27th July 2022 | Chennai, Tamil Nadu |
---