The Telegraph Schools' Chess invites all school students
28th edition of The Telegraph Schools' Chess in Kolkata, West Bengal is just less than a month away. The longest running school level chess tournament in the country will have its 28th edition start on 13th December 2019. The tournament which has witnessed the participation of the country's many top players in their budding years who eventually went on to become World beaters, open its doors once again to all chess players all over the country. The tournament holds a total prize fund of ₹155000 and the bragging rights for the Best School of the tournament which can be won by any school. The last two champions Srijit Paul and Mitrabha Guha went on to become to IMs. Who will be the next winner? Registration is live now
The longest running school level tournament in the country turns 28
The Telegraph Schools' Chess tournament was started almost three decades with the intention of promoting the sport of chess among the school children as back then there was no other school level chess tournament in the country. This is the only chess tournament where players from neighboring countries such as Bangladesh and Nepal are invited to participate.
Championship history
The tournament is organized by Alekhine Chess Club at Gorky Sadan, Kolkata since 1988 and it became the first school level rating from the year 2001. Most of the winners went on become National champions, strong titled players. The very first edition was won by Shankar Roy at the age of 12 years, who eventually went on to become an International Master. He won it again in 1992. Suvrajit Saha won the tournament for the first time in 1991 and as we all know, he also went on to become an IM. Surya Sekhar Ganguly became champion in The Telegraph Schools' in 1994, he also went on to win National championship a record six consecutive times, individual Gold medal in World Team twice and he is also an Arjuna Awardee. Arghyadip Das won it in 1998 and he is currently a GM-elect who just needs to touch 2500 in live rating list to become India's latest Grandmaster.
India's 51st GM Saptarshi Roy became the first player to win the tournament for two consecutive years 1999 and 2000, then his childhood friend IM Somak Palit won it in 2001. Somak received his champion's trophy from the living legend Anand himself. The 2003 champion Rahul Sangma went on to become an IM. Bitan Banerjee won it twice in 2005 and 2007, he also eventually went on to become an IM. Karnataka's latest and India's 63rd GM Girish Koushik won the tournament in 2008. IM Sayantan Das became the first player to win the tournament three years in-a-row 2009-2011. A record which will still take a while to be broken.
The last two champions, Srijit Paul and Mitrabha Guha went on to become IMs.
Schedule
Only 14th and 17th December there are double rounds, single round all other days gives players ample amount of time to prepare for their next game.
Prizes
The tournament has a total prize fund of ₹155000 along with age group prizes and three best school prize. Back in our days, St. James School used to dominate it and now South Point wins the bragging rights by winning the Best School prize. There is also a unique prize titled, 'Parimal Mukherjee Trophy' for the Best game award. He was a patron of the club and loved the game. The best game prize is named in his memory.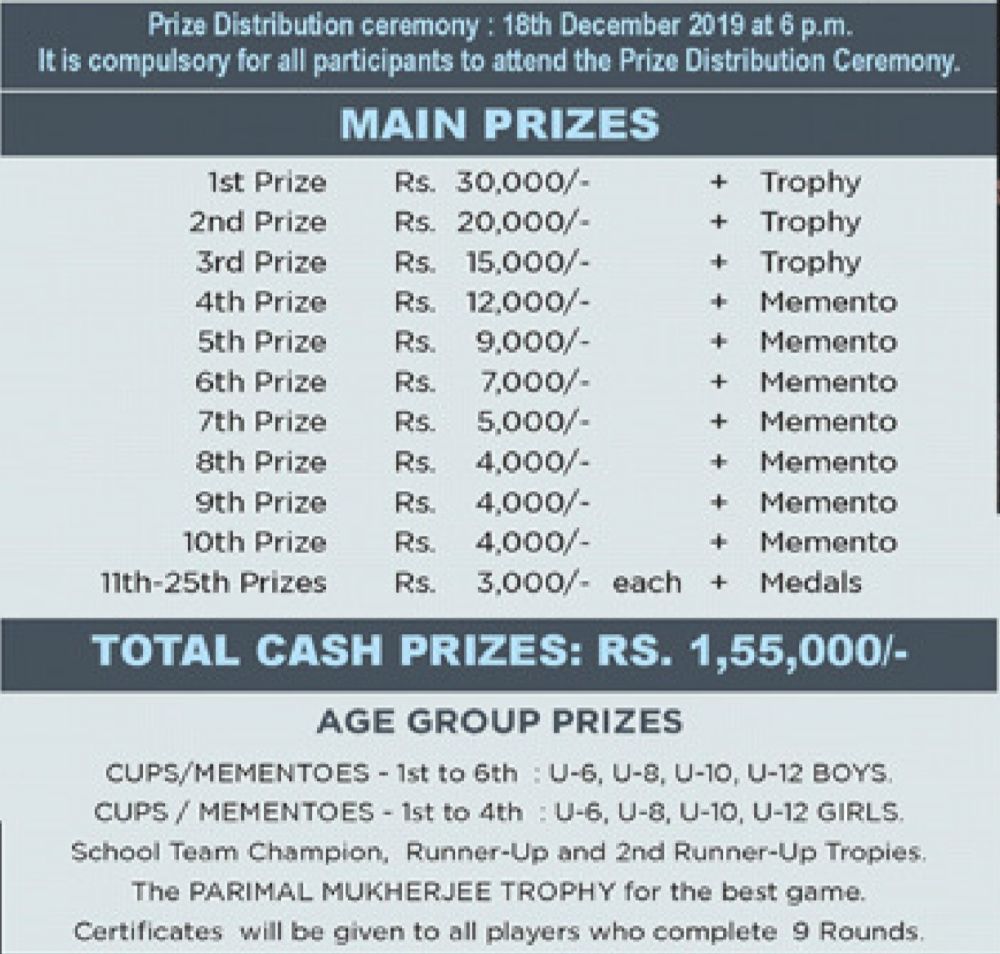 Entry and Eligibility
The tournament is open to all AICF registered players of the country, who are yet to appear for class 12 board examinations. Since there is always a huge rush to register for the tournament, the tournament has 'first come first serve basis' policy. Please check the details for the documents required for registration.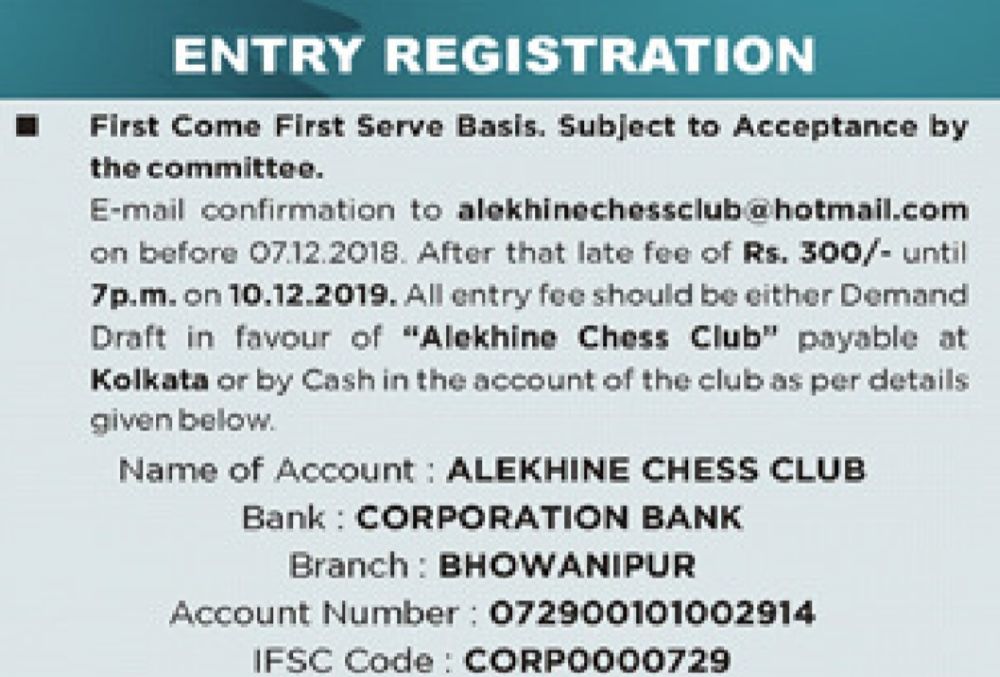 You can also register here. For more details visit our calendar here.
---