27th The Telegraph 2018 round 1-3: 37 players share lead with full point
27th edition of The Telegraph Schools' Chess started 10 months after the previous edition concluded. This time over 425 children from India, Bangladesh, Nepal and Philippines are participating. Youngest player of the meet Aayansh Burman of 4 years 9 months 0 days age made the inaugural move of the tournament. Top seeds had smooth sailing except a few upsets. Ninth seed of the tournament, Aditya Bikram Paul arrived late in the hall and he was shocked by unrated Agnivo Chakraborty in round 1, Shresth Mahapatra held Sadnan Hasan Dihan of Bangladesh to a draw in the 2nd round and Arunika Ghosh defeated Sambarta Banerjee in the 3rd round. In this report, we bring you photos, games and videos from round 1-3 of the tournament. Photo: Shahid Ahmed
Frequent upsets in each round in the longest running school level tournament of the country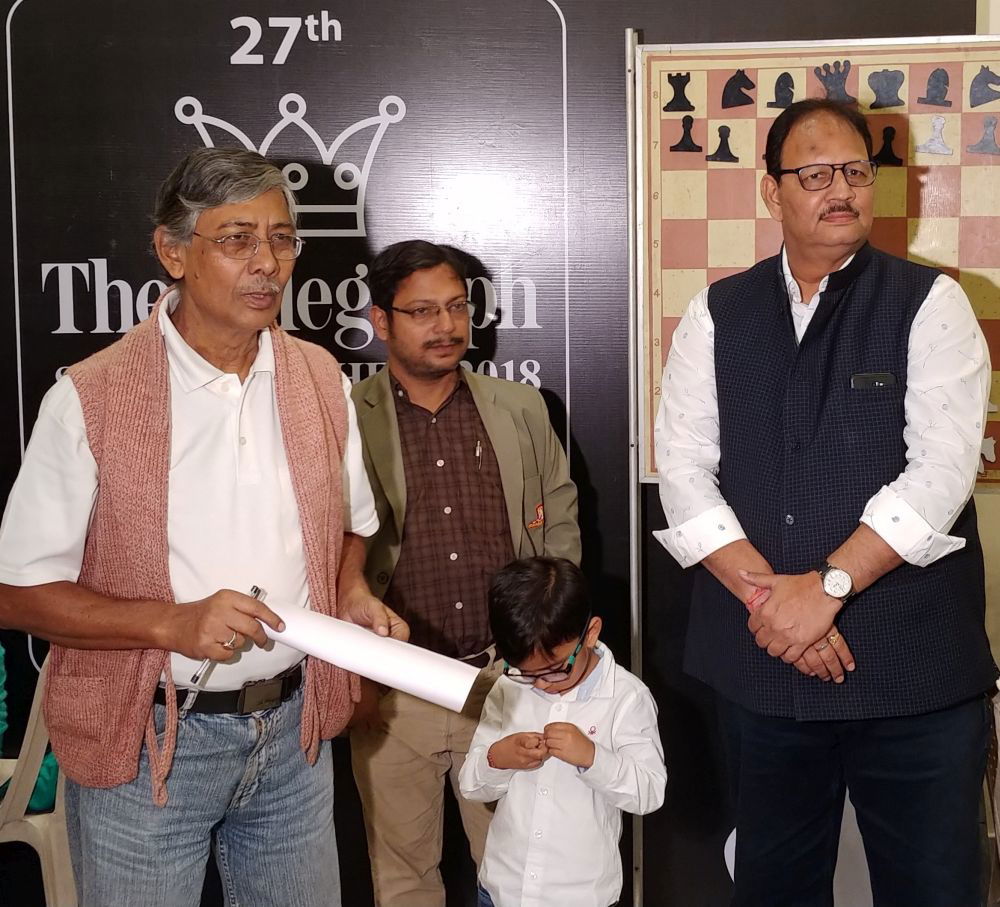 Ninth seed Aditya Bikram Paul was shocked by unrated Agnivo Chakraborty in round 1
Despite gaining an exchange in early middle game, Aditya was unable to maintain advantage and he misplayed his opponent's attack and eventually lost the game.
Among other upsets of round 1:
Parjwal Basnet (1579, NEP) drew with Anurag Ganguly (IND)
Aranya Ghosh (IND) drew with CM Manon Raja Neer (1548, BAN)
Arka Datta Chaudhuri (IND) defeated Sinchan Basnet (1487, Nepal)
Bibhangshu Mandal (IND) defeated AFM Aditya Prasad (1422, IND)
Dahal Mission (1390, NEP) lost to Debankar Banerjee (IND)
Sadnan Hasan of Bangladesh held to a draw by Shresth Mahapatra in round 2
Sadnan got an advantage in the middle game and had a winning position till the endgame when he fell into a perpetual check trap and the game ended up in a draw. 11-year old Shresth did not give up and maintained his perseverance which paid off.
Among other upsets of round 2:
Tushar Bhunya (1134) drew with Arijit Mukherjee (1566)
Gairick Saha (1127) defeated Shounak Mazumder (1528)
Aditya Sinha (1114) defeated Sagnik Saha (1478)
Krish Adhikari (1452, NEP) drew with Saptarshi Talukdar (1109)
Atreya Nandy (1431) lost to Anirin Majumder (1091)
Eighth seeded Sambarta Banerjee suffered a loss against Arunika Ghosh
Sambarta blundered in a completely drawn position in Rook-Knight vs. Rook-Bishop endgame.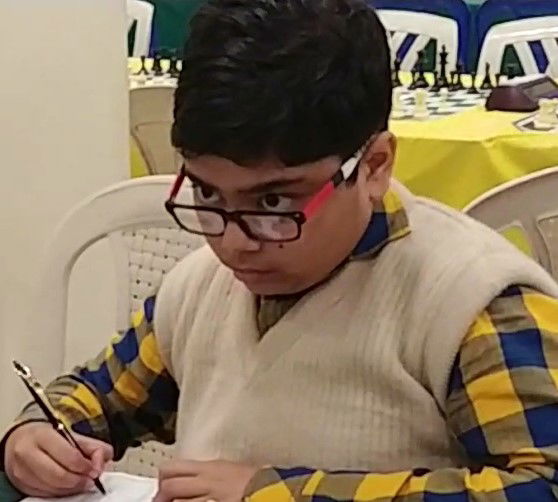 Among other upsets of round 3:
Swarnoj Saha Talukdar (1257) drew with Swapnil Priyadarshi (1559)
Pratyush Mohapatra (1249) drew with Dhritabrata Kundu (1527)
Anubhab Gupta (1491) lost to Oishik Kundu (1244)
Mortuza Muhtadi Islam (1435, BAN) lost to Gairick Saha (1127, IND)
Bratajit Mukherjee (1105) drew with CM Manon Reja Neer (1458, BAN)
Photo Gallery: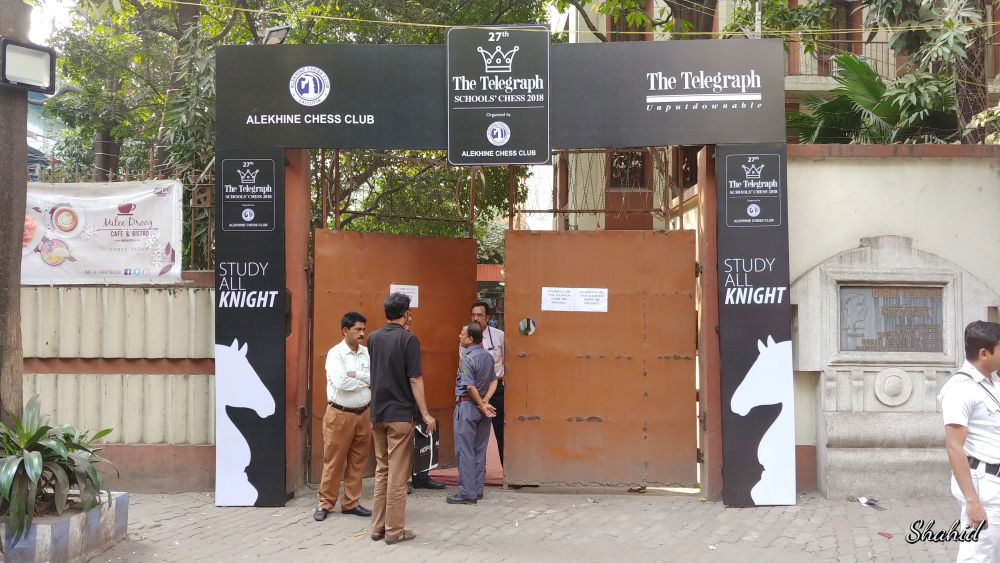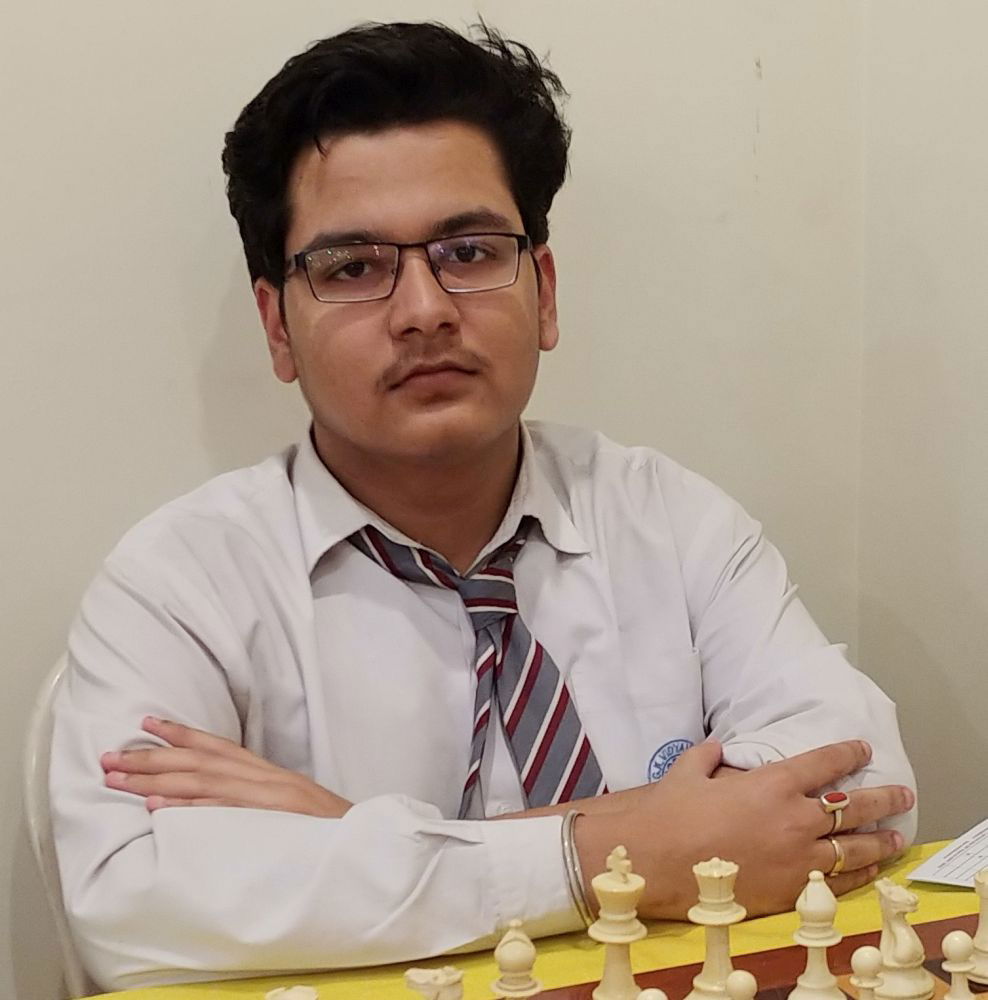 Results of round 3 on 2018/12/15 at 3.00 p.m.
Pairing of Round 4 on 2018/12/16 at 10.00 a.m.
---