Samriddhaa survives two massive scares at 27th The Telegraph Schools' 2018
Reigning West Bengal State Women's champion and 6th seed of the tournament escaped from the brink of loss against Soumyajit Das of Aditya Academy school in round 5. In round 4 also she narrowly escaped a loss when she miscalculated a tactic. Top four seeds remained unscathed and they are in the lead along with six other players at 5.0/5. Biggest upset of round 4 was, former WB State sub-junior girls' champion Sudipa Haldar blundering a checkmate against Debargha Basu and Mortuza Mahathir Islam (BAN) lost against Srihaan Poddar (PHI). In the fifth round Srihaan caused another upset by defeating Soyamsree Mohanty of Odisha. The report contains photos, videos and games from round 4 and 5. Photo: Shahid Ahmed
Samriddhaa gets lucky twice in a day
In round 4, Samriddhaa Ghosh almost blundered a piece except her opponent Arijit Ghosh did not notice it. In Giuco Piano, she launched an overambitious attack which almost cost her a piece and the game. Fortunately opponent misplayed it and she managed to win eventually.
In round 5, Samriddhaa had a roller coaster of a game. She was losing for the better part of the game, however her opponent Soumyajit Das gave her some opportunity to get the full point but she was unable to capitalize due to time pressure. The game ended up in a draw eventually.
Sudipa blunders mate against Debargha and Srihaan defeats Mortuza in round 4
There was at least two easy ways for White to get a draw here. However, Sudipa blundered checkmate in one move due to time pressure.
Among other upsets of round 4:
Mortuza Mahathir Islam (1614, BAN) lost to AGM Srihaan Poddar (1383, PHI)
Rajarshi Mondal (1569) drew with Debaprabho Gorai (1295)
Jyotisko Sengupta (1235, IND) drew with Sadnan Hasan Dihan (1944, BAN)
Ujaan Bhattacharya (1179) drew with Arijit Mukherjee (1566)
Kazi Zarin Tasnim (1627) drew with Debapriya Manna (1144)
Srihaan Poddar defeats Soyamsree Mohanty in round 5 and joins the leaders
Among other upsets in round 5:
Soham Bhattacharyya (1290) drew with Rajarshi Mandal (1569)
Alekhya Mukhopadhyay (1617) drew with Sankalan Shah (1314)
Soumalyo Mondol (1298) drew with Mortuza Mahathir Islam (1614)
Soham Pal (1554) lost to Ayantika Das (1261)
Subhabrata Roy (1525) drew with Sayan Biswas (1252)
Photo Gallery: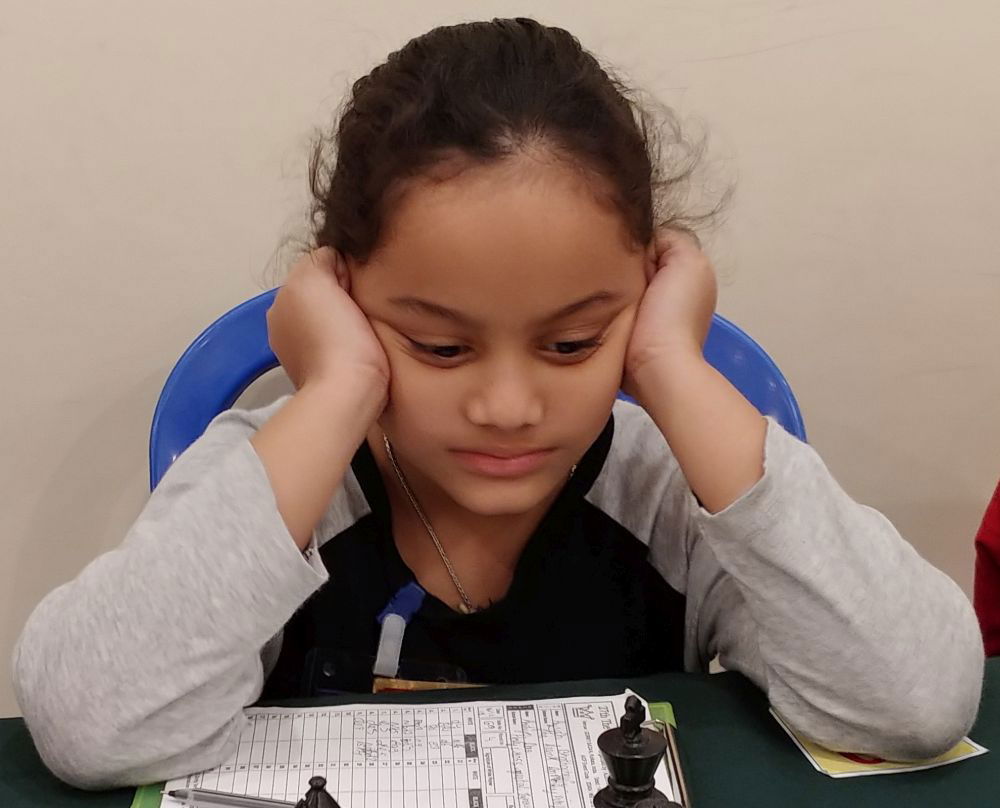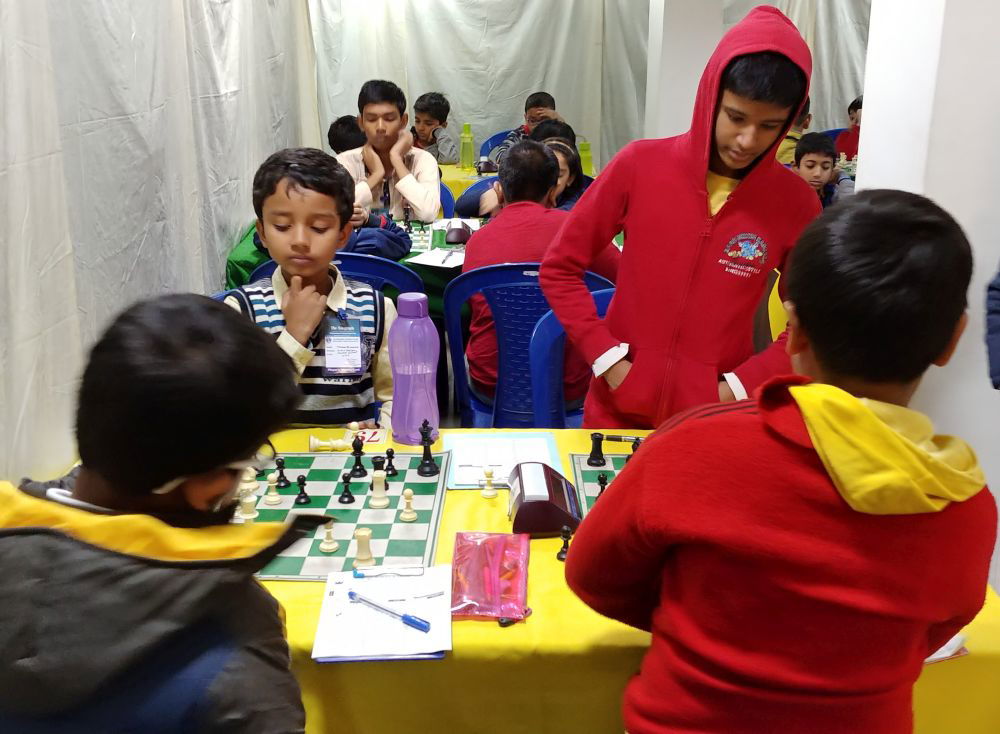 Round 5 results
Round 6 pairings
---