Utsab Chatterjee and Samriddhaa Ghosh are West Bengal State Senior 2022 champions
Top seed of the tournament, Utsab Chatterjee scored an unbeaten 7.0/8 to win West Bengal State Senior Open 2022. Arpan Das also finished with the same score 7.0/8. Utsab edged past Arpan due to better tie-breaks. Three players scored 6.5/8. They are - Arindam Mukherjee, Bishal Basak and Agnivo Chakraborty. They were placed third to fifth respectively according to tie-breaks. Samriddhaa Ghosh clinched the championship in the Women's category. She scored 6.0/8 and won her career's second State Women's title. Top three received, ₹12000 and a winner's trophy, ₹9000 and ₹7000 cash prize each respectively. Check out a detailed report of the tournament. Photo: Shahid Ahmed
Tournament favorites finish first
13-year-old Agnivo Chakraborty of Hooghly district was the youngest to finish among top ten. Samriddhaa Ghosh was the only woman to finish in top ten among women. Supriya Maji made a fantastic comeback after 12 years as she finished second in the women's category. Arnab Debnath and Rounaq Biswas were the massive rating gainer among top 15 apart from Agnivo.
Utsab scored a crucial victory in the fifth round against Arpan Das.
Arpan - Utsab, Round 5
Black was planning 20...Nxd4 followed by Ng3+ as eventually c5 discover attack will threaten both knights at d4 and a4. It is exactly what happened in the game after 20.g4 Nxd4 21.Nxd4 Ng3+ 22.Kg2 Nxf1 23.Bxf1 c5 and it's all over for White as he is down by an exchange without any compensation.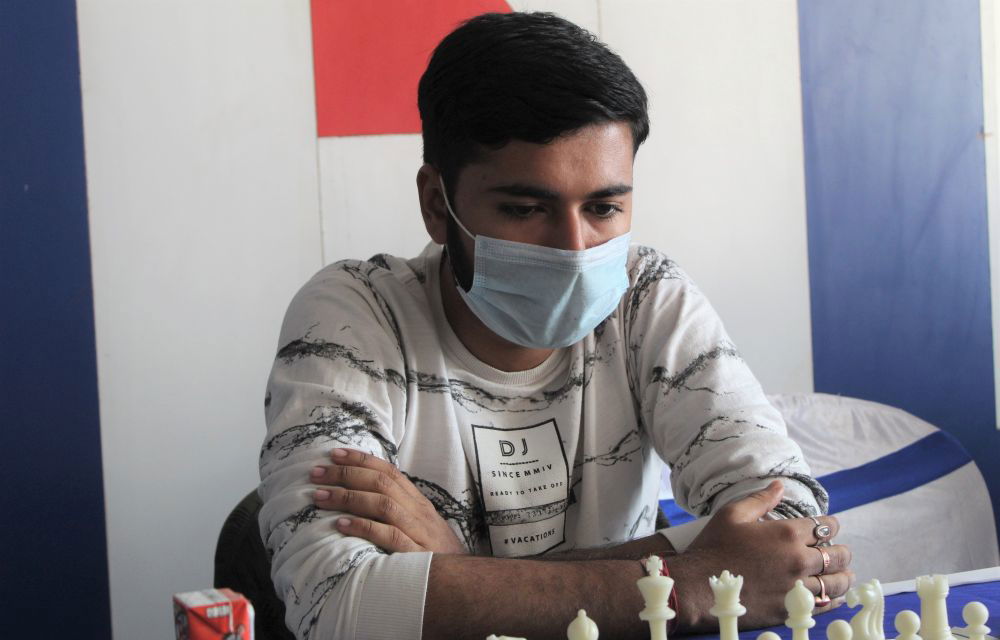 Previously Samriddhaa had won the West Bengal State Women in 2018. She started the year 2022 exactly the same way she ended 2021, by winning a tournament.
Supriya Maji played her first tournament since 2010. Despite starting with a loss, she managed to score 6.0/7 in the last seven games. Almost 12 years later, a second place finish in State Senior Women which was a combined event shows she still has the fighting spirit and can hang with the younger ones.
Arindam Mukherjee is so much revered that apart from the champion, he was the only player who received his prize from both West Bengal's first and second GM in history. The last time he played a West Bengal State Senior championship is 2008 which he won. 14 years later he played the same event and managed to secure a podium finish. Over the last two years he has played over 18000 online games in various online chess platforms.
Sneha also had to fight hard against Saparya Ghosh which also saw an interesting Queen endgame. Saparya forced Sneha to play correctly till the very end to earn her full point.
Saparya - Sneha, Round 8
Both sides have launched a strong attack on their opponent, eventually Black managed to prevail.
Bishal Basak (1755) was cruising towards victory in the penultimate round against Soham Dey (1979). Then something unexpected happened.
Soham - Bishal, Round 7
The only thing that Black should not do here is 45...Bxb6. Unfortunately for Bishal, that is exactly what he played. Even 45...Rf2+ is winning for Black too.
The West Bengal State Amateur 2019 and Hooghly district 2018 winner managed to redeem himself in the final round as he fought for over four hours in a grueling battle against Rounak Guha Roy of Jalpaiguri district.
Bishal - Rounak, Round 8
It was an extremely complex and intriguing queen and two minor piece endgame. Four hours later when you have this endgame, moves are bound to get inaccurate as tiredness and fatigue set in. After 1...Qd7 2.Be7 was a better alternative than 2.Qb8. Few moves later, we got the following position: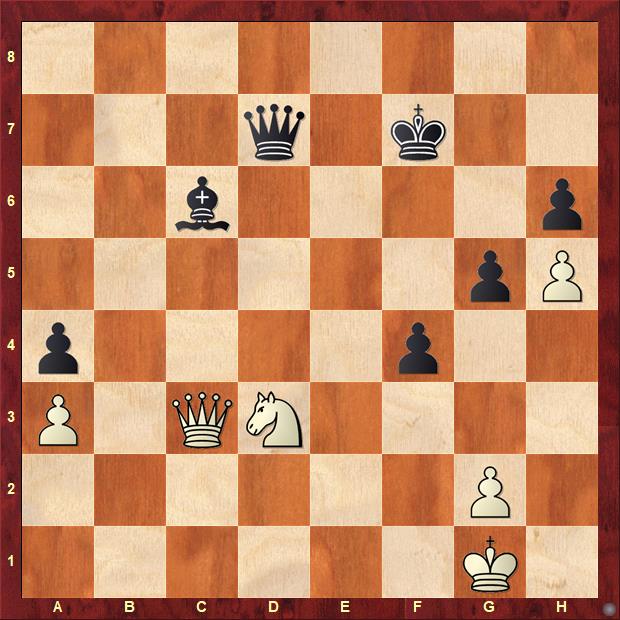 White is making the threat of Ne5 fork. Black could have saved the game numerous times, yet both side were playing for only result - win. Naturally an interesting fight ensued and it was a delight for the viewers present at the hall. Unfortunately for Black it ended in tragicomedy. It was almost like the universe was balancing things out in Bishal's misfortune of previous game stalemate.
Bristy Mukherjee won the West Bengal State Junior 2021 Girls this past December.
Agnivo Chakraborty scored 6.5/8 and gained 119.2 Elo rating points. His only loss was against the eventual runner-up Arpan Das in the second round. The 13-year-old boy from Hooghly district, fought for almost five hours to secure his victory against Rounak Pathak in an exciting rook and many pawn endings. The endgame even fascinated GM Surya Sekhar Ganguly who watched the entire endgame and later analyzed the ending with Rounak.
Agnivo - Rounak, Round 8
White has an outside passed pawn on the a-file which is not a big concern for Black because White has a couple of weaknesses at c3 and f2. Try to find out how should Black continue here and what he should not do.
Swapan Mitra has won West Bengal State Senior championship multiple times back in his days. The love for the game keeps him bringing to tournaments whenever he can. Almost over half a decade back during a State Senior championship, he got hurt by a flying part of a roof during a thunderstorm. He got his head bandaged at a hospital and next day he was seen in action without forfeiting a single game in that tournament. Yes that much he loves chess.
Photo Gallery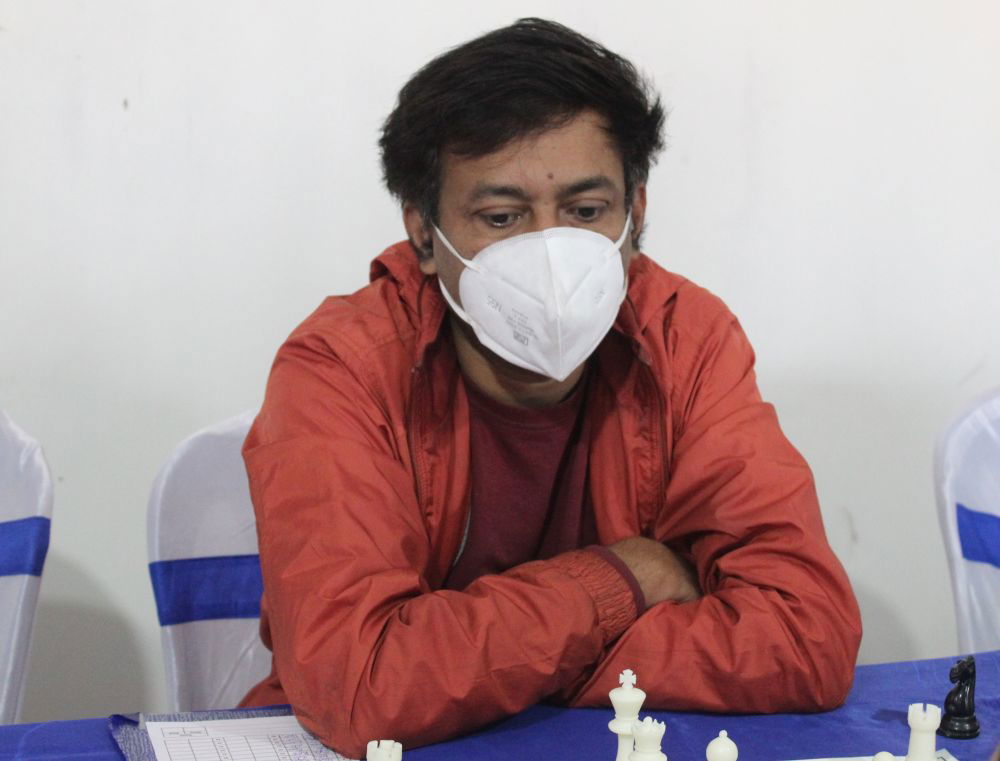 For more photos, please click here.
A total of 133 players from various districts across West Bengal took part in this eight-round Swiss League event. The tournament was organized by Sara Bangla Daba Sangstha at JT Aviation College in Kolkata, West Bengal from 13th to 16th February 2022. Total prize fund of the tournament was ₹115000 cash + trophies. Time control was 90 minutes each + 30 seconds increment from move no.1.
Final standings
| | | | | | | | | | | | | | | |
| --- | --- | --- | --- | --- | --- | --- | --- | --- | --- | --- | --- | --- | --- | --- |
| Rk. | SNo | | Name | Typ | sex | FED | Rtg | Club/City | Pts. | TB1 | TB2 | TB3 | TB4 | TB5 |
| 1 | 1 | | Utsab Chatterjee | | | IND | 2321 | Kolkata | 7,0 | 41,0 | 44,5 | 38,75 | 0,0 | 6 |
| 2 | 3 | | Arpan Das | | | IND | 2155 | Kolkata | 7,0 | 40,0 | 44,0 | 37,00 | 0,0 | 7 |
| 3 | 7 | | Arindam Mukherjee | | | IND | 2073 | North 24 Parganas | 6,5 | 39,5 | 44,0 | 35,25 | 0,0 | 5 |
| 4 | 13 | | Basak Bishal | | | IND | 1755 | Hooghly | 6,5 | 36,0 | 39,5 | 30,00 | 0,0 | 6 |
| 5 | 41 | | Agnivo Chakraborty | U14 | | IND | 1353 | Hooghly | 6,5 | 34,5 | 37,0 | 27,75 | 0,0 | 6 |
| 6 | 4 | | Anustoop Biswas | | | IND | 2126 | Kolkata | 6,0 | 42,5 | 46,0 | 28,75 | 0,0 | 5 |
| 7 | 8 | | Soham Dey | | | IND | 1979 | North 24 Parganas | 6,0 | 38,5 | 42,5 | 29,25 | 0,0 | 5 |
| 8 | 15 | | Rupam Mukherjee | | | IND | 1719 | Hooghly | 6,0 | 36,5 | 40,5 | 29,25 | 0,0 | 5 |
| 9 | 2 | | Kaustuv Kundu | | | IND | 2308 | Kolkata | 6,0 | 36,0 | 40,0 | 28,50 | 0,0 | 6 |
| 10 | 9 | | Ghosh Samriddhaa | | w | IND | 1910 | Kolkata | 6,0 | 36,0 | 39,5 | 29,25 | 0,0 | 5 |
| 11 | 5 | | Supriya Maji | | w | IND | 2093 | Howrah | 6,0 | 33,5 | 37,5 | 27,00 | 0,0 | 6 |
| 12 | 10 | | Bhattacharya Niladri Shekhar | | | IND | 1859 | Kolkata | 5,5 | 38,5 | 42,0 | 27,00 | 0,0 | 4 |
| 13 | 32 | | Arnab Debnath | | | IND | 1496 | North 24 Parganas | 5,5 | 38,5 | 41,0 | 23,25 | 0,0 | 5 |
| 14 | 54 | | Rounaq Biswas | | | IND | 1238 | North 24 Parganas | 5,5 | 37,0 | 41,0 | 26,25 | 0,0 | 5 |
| 15 | 14 | | Rounak Pathak | | | IND | 1732 | Kolkata | 5,5 | 36,5 | 41,0 | 27,00 | 0,0 | 4 |
---