Utsab and Sudipa are the 47th West Bengal State Junior Champions
Utsab Chatterjee scored an unbeaten 7.0/8 to win 47th State Junior open convincingly. Top seed and defending champion FM Rajdeep Sarkar also scored 7.0/8, but due to a lower tie-break score, he was placed second. Second seed Srijit Paul scored 6.5/8 and secured third position. Among the girls, Sudipa Haldar also scored an unbeaten 7.0/8 to become the champion. Both Sinthia Sarkar and Vedika Agarwal scored 6.5/8, however due to a better tie-break score, Sinthia finished second and Vedika at third position. Total 215 players from various district across the state of West Bengal including 169 in open and 46 girls participated in this four-day rating tournament. Photo: Shahid Ahmed
Parallel performance of unbeaten champions
Utsab Chatterjee's first State title was back in 2014 when he won State under-11 open. After that his major triumph was in 44th National Sub-Junior where he secured first runner-up position.
Here is an interview conducted with Utsab after his triumph
Utsab sent us an annotated game of his against Anish Rooj from round 5.
Sudipa had won State under-11 and State Sub-Junior girls before. Earlier this year she secured the first runner-up position in State Women's.
I caught up with Sudipa after she won almost a 4.5 hour long battle in her final round, must win game.
Here is her best game from the tournament annotated by Sudipa herself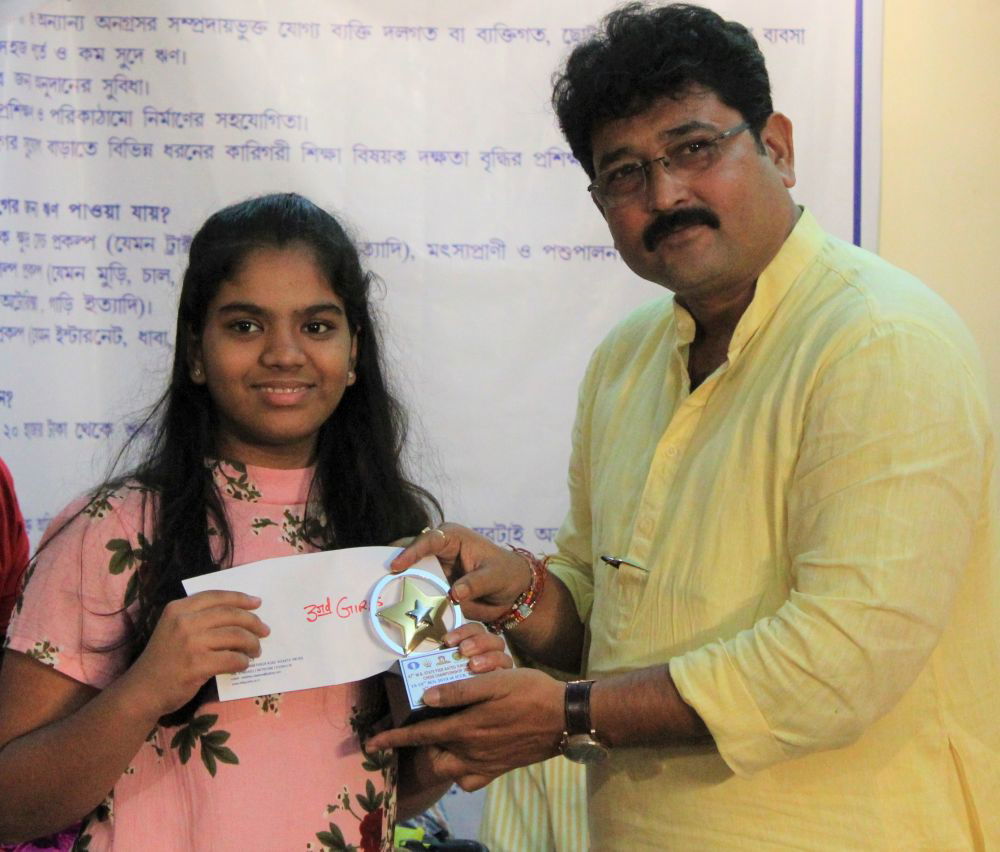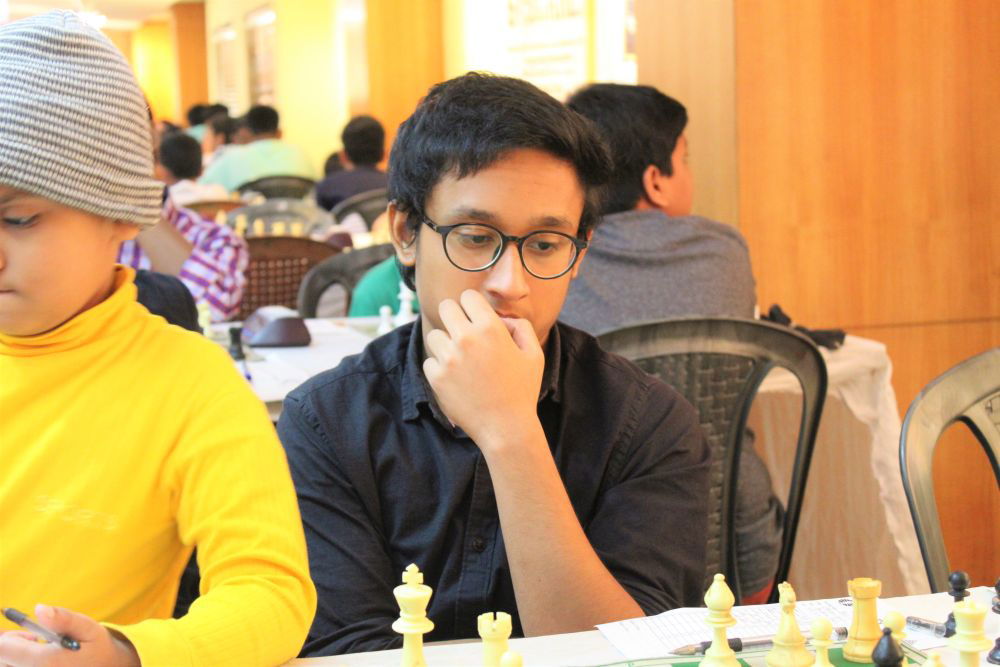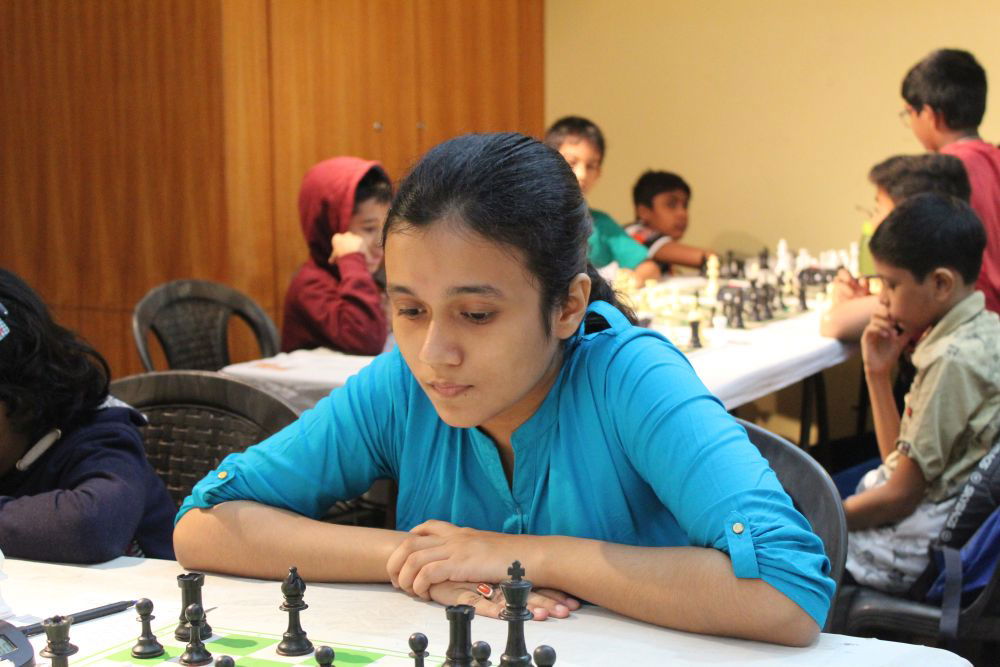 For more photos, click here.
Total 215 players from various district across the state of West Bengal including 169 in open and 46 girls participated in this four-day tournament from 15th to 19th August (16th August was a rest day), organized by 64 squares at ICCR Kolkata.
Final Standings in open
| | | | | | | | | | |
| --- | --- | --- | --- | --- | --- | --- | --- | --- | --- |
| Rk. | SNo | | Name | Typ | RtgI | Pts. | TB1 | TB2 | TB3 |
| 1 | 4 | | Utsab Chatterjee | | 2163 | 7,0 | 0,0 | 42,0 | 39,0 |
| 2 | 1 | FM | Rajdeep Sarkar | | 2367 | 7,0 | 0,0 | 39,5 | 36,5 |
| 3 | 2 | | Srijit Paul | | 2304 | 6,5 | 0,0 | 45,5 | 42,5 |
| 4 | 3 | | Subhayan Kundu | | 2280 | 6,5 | 0,0 | 42,5 | 39,5 |
| 5 | 5 | | Koustav Chakraborty | | 1943 | 6,5 | 0,0 | 42,0 | 38,0 |
| 6 | 8 | | Aditya Bikram Paul | U13 | 1811 | 6,5 | 0,0 | 41,5 | 38,5 |
| 7 | 21 | | Anish Rooj | | 1546 | 6,0 | 0,0 | 42,0 | 38,0 |
| 8 | 17 | | Subhadip Seth | | 1603 | 6,0 | 0,0 | 40,5 | 36,5 |
| 9 | 12 | | Pratyay Chowdhury | | 1651 | 6,0 | 0,0 | 40,5 | 36,5 |
| 10 | 9 | | Shuvam Roy | | 1705 | 6,0 | 0,0 | 40,0 | 36,5 |
| 11 | 27 | | Sayandeep Roy | | 1449 | 6,0 | 0,0 | 38,5 | 37,0 |
| 12 | 26 | | Soumalya Mondol | U13 | 1468 | 6,0 | 0,0 | 38,0 | 35,0 |
| 13 | 14 | | Anubhab Gupta | | 1616 | 6,0 | 0,0 | 37,5 | 34,0 |
| 14 | 15 | | Raghuraj Pratap Singh | | 1613 | 6,0 | 0,0 | 36,5 | 36,5 |
| 15 | 11 | | Soumyajit Das (Jr) | | 1664 | 6,0 | 0,0 | 36,5 | 34,5 |
| 16 | 32 | | Uddipan Roy | U11 | 1416 | 6,0 | 0,0 | 35,0 | 32,0 |
| 17 | 20 | | Tushar Barua | | 1552 | 5,5 | 0,0 | 42,0 | 39,0 |
| 18 | 10 | | Rounak Pathak | | 1700 | 5,5 | 0,0 | 41,0 | 38,5 |
| 19 | 18 | | Debargha Basu | | 1586 | 5,5 | 0,0 | 41,0 | 37,5 |
| 20 | 19 | | Eshan Bhattacharjee | U11 | 1553 | 5,5 | 0,0 | 40,5 | 37,0 |
Final Standings in girls
| | | | | | | | | | |
| --- | --- | --- | --- | --- | --- | --- | --- | --- | --- |
| Rk. | SNo | | Name | Typ | RtgI | Pts. | TB1 | TB2 | TB3 |
| 1 | 2 | | Sudipa Haldar | | 1624 | 7,0 | 0,0 | 42,0 | 39,0 |
| 2 | 6 | | Sinthia Sarkar | U13 | 1384 | 6,5 | 0,5 | 42,0 | 38,5 |
| 3 | 7 | | Vedika Agarwal | U13 | 1339 | 6,5 | 0,5 | 40,0 | 37,0 |
| 4 | 8 | | Tanisha Chatterjee | U13 | 1333 | 6,0 | 0,0 | 35,0 | 31,5 |
| 5 | 3 | | Ananya Bothra | | 1591 | 5,5 | 0,0 | 42,0 | 38,0 |
| 6 | 9 | | Arhana Kundu | | 1239 | 5,5 | 0,0 | 41,5 | 39,0 |
| 7 | 1 | | Diya Chowdhury | | 1756 | 5,5 | 0,0 | 40,0 | 36,0 |
| 8 | 5 | | Prateeti Gorai | | 1405 | 5,0 | 0,0 | 39,0 | 36,5 |
| 9 | 35 | | Kasturi Saha | U11 | 0 | 5,0 | 0,0 | 35,0 | 31,5 |
| 10 | 22 | | Adrija Sil | U09 | 0 | 5,0 | 0,0 | 34,0 | 32,0 |
| 11 | 4 | | Sneha Paul | | 1439 | 4,5 | 0,0 | 39,5 | 35,5 |
| 12 | 16 | | Samriddhi Roy | | 1036 | 4,5 | 0,0 | 36,0 | 33,0 |
| 13 | 11 | | Juhi Parekh | | 1156 | 4,5 | 0,0 | 36,0 | 32,5 |
| 14 | 25 | | Arhashirsha Biswas | U09 | 0 | 4,5 | 0,0 | 35,5 | 33,5 |
| 15 | 49 | | Udita Nath | U13 | 0 | 4,5 | 0,0 | 35,0 | 31,5 |
| 16 | 13 | | Raina Das Gupta | U13 | 1083 | 4,5 | 0,0 | 35,0 | 31,0 |
| 17 | 47 | | Sumedha Das | U13 | 0 | 4,5 | 0,0 | 33,0 | 32,5 |
| 18 | 12 | | Jagriti Agarwal | U11 | 1130 | 4,5 | 0,0 | 32,0 | 30,0 |
| 19 | 14 | | Oiendrila Bhattacharya | U11 | 1050 | 4,5 | 0,0 | 32,0 | 29,5 |
| 20 | 15 | | Disha Mundhra | | 1047 | 4,5 | 0,0 | 32,0 | 29,5 |
---