Praloy Sahoo victorious at 2nd DD-DBCA Rating Open 2022
Praloy Sahoo scored 8/9 and finished a half point ahead of the competition. He won his first tournament of the year 2nd DD-DBCA Open Rating. Arpan Das and reigning West Bengal State Rapid champion Subhayan Kundu scored 7.5/9 each. They secured second and third place according to tie-breaks. Total prize fund of the tournament was ₹200000. Top three prizes were ₹30000 and a trophy, ₹20000 and ₹15000 each respectively. This was the first Open Classical Rating tournament in West Bengal since the Covid-19 pandemic struck in 2020. A total of 181 players participated from various parts of the state. Photo: Shahid Ahmed
Top four seeds finishes in reverse order
GM Surya Sekhar Ganguly inaugurated the event, while GM Deep Sengupta was the Chief Guest at the Closing Ceremony.
Check out Praloy's win against the eventual runner-up Arpan Das from the seventh round which he analyzed in the video.
Shounak - Praloy, Round 9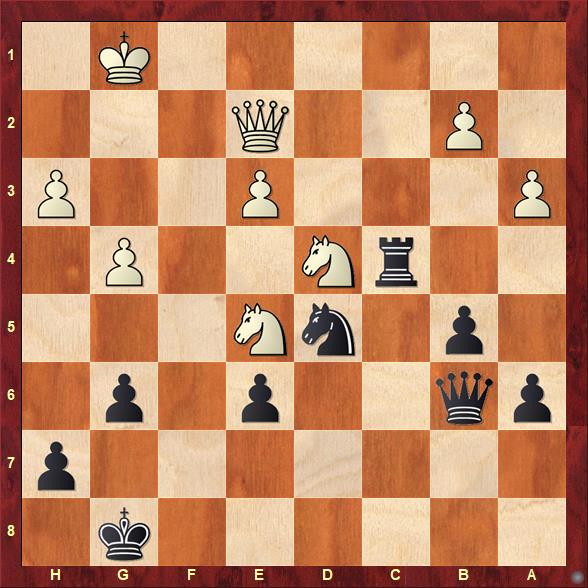 Find out the winning combination for Black.
Akash had a very good chance to beat Praloy in the penultimate round.
Praloy - Akash, Round 8
Black's rook at a3 seems to be trapped, however there is a nice tactic. Can you spot it? The game continued 32...Nc4+ 33.Bxc4 Raxc3 34.Bd3 Qg7 35.e5 Nxe5 36.Kxc3 Nxd3+ 37.Kc4 b5+ 38.Kd5 and Black was presented with one final opportunity.
The finish is not easy to spot, however, Black is completely winning here. Try to find out the correct continuation for Black after 39.Kd5.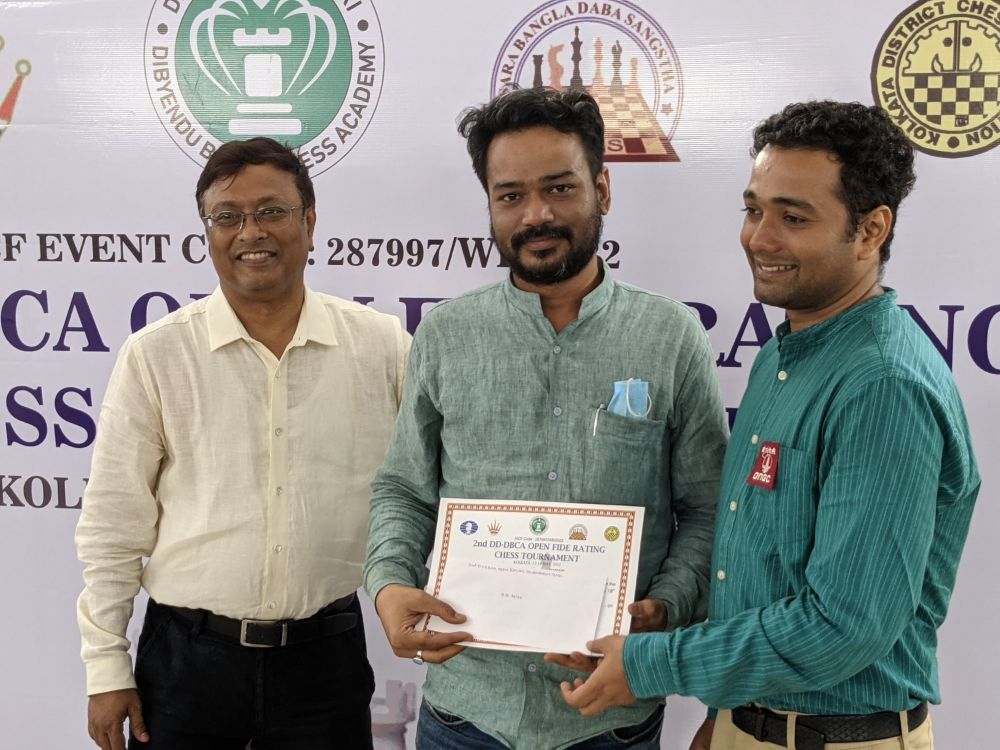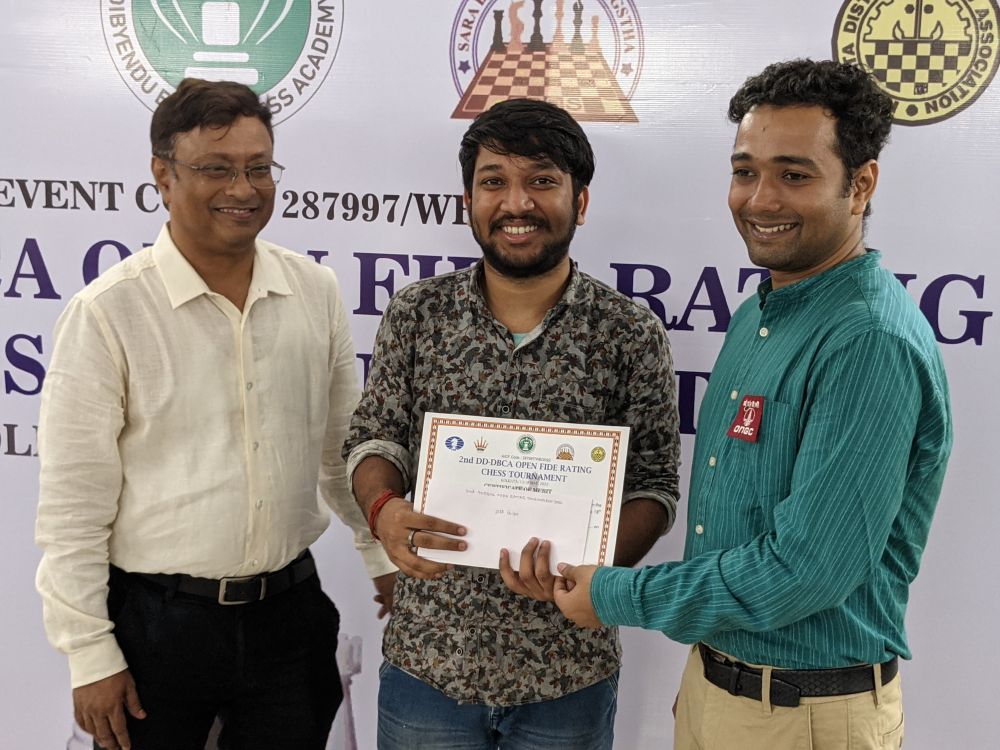 For more photos, please click here.
A total of 181 players participated from various districts across West Bengal in this first Open Classical Rating tournament in the state in over two years since Covid-19 pandemic started in 2020. The event was organized by and at Dhanuka Dhunseri Dibyendu Barua Chess Academy, Kolkata, West Bengal from 13th to 18th May 2022. The time control of the tournament was 90 minutes + 30 seconds increment from move no.1.
Final Standings
| | | | | | | | | | | | | | |
| --- | --- | --- | --- | --- | --- | --- | --- | --- | --- | --- | --- | --- | --- |
| Rk. | SNo | | Name | Typ | sex | Gr | FED | Rtg | RtgN | Pts. | TB1 | TB2 | TB3 |
| 1 | 4 | | Praloy Sahoo | | | | IND | 2065 | 0 | 8,0 | 52,5 | 53,0 | 46,50 |
| 2 | 3 | | Arpan Das | | | | IND | 2093 | 0 | 7,5 | 53,0 | 58,0 | 46,25 |
| 3 | 2 | | Subhayan Kundu | | | | IND | 2323 | 0 | 7,5 | 52,0 | 54,5 | 44,00 |
| 4 | 1 | | Kaustuv Kundu | | | | IND | 2327 | 0 | 7,0 | 54,0 | 55,5 | 41,25 |
| 5 | 9 | | Akash Tiwari | | | | IND | 1730 | 0 | 7,0 | 49,5 | 53,0 | 38,25 |
| 6 | 11 | | Ritabrata Chakraborty | | | | IND | 1639 | 0 | 7,0 | 46,5 | 50,5 | 37,00 |
| 7 | 10 | | Shounak Mazumder | | | | IND | 1709 | 0 | 6,5 | 51,0 | 55,0 | 36,50 |
| 8 | 5 | | Nath Rupankar | | | | IND | 2023 | 0 | 6,5 | 50,5 | 52,5 | 34,75 |
| 9 | 6 | | Koustav Chakraborty | | | | IND | 1945 | 0 | 6,5 | 49,0 | 52,0 | 34,25 |
| 10 | 19 | | Mayukh Majumder | U10 | | | IND | 1406 | 0 | 6,5 | 47,5 | 49,5 | 32,00 |
| 11 | 161 | | Shrutartha Maiti | | | | IND | 0 | 0 | 6,5 | 46,5 | 51,5 | 37,25 |
| 12 | 58 | | Agnim Dutta | | | | IND | 1162 | 0 | 6,5 | 42,5 | 46,0 | 33,00 |
| 13 | 12 | | Shuvam Roy | | | | IND | 1580 | 0 | 6,0 | 49,5 | 54,0 | 34,25 |
| 14 | 8 | | Rupam Mukherjee | | | | IND | 1768 | 0 | 6,0 | 48,0 | 52,0 | 32,00 |
| 15 | 23 | | Venkatesh H | | | | IND | 1379 | 0 | 6,0 | 47,5 | 52,5 | 33,50 |
| 16 | 29 | | Shourya Paul | | | | IND | 1332 | 0 | 6,0 | 47,0 | 50,5 | 29,75 |
| 17 | 7 | | Basak Bishal | | | | IND | 1855 | 0 | 6,0 | 47,0 | 50,0 | 31,00 |
| 18 | 36 | | Shreyas Bhowmik | | | | IND | 1301 | 0 | 6,0 | 47,0 | 50,0 | 29,50 |
| 19 | 47 | | Ahanjit Banerjee | | | | IND | 1229 | 0 | 6,0 | 46,5 | 50,0 | 30,25 |
| 20 | 28 | | Soureen Bhattacharya | | | | IND | 1342 | 0 | 6,0 | 46,0 | 49,0 | 28,50 |
---