Diptayan wins New Year Open 2019
GM Diptayan Ghosh wins New Year Open 2019 at Outram Club in Kolkata by scoring 7.0/8, finishing a half point ahead of the pack of four players. 13-year old Arya Bhakta was the surprise of the tournament as he defeated IM Suvrajit Saha, GM Neelotpal Das and drew with IM Somak Palit in the penultimate round to secure 2nd position due to a better tie-break score. Another untitled player, Arindam Mukherjee secured 3rd position by scoring also 6.5/8. He scored a fine win over FM Mitrabha Guha in round 5. Former National Rapid Champion GM Neelotpal Das who was one of the Chief Guests last year, participated in this edition and secured 6th position. Photo: Shahid Ahmed
Diptayan dominates despite starting with a draw
Top seed of the tournament Diptayan had a rocky start as he was held by 14-year old Sourath Biswas to a draw in the first round.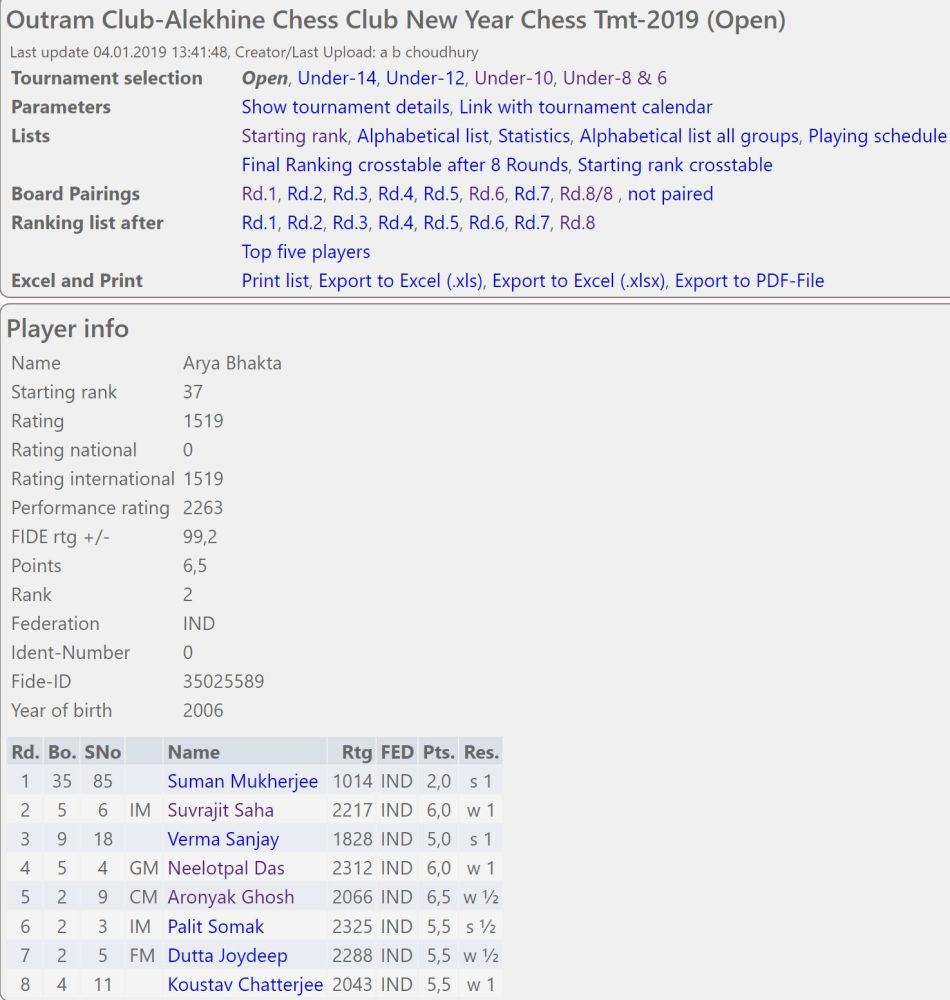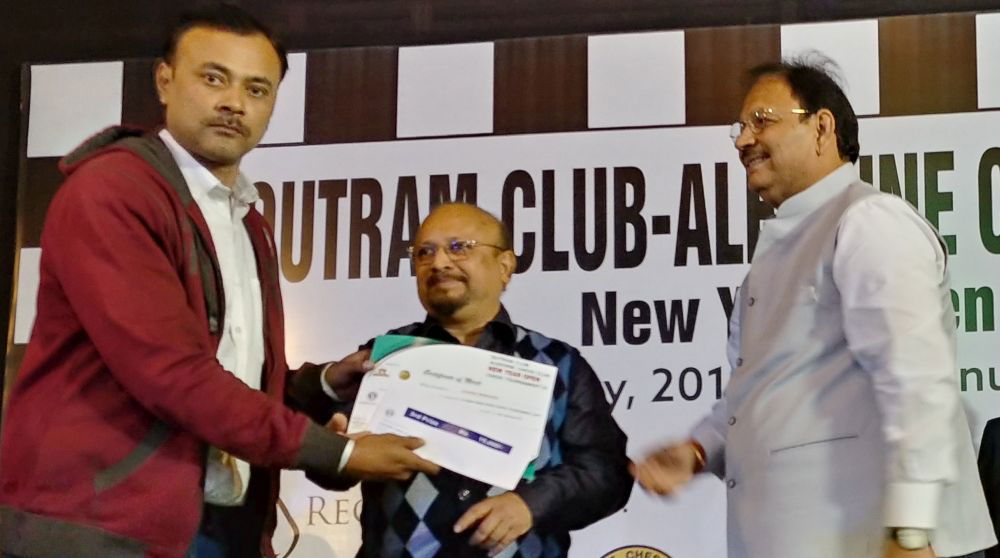 Arindam had luck on his side from round 2 as he defeated Bristy Mukherjee in an equal Opposite Color Bishop endgame.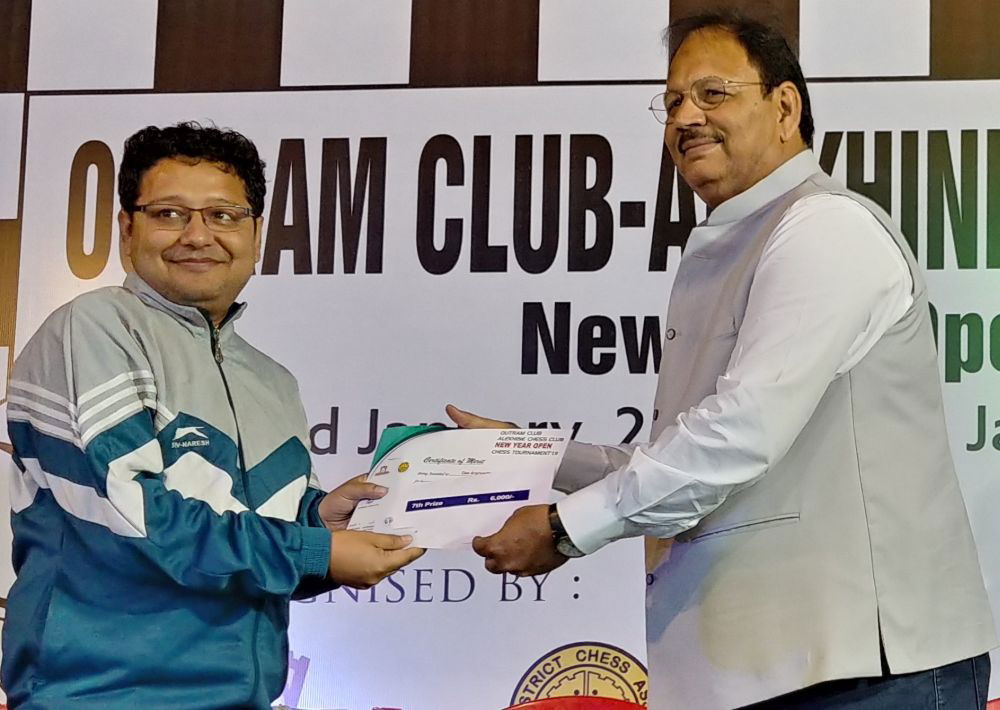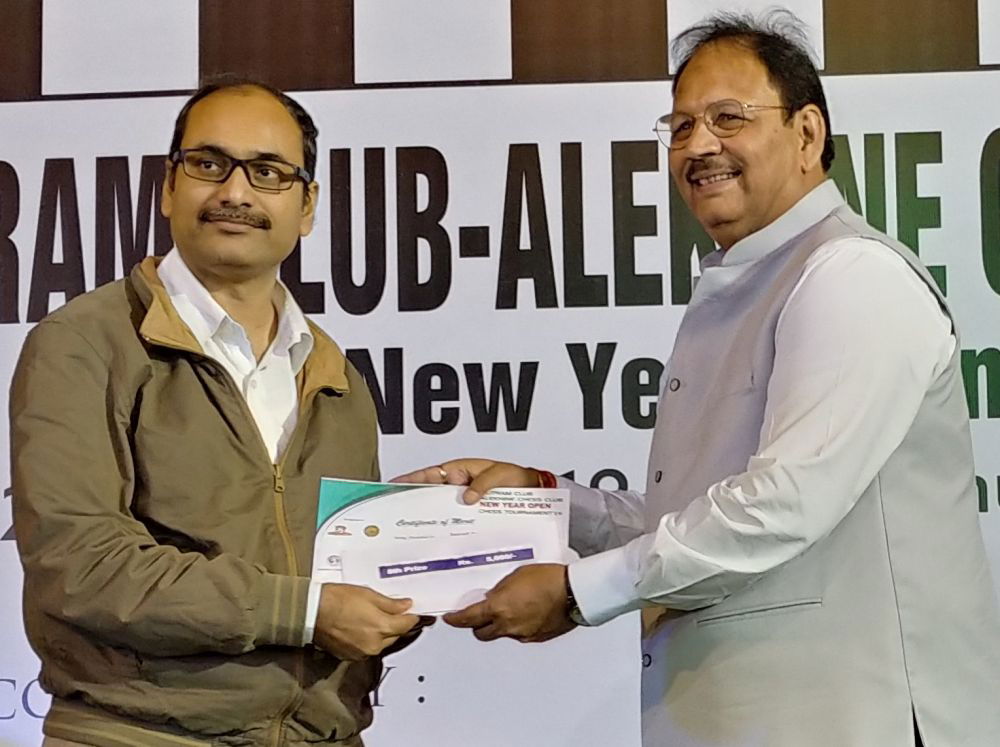 For more Prize Distribution Ceremony photos, visit here.
Photo Gallery: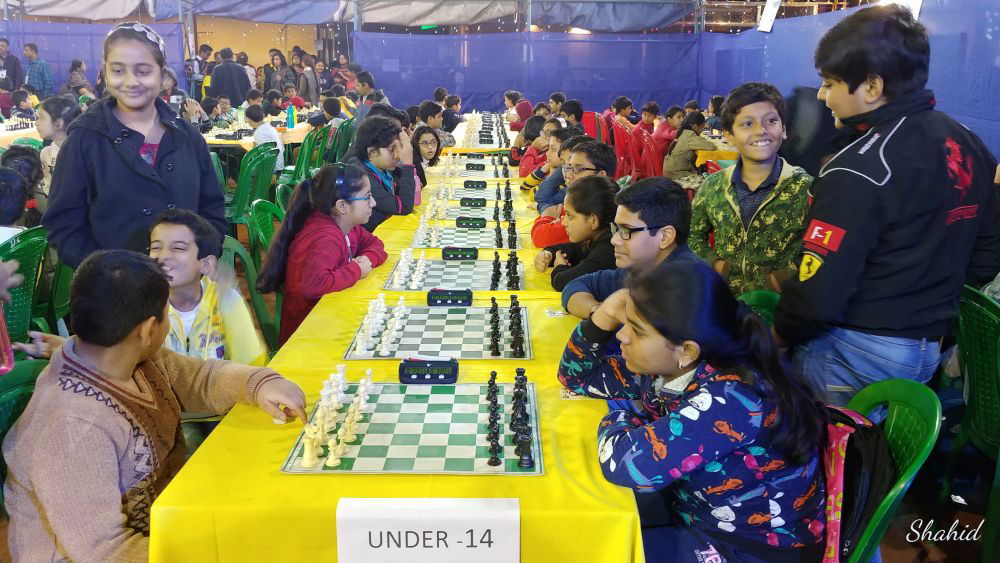 Video Gallery:
The tournament witnessed the participation of over 310 players from various districts across the state of West Bengal. Alekhine Chess Club and Outram Club jointly organized this event at Outram Club, Kolkata from 2nd - 4th January 2019 for the second consecutive year.
Final Standings in the Open category:
| | | | | | | | | | | | | | |
| --- | --- | --- | --- | --- | --- | --- | --- | --- | --- | --- | --- | --- | --- |
| Rk. | SNo | | Name | Typ | sex | FED | Rtg | Pts. | TB1 | TB2 | TB3 | TB4 | TB5 |
| 1 | 1 | GM | Ghosh Diptayan | | | IND | 2521 | 7,0 | 0,0 | 36,0 | 39,5 | 34,50 | 6 |
| 2 | 37 | | Arya Bhakta | | | IND | 1519 | 6,5 | 0,0 | 40,0 | 41,5 | 33,25 | 5 |
| 3 | 7 | | Arindam Mukherjee | | | IND | 2120 | 6,5 | 0,0 | 38,5 | 42,5 | 33,50 | 6 |
| 4 | 9 | CM | Aronyak Ghosh | | | IND | 2066 | 6,5 | 0,0 | 38,5 | 42,5 | 32,25 | 5 |
| 5 | 12 | FM | Mitrabha Guha | | | IND | 2036 | 6,5 | 0,0 | 34,5 | 37,5 | 27,25 | 6 |
| 6 | 4 | GM | Neelotpal Das | | | IND | 2312 | 6,0 | 0,0 | 34,5 | 37,0 | 26,75 | 5 |
| 7 | 2 | IM | Das Arghyadip | | | IND | 2365 | 6,0 | 0,0 | 34,0 | 37,5 | 25,50 | 6 |
| 8 | 6 | IM | Suvrajit Saha | | | IND | 2217 | 6,0 | 0,0 | 34,0 | 37,0 | 26,50 | 6 |
| 9 | 11 | | Koustav Chatterjee | | | IND | 2043 | 5,5 | 0,0 | 40,5 | 44,0 | 26,25 | 5 |
| 10 | 3 | IM | Palit Somak | | | IND | 2325 | 5,5 | 0,0 | 40,0 | 44,0 | 28,50 | 4 |
| 11 | 5 | FM | Dutta Joydeep | | | IND | 2288 | 5,5 | 0,0 | 35,0 | 38,5 | 25,00 | 4 |
| 12 | 24 | | Saptorshi Gupta | | | IND | 1688 | 5,5 | 0,0 | 34,5 | 37,5 | 22,25 | 4 |
| 13 | 19 | | Suvradeepta Das | | | IND | 1827 | 5,5 | 0,0 | 34,5 | 36,5 | 20,75 | 5 |
| 14 | 21 | | Sarbojit Paul | | | IND | 1783 | 5,5 | 0,0 | 34,0 | 36,5 | 22,50 | 4 |
| 15 | 13 | | Bhattacharya Niladri Shekhar | | | IND | 2015 | 5,5 | 0,0 | 33,5 | 36,5 | 23,00 | 4 |
| 16 | 14 | | Anurag Jaiswal | | | IND | 2003 | 5,5 | 0,0 | 33,0 | 36,0 | 24,25 | 4 |
| 17 | 22 | AGM | Shahid Ahmed S.K. | | | IND | 1758 | 5,0 | 0,0 | 36,0 | 39,0 | 21,50 | 4 |
| 18 | 43 | | Ayan Pal | | | IND | 1448 | 5,0 | 0,0 | 36,0 | 37,5 | 21,50 | 4 |
| 19 | 10 | | Debasish Mukherjee | | | IND | 2056 | 5,0 | 0,0 | 35,5 | 39,0 | 22,00 | 3 |
| 20 | 25 | | Arpan Das (Jr) | | | IND | 1676 | 5,0 | 0,0 | 35,0 | 38,5 | 23,50 | 4 |
Related article:
Kaustuv Kundu won the inaugural New Year Open 2018

---