Diptayan Ghosh wins Professor Lim Kok Ann Open 2023
GM Diptayan Ghosh, GM Vladislav Artemiev and IM Medina Warda Aulia (INA) scored 7.5/9 each at Professor Lim Kok Ann International Open 2023. Diptayan won the tournament due to better tie-breaks. Artemiev and Medina were adjudged second and third. The seventh round encounter between Diptayan and Artemiev ended in a draw. They both remained undefeated. Eight players scored 7/9. Out of them, GM Srinath Narayanan and IM Ravi Teja S were the only two Indians to make a top ten finish. They were placed eighth and tenth respectively. The total prize fund of the tournament was over SGD 25000. The top three prizes were SGD 4000, 3000 and 2500 along with a trophy each respectively. This is Diptayan's third triumph of the year. He won approx. ₹245196 as his first prize. Photos: Bob Haw/Singapore Chess Federation
Ravi Teja S finishes third in Blitz
The second edition of SG Chess Festival had four tournaments - Classical, Rapid, Blitz and Team Rapid tournaments. That's not all. There were - Blindfold Simultaneous Exhibition and Grandmaster lectures too. The four tournaments witnessed a combined total of nearly 800 participants and prizes worth about SGD 33000 were up for grabs. GM Diptayan Ghosh and GM Vladislav Artemiev were in the lead 7/8, heading into the last round. IM Ravi Teja S held Artemiev and Diptayan drew with GM Zong-Yuan Zhao (AUS). IM Medina Warda Aulia (INA) defeated IM Siddharth Jagadeesh (SGP) to end up with the same score 7.5/9 as Artemiev and Diptayan. Diptayan was declared the champion due to better tie-break score.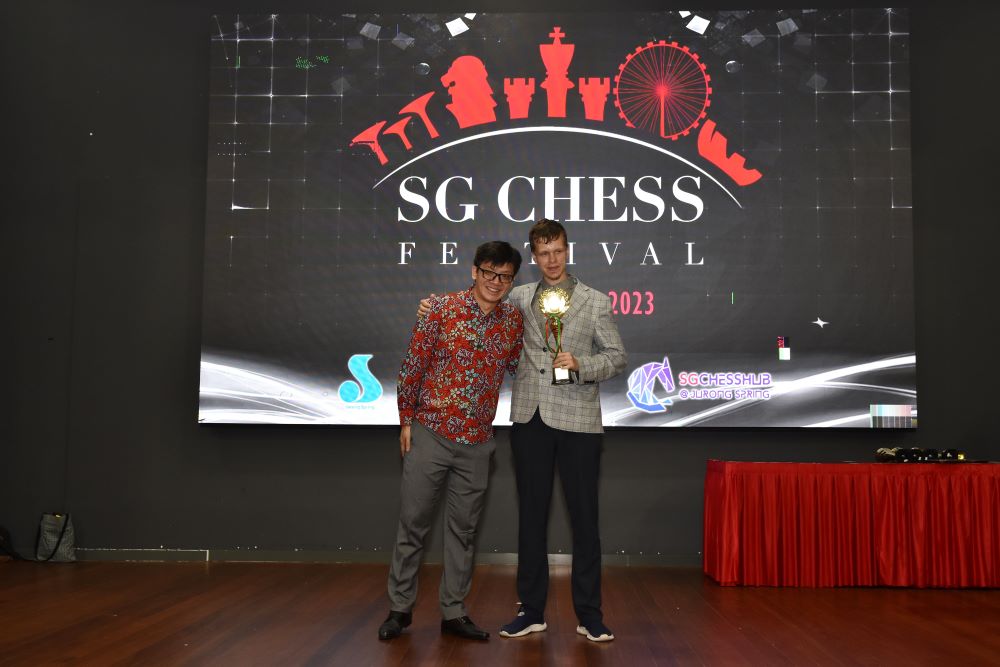 On 4th June, MP Mr Shawn Huang was the Guest of Honor at the Opening Ceremony of the SG Chess Festival 2023. The festival was possible with his support along with the team behind Jurong Spring Community Club. Many friends and contemporaries of Professor Lim Kok Ann, including his daughters Stella Kon and Lim Sing Yuen, were also in attendance.
Andrew Tan Chong Hien became the sole player to draw against GM Timur Gareyev in the Blindfold Simultaneous Exhibition games.
Blitz
GM Srinath Narayanan and IM Ravi Teja S were the only two Indians to qualify to the Knockout stage. They both secured a top eight finish in the qualifiers. Srinath lost to the eventual champion, GM Vladislav Artemiev 0.5-1.5 in the Quarterfinals. Ravi defeated Singapore no.2 and CEO of Singapore Chess Federation, GM Kevin Goh Wei Ming, 1.5-0.5 in the Quarterfinals. He lost the Semifinal against Artemiev 2-0. Ravi secured third place as IM Siddharth Jagadeesh (SGP) finished lower (seventh) than Ravi (fifth) in the Blitz Qualifiers. The top three prizes were SGD 500, 400 and 300 along with a trophy each respectively.
For more photos, please click here.
A total of 173 players including 11 GMs, 7 IMs, a WGM and 2 WIMs took part from 17 countries across the world in this seven-day nine-round Swiss league Rating tournament which was organized by Singapore Chess Federation at Jurong Spring Community Club in Singapore from 5th to 11th June 2023. The time control for the tournament was 90 minutes + 30 seconds increment from move no.1.
Final standings
| | | | | | | | | | | | | | | |
| --- | --- | --- | --- | --- | --- | --- | --- | --- | --- | --- | --- | --- | --- | --- |
| Rk. | SNo | | | Name | Typ | sex | FED | Rtg | Pts. | TB1 | TB2 | TB3 | TB4 | TB5 |
| 1 | 3 | | GM | Ghosh, Diptayan | | | IND | 2565 | 7,5 | 0 | 53,5 | 58 | 47,25 | 40,5 |
| 2 | 1 | | GM | Artemiev, Vladislav | | | FID | 2699 | 7,5 | 0 | 53 | 58,5 | 48,25 | 40 |
| 3 | 17 | | IM | Aulia, Medina Warda | | w | INA | 2349 | 7,5 | 0 | 48 | 52 | 41,50 | 36,5 |
| 4 | 7 | | GM | Zhao, Zong-Yuan | | | AUS | 2487 | 7 | 0 | 52 | 57 | 42,75 | 39,5 |
| 5 | 2 | | GM | Gareyev, Timur | | | USA | 2590 | 7 | 0 | 51 | 55,5 | 42,00 | 37 |
| 6 | 19 | | IM | Paciencia, Enrique | Vet | | SGP | 2278 | 7 | 0 | 49,5 | 54,5 | 40,75 | 36,5 |
| 7 | 10 | | GM | Munkhgal, Gombosuren | | | MGL | 2463 | 7 | 0 | 49 | 53,5 | 39,75 | 36,5 |
| 8 | 4 | | GM | Narayanan, Srinath | | | IND | 2559 | 7 | 0 | 47,5 | 52,5 | 39,25 | 35,5 |
| 9 | 5 | | GM | Smerdon, David C | | | AUS | 2492 | 7 | 0 | 47,5 | 52 | 39,50 | 34,5 |
| 10 | 11 | | IM | Ravi, Teja S. | | | IND | 2453 | 7 | 0 | 47,5 | 52 | 38,75 | 37 |
Links
Singapore Chess Federation: Official site, fb page
---