Diptayan, Aravindh and Rathnakaran are the winners of Vishy Anand 49 Online Blitz 2018
For the first time ever in ChessBase Online Blitz tournament history, over 200 players participated including 14 GMs and 23 IMs. The tournament ended up in a three-way tie among the champions, between the last edition Guj-Goa Online Blitz winner GM Diptayan Ghosh, newly crowned National Champion GM Aravindh Chithambaram and super strong IM Rathnakaran K. There were special prize of signed copies of Anand's My Career DVDs, vol. 1 and 2 for Best female which was won by Vasudharini Kesavan and vol.1 for Best Junior won by CM Aronyak Ghosh. In this report we bring you some of the best games from the tournament. Photo: Shahid Ahmed and Amruta Mokal
Vishy Anand 49 Online Blitz breaks all previous records
Even after 10 rounds of blitz, there could not be a sole leader, thus for the first time ever, three players finished at the exact same score, resulting in not two but three joint winners. We couldn't have expected anything more in a tournament which commemorated Vishy Anand's 49th birthday.
Diptayan's best game was against Pranav V. Even before the mouse slip he had a decisive advantage.
In a rematch from the final round of National Open Senior Championship 2018, Aravindh (Refresh) defeated the runner-up of the Nationals, IM C R G Krishna (Crg) with the Black pieces.
IM Rathnakaran's win over GM Karthikeyan Murali (Fighter64) in the 7th round was not only Rathnakaran's best game but also arguably the best game of the tournament.
To understand how fast Pragg and his opponent Rathnakaran played this game, they used lots of premoves, thus resulting in spending only 2 seconds to make 17 moves between move no. 50 and 66. Here is the entire game:
Gukesh's best win in the tournament was against GM R Praggnanandhaa in the 7th round.
Srinath had a very sharp game against GM B Adhiban in the final round of the tournament.
GM Erigaisi Arjun defeated GM R Praggnanandhaa in the 5th round of the tournament in a Bishop vs. Knight endgame.
Karthikeyan drew with Adhiban in the sixth round in a threefold repetition.
Abhimanyu (Pabh) finished the tournament by defeating GM Deepan Chakkravarthy (Dchakkravarthy) in the final round.
Adhiban (Phoenix92) scored a fine win over GM Deepan Chakkravarthy (Dchakkravarthy) in the 4th round.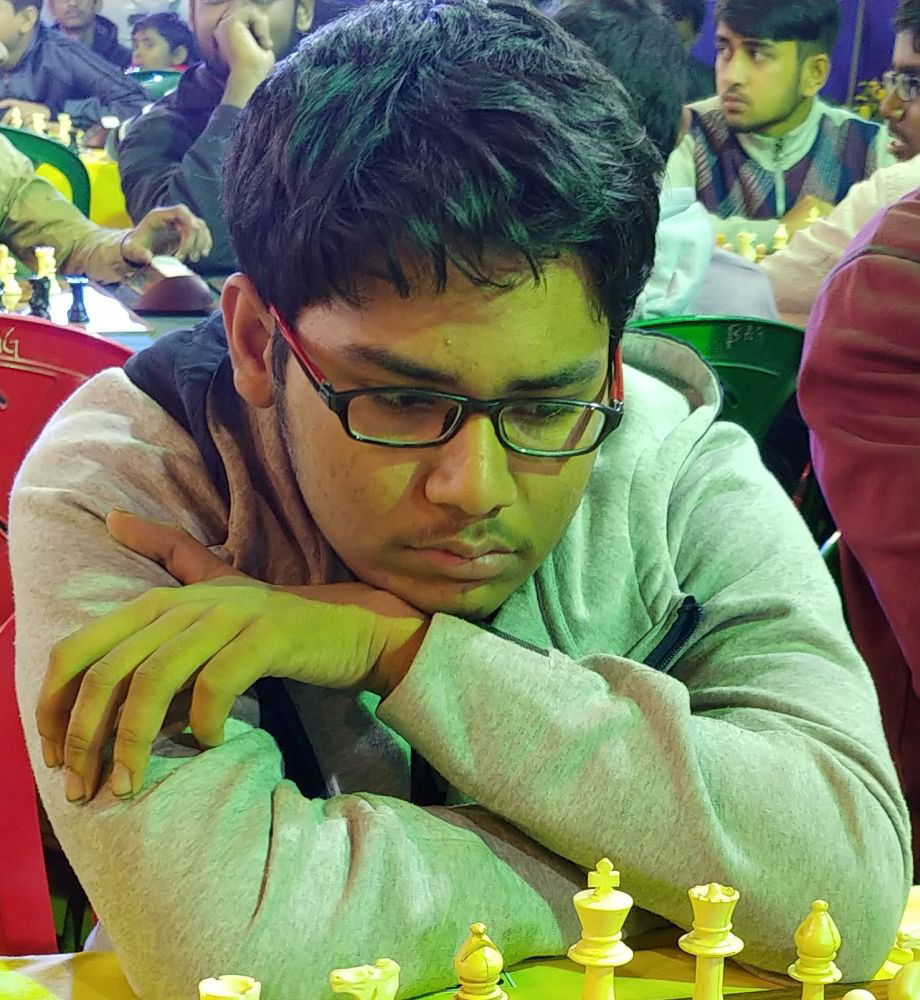 Aronyak (STRANGE) scored an emphatic victory over IM Dhulipalla Bala Chandra Prasad in round 9.
Vasudharini Kesavan (vasu) scored 7.0/10 and secured the Best Female prize.
Main Prize winners:
| | | | |
| --- | --- | --- | --- |
| 1 | GM Diptayan Ghosh | 8.5 | ₹9333.33 |
| 1 | GM Aravindh Chithambaram | 8.5 | ₹9333.33 |
| 1 | IM Rathnakaran K | 8.5 | ₹9333.33 |
| 4 | GM R Pragnnanandhaa | 8 | ₹5000 |
| 5 | IM D Gukesh | 8 | ₹3000 |
| 6 | GM Srinath Narayanan | 7.5 | ₹2000 |
| 7 | GM Erigaisi Arjun | 7.5 | ₹1750 |
| 8 | GM Karthikeyan Murali | 7.5 | ₹1400 |
| 9 | GM Abhimanyu Puranik | 7.5 | ₹1250 |
| 10 | GM B Adhiban | 7.5 | ₹1000 |
Special Prize winners:
| | | | |
| --- | --- | --- | --- |
| Best Junior | CM Aronyak Ghosh | 7.5 | Signed Vol.1 of Vishy Anand - My Career |
| Best Female | Vasudharini Kesavan | 7.0 | Signed Vol.1+2 of Vishy Anand - My Career |
Lucky Prize winners:
| | | | |
| --- | --- | --- | --- |
| 20 | IM Raja Rithvik R | 7 | ₹800 |
| 30 | IM Raja Harshit | 6.5 | ₹800 |
| 40 | FM L R Srihari | 6 | ₹800 |
| 50 | K Sarath Chandra | 6 | ₹800 |
| 60 | IM Ravi Teja S | 5.5 | ₹800 |
| 70 | Baivab Mishra | 5.5 | ₹800 |
| 80 | Bhoopnath | 5 | ₹800 |
Reviews from the participants:
IM Ravi Teja

Though i lost many games with silly blunders,playing the event against all my fellow mates was full of fun...Hope you conduct such events on regular basis instead of occasionally.

GM Stany GA

This was my first online tournament in play chess and it was a great fun. The tournament was well conducted and there were no confusions. It was good to see so many IMs and GMs taking part in it.Overall I enjoyed the experience and I hope to take part in more Chessbase India online tournaments.

IM D. Gukesh

Thanks ChessBase India for the opportunity to play strong online blitz tournament. I thoroughly enjoyed it and was very eager to play despite being tired after just arriving home from Spain at around 5 p.m. Loved the way it was smoothly organised as always and would be glad if it's regularly and frequently conducted.

GM Arjun Erigaisi

I would like to thank ChessBase India for organizing such an amazing event. I enjoyed playing the tournament. Hope to see many more such events in the future and would be definitely very keen in participating.

GM Abhimanyu Puranik

The tournament was well conducted and there were no hitches in between. The playing field was also quite strong and I felt refreshed after playing the event.

GM Srinath Narayanan

The tournament went smoothly and I thoroughly enjoyed it. Although I feel slightly disappointed with my play, I had a lot of fun nevertheless.

IM Arghyadip Das

I had a nice time. Thanks ChessBase India and TD Shahid for conducting this event in mass scale successfully. Hope you will conduct this kind of mega event in future also.

IM Akash PC Iyer

I was thoroughly impressed by the smooth manner in which the event was conducted. I haven't used playchess, but the instructions were clear and very easy for me to understand, which made my participation easier. It really felt like a real blitz event with all the participants joining in. I really liked the gong sound before the round starts. Kudos to ChessBase India for conducting such an amazing event. Hope we get more like this in the future.




IM R. Praggnanandhaa

I really enjoyed tournament. and hope to play more tournaments in the future.

IM Raghunandan KS

Thanks a lot. It was my first online tournament, the tournament was conducted very well and I did not really have any problems, the only thing was that it would probably be much better with Fide ratings as many players are new to Playhess and have very low ratings, but overall a very nice experience. Hope to play more events like this in the future.

IM Nubairshah Shaikh

It was pleasent experience playing CB India online event, as usual. However, I would like to suggest 2 things.

1. Time control of 3+2. ( coz we all used to this and it's standard time control for all blitz championships. )

2. Change in tiebreak system. Maybe things like Direct Encounter , No of victories or Buchholz will add more fun and would be more fair.

IM Himal Gusain

The organizing team was very helpful, any query was answered quickly, rounds took place swiftly on time. The playing field was strong. I wish you guys will keep on increasing the prize money and the frequency of the events gradually. Good luck. See you in the next event :)

IM Rithvik Raja

It has been an exhilarating experience for me to participate in the Vishy Anand 49 Online Blitz Tournament 2018 conducted on the auspicious day of Christmas. Really, I enjoyed the tournament thoroughly and it is a very good opportunity for all the youngsters to compete with the cream of Indian talent. I appreciate the initiative of ChessBase India to conduct such a great tournament to celebrate the birthday of our chess legend, Viswanathan Anand. I look forward to participate in many more such events.

GM Karthikeyan Murali

It was a very nice tournament. I enjoyed it a lot. It was a different experience for me to play over internet! Only thing I suggest is if there is some increment like 3+1, I feel it will be good.

GM Magesh Chandran

The tournament was fun. I do not play that many online events, but it is fun to play against a lot of known and upcoming Indian chess players. I did not do that well, but it was still fun. I learned an interesting rule in online blitz. I lost one game on time when my opponent had a king and a knight and I had a king and a pawn. I always assumed that was a draw :)

Soumyadip Deb, Kolkata

"Great tournament. Always an honour to play alongside strong players like Diptayan in the same tournament. Causing upsets always encourages you to play better chess and I had the opportunity to cause one against Nikhil Dixit. Such incidents inspire you to play more chess in the future. I would like future events of this kind to be organised regularly."

Pravin Bharadwaj

Great way to popularize chess in india. It's great to play with all greats online. Giving each and everyone the equal platform to compete. You are helping those who cannot go physically from one place to other for playing chess. Bringing chess at their doorstep. GREAT GREAT !!!!👍👍👍👍👍"

GM R R Laxman, Chennai

The Chessbase online blitz on Dec 25th was organised in a splendid manner without any hassles this time too. I am proud to be part of this memorable event once again especially to cherish the birthday bash of World champion GM Vishwanathan Anand. Hope we witness this event every year with more elite GMs/IMs joining in.

Ganeshbabu Gnanagurusamy

It was organized extremely well..For NRIs like me it was a great feeling like virtually playing in India

Akhilesh Nagare, Nashik

Today was an amazing day for me! Played some good games. Thoroughly enjoyed the tournament, the playing schedule was smooth. I would like to thank ChessBase India for organizing this tournament and would request to organize it at frequent intervals. Thank You."

Venkatesh K, father of Renganayaki V

A Superb tournament' - That's my daughter's feedback about tournament. Kudos to the team that worked behind the scenes in setting up the tournament. Hats Off !! Keep it up !!!
---