Letsup MCA GP Blitz 4 rescheduled to 1st July, Total Prize fund increased by 20%
by Shahid Ahmed - 25/06/2020
On Wednesday 24th June, something unusual happened. For the first time, we had to cancel a ChessBase India Online Blitz event as due to technical issues beyond our control, the tournament was not possible to be completed. So we had to cancel it. So when will Letsup MCA GP Blitz 4 take place? Same time on 1st July at 8 pm IST. And Blitz 5? On 8th July at 8 pm IST. We understand your valuable time and effort, thus to compensate the players we are adding an additional 20% of prize fund to the already announced prize. Total Prize fund for Blitz 4 will be ₹30000 and each prize will be increased by 20%. Those who have already registered for the event, need not do it again. Registration is open for others. Photo: MCA
Letsup MCA GP Blitz 4 will take place on Wednesday 1st July
Due to technical issues beyond our control, we had to cancel the Letsup MCA GP Blitz 4 on 24th June. It has now been rescheduled to Wednesday 1st July 8 pm IST. We understand that you selected this event and gave your valuable time and effort, we will definitely iron out the issues and make sure this does not happen again. We do not like to cancel any event and if it were possible for us, we would have definitely completed the tournament. Thank you for your understanding and believing in us. We hope to see you in our next event.
To compensate the players' valuable time and effort, we have added 20% prize from us to the existing Total Prize Fund of ₹25000 to the Blitz 4 GP event only which means now the Total Prize Fund will be ₹30000. Each prize will be increased by 20%. Those who have already registered for the event, need not register again. While new registrations can be done here. We would also recommend everyone to use the latest Playchess software from here. If you have already installed it then please update it before you play the next tournament. Blitz 5 GP will take place on 8th July 2020 at 8 p.m. IST.
Lets' take a look at the Letsup MCA GP winners so far
Vugar Rasulov - Winner of Blitz 1
In Round 7, GM Vugar Rasulov was in trouble for the majority of the game against Irus1997 (GM Vaibhav Suri), however only in the final moments of the game Irus1997 blundered a checkmate allowing Rasulov to score the victory.
Nodirbek Abdusattorov - Winner of Blitz 2 and 3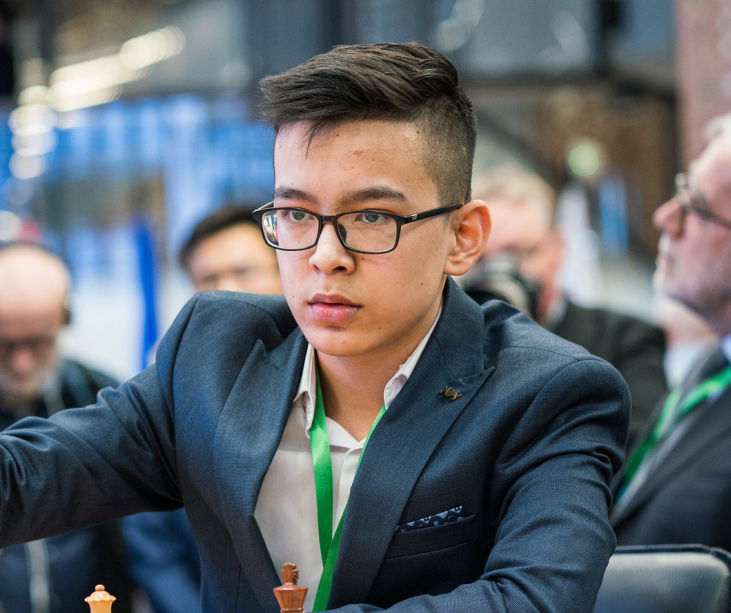 In Round 4 of Blitz 2, irus1997 (GM Vaibhav Suri) missed a few winning opportunities after getting a fantastic position against Keramin, Uzbekistan no.2 GM Nodirbek Abdusattorov. Vaibhav had a huge advantage, perhaps time scramble could be the reason behind his misses.
In a battle of Champion vs Champion, GM Vugar Rasulov (Winner of Blitz 1) missed a good opportunity against Keramin (GM Nodirbek Abdusattorov, winner of Blitz 2) in their encounter at Blitz 3.
Links
---
Related news
:
Raceking Harsha Bharathakoti finishes first in Capablanca Chess School 5th Anniversary Online Blitz Open

@ 09/04/2021 by Shahid Ahmed (en)
Last call to register for this Saturday's Capablanca Chess School 5th Anniversary Online Blitz Open

@ 31/03/2021 by Shahid Ahmed (en)
Praggnanandhaa dominates Yugam 2021 International Online Blitz Open

@ 26/03/2021 by Shahid Ahmed (en)
Capablanca Chess School 5th Anniversary Online Blitz Open on Saturday 3rd April

@ 24/03/2021 by Shahid Ahmed (en)
Last call to register for this Sunday's Yugam 2021 International Online Blitz Open

@ 17/03/2021 by Shahid Ahmed (en)
Yugam 2021 - International Online Blitz Open with ₹100000 prize fund

@ 07/03/2021 by Shahid Ahmed (en)
Blitz Challenge with India's latest GM Leon Mendonca

@ 08/01/2021 by Shahid Ahmed (en)
Mitrabha Guha dominates 16th Maheshwaranand Saraswati Memorial Online Blitz Open

@ 29/11/2020 by Shahid Ahmed (en)
Last call to register for this Sunday's 16th Maheshwaranand Saraswati Memorial Online Blitz Open

@ 20/11/2020 by Shahid Ahmed (en)
16th Maheshwaranand Saraswati Memorial Online Blitz Open with ₹60000 prize fund

@ 09/11/2020 by Shahid Ahmed (en)
Blitz Challenge with Iniyan

@ 06/11/2020 by Frederic Friedel (en)
Ilamparthi, Mounika and Arunava triumph in Make Your Move Fundraiser Below 2100 Blitz

@ 06/11/2020 by Shahid Ahmed (en)
Make Your Move Fundraiser Blitz Below 2100 Qualifier Schedule revealed

@ 23/10/2020 by Shahid Ahmed (en)
Make Your Move and get a chance to play against Vishy Anand

@ 07/10/2020 by Shahid Ahmed (en)
Vugar Rasulov wins Play for Durgesh Fundraiser Open

@ 25/09/2020 by Shahid Ahmed (en)
Chess Community raises over 11 lacs for coach Durgesh

@ 20/09/2020 by Sagar Shah (en)
Rs.566583 raised for coach Durgesh, Play for him this Saturday

@ 16/09/2020 by Shahid Ahmed (en)
Rs.267,165 raised in two days for coach Durgesh; The fight continues

@ 10/09/2020 by Sagar Shah (en)
GoodEarth Online Blitz Open on 5th September with a total prize fund of ₹60000

@ 17/08/2020 by Shahid Ahmed (en)
Gukesh scores 6.0/6 in his blitz challenge on Playchess

@ 15/08/2020 by Sagar Shah (en)
Blitz Challenge with GM D.Gukesh

@ 07/08/2020 by Sagar Shah (en)
Jakhongir Vakhidov wins The Knighthood Online Blitz | A total of Rs.211226 raised

@ 06/08/2020 by Shahid Ahmed (en)
Last call for The Knighthood Online Blitz Open this Saturday 1st August

@ 30/07/2020 by Shahid Ahmed (en)
Girish Koushik Glorious in M D Bhagwat Memorial Chess960 Online Blitz Open

@ 24/07/2020 by Shahid Ahmed (en)
8 Reasons why you shouldn't miss the Chess960 event tonight on ChessBase India

@ 18/07/2020 by Sagar Shah (en)
Dhulipalla Bala Chandra Prasad wins 1st Leelavathi Memorial Open

@ 17/07/2020 by Shahid Ahmed (en)
Aravindh wins Letsup MCA GP Blitz 5

@ 13/07/2020 by Shahid Ahmed (en)
Late M D Bhagwat Memorial Chess960 Online Blitz Open with ₹50000 prize fund

@ 11/07/2020 by Shahid Ahmed (en)
Shardul Gagare wins Letsup MCA GP Blitz 4

@ 05/07/2020 by Shahid Ahmed (en)
Gukesh wins Late Shailesh Nerlikar Memorial Online Blitz Open

@ 04/07/2020 by Shahid Ahmed (en)
Abdusattorov wins Letsup MCA GP Blitz again

@ 22/06/2020 by Shahid Ahmed (en)
Vaibhav Suri leads Letsup MCA GP, Blitz 4 on 24th June

@ 18/06/2020 by Shahid Ahmed (en)
Nodirbek Abdusattorov triumphs in Letsup presents MCA GP Blitz 2

@ 15/06/2020 by Shahid Ahmed (en)
Late Shailesh Nerlikar Memorial Online Blitz Open on 27th June

@ 11/06/2020 by Shahid Ahmed (en)
28 GMs, 30 IMs will be seen in action in Letsup MCA GP Blitz 3

@ 11/06/2020 by Shahid Ahmed (en)
Vugar Rasulov wins Letsup presents MCA GP Blitz 1

@ 08/06/2020 by Shahid Ahmed (en)
29 GMs, 26 IMs have confirmed for Letsup MCA GP Blitz 2

@ 04/06/2020 by Shahid Ahmed (en)
Mitrabha Guha wins Buddhibal Kreeda Trust Fischer Random Online Blitz Open

@ 28/05/2020 by Shahid Ahmed (en)
Maharashtra Chess Association organizes Letsup presents Blitz GP 2020

@ 28/05/2020 by Shahid Ahmed (en)
Rs.35,000 Fischer Random event by Buddhibal Kreeda Trust on 23rd of May 2020

@ 17/05/2020 by Shahid Ahmed (en)
Andrew Tang wins Sultan Khan Cup

@ 13/05/2020 by Shahid Ahmed (en)
Checkmate Covid-19 Online Blitz Open raises ₹451650

@ 07/05/2020 by Shahid Ahmed (en)
Have you registered for the biggest online ChessBase India event on 9th of May 2020?

@ 06/05/2020 by Sagar Shah (en)
Checkmate Covid-19 Fundraiser Online Blitz by Chess Kerala on 2nd May 2020

@ 24/04/2020 by V Saravanan (en)
Biggest ever online blitz on ChessBase India: Sultan Khan Cup 2020 with a prize fund of Rs.101,000

@ 23/04/2020 by ChessBase India (en)
Praggnanandhaa wins 5th Saturday Online Blitz Open 2020

@ 22/04/2020 by Shahid Ahmed (en)
Indian-Lion GM Arjun Erigaisi Roars again

@ 15/04/2020 by Shahid Ahmed (en)
Aravindh, Gukesh and Arjun are the top seeds in 5th Saturday Online Blitz Open 2020

@ 12/04/2020 by Shahid Ahmed (en)
Rs. 2,43,243 raised at the "Let's fight Corona Together" online blitz

@ 10/04/2020 by Sagar Shah (en)
Announcing the Buddhibal Kreeda Trust online blitz on 14th of April 2020

@ 08/04/2020 by Shahid Ahmed (en)
Indian chess community comes together to fight the Corona virus, raises Rs.1,68,000 in 72 hours

@ 08/04/2020 by Sagar Shah (en)
Diptayan dominates 3rd Saturday Online Blitz Open 2020

@ 07/04/2020 by Shahid Ahmed (en)
Aravindh, Narayanan and Gukesh are the top seeds in 4th Saturday Online Blitz Open 2020

@ 05/04/2020 by Shahid Ahmed (en)
"Let's fight Corona together" fundraiser online blitz on 9th of April 2020

@ 04/04/2020 by Shahid Ahmed (en)
Sunilduth Lyna Narayanan wins March Masters Online Blitz 2020

@ 02/04/2020 by Shahid Ahmed (en)
ChessBase for classroom chess instruction

@ 02/04/2020 by Alexey Root (en)
The Indian-Lion tames all in 2nd Saturday Online Blitz Open 2020

@ 01/04/2020 by Shahid Ahmed (en)
Organize your online events with the ChessBase India team on Playchess

@ 31/03/2020 by Sagar Shah (en)
How to start a training broadcast on Playchess.com

@ 30/03/2020 by ChessBase (en)
Adhiban, Jumbayev and Aravindh are the top seeds in 3rd Saturday Online Blitz 2020

@ 30/03/2020 by Shahid Ahmed (en)
Guseinov, Aravindh and Pragg star in strong 2nd Saturday Blitz Tournament 2020

@ 27/03/2020 by Shahid Ahmed (en)
Pragg stands on top of "Chessworld"

@ 24/03/2020 by Elshan Moradiabadi (en)
Donchenko, Sethuraman, Aravind and more in action in March Masters Online Blitz 2020

@ 24/03/2020 by Shahid Ahmed (en)
Guseinov, Pragg, Gukesh and more will fight in 2nd Saturday Online Blitz 2020

@ 22/03/2020 by Shahid Ahmed (en)
Nihal, Pragg and Andriasian headline the 1st Saturday Online Blitz tournament

@ 20/03/2020 by Shahid Ahmed (en)
Wanna battle with Gukesh, Visakh, Laxman and others in ChessBase Online Blitz Tournament?

@ 16/03/2020 by Shahid Ahmed (en)
ChessBase India presents five Saturday online Blitz events starting from 21st of March

@ 15/03/2020 by Shahid Ahmed (en)
How to improve your online chess strength

@ 10/03/2020 by GM Avetik Grigoryan (en)
Indian chess players raise Rs.33121 in 'Let's Rebuild Odisha' fundraiser tournament

@ 16/05/2019 by Shahid Ahmed (en)
92 Indian Chess players raise Rs.1,01,973 for Pulwama terror attack Martyrs

@ 25/02/2019 by Shahid Ahmed (en)
Diptayan, Aravindh and Rathnakaran are the winners of Vishy Anand 49 Online Blitz 2018

@ 07/01/2019 by Shahid Ahmed (en)
Your last chance to play with the best in Indian chess!

@ 25/12/2018 by Shahid Ahmed (en)
An explosive line-up for Vishy Anand 49 online blitz 2018

@ 23/12/2018 by Sagar Shah (en)
Online blitz tournament to celebrate Vishy Anand's 49th birthday

@ 12/12/2018 by Sagar Shah (en)
Amonatov, Martirosyan, Idani, Nihal, Pragg! What a mouth watering blitz event!

@ 24/11/2018 by Shahid Ahmed (en)
Diptayan Ghosh wins Gujarat-Goa Online Blitz 2018

@ 05/09/2018 by Shahid Ahmed (en)