How to start a training broadcast on Playchess.com
by ChessBase - 30/03/2020
In our third tutorial, focusing on our playchess.com virtual rooms, we see how to have an online training session with you as a chess coach. In our tutorial series, we already took a look at how to create a virtual room for your chess club. Furthermore, we had another tutorial about online tournaments in your virtual room. These offers are an excellent option to keep up with your chess activities.
Online training with Playchess.com
If you are a coach or chess trainer and have a student or more who are willing to learn chess with you, playchess.com offers a virtual training room to make it happen.
The basic idea is to use the playchess.com client as a chessboard, which the trainer and the trainee are using at the same time despite the fact that they might be several hundred or even thousands of kilometres (miles) apart from each other. On top of that we recommend using one of the many video chat software options, like Skype, to have a better coach - student connection and training session.
In this short tutorial, we describe what is necessary to start your training.
Requirements
Besides having a PC or windows based laptop, it is important to have a client to login to playchess.com. This can either be done with Fritz or with ChessBase or our free client.
Fritz and ChessBase have some comfortable options, like loading up entire games or game positions and studies from databases.
Account basics and ranks
If this is your very first time creating an account simply follow the guided steps, when starting the client, on how to fill in the necessary data like your name, the city you live in and your nickname.
We have different ranks on playchess.com which are composed of the playing time and player strength. With the playchess.com rank of a Knight, you can start to open a chess board for the coaching. Having achieved the rank of a Bishop you can start the more professional private training session.
Depending on the total playing time and Elo strength, this table shows your rank:
Rooms
We have implemented a coaching zone to open your training chess board on Playchess.com.
The default room to begin your coaching session would be the Training and Teaching room, which is located on the right side:
Opening a chess board
At the menu on the top, click on File → New – Broadcast
Alternatively, simply press Ctrl+B.
A new window will open where you can add all optional infos, including a title for your coaching session like "Training from Master to student".
With the playchess.com rank of the Bishop, you can set the chess board to private. Now all you have to do, is to invite the student or students separately, which is described further below.
This is how your board looks like, when you have clicked on the OK button.
By clicking on File → Open → Database or by pressing the shortcut key F12, you can now load complete games, positions or studies into the chess board window. This is accomplished in two simple steps:
Firstly you select your database of choice.
Secondly you open the game, position or study from the database.
Similar to the ChessBase software, the game shows up with all the options for analyses.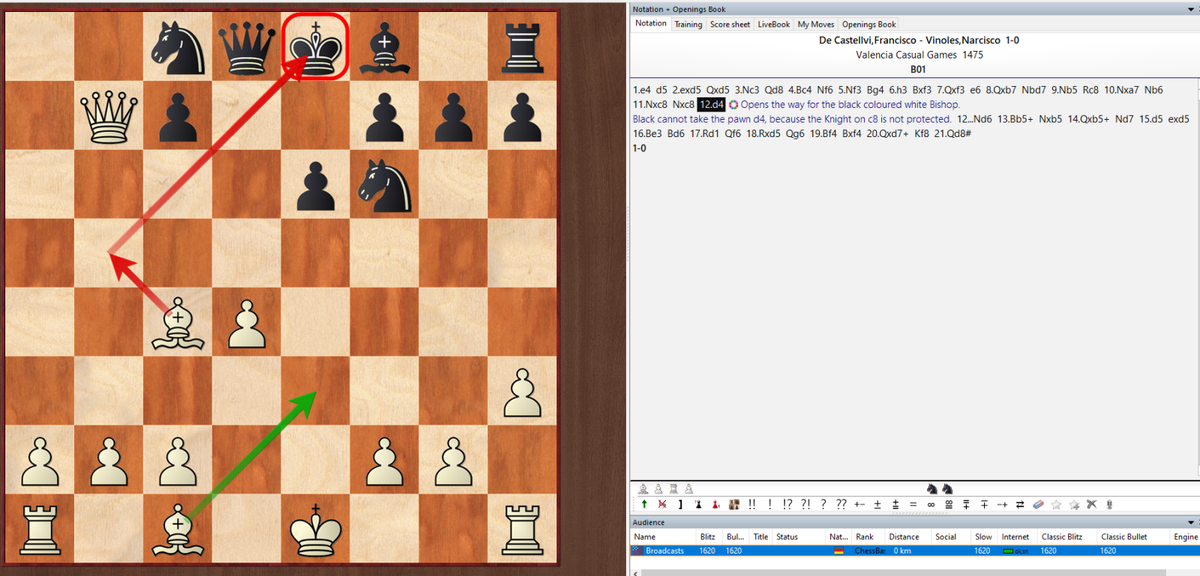 Annotations and commentary are certainly available as well:
Inviting your students
Once the chess board has been established, switch back from the broadcast window to the main window, where you can see the players listed in the rooms. Now simply use the right mouse button to click on the user (nickname of the user) you want to invite and use the option → Invite to Private Broadcast
In our example, the user which is marked from the screenshot above, Robot 1, is automatically directed to your opened chess board.
Your students are also receiving a message in the chat window:
They will see the same display of the position and moves you are making.
Well done, you can start your coaching session now!
We have more detailed information and tutorials in the links below:
---
Related news
:
Raceking Harsha Bharathakoti finishes first in Capablanca Chess School 5th Anniversary Online Blitz Open

@ 09/04/2021 by Shahid Ahmed (en)
Last call to register for this Saturday's Capablanca Chess School 5th Anniversary Online Blitz Open

@ 31/03/2021 by Shahid Ahmed (en)
Praggnanandhaa dominates Yugam 2021 International Online Blitz Open

@ 26/03/2021 by Shahid Ahmed (en)
Capablanca Chess School 5th Anniversary Online Blitz Open on Saturday 3rd April

@ 24/03/2021 by Shahid Ahmed (en)
Last call to register for this Sunday's Yugam 2021 International Online Blitz Open

@ 17/03/2021 by Shahid Ahmed (en)
Yugam 2021 - International Online Blitz Open with ₹100000 prize fund

@ 07/03/2021 by Shahid Ahmed (en)
Blitz Challenge with India's latest GM Leon Mendonca

@ 08/01/2021 by Shahid Ahmed (en)
Mitrabha Guha dominates 16th Maheshwaranand Saraswati Memorial Online Blitz Open

@ 29/11/2020 by Shahid Ahmed (en)
Last call to register for this Sunday's 16th Maheshwaranand Saraswati Memorial Online Blitz Open

@ 20/11/2020 by Shahid Ahmed (en)
16th Maheshwaranand Saraswati Memorial Online Blitz Open with ₹60000 prize fund

@ 09/11/2020 by Shahid Ahmed (en)
Blitz Challenge with Iniyan

@ 06/11/2020 by Frederic Friedel (en)
Ilamparthi, Mounika and Arunava triumph in Make Your Move Fundraiser Below 2100 Blitz

@ 06/11/2020 by Shahid Ahmed (en)
Make Your Move Fundraiser Blitz Below 2100 Qualifier Schedule revealed

@ 23/10/2020 by Shahid Ahmed (en)
Make Your Move and get a chance to play against Vishy Anand

@ 07/10/2020 by Shahid Ahmed (en)
Vugar Rasulov wins Play for Durgesh Fundraiser Open

@ 25/09/2020 by Shahid Ahmed (en)
Chess Community raises over 11 lacs for coach Durgesh

@ 20/09/2020 by Sagar Shah (en)
Rs.566583 raised for coach Durgesh, Play for him this Saturday

@ 16/09/2020 by Shahid Ahmed (en)
Rs.267,165 raised in two days for coach Durgesh; The fight continues

@ 10/09/2020 by Sagar Shah (en)
GoodEarth Online Blitz Open on 5th September with a total prize fund of ₹60000

@ 17/08/2020 by Shahid Ahmed (en)
Gukesh scores 6.0/6 in his blitz challenge on Playchess

@ 15/08/2020 by Sagar Shah (en)
Blitz Challenge with GM D.Gukesh

@ 07/08/2020 by Sagar Shah (en)
Jakhongir Vakhidov wins The Knighthood Online Blitz | A total of Rs.211226 raised

@ 06/08/2020 by Shahid Ahmed (en)
Last call for The Knighthood Online Blitz Open this Saturday 1st August

@ 30/07/2020 by Shahid Ahmed (en)
Girish Koushik Glorious in M D Bhagwat Memorial Chess960 Online Blitz Open

@ 24/07/2020 by Shahid Ahmed (en)
8 Reasons why you shouldn't miss the Chess960 event tonight on ChessBase India

@ 18/07/2020 by Sagar Shah (en)
Dhulipalla Bala Chandra Prasad wins 1st Leelavathi Memorial Open

@ 17/07/2020 by Shahid Ahmed (en)
Aravindh wins Letsup MCA GP Blitz 5

@ 13/07/2020 by Shahid Ahmed (en)
Late M D Bhagwat Memorial Chess960 Online Blitz Open with ₹50000 prize fund

@ 11/07/2020 by Shahid Ahmed (en)
Shardul Gagare wins Letsup MCA GP Blitz 4

@ 05/07/2020 by Shahid Ahmed (en)
Gukesh wins Late Shailesh Nerlikar Memorial Online Blitz Open

@ 04/07/2020 by Shahid Ahmed (en)
Letsup MCA GP Blitz 4 rescheduled to 1st July, Total Prize fund increased by 20%

@ 25/06/2020 by Shahid Ahmed (en)
Abdusattorov wins Letsup MCA GP Blitz again

@ 22/06/2020 by Shahid Ahmed (en)
Vaibhav Suri leads Letsup MCA GP, Blitz 4 on 24th June

@ 18/06/2020 by Shahid Ahmed (en)
Nodirbek Abdusattorov triumphs in Letsup presents MCA GP Blitz 2

@ 15/06/2020 by Shahid Ahmed (en)
Late Shailesh Nerlikar Memorial Online Blitz Open on 27th June

@ 11/06/2020 by Shahid Ahmed (en)
28 GMs, 30 IMs will be seen in action in Letsup MCA GP Blitz 3

@ 11/06/2020 by Shahid Ahmed (en)
Vugar Rasulov wins Letsup presents MCA GP Blitz 1

@ 08/06/2020 by Shahid Ahmed (en)
29 GMs, 26 IMs have confirmed for Letsup MCA GP Blitz 2

@ 04/06/2020 by Shahid Ahmed (en)
Mitrabha Guha wins Buddhibal Kreeda Trust Fischer Random Online Blitz Open

@ 28/05/2020 by Shahid Ahmed (en)
Maharashtra Chess Association organizes Letsup presents Blitz GP 2020

@ 28/05/2020 by Shahid Ahmed (en)
Rs.35,000 Fischer Random event by Buddhibal Kreeda Trust on 23rd of May 2020

@ 17/05/2020 by Shahid Ahmed (en)
Andrew Tang wins Sultan Khan Cup

@ 13/05/2020 by Shahid Ahmed (en)
Checkmate Covid-19 Online Blitz Open raises ₹451650

@ 07/05/2020 by Shahid Ahmed (en)
Have you registered for the biggest online ChessBase India event on 9th of May 2020?

@ 06/05/2020 by Sagar Shah (en)
Checkmate Covid-19 Fundraiser Online Blitz by Chess Kerala on 2nd May 2020

@ 24/04/2020 by V Saravanan (en)
Biggest ever online blitz on ChessBase India: Sultan Khan Cup 2020 with a prize fund of Rs.101,000

@ 23/04/2020 by ChessBase India (en)
Praggnanandhaa wins 5th Saturday Online Blitz Open 2020

@ 22/04/2020 by Shahid Ahmed (en)
Indian-Lion GM Arjun Erigaisi Roars again

@ 15/04/2020 by Shahid Ahmed (en)
Aravindh, Gukesh and Arjun are the top seeds in 5th Saturday Online Blitz Open 2020

@ 12/04/2020 by Shahid Ahmed (en)
Rs. 2,43,243 raised at the "Let's fight Corona Together" online blitz

@ 10/04/2020 by Sagar Shah (en)
Announcing the Buddhibal Kreeda Trust online blitz on 14th of April 2020

@ 08/04/2020 by Shahid Ahmed (en)
Indian chess community comes together to fight the Corona virus, raises Rs.1,68,000 in 72 hours

@ 08/04/2020 by Sagar Shah (en)
Diptayan dominates 3rd Saturday Online Blitz Open 2020

@ 07/04/2020 by Shahid Ahmed (en)
Aravindh, Narayanan and Gukesh are the top seeds in 4th Saturday Online Blitz Open 2020

@ 05/04/2020 by Shahid Ahmed (en)
"Let's fight Corona together" fundraiser online blitz on 9th of April 2020

@ 04/04/2020 by Shahid Ahmed (en)
Sunilduth Lyna Narayanan wins March Masters Online Blitz 2020

@ 02/04/2020 by Shahid Ahmed (en)
ChessBase for classroom chess instruction

@ 02/04/2020 by Alexey Root (en)
The Indian-Lion tames all in 2nd Saturday Online Blitz Open 2020

@ 01/04/2020 by Shahid Ahmed (en)
Organize your online events with the ChessBase India team on Playchess

@ 31/03/2020 by Sagar Shah (en)
Adhiban, Jumbayev and Aravindh are the top seeds in 3rd Saturday Online Blitz 2020

@ 30/03/2020 by Shahid Ahmed (en)
Guseinov, Aravindh and Pragg star in strong 2nd Saturday Blitz Tournament 2020

@ 27/03/2020 by Shahid Ahmed (en)
Pragg stands on top of "Chessworld"

@ 24/03/2020 by Elshan Moradiabadi (en)
Donchenko, Sethuraman, Aravind and more in action in March Masters Online Blitz 2020

@ 24/03/2020 by Shahid Ahmed (en)
Guseinov, Pragg, Gukesh and more will fight in 2nd Saturday Online Blitz 2020

@ 22/03/2020 by Shahid Ahmed (en)
Nihal, Pragg and Andriasian headline the 1st Saturday Online Blitz tournament

@ 20/03/2020 by Shahid Ahmed (en)
Wanna battle with Gukesh, Visakh, Laxman and others in ChessBase Online Blitz Tournament?

@ 16/03/2020 by Shahid Ahmed (en)
ChessBase India presents five Saturday online Blitz events starting from 21st of March

@ 15/03/2020 by Shahid Ahmed (en)
How to improve your online chess strength

@ 10/03/2020 by GM Avetik Grigoryan (en)
Indian chess players raise Rs.33121 in 'Let's Rebuild Odisha' fundraiser tournament

@ 16/05/2019 by Shahid Ahmed (en)
92 Indian Chess players raise Rs.1,01,973 for Pulwama terror attack Martyrs

@ 25/02/2019 by Shahid Ahmed (en)
Diptayan, Aravindh and Rathnakaran are the winners of Vishy Anand 49 Online Blitz 2018

@ 07/01/2019 by Shahid Ahmed (en)
Your last chance to play with the best in Indian chess!

@ 25/12/2018 by Shahid Ahmed (en)
An explosive line-up for Vishy Anand 49 online blitz 2018

@ 23/12/2018 by Sagar Shah (en)
Online blitz tournament to celebrate Vishy Anand's 49th birthday

@ 12/12/2018 by Sagar Shah (en)
Amonatov, Martirosyan, Idani, Nihal, Pragg! What a mouth watering blitz event!

@ 24/11/2018 by Shahid Ahmed (en)
Diptayan Ghosh wins Gujarat-Goa Online Blitz 2018

@ 05/09/2018 by Shahid Ahmed (en)