16th Maheshwaranand Saraswati Memorial Online Blitz Open with ₹60000 prize fund
Buddhibal Kreeda Trust (BKT) under the mentorship of Prakash Kunte (father of GM Abhijit Kunte and WIM Mrunalini Kunte) has organized over 150 tournaments. After having three successful online events since April, they are be back with a bigger prize fund of ₹60000. The 16th edition of the tournament Shri Maheshwaranand Online Blitz Open will be held online. The tournament has the first prize of ₹15000. With rating category prizes and prizes for women, it's a tournament you cannot afford to miss. It will take place on Sunday 22nd of November at 6 p.m. IST in Vishy Anand Arena under ChessBase India room on Playchess. Entry is FREE for GMs, IMs, WGMs and WIMs. For everyone else Entry fee is ₹300 for Indians and €5 for foreigners. Registration is on. Photo: Buddhibal Kreeda Trust
Buddhibal Kreeda Trust takes Maheshwaranand Saraswati Memorial tournament Online on Sunday 22nd November
Buddhibal Kreeda Trust has been actively organizing online tournaments during this unprecedented pandemic situation. BKT has organized three events since April. An online Blitz on 14th April, two Fischer Random Blitz events on 23rd May and 18th July. They will organize another Open Blitz event which will have a total prize fund of ₹60000 with the first prize being ₹15000. The entire prize fund is sponsored by Buddhibal Kreeda Trust. Entry is free for GMs, IMs, WGMs and WIMs. For everyone else the entry fee is ₹300 and €5 for foreign participants. The event is open to players all over the world.
Prakash has nurtured two of the finest talents of Indian chess - GM Abhijit Kunte and WIM Mrunalini Kunte. He is also the guiding force behind the Buddhibal Kreeda Trust (BKT).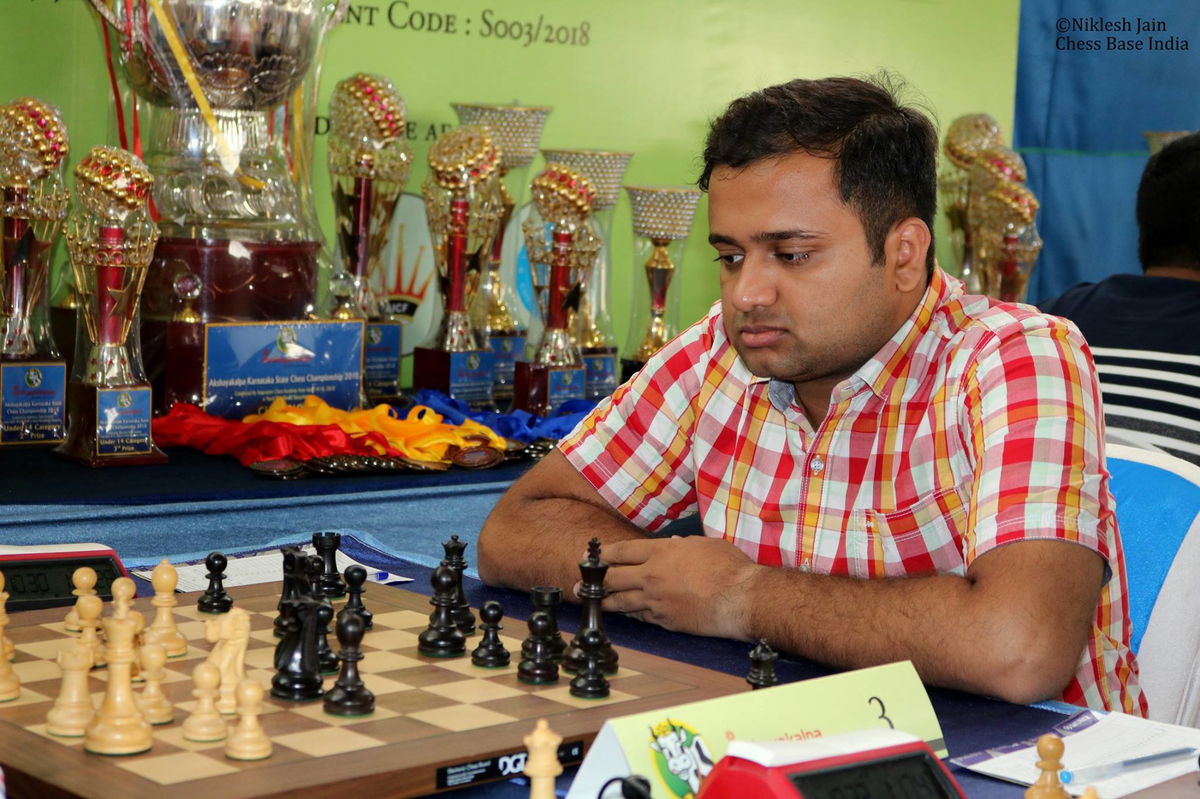 About Maheshwaranand Sarswati Memorial Chess tournament
Shri Maheshwaranand Sarswati Memorial Chess tournament started from the year 2000. Late Dr. Narayan Mahadeo Hardikar is the donor of tournament. First three tournaments were organized at local level only. From 2003 onwards, it became a FIDE Rated Chess Tournament. Late Dr. Hardikar provided more funds for the tournament. In total he donated Rs.8 lacs (₹800000) as corpus for the tournament. He left the mortal world in 2011. The trust is organizing this tournament, Maheshwaranand was his father.
Winners of the previous editions:
2003 - GM Himanshu Sharma
2004 - GM Saptarshi Roy
2005 - IM B S Shivananda
2006 - Debashish Mukharjee
2009 - IM Vikramaditya Kulkarni
2010 - Pranita Surya (U-2200)
2011 - Pranav Vijay (U - 2200)
2012 - IM Abhishek Kelkar (Rapid rating)
2013 - Safal Bora (Open State Selection)
2014 - IM Thejkumar
2015 - GM Swapnil Dhopade
2016 - IM Shyam Nikhil
2018 - IM Vikramaditya Kulkarni
Date: Sunday 22nd November 2020
Time: 6:00 p.m. IST
Time control: 5 mins + 2 sec increment
Number of rounds: 9
Total Prize fund: ₹60000
Venue: Vishy Anand Arena in Playchess under ChessBase India room
Chief Arbiter: IA Vivek Sohani
Details of the online tournament:
Main Prizes
| | |
| --- | --- |
| Place | Prize |
| 1st | 15000 |
| 2nd | 10000 |
| 3rd | 7000 |
| 4th | 5000 |
| 5th | 3000 |
| 6th | 2000 |
| 7th | 1000 |
| 8th | 1000 |
| 9th | 1000 |
| 10th | 1000 |
| 11th | 800 |
| 12th | 800 |
| 13th | 800 |
| 14th | 800 |
| 15th | 800 |
Best Women
Rating Category: 1301-1500
Rating Category: 1101-1300
Rating Category: 1000-1100
Best Unrated
FIDE Standard Rating as on 1st November 2020 will be considered for Rating Category prizes, a player without a standard rating will be considered as an unrated player. One player will be eligible for one higher prize only.
Entry fees:
The entry fee for the event is ₹300. The tournament is FREE for GMs, IMs, WGMs and WIMs. The last date for entry has been extended to 21st of November 2020 6 p.m. IST. No entries will be accepted after that. Registration is CLOSED.
Foreign players can pay €5 via Paypal here as their entry fee. They must send an email mentioning their Name, FIDE ID, Playchess ID, Transaction ID along with a screenshot and send it to the below mentioned e-mail ID.
Titled players must write to us at teamchessbaseindia@gmail.com with their Playchess id to confirm their entry.
List of players
| | | | |
| --- | --- | --- | --- |
| Sl.no. | Name | Playchess ID | Rating |
| 1 | GM Vugar Asadli | VugarAsadli | 2572 |
| 2 | GM Visakh N R | Visakh | 2516 |
| 3 | GM Bilel Bellahcene | Hetou | 2510 |
| 4 | GM Debashis Das | Debashis | 2501 |
| 5 | IM Arjun Kalyan S | Arjunkalyan | 2477 |
| 6 | IM Arghyadip Das | Arghyadip | 2453 |
| 7 | IM Nubairshah Sheikh | CREATOR1198 | 2445 |
| 8 | IM Aronyak Ghosh | STRANGE | 2436 |
| 9 | IM Sayantan Das | Ambitious | 2431 |
| 10 | FM Srihari L R | lsr | 2414 |
| 11 | IM Sammed Jaykumar Shete | Champion111 | 2412 |
| 12 | GM Laxman R R | LAXMAN | 2411 |
| 13 | IM Giuseppe Leiva | unico | 2391 |
| 14 | IM Raahil Mullick | | 2386 |
| 15 | FM Pranav Anand | lightsaber | 2381 |
| 16 | IM Anuj Shrivatri | Anuj Shrivatri | 2350 |
| 17 | WGM Pratyusha Bodda | Neverrrgiveup | 2328 |
| 18 | FM Ajay Karthikeyan | skkeyan | 2315 |
| 19 | FM C J Arvind | JUNOSOURCE | 2124 |
| 20 | Soham Datar | Sohamchess64 | 2115 |
| 21 | Arhan Chethan Anand | Legacyplayer | 1979 |
| 22 | Neel Shintre | fishyvishy | 1896 |
| 23 | Maxime Muller | maxmax673003 | 1840 |
| 24 | Chirag Hosdurga | garihc | 1838 |
| 25 | Aanjaneya Phatak | aanjaneya | 1769 |
| 26 | Rahul Kadge | anandgary | 1708 |
| 27 | Debarghya Samanta | tapa1964 | 1698 |
| 28 | Swayham P Das | swayham | 1675 |
| 29 | Arjun Sidharth S | Antman2007 | 1665 |
| 30 | Ashvin Venkat | ashvin07 | 1609 |
| 31 | Rahul N Kamath | Rambo1998 | 1601 |
| 32 | Cera Dagaria | MaggiQueen | 1597 |
| 33 | Vishvajeet Singh | Vishvajeet Singh | 1572 |
| 34 | Augustiya Negi | August1223 | 1555 |
| 35 | A C T Aravind Matthews | kalekine | 1479 |
| 36 | Mandar Bakshi | mandy64theking | 1438 |
| 37 | Rakesh Kulkarni | rakeshkul | 1409 |
| 38 | Vihaan Dawda | Vihaandawda | 1369 |
| 39 | Jai Sankar | ssmanian2005 | 1329 |
| 40 | R Anirudh | anirudh2008 | 1226 |
| 41 | Suryansh Verma | Suryakhanal | 1199 |
| 42 | Manav Venkatachalam | Legandplayer | 1174 |
| 43 | Agnim Dutta | WILDFLOWER | 1135 |
| 44 | Archit Saigal | architsaigal | 1093 |
| 45 | Damodar Kumar | DAMODAR_85589 | 1053 |
| 46 | Abhay Chetty | Abhay Chetty | 1047 |
| 47 | Sankar Bhattacharya | Sanjay125 | 1043 |
| 48 | Armaan Haider | ays020209 | 1027 |
| 49 | Akshat Gupta | akshat0 | 0 |
| 50 | Ashok Jasma Vollepore | AshokJV | 0 |
| 51 | Bhavesh Vyas | Bhaveshvyas_01 | 0 |
| 52 | Gurmannat Singh | MannatG | 0 |
| 53 | Madhusudan GS | MadhuChaduranga | 0 |
| 54 | Mayur Gondhalekar | gonda | 0 |
| 55 | Narendra Tumbekodige Manappa | ideanaren | 0 |
| 56 | P Benny Joseph | bennyjoseph | 0 |
| 57 | Rahul Anil Bhagwat | MRAA | 0 |
| 58 | Riya Rathi | Iameture123 | 0 |
| 59 | Sachin Kher | sachinkher3 | 0 |
| 60 | Shashwat Gupta | Shashwat Gupta 3 | 0 |
| 61 | Shriyaans Venkatachalam | manavshri | 0 |
| 62 | Soham Shirode | sohamshirode28 | 0 |
| 63 | VGS Pranav | Smartpranav999 | 0 |
For updated list click here.
Please check your Playchess ID carefully, last minute change of Playchess ID will NOT be allowed.
Confirmed Titled players
About the organizer of the event - Buddhibal Kreeda Trust
The tournament is organized by Buddhibal Kreeda Trust (BKT). BKT is a well-known charitable trust which conducts regular Chess Tournaments and Chess Programs in Pune. It was founded in 1998 by Prakash Kunte, GM Abhijit Kunte, WIM Mrunalini Kunte-Aurangabadkar, Nityananand Mehendale (owner of Manohar Mangal Karyalay) and Raghuvir Apte. At the time of incorporation, the Kunte family had contributed Rs. 30,000 as corpus. Today, the corpus of the trust is more than Rs. 40 lakhs. The organization strives for promoting the game of chess not only in Pune, but also in Maharashtra and India. It also does its best to support talented players by providing financial help.
Since its inception, BKT has organized approximately 150 tournaments which include Women's National B, National Team Championship, 4 National Championships, more than 10 State Selection Tournaments, more than 13 All India FIDE Rating Tournaments and more than 100 local Chess Tournaments. BKT has also organized India's first ever knockout chess championship with a prize fund of Rs. 8,00,000 in 2006. In this tournament, most of the GMs from India had participated.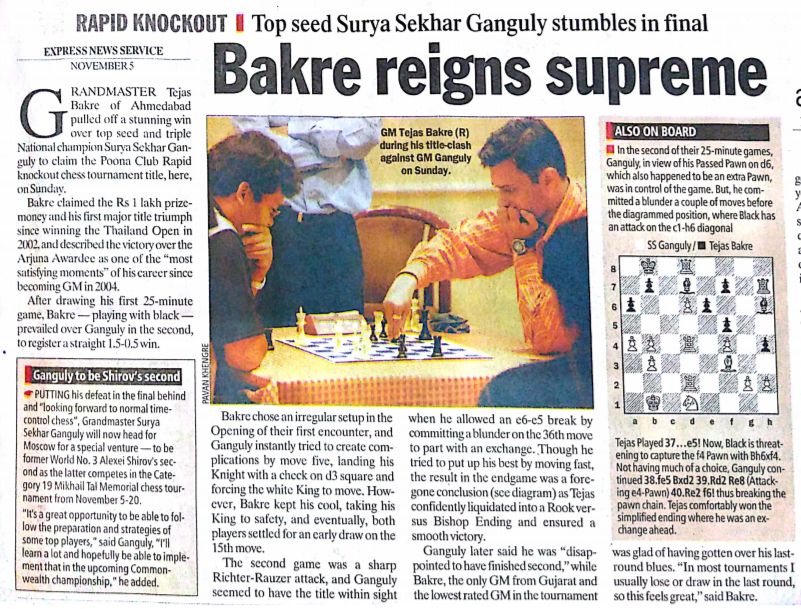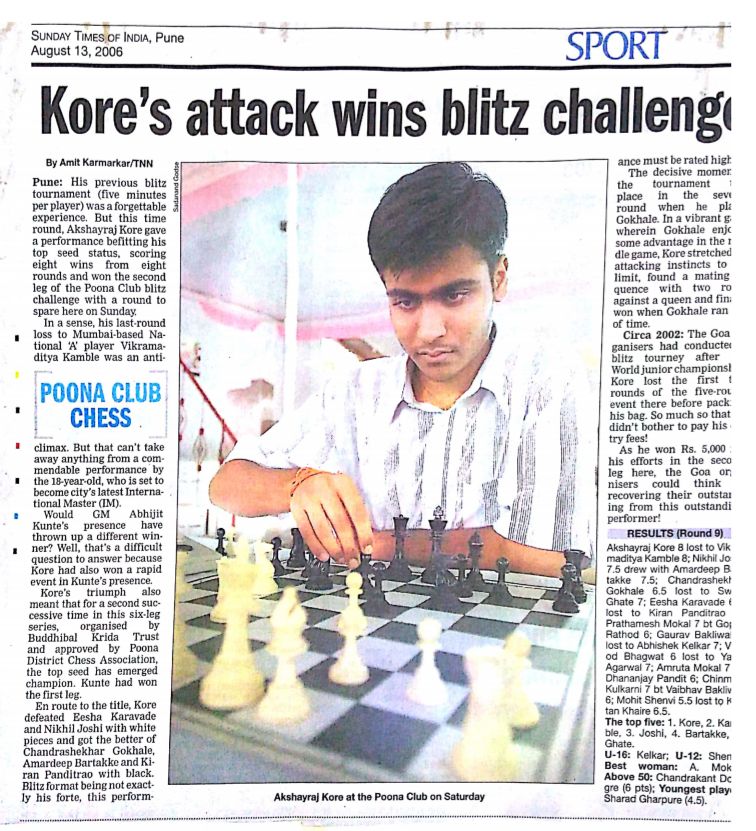 Further, BKT also contributed towards the organization of the World Junior Chess Championship in 2014 and Maharashtra Chess League. BKT has so far distributed more than Rs. 30 lakhs in prize fund or in different types of sponsorships.
'Laptop to Chess Players' is an initiative of the BKT which helps in developing the budding chess players. Under this scheme, more than 20 laptops have been distributed to chess players between 2006 and 2014. Many prominent personalities and organizations contributed towards this initiative. In 2007, the program was for Pune Players only. Given below is the list of players:
Other than organising different types of chess tournaments, BKT has also supported many talented and upcoming players from Pune and Maharashtra by sponsoring them for international tournaments. Given below are the names of few players which BKT has sponsored:
1. IM Prathamesh Mokal
2. IM Abhishek Kelkar
3. WGM Soumya Swaminathan
4. Aniruddha Deshpande
5. Chinmay Kulkarni
6. Pruthu Deshpande
7. GM Abhimanyu Puranik
8. IM Harshit Raja
9. WIM Aakanksha Hagawane
10. Nikhil Dixit (Sponsorship for a tournament in India)
11. IM Rakesh Kulkarni (Accommodation sponsored by BKT in Dubai)
12. IM Sameer Kathmale (Accommodation sponsored by BKT in Dubai)
Buddhibal Kreeda Trust has also participated in various All India National Team Chess Championships by fully sponsoring a 5 player team in open and women's categories. The BKT team won in the Women's category at the 2004 National Team Chess Championship. In these teams many promising players were part of the team such as Amruta Mokal, WGM Soumya Swaminathan, Sneha Ghatpande, Anuprita Patil, Devangi Patankar, IM Abhishek Kelkar, Omkar Patwardhan, Sohan Phadke and Aniruddha Deshpande.
Buddhibal Kreeda Trust has been providing sports scholarship to players of the Under-8 and Under-10 age categories of Rs. 6,000/- per year to the best player in Pune for last 6 years. The Trust also provided sponsorship to prominent players of Pune for their international open chess tournaments.
The current trustees of BKT are Mr. Prakash Kunte (Managing Trustee), Mrs. Mrunalini Kunte- Aurangabadkar, Mr. Chandrashekhar Nanivadekar, Mr. Ravindra Akolkar, Mr. Chandrakant Mokashi and Mr. Sanjay Adhav.
What Buddhibal Kreeda Trust (BKT) means to me?
By IM Abhishek Kelkar
"My chess career started in 1998! The trio Mrunalini Kunte Tai (coach), Abhijit Kunte dada (my childhood idol, mentor and inspiration), Kunte kaka (fatherly figure to me, my well wisher, supporter and financial source in my difficult times) whatever I am today is because of the existence of these 3 pillars in my life! They 3 formed Buddhibal Kreeda trust in 1998, in the same year when my chess kicked off. My 1st state championship U-7 catergory was organized by BKT. Since then I am following the fantastic journey of BKT. I have witnessed every initiative of BKT, whether it may felicitation functions or laptop distribution to chess players function.
Most of the tournaments organised by BKT I had participated; Lately I am assisting Kunte Kaka in the organization. I have won few of tournaments organized by BKT. I have participated in more than 10 editions of "Shri Mahaeshwaranand Saraswati Memorial" (a strong tournament) though never got chance to hold the trophy. Looking forward to change my luck in this year!
I thank BKT and Shri.Prakash Kunte Kaka for all his inputs and efforts, for spreading chess and supporting countless chess players, their families (psychologically and financially) in last 20 years. I pray to God his love and passion for chess may increase day by day as chess needs such an amazing person for its acceptance in the society on large scales. Kudos to Kaka. I request young generation to participate in this year's Mahaeshwaranand Saraswati All India Open tournament 2018". Wishing a grand success for the tournament & BKT in coming years."
No draw before 30th move
In all events organized by us, 'Draw offer' before the completion of 30th move is not allowed. If a draw is agreed before the completion of 30th move, the player who offered the draw will be given a loss in that round irrespective of tournament situation. This rule has been enforced to see fighting games on all boards.
Mandatory Zoom Video Call
All players must remain on Zoom Video Call throughout the tournament from 5:15 p.m. IST till the end of the tournament. Players without having their camera turned on during all the games will NOT be eligible for a prize. All players must mention their full name on the Zoom display ID and share their entire screen (not just window only). Zoom link will be sent a day before the tournament, once the entry closes.
Contact:
Mr. Shahid Ahmed (Tournament director) - 9038139510 (Entry confirmations will be done via site only, no whatsapp/phone call confirmation of entries)
Email - teamchessbaseindia@gmail.com
• We request all players to check their internet connection before the tournament. Minimum requirement is at least 2 mbps wired broadband. No phone calls/messages will be entertained from 5 p.m. IST. All queries must be resolved before 5 p.m. Each player is responsible for their own connection, organizers are not responsible for a player's disconnection.
How to play tournament?
Please ensure that you have a valid Playchess id. You can create one here and make sure you are on the latest version of the Playchess Desktop Client.
1. Download the free Windows software of Playchess
Next you have to download the free native Windows software from here. If you have Mac OS or Mac Computer, then you have to use some VMWare to run it as Playchess Desktop Client has native support on Windows OS only. The tournament cannot be played via mobile or tablet device.
Login or Create account
After you have installed the Client. You must login.
Enter your Playchess/ChessBase Account username and password. Locate Vishy Anand Arena under Rooms on the bottom right of the screen.
The tournament will take place in the Vishy Anand Arena under ChessBase India room. Registered players should be online and logged into Playchess at least 45 minutes before the start of the tournament to confirm your entries on 22nd November 2020. 5:15 p.m. IST would be a good time.
Click on the 'Players' Tab and then click on 'Join Event'. If 'Join Event' button does not show and 'Unregistered' shows instead, it means you have been registered in the tournament. The Tournament Director will accept your entry. Only those who have registered for the event will be allowed to play.
Note: The Playchess id, while registering and playing the tournament should be the same.
For Mac OS users
Check out this tutorial here on how to install Windows 10 using VirtualBox. After installing Windows 10, check How to play tournament section to install Playchess Windows Desktop client and follow the steps.
About online tournaments on Playchess by ChessBase India:
ChessBase India has organized innumerable online events successfully. Here is some feedback about the quality of the events:
GM D Gukesh, youngest GM of India
I am extremely happy to have participated in my first online blitz tmt conducted by ChessBase India and loved the experience and thrill. from the start to the finish its professionally conducted and got the rare opportunity to play several high-class players in a single event and looking forward for its next event
GM Vaibhav Suri, winner of 2nd ChessBase Online Blitz tournament and Letsup MCA Grand Prix
The tournament was conducted quite smoothly and a quite "fun Sunday" event. The participation of Adhiban & Sethuraman definitely added the spark to the event. I guess an Online Blitz Festival would be the next way to go (with different formats - Chess960, Bughouse, Bullet etc). Overall really happy with such events. Way to go!!
GM Shyam Sundar M, 31st GM of India
It was such a interesting and a unique event. I hope these events happen quite often so that people cannot cheat with computer assistance and are forced to play genuinely. I thank the organising team for making this event happen smoothly :)
GM R R Laxman, former National Blitz Champion
I thank the Chessbase India team once more for their strenous and tireless endeavour to popularise blitz events in India. Considering the fact that the present day time control even in classical format ( unlike the yesteryears) demands quick reflexes and blitz skills , I feel that the entire Chessbase India team is doing an exemplary and praiseworthy job. A boon for Indian chess !!!. Though my performance this time was not satisfactory ,I hope to excel and cherish more pleasant memories from my side in the forthcoming editions of Chessbase India blitz events.
GM Andrey Devyatkin, Russia
What I do find strange is that the share of chess960 tournaments in the great many online chess events held during the Corona crisis has been extremely small. FIDE seems to have lost all the enthusiasm it has demonstrated last year with regard to chess960, whereas other organisers have been either following suit or being habitually conservative, traditional and cautious -- which is quite characteristic for the chess world in general, and sometimes counterproductive at that. But wait... how on Earth can one remember the different rules for castling? Even though it might create great opportunities for our game yet unknown, wouldn't that be too challenging for the modest memory of an ordinary chess player? One has to leave some room for 25-moves analyses in the Najdorf and the Grunfeld, after all...
Meanwhile, whenever a rare prize chess960 event does take place online, it usually brings together many decent players -- which could be seen from this tournament as well -- and gets a very good feedback. So, thank you Chessbase India and Buddhibal Kreeda Trust for breaking the spell of cautiousness and hosting this event!
The tournament was smoothly organised and fun to play. To me it looked no weaker than some open Indian Championship. That said, I think chess960 in general requires longer time controls so its real depth could be revealed, but when it comes to online play and its specificity 3+1 or 3+2 is OK. Also it was nice to know afterwards that the organizers were providing a live commentary.
Let me finish this by quoting Robert Fischer, the great inventor of chess960 (which he himself preferred to call 'Fischerandom'). During his only meeting with Kirsan Ilyumzhinov in 1995, Fischer asked the newly-elected FIDE president: 'Why do you offer people a black and white television set, when there is a set in color?'
Amardeep Bartakke
Very strong tournament and very well orgnized, very happy to play among the strong Grandmasters, looking forward to many more such events
Amit Mahajan
A heartly Thanks to CHESSBASE INDIA Team for organizing this event. It was a great event with exciting chess format. I will adore to play more chessbase India events in the future. Great Initiative, Good luck.
Priti Mahendru, mother of Jaiveer Mahendru
This was our second chessbase online blitz event. My son is 8 years and it was an absolute thrill for him to be playing against titled players ! Thanks a lot for organizing this. We look forward to more such events !
CM Kushagra Mohan
I was happy the way the tournament was conducted. No problems at all. You just keep increasing the prize money and that is a big improvement. Cannot hope for more.
---